The CEA (Consumer Electronics Association) convened in New York City for the annual CES: NY Press Preview, the run-up event to the International CES, (Consumer Electronics Show), which takes place in January in Las Vegas.  The preview not only sets the tone for what the hot technologies will be at the upcoming CES event, but what trends the industry should expect for the holiday season.
There was a decidedly down tone this year as expectations were set lower by the CEA for the upcoming holiday season as the CEA unveiled numbers showing consumers' overall holiday spending was expected to decrease 3% this year over the same period last year.  The industry was looking to new options to drive traffic, however, and bundling deals in the big chains such as Best Buy and WalMart are expected to help drive traffic. Despite the downturn in overall spending, with concerns such as general concerns over the economy, an increased cost of living and decrease in salary ranking in the top concerns, consumers are still expected to increase their holiday spending on consumer electronics by 8% over other areas.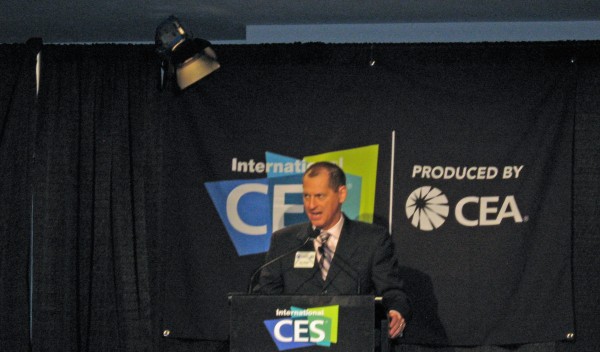 The CEA reckons this may be the result of what CEA President and CEO Gary Shapiro coined "staycation," that is to say, the decreased spending on actual travel and instead spending on improving entertainment options in the home, which in the long term can be a more more cost effective way to find entertainment in these tumultuous economic times.
The industry is also banking on environmentally friendly, "green" technologies to help drive the sector and the CEA proudly points to the fact that in keeping with consumers' strong spending in the home CE market, LCD sales have been consistently strong and that LED TV's have been welcomed by consumers. "Green is the new black," is the slogan for the upcoming holiday season and beyond for the CE industry, which should put a smile on environmentalists faces. The industry is hopeful that emerging technologies such as 3D television will help continue the spending trend as 3D-TV continues to gain momentum and the final specification for 3D-capable Blu-ray players nears its fruition.
To coincide with this, the CEA unveiled numbers showing that Blu-ray ranked eighth on the holiday wish list of consumer electronics devices amongst adults in the U.S., which should hopefully translate to solid sales for the high definition format this coming season as consumers continue to upgrade to new HDTVs.
In what may be a sign of things to come a decade or so down the road, however, the number one desired device for the holidays for teens is a portable mp3/video player device.
More information:
Shop with us for Blu-ray Discs at Amazon.com