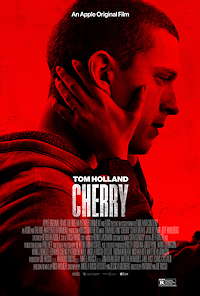 Co-directors Anthony and Joe Russo have set this disturbing story, adapted by co-screenwriters Angela Russo-Otstot and Jessica Goldberg from Nico Walker's semi-autobiography, in their hometown of Cleveland, Ohio. The film's title is the nickname applied to a former US Army medic (Tom Holland)—he is never actually given a real name—when he loses his combat virginity or "cherry" shortly after he arrives in Iraq's war zone.
Breaking the storyline into successive chronologic chapters, we see a young Cherry taking courses at a community college in the Cleveland, Ohio area where he meets pretty Emily (Ciara Bravo). When they start getting serious about each other, Emily loses her nerve about taking their relationship to the next level and tells Cherry that she is transferring to a university in Montreal. Devastated by what amounts to a break-up, Cherry impulsively decides to enlist in the US Army. Emily finds out about this decision, has a change of heart and the pair get married just before Cherry is called to active duty.
Once in Iraq, Cherry is overwhelmed by the horrors of war he has just witnessed that include seeing his best friend and fellow medic Jimenez (Jeff Wahlberg) die in a fiery explosion. Although, he gets a medal of valor on his return to the States, things are never the same, and, suffering from PTSD, Cherry becomes a drug addict, dragging Emily down with him.  After getting on the wrong side of the local drug dealer, Pills 'n Coke (Jack Reynor), Cherry finds that the path to becoming solvent and scoring more drugs is to rob banks. The dramatic nadir of the film occurs when Emily overdoses and nearly dies but, after surviving, she returns to Cherry and resumes her drug habit. Deeply in debt to the dealer Black Mask (Daniel R. Hill) who has threatened Emily's life if Cherry does not pay him back, the drug-addled war veteran continues to perform bank jobs that eventually lead to some tragic and sobering results.
While Cherry takes on an important subject, the effects of war on impressionable young men who suffer post-traumatic stress disorder, this film also skewers the less than robust response of the VA health system to provide adequate help for these victims. The predatory banking practices of penalizing low-income customers also get their well-deserved comeuppance. Where Cherry goes off message is in its excessive focus on the drug abuse—how many times must we see the pair of junkies shooting up–that degrades its two principal characters. I also was less than impressed by the heavy-handed device of using sewn-on generic labels like "soldier" and "whomever," rather than specific names, on the uniforms of all of the Army personnel and civilian doctors.
What does stand out in this film, in spite of everything else, are the intense performances of its two principals. Holland successfully inhabits a character that is poles apart from his previous turns as Peter Parker in the new Spider-Man franchise, while Bravo makes the most of the biggest film role that she has received to date. The Russo brothers are better known for their Marvel Studios' sci-fi work and, I continually got the impression that the subjects undertaken by this film took them quite far from their respective cinematic comfort zones. Once Cherry and Emily descend into the maelstrom of drug abuse, the pace of this film sags considerably, making it appear to be a longer watch than its 144-minute running time would suggest. Worth taking in for the performances of its lead actors but be sure that the fast-forward button on your remote control is working so you can skip past some of the recurrent drug scenes that stall the dramatic train on its tracks. The time-worn adage of "less is more" certainly should have been applied to the making of Cherry and would have resulted in a more meaningful film than the one that we received.
---
If you found this review useful please consider clicking the button below and donating to help keep TheaterByte funded and to allow us to continue posting great content.
---
Cherry is streaming now on Apple TV+
---
Rating Certificate: R (for drug abuse, disturbing and violent images, pervasive language, and sexual content)
Studios & Distributors: The Hideaway Entertainment | AGBO | Kasbah Films | Apple TV+
Country: USA
Language: English
Run Time: 144 Mins.
Aspect Ratio: 2.39:1
Director: Anthony Russo | Joe Russo
Written By: Angela Russo-Otstot | Jennifer Goldberg
Release Date: 12 March 2021