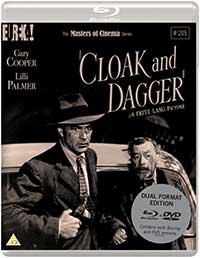 Cloak and Dagger is the first post-World War II atomic weapons thriller produced by Hollywood. A film-noir thriller from the great director Fritz Lang (Metropolis, M), the story is a bit of a melodrama about a bookish physics professor, Alvah Jesper (Gary Cooper) who is recruited by the U.S. Office of Strategic Services (OSS) –  a precursor to the CIA – to help locate  Dr. Polda (Vladimir Sokoloff), an atomic scientist being held captive by the Nazis during the waning months of the war.
Jesper's search takes him to Switzerland where he hears Polda his being held and people know where he is, but he runs afoul of counteragents who kill the people with knowledge of Polda's whereabouts.  Then Jesper moves on to Italy where he makes contact with resistance fighters and begins to fall in love with one such beautiful female leader of the underground resistance, Gina (Lilli Palmer), but the two put their romance on hold for the better good of getting Polda, whom Jesper has finally located, to safety.
In the wider scope of Lang's output, Cloak and Dagger is one of his minor films, partly due to its emphasis on politics and partly because an entire reel from the end of the film was excised by the studio, either for political purposes or simply to keep Lang in line.  But the film still retains his character, from the beautiful noir cinematographic lighting and framings, such as many frames that place Lilli Palmer in mirrors. Cooper offers up a strong everyman hero central to the film and in keeping with his roles in westerns even as he plays the studious professor. His professor is more hands-on, as we can see in the famous "dirty fighting" scene, a precursor to the brutal fighting of such spy thrillers as the Bourne films or Daniel Craig 007 films.
[envira-album id="121982″]
The Video
Cloak and Dagger has a 1.37:1 AVC 1080p encodement of the film on Blu-ray. There's no indication this is from a new restoration and it doesn't look like one. There are moments where the film looks very good, but with some heavy film grain structure. There are also lots of instances of tramlines and a few frames where the scratches overwhelm the image. Apart from that, the black and white photography still holds up well and looks quite brilliant with excellent contrast and only some mild crush in places.
The Audio
Cloak and Dagger comes with a LPCM 2.0 mono track that is good enough to provide clear dialogue and sound effects, a little bit boxy, but that's to be expected given the vintage of the film.
The Supplements
The audio commentary from Alexandra Heller-Nicholas is a particularly good and easy to listen to commentary. The video essay provides some good historical facts and tidbits but seems a little disjointed.
Brand-new audio commentary with film critic and writer Alexandra Heller-Nicholas
Spycraft – A brand-new video essay by David Cairns
Cloak and Dagger: Lux Radio Theater (57 mins) – Radio adaptation from 1946 starring Lilli Palmer and Ronald Reagan
Cloak and Dagger: The Radio Series (660 Mins)
Collector's Booklet featuring a new essay by Sam Deighan
The Final Assessment
A visually appealing film from the standpoint of cinematography, this minor Fritz Lang entry is a cool film-noir thriller hamstrung by the wider political sentiments of its time and studio system politics. The 1080p transfer is serviceable, but not without its warts.
Cloak and Dagger is out in Dual Format Edition 27 January 2020 from Eureka Entertainment's Masters of Cinema Series in the UK
---
The Creative Content: 3.0/5
The Video: 3.0/5
The Audio: 3.0/5
The Supplements: 3.5/5
Rating Certificate: UK: PG
Studios & Distributors: Warner Bros. | United States Pictures | Eureka Entertainment
Director: Fritz Lang
Writers: Albert Maltz (screenplay) | Ring Lardner Jr. (screenplay) | Boris Ingster (original story) | John Francis Larkin (original story) | Corey Ford (suggested by the book) | Alastair MacBain (suggested by the book)
Run Time: 106 Mins.
Original RRP: £19.99
Street Date: 27 January 2020
Aspect Ratio: 1.37:1
Video Format: AVC 1080p
Primary Audio: English LPCM 2.0 Mono
Subtitles: English SDH