FilmStruck To Launch Oct. 19

 
Turner's New Subscription Service Features 
the 
Largest Streaming Library of

 

Contemporary & Classic Arthouse, Indie, Foreign & Cult Films
The Criterion Channel Premium Add-On Tier
Offers Unlimited Access to the World-Renowned Criterion Collection
Three Different Subscription Plans Available for 
On Amazon Fire TV, Web, iOS & Android Devices
*We should preface this press release by saying that Criterion Collection films will still be available via HULU for the next month. FilmStruck will also be offering 2-week free trials of the streaming service, as well. Those details will be available through FilmStruck's website directly and through their mailing list.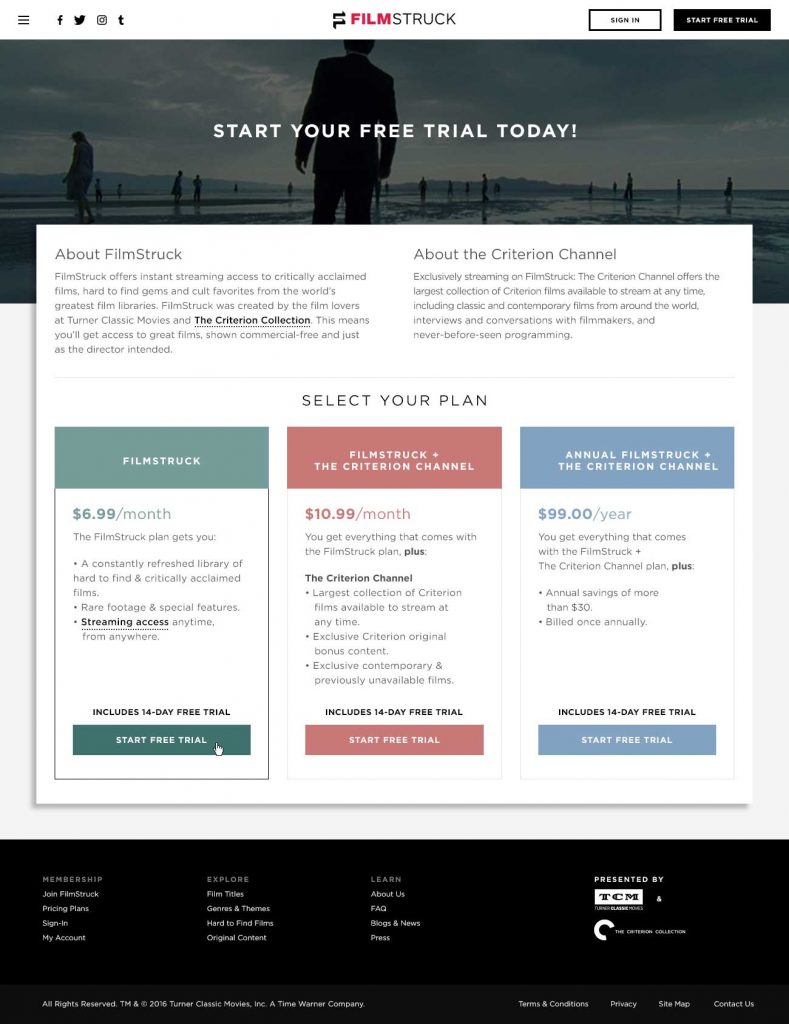 Global media company Turner

 

announced today it will launch FilmStruck, the company's first domestic subscription video-on-demand (SVOD) service, on October 19. Developed and managed by Turner Classic Movies (TCM)

 

in collaboration with the Criterion Collection, FilmStruck will feature the largest streaming library of

 

contemporary and classic arthouse, indie, foreign and cult films as well as extensive bonus content, filmmaker interviews and rare footage, making it a must-have service for serious film lovers. Later this year, FilmStruck will also become

 

the exclusive streaming home to the world-renowned Criterion Collection library, where die-hard film aficionados can gain access to the Criterion Collection's entire streaming library through FilmStruck's exclusive premium add-on tier, The Criterion Channel.

 

FilmStruck will be available exclusively on

 

Amazon Fire TV,

 

web, iOS

 

and

 

Android

 

devices at launch, and on

 

Apple TV

 

and other platforms and devices in the coming months.
Film fans who sign up at

 
www.filmstruck.com
can explore FilmStruck's curated and constantly refreshed library with a special 14-day free trial. Subscriptions to FilmStruck are available in 
three different pricing tiers:
FilmStruck Subscription

 

–

 

$6.99/month

 

– offering hundreds of constantly refreshed, hard-to-find and critically acclaimed films, plus

 

exclusive bonus content including hosted introductions, originally produced pieces, interviews and rare footage
FilmStruck + The Criterion Channel Subscription

 

–

 

$10.99/month

 

– offering everything in the FilmStruck subscription plus unlimited access to Criterion's entire streaming library of films and special features, along with channel-exclusive original programming such as filmmaker profiles, master classes, and curated series by celebrated guests from the film world and beyond
Annual Subscription

 

–

 

$99/year

 

for FilmStruck + The Criterion Channel (a $30 annual savings)
"Turner smartly identified a strategic way to move into the direct-to-consumer business by creating an over-the-top offering that was additive to the TV landscape, with programming not readily available in the streaming marketplace and that was completely differentiated from what TCM already offers" said 
Coleman Breland, president of Turner Content Distribution and TCM
. "FilmStruck super-serves a niche and devoted audience of film fans and will be a strong addition to Turner's portfolio of leading brands."
"FilmStruck is a departure from the timeless Hollywood classics that we offer at TCM and a genuinely distinct offering for the streaming marketplace, focusing on a thoughtfully curated experience around hard-to-find, critically acclaimed, independent films from the most celebrated libraries in the world," said 
Jennifer Dorian, general manager of TCM and FilmStruck
. "By combining the expertise at TCM and the Criterion Collection – two of the leading authorities in film preservation and history – we have created something really special that is a must-have for passionate film lovers."
"Joining forces with the team at TCM has been a dream come true, and we're very excited about our new home," said Peter Becker, President of The Criterion Collection. "FilmStruck is the first streaming platform to give movies the kind of deep, rich treatment that viewers have come to expect from The Criterion Collection, and The Criterion Channel opens up thrilling new ways for us to connect our passionate audience with the films and filmmakers they love."
FilmStruck's impressive library will feature a deep roster of constantly refreshed films from such celebrated indie studios as Janus Films, Flicker Alley, Icarus Films, Kino, Milestone, Zeitgeist, Film Movement, Global Lens, First Run Features, Oscilloscope Laboratories and Shout Factory, along with movies from Hollywood's major movie studios, including Warner Bros. and Metro-Goldwyn-Mayer (MGM). Among the hundreds of critically acclaimed and award-winning titles to be featured on FilmStruck are 
Babette's Feast, Blood Simple, Blow-Up, Breaker Morant, A Hard Day's Night, Mad Max, Metropolis, Moulin Rouge, My Life as a Dog, Paths of Glory, The Player, A Room with a View, Seven Samurai, The Seventh Seal, The Unbearable Lightness of Being, Stardust Memories, The Trip to Bountiful, The Umbrellas of Cherbourg
 and 
Woodstock.
Additionally, beginning on November 11, FilmStruck will become the exclusive streaming home to The Criterion Channel, offering the largest streaming collection of Criterion films available, including classic and contemporary films from around the world, interviews and conversations with filmmakers and never-before-seen programming. The channel's weekly calendar will feature complete Criterion editions, thematic retrospectives, live events, short films, and select contemporary features, along with exclusive original programming that aims to enhance the Criterion experience for the brand's dedicated fans as well as expanding its reach to new audiences.
Following the same curatorial expertise as TCM, FilmStruck's massive library will

 
feature over 70 fully curated and constantly refreshed programming themes, along with such as exclusive bonus content as hosted introductions, originally produced pieces, interviews and rare footage. Themes include:
The Beauty of Italy

– a collection of films that highlight the beauty of Italy, from the shores of the Mediterranean to the peaks of the Alps
Cinema Passport

– a monthly "franchise" showcasing the work of countries rich in film history and culture
Contemporary Israeli Cinema

– see the country through the eyes of its people in this collection of modern works
Directed by Mike Leigh

– highlighting the films that make this iconic director beloved by film festivals and critics and remind us that normal life is not always the norm
Early Kubrick

– the early films of renowned director Stanley Kubrick show how this cinematic visionary got his start and ultimately found his way into moviemaking
Food for Thought  

– a collection of films that tickles the tongue by prominently featuring food
Icon

–  a bi-monthly "franchise" featuring the work of a different iconic star with each installment, beginning with legendary actors Marcello Mastroianni and Ingrid Bergman
The Masters

– a monthly, director-focused "franchise" highlighting acclaimed directors including Akira Kurosawa, François Truffaut, Fritz Lang and Chantal Akerman
Neo Noir

– explores a collection of celebrated films that pay homage to the gritty and dark genre
Panic Room

– a monthly "franchise" that explores cult and indie horror film, hosted by actor-comedian Lucky Yates
Political Documentaries

– exploring filmmakers who documented democracy in action.
World Discoveries

– a monthly "franchise" hosted by film critic Alicia Malone spotlighting cinematic gems from burgeoning film industries around the world
Additionally, FilmStruck will offer cinephiles exclusive bonus content such as archival footage and newly produced pieces offering viewers a wealth of exclusive content including:
Mini Documentaries

 

– FilmStruck will offer in-depth looks at different franchises or themes each month, beginning with

 

The Masters

 

and

 

Icons

 

franchises, as well as the

 

Political Documentary

 

and

 

Music by Michel Legrand

 

themes
Point of View (POV) – celebrities and experts will offer their retrospectives on the various franchises and themes each month, including director Mike Leigh exploring his own work, and Edoardo Ponti discussing a collection of films highlighting the majestic Italian country side from the Beauty of Italy theme
Suplemental Material

 

– FilmStruck will offer audio commentaries, original film trailers and filmmaker interviews to  provide additional context and insight into the featured films

 
To provide additional historical context to films, franchises and themes, FilmStruck will feature hosted introductions from film critics, actors and more, including:
Bill Hader

 

– the Emmy® award winning actor will provide hosted introductions and insights into director Akira Kurosawa and screenwriter Sam Fuller

 
Alicia Malone

 

– Film reporter, critic, TV host and writer Alicia Malone has been a correspondent for CNN,

 

Access Hollywood, E!,

 

Entertainment Tonight,

 

The Insider, MTV and Fandango, among others: she will host the monthly

 

World Discoveriesfranchise in additions to various themes on FilmStruck

 
Lucky Yates

 

– Actor and comedian Lucky Yates voices Dr. Algernop Krieger on FX's

 

Archer

 

and will host the month

 

Panic Room

 

franchise in addition to various themes on FilmStruck