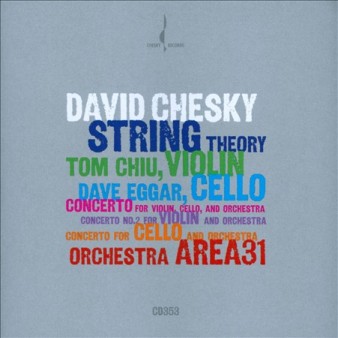 –
Editors Note: In a first for TheaterByte, Lawrence Devoe reviews composer David Chesky's new concertos, available thus far exclusively via download.
The Album
[Rating:4.5/5]
Music downloads can range from low-resolution mp3s to the upper echelons of 192 kHz/24-bit files and are becoming the way to fill your music library. HDtracks, founded by composer and musician David Chesky, is literally off the charts in its depth and quality of digital archives. Chesky has written for virtually every format: orchestral, ballet, chamber, and vocal. The pieces on String Theory are part of the "Urban Concertos" collection. Here we get concertos that present works for violin (Chesky's second for this instrument) and cello with a double concerto for violin and cello. The filler is a musical double entendre entitled "String Theory."  The featured soloists are Tom Chiu, an avant-garde violin veteran, and virtuoso cellist, Dave Eggar. The liner notes give listeners a preview of what they are about to experience: "Fusing classical concerto form with the modern harmonic language of American rhythmic jazz, these innovative works extend theoretical parameters to realms reserved for the few pioneers who truly revolutionized their instruments such as Hendrix, Parker and Heiftez."
The string concertos do reflect the composer's desire to push the envelope of the time-honored three-movement structure and adapt it to an idiom that incorporates jazz and contemporary music. While the tempi mostly reflect the traditional fast-slow-fast pattern of classical concertos, there is a propulsive tendency supplied by the fairly relentless basso ostinato of the percussion and low strings of the Area 31 orchestra. The resulting scores will certainly hold the listeners' interest and the string players' attention, as there is precious little time allowed for luftpausen. If you think that modern compositions cut the soloists any slack, think again. The virtuosity needed for both violin and cello is considerable as the entire range of both instruments is exploited in these works. Looking backward at these new works,  I went back nearly a century and struck upon Igor Stravinsky's ballet, The Rite of Spring, a work that riled up a 1913 Paris audience with its use of primitive rhythms and dissonance. [Some of Chesky's musical influences are discussed during an interview with the composer on this site] It is not all beat and bounce, as we are given a lento movement in the cello concerto that possesses a quasi-celestial quality. The last piece, "String Theory," applies to the context of music rather than particle physics. Chesky creates this brief (6:56) tone poem, again featuring strings and a swinging percussion section, with a little pizzicato interlude that parallels the beat of the drums.
Audio Quality
[Rating:5/5]
Considering the Chesky tradition of great sounding recordings, I was prepared for a sonic feast. One could quibble that this is not the "highest" resolution recording, checking in at only 48kHz/24-bits when there are sampling rates four times higher. However, I found the sound palette in String Theory to be simply superb—natural, spacious, with a big stage to boot.
Supplemental Materials
[Rating:1.5/5]
Graphic liner notes are provided that, given the recent provenance of this music, are welcome but also limited in the specifics for each work. One can go to Chesky's website (www.davidchesky.com) to get more info on the composer/performer or to the HDtracks home page (www.HDtracks.com) to check out small samples of each cut although they will not be heard in their highest resolution.
The Definitive Word
[Rating:4.5/5]
I often hold my breath when tackling new music since, in today's diverse musical world, you can never be sure what you will get. Here, thankfully, Chesky's compositions are most accessible with appealing rhythms and virtuoso instrumental playing. The sonics of this download, while not at the highest available sampling rate, were most convincing in their dynamics and frequency range. Strings sounded like strings, as they should, without artificial edginess or even worse, homogenization. Percussion was big, bold and, at times, room-shaking.  Most importantly, I was left with the lingering impression, having now listened to each concerto several times, that I was hearing important music, not just for our times but for the foreseeable future.
Purchase String Theory on www.HDTracks.com
Overall
[Rating:4.5/5]
The Album
[Rating:4.5/5]
Audio Quality
[Rating:5/5]
Supplemental Materials
[Rating:1.5/5]