Denon AVR-2313CI Integrated Network AV Receiver
The hits just keep on coming. No sooner do I finish a pleasant stay with Denon's top of the In-Command Line AVR-3313CI (see posted review), but the AVR-2313CI drops by for a visit. This smaller sibling (@ 105 w/ch x 7) offers a lot of the features and performance of its big brother and at a considerably lower price ($899).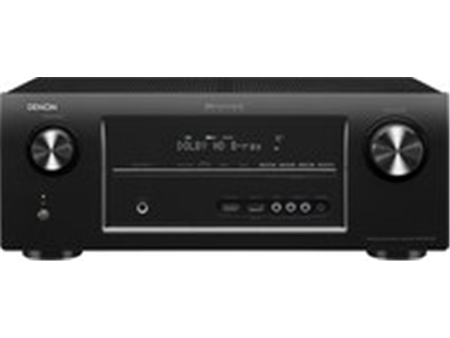 Howdy, little brother
The AVR-2313CI black façade is simplicity itself. Flanking the alphanumeric display window are Source Select and Power/Standby buttons, and Volume control. A removable panel reveals inputs for an additional HDMI source, USB/iPod, and analog video and audio devices.  The rear panel has enough speaker terminals for a 7.2 system.  On the left, there are 12V trigger, RS-232 and remote control ports, below are pre-outs for one additional zone. Five analog inputs and 4 digital inputs are provided along with five HDMI inputs and two HDMI outputs. For legacy video sources (VHS, DVD, Laserdisc), there are two component and two composite inputs as one on the front panel. A power cord receptacle completes the picture. Denon supplies a well-laid out remote control and like the other AVR units in this series, its basic functions can be accessed through apps for Android or iDevices..
The AVR-2313CI will handle every video source out and like its big brother can pass both 3D and 4K video (provided your display can handle these sources). Both DTS-HD Master Audio, and Dolby TrueHD are supported.  The audio features of AVR-3313CI have been paired down, eliminating the phono input and AM/HD radio. The 2313CI is AirPlay-enabled so you can play music stored on your PC/Mac, iPhone/iPad or any other compatible device. Pandora, Flicker (photo), and SiriusXM internet services are available while Napster and Rhapsody, offered in previous units, are gone.  The vTuner service gives listeners the choice of nearly12000(!) radio stations.  A "Favorites" function will store up to 50 favorite stations or other music sources, making recall a snap. This shortcut is quite useful since initial identification of these sources requires a lot of remote control keystrokes.  There is the ubiquitous Denon remote app for iDevices  and Android that offers control of basic operations.
The Audyssey MultiEQ XT software with microphone is supplied for getting your room sonically in shape. Audyssey is the default system for many of the better AVRs and has been a staple with Denon for some time.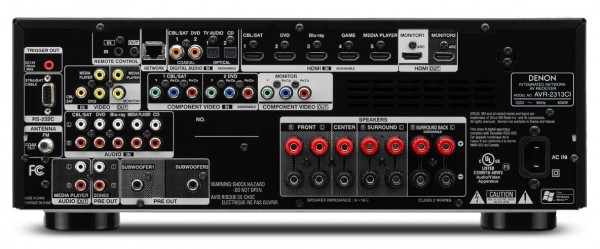 Setting up and getting down
While the Denon AVR-2313 lacks some of is bigger brother's complexity, this does not mean that you skip the well-annotated operator manual available on a CD-ROM.  If you have never used the Audyssey equalization system, and want to get the most out of your home theater, be prepared for spending some time, ie, at least 30 minutes, as the microphone has to be moved around to cover the desired listening zone.  Fortunately, this is a one-time exercise unless you change equipment or speaker placement. The alternative of setting up by ear is not a reliable substitute to equalize your room.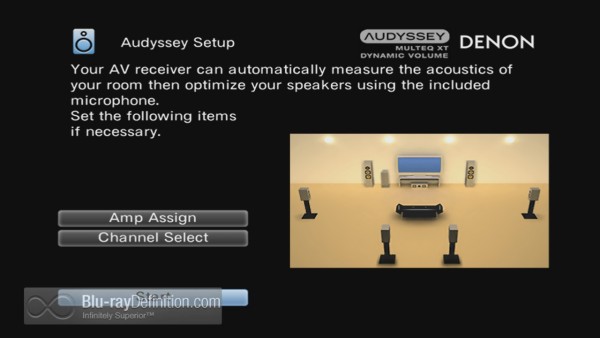 I have had a lot of experience with Audyssey, so getting my Martin Logan ESL surround system up and going, only took one hour. My task would have been shorter but, with Audyssey, I use the "measure twice cut once approach," repeating set up with each speaker before moving to the next one. For BD and audio discs, I used the companion piece, the new Denon DBT-1713 universal player that was also under review.  The Spear and Munsil BD showed that the AVR-2313CI passed the test signals on the test tracks without difficulty.  A number of BDs including Sunshine, The Fifth Element, Planet Earth, and Avatar, ensured the excellent pass through of high def signals that looked as good as they had through the AVR-3313CI. My 2D  1920 x 1080 system did not allow for evaluation of either 3D or 4K sources. However, I do not think that either of these sources (going through HDMI 1.4a inputs) will create problems as the critical signal processing is done by the player not the AVR.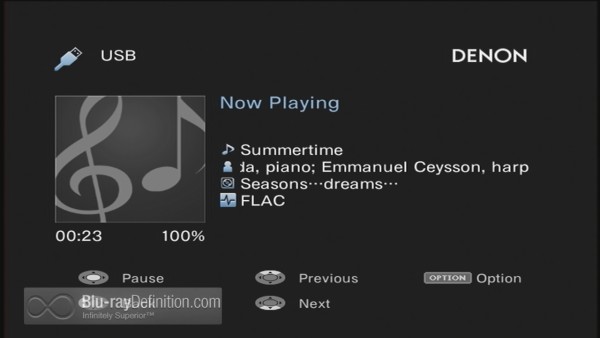 On the audio side, the AVR-3313CI had more than enough juice to bring out the best in my SACDs and high-res download FLAC and WAV files.  While it did not make the lossy sources like my iPod or iTunes files (via Airplay) sound like audiophile music (nothing will, given their bitrates of 128 kbps to 320 kbps), they were never less than listenable. Likewise, the internet radio, Pandora and, thank you, Denon, SiriusXM sounded good enough not to be muted or turned off. As for the analog FM radio section, given the plethora of better sounding alternatives handled by this AVR, I found little reason to do more than make sure that I got my local stations.
Good things in smaller packages
Compared with its preceding model, the AVR-3313CI, the AVR-2313CI model gives up little in the basic functions provided.  A/V performance was quite good for high resolution audio sources and blu-ray discs, essentially as good visually and audibly as the more expense AVR-3313CI.  The simpler remote unit was easy to operate and, given the occasional quirks of the Denon app, was my preference.   My only quibble, and this is after living with the AVR-2313CI for some time, was that my ESL home theater speakers occasionally could have used a bit more juice.  With all due respect, this was most noticeable at much higher volumes than I would normally have used but is an important consideration in larger home theaters (mine is 21' x 15' x 8') or with less efficient speakers (mine have an 90 dB/2.83 volts/meter sensitivity). I also noted that when operated at higher volumes for a sustained period of time, the 2313CI ran a bit warm, so good ventilation is essential. The Audyssey system is pretty easy, if time-consuming, to install and, while maybe not the last word in equalization software, it will handle the sonic iniquities of most rooms satisfactorily without the hassle of doing it by ear.
The Good
High versatility in both audio and video formats
Audyssey Room EQ system
Plays high-resolution music files from USB source
Access to internet radio and subscription services
Stable network connectivity
Easy to read and follow screen menus
Easy to use iDevice or Android remote app
AirPlay feature enables easy retrieval of iTunes libraries
Up to 2 zones available for remote listening.
All major encoded multi-channel formats are available
3D and 4K ready
The Bad
Set up does require much more effort than plug-and-play systems
Subscription service and internet radio selections are very keystroke intense
Denon app has some operational quirks
Output may be taxed by larger rooms or less efficient speaker systems
The Scorecard:
Design/Ergonomics:
[Rating:4/5]
Performance:
[Rating:4/5]
Value:
[Rating:4.5/5]
Overall:
[Rating:4/5]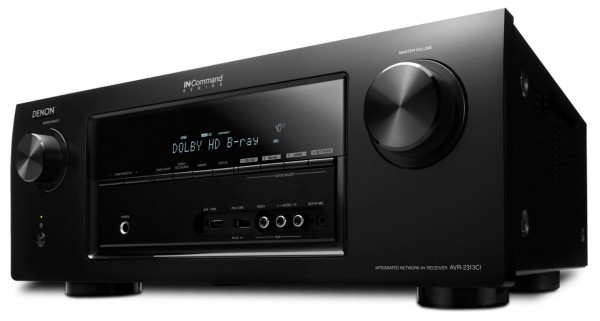 The Definitive Word
The medium-price ($500-$1000) range of AVRs is a very competitive niche as all of the major manufacturers have at least one entry in this group. Denon seems to have understood what features will be essential for the vast majority of home theater enthusiasts. In the AVR-2313CI, you get every function needed for basic and beyond AV requirements. While it lacks some of the bells and whistles of the AVR-3313CI you get 3D and 4K pass-through, an excellent set up GUI, AirPlay and internet radio connectivity, Pandora/Flickr/SiriusXM services, and the Audyssey room EQ system. Moreover, there is sufficient power for most conventional speakers in average-sized rooms. If I were to single out a best-value-for-the-money AV component, the AVR-2313CI would be a serious contender for the short list.
Specifications :
Power Amplifier Section
Rated Outout: Front L/R: 8 Ohms: 105 + 105 Watts (20 Hz – 20 KHz) THD:0.08%
6 Ohms: 135 + 135 Watts  (20 Hz – 20 KHz) THD:0.07%
Center: 105 Watts (20 Hz – 20 KHz) THD:0.08%
Surround L/R :  8 Ohms: 105 + 105 Watts (20 Hz – 20 KHz) THD:0.08%
6 Ohms: 135 + 135 Watts  (20 Hz – 20 KHz) THD:0.7%
Surround L/R  Rear:    8 Ohms: 105 + 105 Watts (20 Hz – 20 KHz) THD:0.08%
6 Ohms: 135 + 135 Watts  (20 Hz – 20 KHz) THD:0.7%
Preamplifier Section:
Analog
Input Sensitivity/Impedance:  200 mV/ 47 kOhms
Frequency Response: 10 Hz – 100 kHz (+1, – 3 dB (DIRECT mode)
S/N Ratio: 100 dB (IHF-A weighted, DIRECT mode)
Digital
D/A Output:   Rated output: 2V (at 0 dB playback)
THD: 0.008% (1 kHz at 0 dB)
S/N ratio: 102 dB
Dynamic Range: 100 dB
FM Tuner Section (Antenna input- MEDIA PLAYER OUT)
Tuning Frequency:      87.5 – 107.9 MHz
Usable sensitivity      1.5 microV (14.8 dBf)
S/N (IHF-A weighted) Mono             78 dB
Stereo              68 dB
HD                  85 dB
Distortion (1 kHz)      Mono              0.1%
Stereo              0.2%
HD                  0.02%
Sound Modes:
Dolby ProLogic IIz (Cinema, Music, Game modes), Dolby TrueHD and Dolby Digital+, Dolby Digital Surround  EX, dts-HD Master Audio, dts ES Discrete and Matrix 6.1, dts Neo:6 Stereo-to-Surround Cinema and Music,  dts 96/24 5.1 for DVD-Video, Audyssey Dynamic Surround Expansion, Pure Direct/Direct/Stereo, Stereo/Direct with Pure Analog Path, Multi-Channel Stereo, Video Game, Mono Movie Surround, Rock Arena Surround, Matrix Surround, Jazz Club Surround, Virtual Surround for 2 Speakers/Headphones
Video Section
Standard video connectors
Input/output level and impedance                  1 Vp-p, 75 Ohm
Color component video connector
Input/output level and impedance                  Y (brightness signal – 1Vp-p, 75 Ohm)
Pa/Ca signal – 0.7 Vp-p, 75 Ohm
Pr/Cr signal- 0.7 Vp-p, 75 Ohm
Frequency response                                        5 Hz- 10 MHz-  0, -3 dB
Ports: In:
HDMI (1.4a): 6
Component : 2
S-Video: 2
Composite Video: 3
Analog Audio: 8
Digital Optical : 2
Digital Coaxial : 2
Ports:Out:
HDMI Monitor: 2
Component: 1
Composite: 1
Audio Pre-Out: 2-Channels (Zone 2)
Headphones: 1
Other:
Ethernet
USB Port
Microphone Port
Dock Control Port
FM Tuner Antenna
Remote Control In/Out
RC 232C
DC 12V 150 mA trigger out (2)
Dimensions:
W x H x D : 17.1" x 6.5" x 15"
Weight: 24lb
Power Supply: AC 120 V, 60 Hz
More Information:
Denon AVR-2313CI Integrated Network AV Receiver (SRP $899)
[amazon-product align="center"]B00829USMQ[/amazon-product]
Purchase the Denon AVR-2313CI at One Call
Purchase the Denon AVR-2313CI on J&R