Denon AVR-3312CI Audio-Video Receiver:
I bought my first audio-video receiver (AVR) eight or nine years ago so I could set up a second home theater.  My goal was to find a one-box solution with a universal remote control so that my wife could watch TV and DVDs, or listen to FM and CDs. This new AVR from Denon shows how far the one-box solution has come in a decade.  The AVR-3312CI heads the new "InCommand" series, and, overall, is about mid-way up the Denon AVR ladder. This review is less a question of what this unit can't do and more one of all that it can do. And, boy, oh boy, can this baby can do a lot!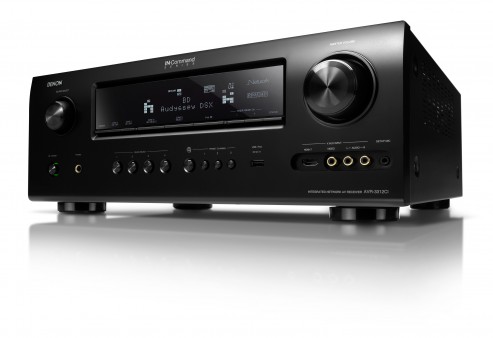 Features, features, and more features.
Denon's front panels typically feature understated elegance with a limited array of basic controls since all functions are controlled by a remote unit. The AVR 3312 holds true to this form with a large alphanumeric display flanked on the left by a balance knob, power button and headphone jack, on the right by a large volume control, USB port, HDMI 1.4a and component inputs, and underneath, a bank of preset buttons.  The rear panel features a veritable universe of inputs and outputs.  On the left, there are two 12V trigger ports, RS-232 and Ethernet ports, and AM/FM/HD antennae receptacles. Moving to the right, in and out ports for IR, and "legacy" RCA audio inputs including "phono(!)" and video inputs for composite, S-Video, and component sources, and 4 digital audio inputs (2 S/PDIF and 2 Toslink). Below reside pre-outs for two additional zones and an analog 7.2 surround system. But the starboard side of the rear panel is where the action is, sporting six additional HDMI 1.4a inputs, two HDMI outputs, and 11 pairs of speaker binding posts, with 2 for implementing height channels of a 9.1 system,  and 2 for a second front channel hook up.  A power cord receptacle completes the layout.  The solid remote duplicates all basic control functions and adds some special ones that will be described later.
What can the AVR-3312 do? For starters, you buy an AVR is for home theater applications.  In this instance, there are provisions for 7 high-resolution A/V source components, which can be passed through unchanged or processed onboard for transmission to two high-def displays or a display and a projector. While most mere mortals have 5.1 surround systems, and due to room size limitations, I am one of those mortals, you can move up the ladder to 7.2 channels (adding rear speakers and a second subwoofer) or to the top of the ladder with 9.2 channels  (two additional height speakers).
There is a staggering number of source possibilities, including virtually every video component out there, cable, satellite, DVR, BD or DVD player, VHS or LaserDisc player.  On the audio side, there is a built in AM/FM section, a receiver for HD-radio, and inputs for CD/SACD players, digital music servers, and iPod dock or USB memory devices, and, yes, a moving magnet phono cartridge.  Rolling along, the AVR-3312 has Pandora, Rhapsody and Napster streaming capability and is equipped with Apple's Airplay which will allow access to your music files stored in an iTunes library.  Room EQ is accomplished using Audyssey software and a small supplied microphone.  All current multi-channel play back formats such DTS-HD Master Audio, Dolby TrueHD, and most others are selectable.

Start Me Up
The good folks at Denon thought enough about this product to supply a CDR with an interactive user's manual.  Yes, there is a "quick start" manual included but I would strongly urge owners to take the requisite time to get things right from the get go. This is a very sophisticated piece of equipment and deserves proper set up to get the greatest return on investment.
I spent the better part of an afternoon, cloistered in my home theater room, following Denon's instructions to the letter, and hooking up my DVD and BD players, an SACD player, and my cable box. I attached the antennas for AM/FM/HD radio reception. The USB drive variously received my iPod Touch or a USB thumb drive with FLAC 96/24 high resolution files.
My 5.1 surround speaker system consisted of  Martin Logan speakers (CLX's in the front, Stage in the center, EFX's as surrounds, and Descent-i subwoofer). I did not think that the AVR 3312's amps (125 W/ch rating) would have any trouble with these loads and, in subsequent listening tests they did not.
Denon supplies a recent version of the Audyssey room equalization software and this is what took most of my time since the microphone has to be moved several times around during the set up. While time-consuming, this is an essential but not difficult task for achieving the best home theater performance.
The remote control is very busy with over 70 small keys in a crowded neighborhood. It is also not back-lit which might be an issue in a dark theater room. The close spacing is an invitation to hit the wrong command which I did often during the review. I am a big fan of cloning busy remotes to universal units which have larger surfaces areas and easier navigation properties. This would be one of those frustration-saving moves and unless you are an intense gamer, you will not use all of the commands available, thereby reducing keyboard clutter in the process. An alternative is the Denon remote control app for i-devices which duplicates most of the common remote functions. However you decide to control this AVR, the Denon graphic user interface (GUI) is clear-cut, super easy to navigate and nearly self-explanatory.
Delivering the Goods
Since we are talking about dropping a cool $1099 for the privilege of ownership, I put the AVR-3312 through as many paces as I could without getting short of breath. First and foremost, how did it do as a video receiver? For this I dropped my reference Spears and Munsil test Blu-ray, delivered by an Oppo BDP-93 which did all of the processing since this unit has a superb video chip. The AVR reassuringly passed the basic torture tests on this disc. When I moved on to some of my reference Blu-rays, Jazz Legends, Avatar, and Hoodwinked, I was equally pleased with the video performance. On disc after disc, the picture was stunning on my Panasonic 65" plasma display.  In short, the Denon AVR was virtually the equal of my reference Lexicon processor in the delivery of color palette, blacks and detail.  I also viewed some standard DVDs, Alison Krauss and Union Station, the Met Opera's Doctor Atomic, and The Fifth Element with upsampling to 1080p from my Esoteric UX-01Pi universal player. The resulting picture was as good as I have ever seen from these discs. I do not consider cable as a consistently satisfying high-def source (most of it is still 720p); however, the 1080i Discovery channel broadcasts delivered by my Xfinity box were outstanding.
As an audio receiver, the AVR did more than justice to the surround and two-channel audio sources that I fed it, be they SACDs, high-res FLAC files on a thumb drive, standard CDs, or even mp3-quality audio selections from my iPod. Of course the higher resolution files sounded superb while the mostly 128 kbps and 256 kbps files on my iPod came out of the closet as listenable but clearly compressed music. Not having a moving magnet cartridge any more, I could not test the performance of this input. Nor did I evaluate the multi-zone performance features or 3D capability. However, the majority of potential buyers will probably use this AVR as the hub of a single room home theater system and, at least for now, most home theaters still have standard 2D displays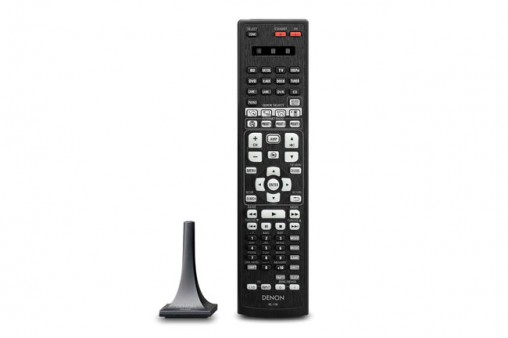 Your wish is my desire
Having lived with the AVR-3312 for the past two months, I continued to explore its many features with a new voyage of discovery just about every week.  As previously noted, this is a sophisticated component and goes well beyond simply playing your Blu-ray movies, watching hi-def broadcasts, or spinning CDs. The AirPlay function is worth mentioning since it grants wireless access to music files in an iTunes library. In my Mac, these are 320 kbps compressed files but the sheer convenience of selecting music stored on a computer for pleasant background listening is a great feature to have.
But the hits keep on coming. I am a convert to internet radio and subscription music services. The former provide many great stations of all music genres from the entire world. The Denon AVR-3312CI makes this an easy process once network connections are established. Enabling the "NET/USB" command opens up the network radio menu and one can either scroll through stations or identify them through alphanumeric commands. Once selected, up to 56 favorite stations can be stored which was my preferred way of establishing a station directory.  Hitting the "Favorites" button on the remote then opens up your personal "radio library" for future listening.  You can store standard AM/FM or HD radio stations as well or your favorite music library tracks. Denon has contracted with internet servers Flickr for photos, Pandora, Napster and Rhapsody for music, the latter two requiring paid subscriptions. Logging on to these services is a one-time operation and makes for yet another listening option. All of these music services worked flawlessly once identified with my username and password.  Of course, remember that you are listening to mp3 quality audio, so serious listeners may relegate them to "easy," although pretty good sounding, background listening.
The Good
High versatility in both audio and video formats
Audyssey EQ system
Plays high-resolution music files from USB source
Access to internet radio and subscription services
Stable network connectivity
Easy to read and follow screen menus
Easy to use i-device app
AirPlay feature enables easy retrieval of iTunes libraries
AM/FM/HD Radio
Magnetic phono cartridge capability
Up to 3 zones available for remote listening.
All major encoded multi-channel formats are available
3D ready
More than ample power for most 2-channel or mult-channel systems
The Bad
Set up requires a fair amount of time and effort to achieve best results
Searching subscription services often requires laborious remote key stroke entry
Remote control is very busy with small keys and not back-lit
The Scorecard:
Design/Ergonomics:
[Rating:4.5/5]
Performance:
[Rating:4.5/5]
Value:
[Rating:5/5]
Overall:
[Rating:4.5/5]
The Definitive Word
Once upon a time, AV receivers were like the poor relations that you would invite to your home only on special occasions, like birthdays or Christmas. Separate AV components were so far superior to single-box units that any comparison would have seemed pointless.  Well, friends and neighbors, this gap has been seriously narrowed by today's generation of AVRs of which the Denon AVR-3312CI is a prime example. For the overwhelming majority of home theater enthusiasts with average sized rooms, this unit will fulfill all foreseeable video and audio needs. But a lot of AVRs are versatile, offering many features, so what's the buzz about this one?  It can play all of your favorite audio sources, including analog radio, vinyl, and every digital music source out there. In so doing, with either a 2-channel or multi-channel set up, the AVR-3312C1 has more than enough power to keep the party going. This unit is also an excellent video performer, passing through content without an obvious subtractions or additions. While I cannot comment on its performance in a 3D video system (since I don't have a 3D-capable display), it has the software needed for this function. Room EQ is well handled by the Audyssey software, although this part of the set up is time-consuming and requires multiple placements of the supplied single microphone.
So what's not to like? Almost nothing, once the set up is completed. Its GUI is excellent, similar to previous Denon products that I have tested. However, given the plethora of possible audio and video options available, the AVR-3312 will require more set up time than some previous generation AVRs.  Therein lies the only cautionary note to home theater newcomers as this fairly complex device will not take kindly to excessive short cuts. If you don't think that you have the technical chops to do this part yourself, you might negotiate a home installation by your local audio/video dealer. This shouldn't be a deal-breaker and you will end up with the most important part of your home theater perfectly in place. Denon does offer higher power receivers without the Airplay function but I cannot imagine anyone being less than thoroughly pleased with such a capable AVR. Laying out more than a grand sounds like a lot of money in these tight economic times. However, given the features of the AVR-3312CI and its future updatability, this should be the last AVR you will need for a long, long time.
–
Specifications :
Power Amplifier Section
Rated Outout: Front L/R: 8 Ohms: 125 + 125 Watts (20 Hz – 20 KHz) THD:0.05%
6 Ohms: 165 + 165 Watts  (20 Hz – 20 KHz) THD:07%
Center: 125 Watts (20 Hz – 20 KHz) THD:0.05%
Surround L/R :  8 Ohms: 125 + 125 Watts (20 Hz – 20 KHz) THD:0.05%
6 Ohms: 165 + 165 Watts  (20 Hz – 20 KHz) THD:0.7%
Surround L/R  Rear:    8 Ohms: 125 + 125 Watts (20 Hz – 20 KHz) THD:0.05%
6 Ohms: 165 + 165 Watts  (20 Hz – 20 KHz) THD:0.7%
Preamplifier Section:
Input Sensitivity/Impedance:  200 mV/ 47 kOhms
Frequency Response: 10 Hz – 100 kHz (+1, – 3 dB (DIRECT mode)
S/N Ratio: 102 dB (IHF-A weighted, DIRECT mode)
FM Tuning Frequency: 87.5 – 107.9 MHz
AM Tuning Frequency: 530 – 1710 kHz
Sound Modes: Dolby ProLogic IIz (Cinema, Music, Game modes), Dolby TrueHD and Dolby Digital+, Dolby Digital Surround  EX, dts-HD Master Audio, dts ES Discrete and Matrix 6.1, dts Neo:6 Stereo-to-Surround Cinema and Music,  dts 96/24 5.1 for DVD-Video, Audyssey Dynamic Surround Expansion, Pure Direct/Direct/Stereo, Stereo/Direct with Pure Analog Path, Multi-Channel Stereo, Video Game, Mono Movie Surround, Rock Arena Surround, Matrix Surround, Jazz Club Surround, Virtual Surround for 2 Speakers/Headphones
Dimensions:
W x H x D : 17-1/8" x 6-37/64" x 15-3/64"
434 x 167 x 382 mm
Weight: 26 lb, 11.8 kg
Power Supply: AC 120 V, 60 Hz
Ports: In:
HDMI (1.4a): 7
Component : 2
S-Video: 2
Composite Video: 5
Analog Audio: 8
Digital Optical : 2
Digital Coaxial : 2
Ports:Out:
HDMI Monitor: 2
Component: 1
Composite: 1
Audio Pre-Out: 7.2 channels (FR/FL/C/SL/SR/SBL/SBR/SW
Audio Pre-Out: 2 channels (FR/FL)
Headphones: 1
Other:
Ethernet
USB Port
Microphone Port
Dock Control Port
FM Tuner Antenna
AM/HD Tuner Antenna
Remote Control In/Out
RC 232C
DC 12V 150 mA trigger out (2)
More Information:
Denon AVR-3312CI Audio/Visual Receiver (SRP $1099)
–
[amazon-product align="left"]B004Z50L6E[/amazon-product]