It seems that every time I turn around, a new digital music server washes ashore. If you haven't caught the wave yet, I can assure you that music servers will be the preferred means of getting music into tomorrow's listening rooms. Denon, recently celebrated its 100th birthday, and over the past century, this company has garnered a reputation for well-designed, solidly built, and great sounding audio equipment. The Denon DNP-720AE is their maiden voyage into music servers, and, letting the cat out of the bag, it represents a considerable investment in functionality at a real-world price.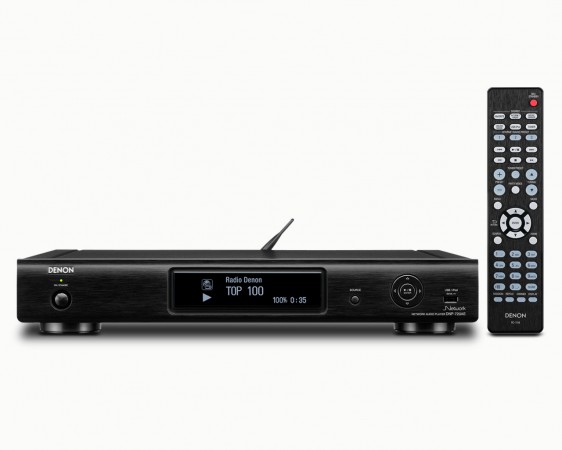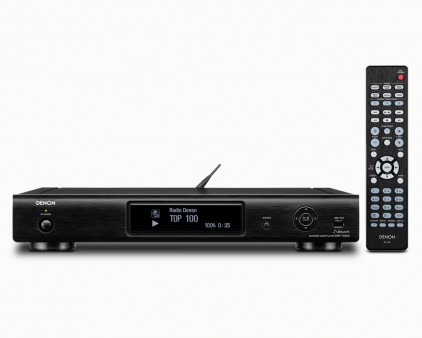 What won't the Network Player play?
The front panel's unprepossessing black chassis is graced with a small alphanumeric function display flanked by a power button, source selector, circular command dial, and USB port. The rear panel is similarly Spartan, with inputs for AM/FM antennas (both supplied), analog and digital outputs, ports for WLAN and Ethernet, and an AC receptacle. That's all, folks! The sturdy remote provides dedicated buttons for all sources, 3 internet radio presets, playback controls, tuner functions, a Mode selector (for iPod navigation), a clone of the command dial on the front panel, a "Party" mode button, search and home selectors, an alphanumeric keyboard, display adjustment, and search/random buttons for navigating music from a PC/Mac, internet radio or network music sources. There is also a "Favorite" button that opens up to 50 stored internet radio stations or music files. The well-documented manual indicates which buttons are active for each function, and I would encourage new users to review these charts carefully to avoid "clicker" madness.
I did wince at the small size of the display, just about unreadable from my customary sitting distance of 14 feet.  Fortunately, the cavalry appeared over the hill wearing the uniform of the Denon Remote App for i-devices (iPhone, iPod Touch, and iPad).  For most potential buyers, this will be must-have software, and, before proceeding, I downloaded it to my iPhone and iPad.
The DNP-720 will not play any kind of silver discs (and, trust me, they will be going away), but it will play about everything else. First, and foremost, this baby will access music files on your computer, whether stored in dedicated files or in an iTunes directory (more on this later).  Online music services, Pandora, Rhapsody, and Napster are available to subscribers through a one-time log-in.  There is a nifty internet radio which uses the vTuner (a 1700+ station database) with streaming rates up to 320 kbps. As scrolling through stations becomes quickly tiresome, you can store your three favorites as Presets and add others to the "Favorites" folder.
If you want AM or FM radio, just plug in and orient the supplied antennas and go for it.  While I live in a particularly difficult FM reception area, I was still able to log in about 12 of the 18 local stations for acceptable if not noise-free listening. As far as AM radio goes, yeah it works, but you are not going to spend serious ear time in this low-fi medium.
Wait, wait, there's more. Denon made a wise corporate decision to partner with Apple and has loaded the DNP-720 with the AirPlay function. For many, this will eliminate the need to plug in an i-device, if your music files are in an iTunes library. For iPod junkies, you can "dock" your player through the USB port and, depending on the distances, operate it from the remote control unit, the remote app or its own controls. Although the manual suggested that my legacy iPods would work with the DNP-720, only my original iPod Touch was recognized and played.  Of course, I am saving the best news for last, since the DNP-720 will play files at resolutions up to 96kHz/24-bit from a USB device (thumb drive or some smaller external hard drives).
Finally, there is an intriguing feature named "Party Mode" which allows PM-compatible devices on the network to receive internet radio or iPod-stored music streamed from the DNP-720. This was the only feature that I was unable to evaluate due to not having such devices available during this review.


Putting the Server at my Service

Any new network player should be easy to set up, and the DNP-720 filled that bill. As my router lives about twelve inches from my Wi-Fi gear, I achieved a robust wireless connection, literally in minutes. This is a one-time task unless you change internet providers, modems, routers, or God forbid, lose power. For the impulse-control challenged, Denon provides a clear quick-start diagram. Basically, just screw in the WLAN rod, follow the "Network First Setup" screen commands, and presto, you're done. For sake of completeness, I also checked out the Ethernet connection to ensure that it worked. Since I could detect no audible difference between the two, all listening was done in wireless mode, the way many users will choose to go.  I tested the DNP-720's analog and digital outputs, going analog into a Pass XP-30 preamp and digitally via Toslink to a Bryston BDA-1 DAC. The Bryston DAC was set to automatically upsample the internet sources (44.1 kHz to 176.4 kHz) and the USB sources (88.2 kHz or 96 kHz to 176.4 kHz or 192 kHz, respectively).
Music is Served to my Ears
Listening to the DNP-720 was the equivalent of being a kid in the candy store, once again.  I started off with my Rhapsody and Pandora music services. Both required username and password which were entered, rather laboriously, through the remote controller. Thankfully, as long as you are powered up or in standby, this information remains stored in memory. Both services brought up my playlists without problems. The sonics, limited to mp3-quality, are perfectly acceptable for noncritical listening.
The situation improved significantly, when I went to files on my Dell and Mac computers. The DNP-720 had no difficulty in recognizing many common formats (MP3/ WAV/AAC /WMA/FLAC/FLAC 96/24) as long as the sources were not copy-protected. The AirPlay feature is a real gem, enabling me to scroll through my library of albums stored as 320 kbps files. Granted, this format is not high resolution either, but it was audibly better than the 128 kbps sampling rates of most internet radio station or subscription services.
The highlights of several weeks' worth of listening stemmed from the playback of high resolution files stored on a USB drive. The virtues of a digital music server like the DNP-720 are extolled by passing through resolutions up to 96 kHz/24-bit. The high-res files allowed me to compare analog and digital outputs, or rather to compare the server's internal DAC with my outboard unit, a bit unfair since my Bryston BDA-1 retails for four times the asking price of the DNP-720. However, some prospective buyers may already own separate DACs, so I really had to address this issue. High-res sources included Zephyr's superb Voices Unbound (AIX Records),  Keith Jarrett/Charlie Haden's Jasmine (ECM), Herbie Hancock's River (Blue Note) and Malcolm Arnold's Overtures (Reference Recordings). Switching back and forth between outputs over long time periods is guaranteed to drive one crazy. Fortunately for my mental health, the differences between output modes were pretty obvious and consistent with all recordings. The DNP-720's internal DAC, capable of 192kHz/24-bit resolution, is definitely no slouch, but was outpointed by my reference DAC in the important areas of image breadth and depth, warmth, and detail retrieval. For those without the luxury of a high-end separate DAC, and, at this price point, this one box unit will certainly provide substantial listening pleasure in its own right.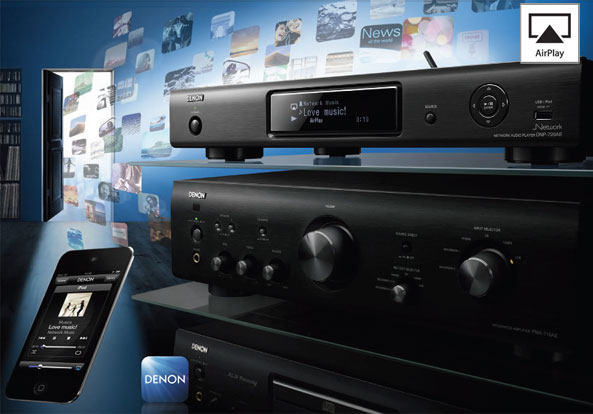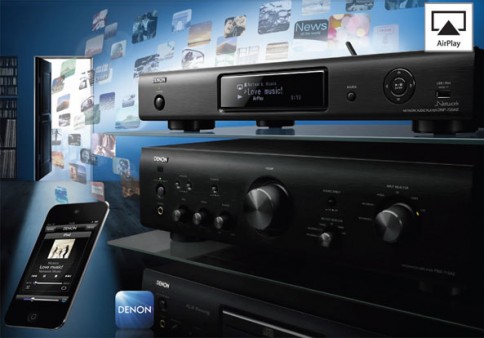 The Good
Simple to set up and operate
Plays high-resolution music files from external drive or computer
Decent internal DAC
Access to internet radio and subscription services
Stable network connectivity
Easy to use i-device app
AirPlay feature enables easy retrieval of iTunes libraries
AM/FM Radio
The Bad
Screen has limited legibility at distances beyond 10 to 12 feet
Searching subscription services often requires laborious remote key stroke entry
No availability for other internet services like Slacker, Last.fm, Spotify, SiriusXM
Toslink optical output limits high resolution output to 96kHz/24-bit.
The Scorecard:
Design/Ergonomics:
[Rating:4/5]
Performance:
[Rating:4/5]
Value:
[Rating:4/5]
Overall:
[Rating:4/5]
The Definitive Word
The folks at Denon must have had their collective good ears on when it came to the DNP-720.  This little server provides versatile and quite musical playback of about every non-disc related digital source out there–internet radio, subscription services, USB drives, iPods, computer-based libraries, and for analog diehards, AM/FM radio.  Set up out of the box was easy and all of the tested modes played flawlessly.  So what's not to like? For starters, the front panel display is just too darn small to read at distances much over 10 feet (unless you have 20/15 vision, which I don't).  Denon has a partial remedy for this issue with its remote control app for i-devices. However, this app did not like to "search by character"  Rhapsody, Pandora, my individual iPod tracks or radio station IDs, directing me to control the device itself  presumably from its dedicated remote. This is a cumbersome and finger-intensive exercise that requires your being close enough to the front panel to read carefully what you are entering.  I would suggest that this shortcoming be addressed pronto in a software revision. Another nit to pick is the lack of access to other popular internet music services like Spotify (higher selectable sampling rate than Rhapsody), Slacker, Last.fm or even better, SiriusXM radio. Finally, iPod users should consider making sure that their device is recent enough to get DNP-720 recognition as two of my three players had obviously reached their AARP status.
All things considered, what still makes this music server a terrific buy is everything you do get for $499. There are less expensive options such as the Logitech Squeezebox Touch ($299, retail), a super bargain digital server in its own right, currently with  more apps, but fewer functions than the DNP-720. While I cannot guarantee it, given Denon's track record, I would be pretty confident that the company will respond to consumer demand for more internet services with the firmware updates possible with this unit. Speaking of updates, I did successfully perform one with this unit, reassuring me that this critical function does work.
For those planning to use a music server as their main provider of stored and streamed music, ultimate purchasing decisions might be swayed by the DNP-720's excellent internal DAC, the AirPlay feature (indispensable for iTunes lovers), and the ability to access some USB devices with higher storage capacity than standard thumb drives.  Newcomers who are assembling their first serious audio system would be well "served" by building it around the DNP-720, mated to an inexpensive integrated amplifier or A/V receiver and mini-monitor speakers.
–
Specifications :
Network Section:
Type of network: Wireless LAN (conforming to Wi-Fi)/Wired LAN
Type of wireless LAN: conforming to IEEE 802.11b; conforming to IEEE 802.11g
Support music servers: DLNA/WMP11/Twonky Vision
Windows 7 compatibility: Yes
Support Audio Formats: MP3/WAV/WMA/FLAC/FLAC 96/24
Audio Section:
Channels: 2
Frequency Response: 2Hz-48kHz (fs: 96kHz); 2Hz-20kHz (fs: 44.1kHz)
Dynamic Range: 98 dB
Signal-to-Noise Ratio: 110 dB
Total Harmonic Distortion: 0.003% (1 kHz, audible band)
Output Level: 2 V rms (100k Ohms)
Tuner Section:
FM Receiving Range: 87.5 MHz – 107.9 MHz
AM Receiving Range: 520 kHz – 1611 kHz
General:
Power Supply: AC 120 V, 60 Hz
Power Consumption: 18 W
Standby Consumption: 0.2 W (Power Indicator off)
Dimensions (W x H x D) : 17-3/32" x 2-29/32" x 11-7/64"/  434 x 74 x 282 mm
Weight: 6 lbs, 6.3 oz / 2.9 kg.
More Information:
Denon DNP-720AE Digital Network Player (SRP $499)
[amazon-product]B005FUGPOU[/amazon-product]
–