One Box Does it All
Denon has a long tradition of making high quality, forward-looking products for the home audio/video market.  While this company has well established lines of Blu-ray disc players and A/V Receivers, the S-5BD, introduced at the 2010 CES, is their initial offering that combines both functions- a "ray-ceiver," possibly?  Before revealing all of the tricks up the S-5BD's sleeves, consider that there are not many comparable products in the home theater market, let alone those of high quality. Further, we are not talking HTIB but a real component that can get anyone properly into Blu-ray playback and surround sound.
Jump-starting the S-5BD
The S-5BD's attractive, minimalist front panel has a soothing blue alphanumeric display, a power button on the left and large volume control on the right. Player function buttons run along the top edge of the unit's façade.  A left hand door opens to reveal an SD card slot, a headphone jack and microphone input, while a right hand door gives access to a USB port for an iPod and an additional  HDMI port. The S-5BD's rear panel has 2 analog inputs, coaxial and Toslink digital inputs, 2 additional HDMI ports, analog preamp and Zone 2 outputs, an HDMI output, remote trigger points, an RS-232C and Ethernet connection.

This, of course, is just the beginning.  The S-5BD will deliver a number of audio and video sources into your home theater, including CDs (-R, -RW), DVDs (-R,+R, -RW, +RW), BDs,  and analog AM/FM radio  broadcasts. But wait, there's more. Via the multiple available ports you can plug in and play files in  mp3, AAC, WAV, and WMA formats on an iPod, SD card, as well as the dreaded family vacation photos (JPEGs).  You can also hook up a cable or satellite box via HDMI.

This box can cook too
The S-5BD "ray-ceiver," has a capable multi-channel (5.1) amplifier in its rather compact frame and can go up to 7.1 channels if needed with additional amplification.  Its 75 watts per channel output would be sufficient to fuel most home theater speaker systems.  Home theater buffs know that power is only one requisite for satisfying surround sound, the other being the proper balance and equalization of the multiple speakers involved in creating the "surround experience."  To this end, the S-5BD incorporates the AudysseyTM system which requires a listener location microphone (supplied).   The AudysseyTM system is well known in the industry and, when properly engaged, assures optimal surround sound.
On the Road to Home Theater
My typical alpha male approach to new equipment is to hook it all up quickly, experiment with the controls and hope that everything works and nothing self destructs.  I would not recommend this approach with the S-5BD since its two components, a BD player and A/V Receiver, must be set up separately. Fortunately, the instruction manual is extremely well written and illustrated. There are "Simple" set up instructions that will get you up and running in minutes. "Basic" instructions follow with a bit more detail (enough for 90% of users). "Advanced" instructions are largely dedicated to set ups involving more than 5.1 surround sound.  Perhaps the most important section deals with manually setting up the surround sound features as this will be critical for home theater.
The challenge for video disc players is the proper set up of screen size, brightness, contrast, hue, and  resolution. From the full options box, I set the S-5BD player to a 16:9 aspect ratio (4:3 normal, pan/scan, and wide are available), automatic progressive mode, 1080p default resolution, and automatic Deep Color.  For viewing options, other than DVD and BD, I connected my cable box to one of the HDMI ports.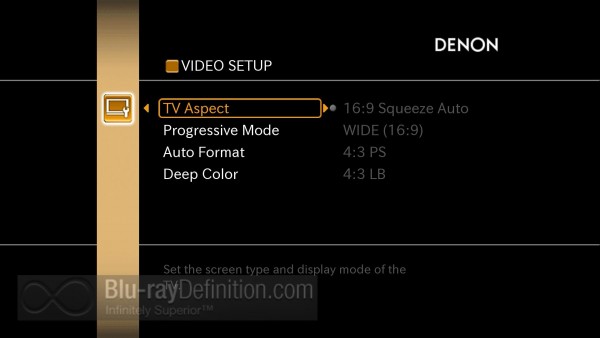 To evaluate the versatility of the playback options, I connected an iPod, a USB thumb drive, and an SD card, at varying times during the review. The 5-SBD offers the commonly used Dolby surround sound options (Digital, Digital EX, TrueHD), DTS surround options (5.1ch, ES-Discrete Matrix 6.1, ES-Discrete 6.1, 96/24, HD) and PCM multi-channel.  For surround speaker set up, I went through the step-by-step AudysseyTM Auto Set-Up for my home theater speakers (2 front, 1 center channel, 2 surrounds, and 1 subwoofer) in a 5.1 configuration. Using the supplied microphone, the 14-step process was well described with screen examples in the manual and took about 20 minutes to finish. The automatic settings were unchanged throughout the review and the results will be described later.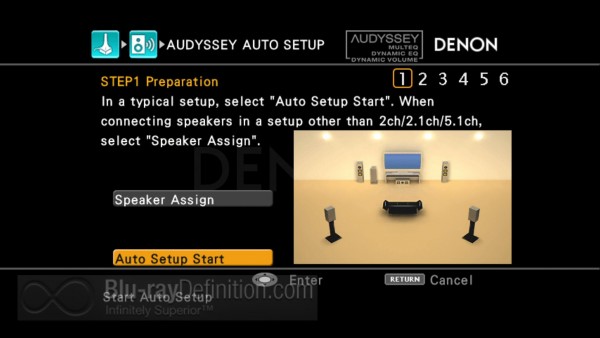 For logistical reasons, I could not test the Zone 2 play function which allows audio and video signals to pass to another system. However, I did notice that all rear panel connections for this feature appeared to be analog. I also only used the radio function to determine that it worked properly, as FM reception is very spotty in our area. I did link the S-5BD to my home network through its Ethernet port.  This functionality allows interactive  Blu-ray content ("BD-Live") and periodic updates of the S-5BD's firmware.  Note that BD-Live requires an SD card be inserted in the designated card slot. There is no provision for streaming services such as NetFlix, Amazon on-demand, VUDU, or Pandora.
Arm Chair Pilot to Tower: Remote and GUI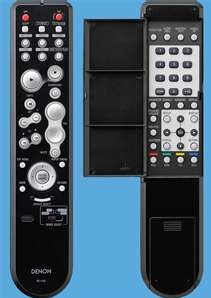 The S-5BD's remote control proved to be my major quibble with this system. It is the first such unit I have operated with controls on both front and rear (behind a door). The front panel buttons power the unit and associated peripherals on and off, provide play functions, volume/muting, and selection of viewing/listening materials but are not laid out intuitively or ergonomically. Although there is a "one touch" play button for engaging the S-5BD and its associated TV, this is not a Staples "easy button" for many other functions.  There is no backlighting for use in a dark or dimly lit room. I often hit the volume button when I wanted to change selections and the fast forward instead of next track. The remote's rear buttons set up various (and important) functions. The chapter selection buttons are also behind the rear panel door rather than  the front of the remote. These buttons are small, somewhat hard to read and set very closely together. Serious remote control jockeys will want to clone this remote to their universal controller ASAP and just put it away for safe-keeping. The graphical user interface (GUI), on the other hand, is very legible and its navigation is quite easy.
Studying for Exams: S-5BD takes on the test discs
I put the S-5BD through its paces with the HQV 2.0 test programs which assess disc player  performance as this will be a critical decision-maker for potential  buyers. Overall, the score for the multiple categories in these tests showed the S-5BD to be an excellent player for both BDs and DVDs.
Blu-ray:
Video Conversion Tests:
The S-5BD performed very well on the Video Resolution test, scoring 5's (top scores)  in all categories.  Likewise, it excelled in the Film Resolution section , failing to get a 5 only in the moire patterns of the Stadium on 2:2 and 3:2 chapters.
Film Resolution Tests:
Again, a top performance in all but the Stadium sequence where moiré  patterns appeared during the multi-cadence clips.   Color upsampling errors were neglible on all of the test bars and the red flower sequence was gorgeous.
DVD Playback
The HQV 2.0 DVD  were applied for similar purposes to evaluate DVD performance of the S-5BD, still a popular playback medium for most home theaters. While most of today's BD players provide competent BD disc playback, a number fall short in the playback of standard resolution discs.
Video Resolution — Scored well in all categories, with minimal artifact on the dial test.
Film Resolution – Rapid lock-in time with no moiré pattern in the race car sequence.
Text Overlays on Film – Perfect reproduction of scrolling text.
Response Time — adequate in all test segments.
Multi-cadence — Perfect scores in all segments.
How fast did it load?
Early BD adopters found that typical disc loading times were leisurely enough to walk their dogs around the block.  This aspect of BD playback has improved dramatically over successive BD player generations.  For comparisons, I used my  Sony ES-5000 BD player. The times listed below reflect disc tray closure to opening of disc play menu.
Denon:
Sunshine — 2:50
Casino Royale — 0:53
The Fifth Element — 1:11
Tomb Raider—0:54
Sony:
Sunshine — 1:35
Casino Royale — 0:36
The Fifth Element — 0:39
Tomb Raider—0:42
Overall, while not on a par with my reference player, most discs loaded within a reasonable time frame.
Video Performance: The Ray-ceiver meets the Blu-ray
Since there are so many excellent and relatively inexpensive BD players out there, the rationale for getting this combo device has to begin with BD disc performance. While the above test figures suggest that the S-5BD would be an excellent disc player on par with many mid-priced units ($500+ range), if not quite up to the more expensive "big boys" ($1000 and  up). However, in judging a BD player, the proof is in the picture.  The Fifth Element has a reference scene which cuts back and forth between the Blue Diva's recital and LeeLoo's duke-out with the Mangalores. The contrast between blue and orange motifs in the rapid scene shift was as good as I have seen and certainly the equal of my reference player.  Similarly, I was impressed by the impeccable color and detail on all of the cuts from the Legends of Jazz highlights, a 1080i disc. The colors of the artists' clothing and the natural facial detail were just perfect.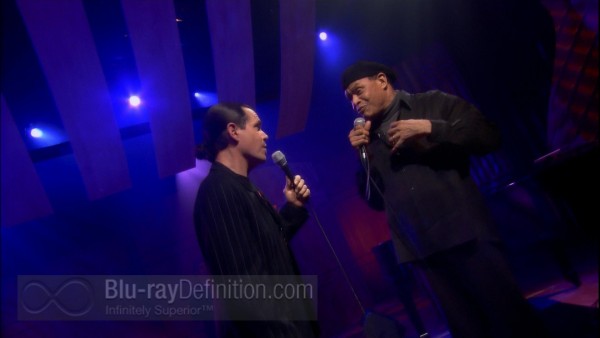 I checked out the DVD performance, using some excellent discs.  Alison Krauss & Union Station Live is a well produced 2002 live concert. While it does not have Blu-ray resolution, the close-ups of Alison and her band along with the details of her instruments are well done. Blue Crush has some awesome surfing videography which was conveyed effectively by the S-5BD. I certainly did not feel that I was being short-changed by the standard resolution format.
Home Theater Performance: Surrounded by Sound
Since the S-5BD is a two-component device, it was incumbent to explore its performance as a surround-sound A/V Receiver.  The speakers used were Martin-Logan CLX's (front), Stage (center), Script-i's (surround) and Descent –i (subwoofer). While my subwoofers are self-powered, the demands provided by my ESL panels can challenge lesser amps. While I did not expect the power and majesty that my reference Pass Labs Class A amps generate, the S-5BD provided more than adequate volume at normal listening levels.  At a rated 75 watts per channel, I did not feel that the panels were being power-starved.  Dynamic soundtracks like those of The Fifth Element, came across with sufficient slam and whomp to make the startling surround effects, well, startling. 
I would expect that potential buyers will want to listen to music, eventually.  Here the choices boil down to convenience (iPod mp3) versus higher quality sources like CDs and, even better, Blu-ray music-only discs.  Cutting to the chase,  CD playback from discs like Neil Young's "Live at Massey Hall 1971" (Reprise) and Reference Recording's Joel Fan's recital "West of the Sun" showed the S-5BD to be a very good audio player.  Moving up to the higher resolution material, Sigmund & Iver's "HarmOrgan"  (2L) in 192kHz/24-bit sound gave a spectacular demonstration of instruments in a large space.
Well, nothing's Perfect
After finding that a firmware update was available,  I tried to download it.  Within a few minutes, I started dancing the "download limbo" and, after several tries, gave up.  I  contacted Denon's  Chuck Miller, a welcome Mr. Fix-it,  and we worked through a simple solution, allowing the firmware to load without further problems. I then re-clocked the disc loading times and found them similar to those of my reference player.  More importantly, I was able to play newer Blu-ray discs like Avatar which would not play on the previous firmware edition. This experience also left me with a very good impression of Denon's customer support, a most critical consideration for any equipment buyer.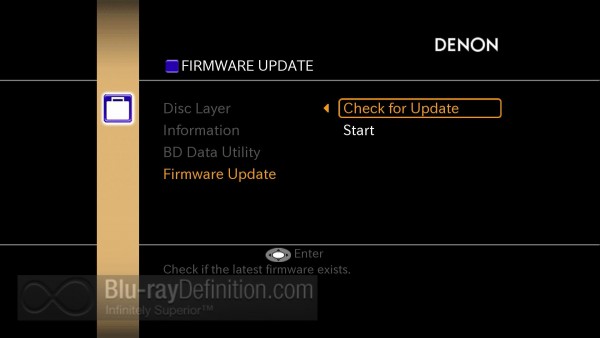 The Good:
First rate BD and DVD Player
Excellent Surround Sound Receiver
AudysseyTM EQ System easy to set up
Versatile audio playback options
GUI easy to navigate
Compact size
Solid construction
Top-notch customer support
The Bad:
Non-intuitive remote control
Set up buttons small and closely spaced
No provision for streaming video services other than BD-Live
Not priced for entry-level systems
The Definitive Word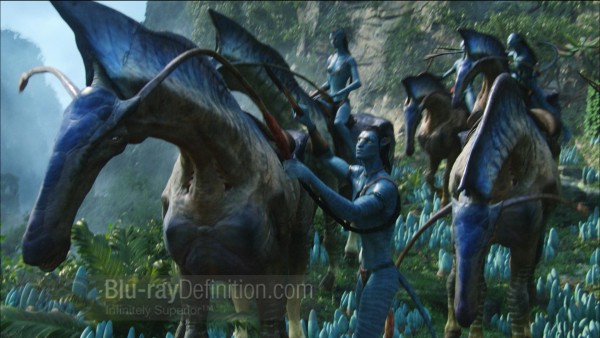 The Denon S-5BD Blu-ray/AV Receiver marries two key components for home theater.  It has an excellent BD player which performs close to the top of the BD game and acquits itself very well as a DVD player.  The versatile receiver will reproduce all digital music sources except for SACDs and internet streams.  The AudysseyTM system is an extremely easy and effective means to get a surround  system up and running.  Audio performance is excellent and on a par with the $1000 – $1500  AVRs.  My main quibble is the remote control with its unusual layout although this will be readily resolved by cloning its commands to a universal remote.  The GUI is more than adequate and set up is quite straightforward.  Cutting to the chase, who should buy the Denon S-5BD?  At $1799.00, it would be a bit pricey for the AV novice, although its build quality and overall performance is top flight.  However, those who are seeking to upgrade their entry level equipment or are apartment dwellers with limited space or technophobes who only want to fool with one component that does it all would be wise to consider the S-5BD.
The Scorecard:
The Design
[Rating:4/5]
Performance:
[Rating:4/5]
Value:
[Rating:3/5]
Overall:
[Rating:3.5/5]
Specifications:
Audio:
Power Output (watts/channel) : 75 (all channels rated @0.08 THD)
Sound Modes:
Dolby Pro Logic IIx: Cinema, Music, Game Modes
Dolby TrueHD and Dolby Digital+ Decoding
Dolby Digital Surround  EX Decoding
dts ES Discrete 6.1 Decoding
dts ES Matrix 6.1 Decoding
dts Neo: 6 Stereo-to Surround Cinema and Music Mode
dts 96/24 5.1 for DVD-Video Processing
5-Channel Stereo Mode
Rock Arena Surround Mode
Jazz Club Surround Mode
Virtual Surround Mode
Multi-Channel Stereo Mode
Auto  Surround Mode (Analog or Digital Input)
Active Center Channel in All Surround Modes
INPUTS
1 Assignable D1igital Input
1 Coaxial Digital Input
2 Optical Digital Input
3 Analog Audio Inputs
1 S-Video Input
3 HDMI 1.3a Input
RS-232 Port
IR Serial Remote In/Out Terminals
iPod Dock Control Port
SD Card input
Ethernet port
Microphone input
OUTPUTS:
1 Multi-Zone (analog)
1 Multi-Zone Composite Video
1 HDMI 1.3a
1 Preamp
FEATURES:
24-bit/192-kHz DAC
Auto/Manual Room Equalization
BD-Live
Multi-function Remote Control
Video
Video Resolution: 1080p
Full HD 1080p/24fps
Playable Disk Types: DVD-R, DVD-RW, DVD-Video, BD-ROM, CD-DA, CD-RW, CD-R, CD
Progressive Scan 3:2 Pulldown
Progressive
Video Upconversion: 1080p, 1080i, 720p
Multi-Camera Angle Select: Yes
Multi-Subtitle Select: Yes
Physical Description
Weight (pounds) : 17.2
Width (Inches) : 17.1
Height (Inches): 4.7
Depth (inches) : 14.4
More information:
Denon S-5BD Integrated Blu-ray/AV Receiver (SRP: $1799)
Where to buy:
Purchase the Denon S-5BD Integrated A/V Receiver/Blu-ray Player at OneCall
[amazon-product]B003CP0ODS[/amazon-product]


Join the Discussion on Our Forum