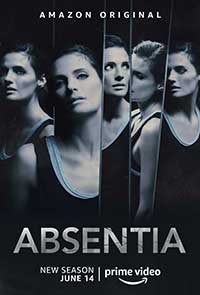 Absentia: Season 1 launched nearly two years ago, as FBI Agent Emily Byrne (Stana Katic) had been declared legally dead but was found alive after missing for six years. Emily's recovery has been bumpy and as Season 2 opens, she has PSTD that she is drowning in alcohol, while trying to reconnect the missing pieces of her experiences at the Barrett House orphanage and her time in captivity.
Her husband and fellow Agent Nick Durand (Patrick Heusinger) has remarried clinical psychologist Alice (Cara Theobold) who has taken good care of Emily's troubled son Flynn (Patrick McAuley). Emily gets much needed emotional support from her lover and drinking buddy Boston Police Detective Tommy Gibbs (Angel Bonanni) who helps to find her long-lost biological mother Valerie Chandris (Penny Downie). Before Emily can reconcile with Valerie, the older woman is found dead from a deliberate fentanyl overdose. This happens to be just one in a string of similar deaths that in Absentia: Season 2 Tommy was looking into but when he gets taken off the case FBI Agent Crown (Christopher Colquhoun) reinstates Emily and involves her in the ongoing fentanyl murder investigation.
Tyler Brandon Mills (Joshua James) contaminates the ventilation system of the Boston FEMA office with a neurotoxic gas killing nearly everyone in the room. Nick gets assigned to lead the investigative team while Special Agent and profiler Julianne Gunnarsen (Natasha Little) finds a disturbing link between the terrorist Mills and an extremist group. Emily and her new partner Cal Issac (Matthew Le Nevez) see a possible connection between the fentanyl victims and Mills who gets conveniently killed by disturbed Army veteran Rex Wolfe (Andrew Brooke).
The trail leads Emily and Cal to the shady arms industry in Moldova where they run into Cal's former partner and arms dealer Holt Thompson (Lee Boardman). Their twisiting road becomes littered with dead bodies, including those of Wolfe, Thompson, and Tommy whose dying clue leads the two FBI agents to the mysterious realm of biopsychological research and noted child psychologist Dr. Semo Oduwale (Hugh Quarshie) who just happens to be treating Emily's son Flynn. A tangled web of coincidences draws in Alice Durand who was one of Oduwale's graduate students and who idolizes her former professor. Somewhere out there is the real mastermind behind the fentanyl killings and Nick, Emily, and Cal aim to stop him at all costs.
Season Two of Absentia delves into the dark recesses of Agent Byrne's psyche as her frequent and distorted flashbacks reflect the abuse in the orphanage and her equally brutal and prolonged torture sessions while locked up in a remote cabin. Stana Ratic again carries the day as the lead and she is ably partnered by Patrick Heusinger, Cara Theobald, and the refreshing introduction of veteran TV actor Hugh Quarshie. Director Oded Ruskin again creates a taut, suspenseful neo-noir series that will should be every binge-watcher's delight.  Those who are into the world of psychological thrillers will find much to enjoy in season 2 with a surprise ending that may be a harbinger of things to come. Whether Amazon Prime Video will go back to the well for a third installment is anyone's guess, but I certainly hope that this studio's bosses will at least consider that possibility. Highly recommended.
Absentia: Season 2 is streaming now in its entirely on Amazon Prime Video
---
Matt Cirulnick | Gaia Violo
Show Creator
14 Jun. 2019
Original Release Date
Amazon Prime Video
Network/Streaming Service
40-45 Minutes
Ep. Run Time
Masha Productions | Amazon Studios | Sony Pictures Television
Studio/Distributor
Summary
Absentia returns with a literal vengeance as depressed former FBI Agent Emily Byrne attempts to regain some semblance of a normal life but instead finds a whole new group of evildoers who stand in her way. Strong performances by Stana Katic and her supporting cast and a tension-packed storyline make this a binge-worthy watch.
What people say... Login to rate
Be the first to leave a review.
Show more