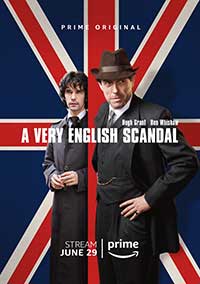 Amazon Prime has picked up the 2018 BBC One three-episode mini-series A Very English Scandal that highlights some very forgettable moments in the life of the late Jeremy Thorpe, the leader of the UK's Liberal Party during the late 1960 and early 1970s.has
It is 1965 and Thorpe (Hugh Grant) is dining with old friend and fellow M.P., Peter "Pedro" Bessell (Alex Jennings). Both men admit to having had homosexual relationships, although  homosexuality was then a criminal offense in the UK. Four years earlier, Thorpe had met handsome Norman Josiffe (Ben Whishaw), a stable boy working for Jeremy's friend Norman van der Vater (Nicholas Blane). A year later, the young man appears in Thorpe's parliamentary offices with some very "cheeky" letters that the M.P. had sent to van der Vater. In short order, Norman becomes Thorpe's lover and earns the pet name "Bunnies."
Eventually,  Norman's frequent mood swings break up their four-year relationship. Distraught, the young man takes some of Thorpe's "love letters" to the police, claiming that the M.P. had abused him. Norman's complaint is dismissed and the letters are put into storage. Thorpe's mother Ursula Thorpe (Patricia Hodge) has received a rambling letter from Norman detailing their relationship and demanding thirty pounds as hush money.  Jeremy has Bessell visit Norman, now living in Dublin, to scare him off but ends up giving him some spending money.  In 1967, Thorpe becomes leader of the Liberal Party. To boost his popularity, Jeremy marries pretty Caroline Allpass (Alice Orr-Ewing) who bears him a son, Rupert, but later dies in an automobile accident.
Norman has changed his surname to Scott but his career as a male model and his marriage to a pregnant Sue (Lucy Briggs-Owen) fail miserably. A friend, Gwen Parry-Jones (Eve Myles), encourages Norman to visit her acquaintance and one of Thorpe's political rivals, Emlyn Hooson (Jason Watkins) whose subsequent attempt to smear Thorpe with Scott's homosexual story is unsuccessful.
Jeremy's political star is in its ascendance when he marries renowned concert pianist Marion Stein (Monica Dolan), ex-wife of the Lord of Harewood.  Still feeling threatened by Norman, Jeremy asks his friend M.P. David Steel (Peter F. Gardiner) to arrange for Scott's murder. Through intermediaries, he hires bumbling hit man Andrew "Gino" Newton (Blake Harrison) who kills Scott's dog rather than Scott, and gets jailed. Some old "Bunnies" letters are found in Bessel's former office and when they are published in the newspapers, Thorpe's political career is effectively over. He gets taken to court with four other co-conspirators for Norman's attempted murder and hotshot solicitor George Carman (Adrian Scarborough) is hired to defend  his high-profile client.  The concluding trial at the Old Bailey yields some of this show's few moments of suspense.
Director Stephen Frears received a fact-based script for A Very English Scandal from Russell T. Davies and John Preston and added an occasional comical bent to some otherwise torpidly paced proceedings that are more soap opera than historical drama.  Ben Whishaw's spot-on portrayal of a 1960s gay man is the sole bright light in this rather dimly lit affair. He looks age-appropriate for his character, at least at the beginning, although, like all the other characters, does not appear to age much during this two decades-long saga. The same cannot be said for Hugh Grant who appears much older than Thorpe was at the beginning of his relationship with the stable boy.  Grant's role reflects awkward against-type casting for an actor best known for romantic comedies like Notting Hill and Love Actually. His limited dramatic palette which, in this case, feature a perpetual grimace and flat affect, does little to create a character of interest.
A Very English Scandal revives forty-year old English tabloid fodder that definitely looks its age. While well received in the UK, I do not see it having much appeal for audiences on this side of the "pond." A far better drama of political intrigue is to be found the original BBC's House of Cards series (available on Netflix) on which the recent popular Netflix American version was based.
A Very English Scandal is streaming in its entirety on Amazon Prime
Russell T. Davies | John Preston
Show Creator
29 Jun. 2018
Original Release Date
Amazon Prime Video
Network/Streaming Service
Blueprint Pictures | BBC One | Amazon Studio
Studio/Distributor
Summary
Amazon Studios gives us a BBC One mini-series that revisits a tabloid scandal that rocked the UK Liberal Party in 1979 as the party leader gets romantically linked with a male model. This dated drama is torpidly paced and finds Hugh Grant miscast as the errant MP while the forty year-old drama seems far less scandalous.
What people say... Login to rate
Be the first to leave a review.
Show more