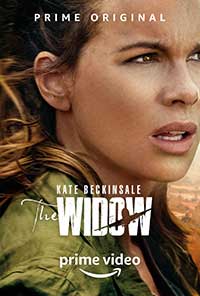 In the latest Prime Original, The Widow, Former British Artillery Captain Georgia Wells (Kate Beckinsale) lives in her late father's old shack in a remote Welsh village and is still mourning the death of her infant daughter. She  believed that her husband, foreign aid worker Will Mason (Matthew Le Nevez), died three years ago in the crash of Sankuru flight 19 in the Democratic Republic of the Congo but everything changes when a news broadcast from Kinshasa shows Will being shielded on the streets by soldier of fortune Pieter Bello (Bart Fouche).
Georgia flies to Kinshasa and meets Emmanuel Kazadi (Jackie Ido) whose pregnant wife also died in the same plane crash. They briefly team up to aid her quest before she receives a threatening "Go Home" message and he is killed by a car bomb.  Georgia is staying with Judith Gray (Alex Kingston) who runs the international healthcare mission where Will was working. Before the fatal flight, Will had hacked Judith's bank accounts and sees that she is making big money by letting crooked Congolese General Azikiwe (Babs Olusanmokun) use her medical vehicles to transport coltan from his illegal mining and shipping enterprise. In fact, the mineral coltan plays a major role in this story as it is a vital ingredient for cellphones and rechargeable batteries.
The hulking blind man Ariel Helgason (Olafur Darri Olafsson) whose real name is Mikhail Arnaldson hopes to receive experimental surgery in Rotterdam to restore his sight. He has changed his identity because he is the sole survivor of the same plane crash in which Will and dozens of others died and knows it was caused by a bomb that the General gave to Emmanuel's pregnant wife to eliminate an opposition politician. Ariel now lives in fear that he will become another target of Azikiwe's hit list, if this information reaches the General (which, of course, it does).
Georgia's search for Will continues and she befriends a young girl Adidja (Shalom Nyhandko) who is being prepared for service in the "army" that Bello has assembled to guard the coltan mines.  When she gets word that Will might be living somewhere in Rwanda, she presses on, even though her likelihood of success is slim.  Former Army officer Martin Benson (Charles Dance), a good friend of Georgia's father arrives in Kinshasa, and becomes Georgia's protector as he tries to steer her away from danger and bring her safely home.
This grim tale of greed, corruption, and murder, told through frequent time shifts, is far from over as further plot twists expose the very darkest aspects of human nature. In spite of all the evil that Georgia manages to uncover, there remains a rare opportunity for some heroism that could change many lives, particularly those of the families who lost relatives in the plane crash.
Long-time collaborators and brothers Harry and Jack Williams provide a hard-hitting account of what life in the DRC might be like for its indigenous peoples and for those Europeans who, like their forebears, have exploited this mineral-rich nation for nearly a century. As you get further into the eight episodes, there is definitely a John le Carré vibe at work here, particularly when it comes to the painstaking development of the principal characters. Kate Beckinsale rises to the physical and psychological demands of her conflicted character while veteran actor Charles Dance complements her performance perfectly as the unflappable Brit. A true bright light is supplied by young Shalom Nyhandko, the most sympathetic member of this cast. Babs Olasunmokun and Matthew Le Nevez hold up their ends as well as the heartless assassin and spineless coward, respectively. The sweeping film work by Stuart Howell and John Lee is supported by Dominik Sherner's pulsating score, and the total package is often spellbinding. A definitely binge-worthy entry by Amazon Prime Video that will maintain a tight grip on its viewers up to an unexpected and heart-warming conclusion. Highly recommended.
The Widow: Season 1 is now streaming in its entirety on Amazon Prime Video
---
1 Mar. 2019
Original Release Date
Amazon Prime Video
Network/Streaming Service
Two Brothers Pictures | Amazon Studios
Studio/Distributor
Summary
Kate Beckinsale plays a woman determined to uncover the mystery behind the disappearance of her husband in the Congo in this binge-worthy Amazon Prime Video original. After a slow opening, this series heats up and offers sweeping film work by Stuart Howell and John Lee supported by Dominik Sherner's pulsating score.
What people say... Login to rate
Be the first to leave a review.
Show more