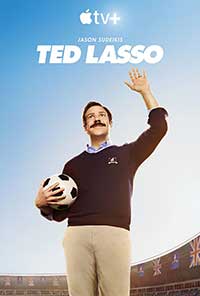 Actually, it was a couple of brief spots airing on NBC, featuring Ted Lasso (Jason Sudeikis) as the fictional former coach of the Tottenham Spurs that inspired this new 10-episode Apple TV+ series. If the premise of an American football coach hired by a wealthy British divorcée to coach her football AKA "soccer" team does not tickle your funny bone or occasionally tug at your heartstrings, then read no further.
Rebecca Welton (Hanna Waddington) owns the English Premier League team, AFC Richmond, part of the spoils of her divorce from philandering husband Rupert Mannion (Anthony Head).  Across the pond, Theodore "Ted" Lasso and his unorthodox coaching style have just led his Wichita State University to a Division 2 national collegiate football championship. A YouTube video of Ted's locker room celebration dance has gone viral and catches Rebecca's attention. She fires the current team manager and hires Ted and his assistant Coach Beard (Brendan Hunt)—a good move since Beard is quite knowledgeable about this sport while Ted has never seen a game of English football. Ted's marriage is about to fail, and this job was intended to give his wife "some space," but we already can guess how things will turn out. The men arrive in London and lowly team personal assistant Nate (Nick Mohammed) takes them directly to Rebecca. Higgins (Jeremy Swift), director of communications then brings a weary Ted to a press conference where snarky sports journalist Trent Crimm (James Lance) savages him in public, revealing the coach's stunning ignorance of the game. Rebecca's real reason for hiring Lasso is now revealed: an out-of-his-element Ted will make the team utterly fail, thereby destroying the only thing that Rupert truly loved.
Ted immediately runs afoul of aging team captain Roy Kent (Brett Goldstein) and next meets sexy Keeley Jones (Juno Temple), significant other of self-absorbed on-loan star player Jamie Tartt (Phil Dunster). While Ted is trying to find a way to win the hearts and minds of his players including young Sam Obisanya (Toheeb Jimoh), a talented but underachieving Nigerian rookie. The first game under manager Lasso is a resounding 4-1 defeat by arch-rival Crystal Palace. The tide begins to turn for Ted when he throws a birthday party for Sam in the locker room and gets the water pressure in showers restored.
Jamie Tartt remains Ted's biggest problem. Near the end of the following game, Ted benches Tartt and, miraculously, AFC Richmond gets its first win for its new manager. While there will be no shortage of improbabilities, you do not need psychic powers to figure out, early on, how this underdog tale will play out—particularly if you have seen Major League or The Mighty Ducks.
Having seen Jason Sudeikis on SNL and 30 Rock, I was well aware that he had enough comedic talent to make a dramatic silk purse out of a proverbial sow's ear if that were needed. In fact, this was never needed, as veteran actor/screenwriter Brendan Hunt and his creative team have delivered a feel-good script that immediately has you rooting for Jason's character, homespun faux Southern accent and all. The supporting cast is impressive. Hannah Waddington is the archetypal bitter post-divorce ball-buster, while the trio of Brett Goldstein, Phil Dunster, and Toheeb Jimoh are credible footballers, and Juno Temple is quite the sexy little beast. There is liberal use of the word "wanker," a common British pejorative, that eventually wears out its welcome, but this is one of the few dramatic missteps in an otherwise most enjoyable comedy of errors.  We need more laughs than ever in these trying times and Ted Lasso loads each 30-minute episode with plenty of them.  Highly recommended.
Ted Lasso is streaming now exclusively on Apple TV+
[youtube https://www.youtube.com/watch?v=3u7EIiohs6U&w=853&h=480]
---
The Creative Content: 4.0/5
Show Creator: Brendan Hunt
Original Release Date: 14 August 2020
Streaming Service: Apple TV+
Ep. Run Time: 30 Mins.
No. Eps.: 10
Studios & Distributors: Ruby's Tuna | Universal Television | Doozer | Warner Bros. Television | Apple TV+
Rating Certificate: TV-MA