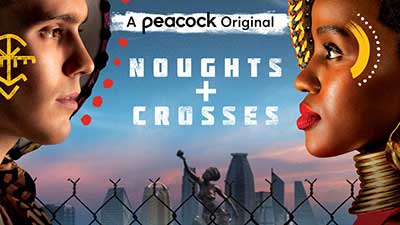 Noughts + Crosses is a new Peacock Original sci-fi series from the fledgling NBCUniversal streaming service. The alternate history series is adapted from the first book in British author Malorie Blackman's award-winning YA series that tells of a world that plays out in racial reverse in which Africa ("Aprica" here) invaded and colonized Europe centuries earlier and now, in modern-day London ("Albion") there is a Jim Crow-esque/Apartheid-like segregationist government in control, where the blacks or "Crosses" are the ruling class, controlling all the power, wealth, and power over the "Noughts" or whites, who are the lower class and – after centuries of abuse and oppression, including once being slaves – are edging towards an uprising.
It is against this backdrop, where, like in our real world as has often been the case, interracial romances are outlawed, that our two protagonists, the Cross Sephy (Masali Baduza), the daughter of a high-ranking government official, and Nought Callum (Jack Rowan), who is a struggling waiter and son of a maid to Sephy's family, find each other and launch an uneasy and difficult romance with everything against it working out.
On paper, Noughts + Crosses sounds like it is a perfect opportunity to explore some difficult racial issues that are plaguing or society even as I type this review. Reversing the roles of two major racial groups in Western society is a brilliantly subversive plot device if done well. And there lies the rub. Perhaps it is due to its YA roots (I have not read the original source material; I would hope the novels are stronger), but there is no depth to the world-building in this series. The direction by Julian Holmes and Koby Adom keeps the story moving along and they certainly have put together a crew that keeps the series appealing in a visual sense, but the depth of the backstory seems forgotten.
[envira-album id="124720″]
If Africa has conquered Europe, wither the dominance of African culture in this series beyond some African garb and the occasional African-inspired music or dance? And, why are we still referring to "Aprica" as a continent here like it's one country? Who are the Aprican's that took over Albion? Which country in Aprica did they come from? Or are we meant to believe that Africa, err, Aprica is just one super-country? Also, why are they, the Crosses, using European beverages like champagne for their celebrations? Why are none of the Noughts trying to darken their skin or coarsen their hair to assimilate to the Crosses that have ruled over them for centuries? And, lastly, why do so many of the Crosses just sound like Londoners and not the other way around?
Those are just so many of the holes in this series that, in the hands of more capable directors and writers, could have been banged out. Instead, we are offered a rather tepid story of forbidden love in hidden away motels and sneaked kisses, terrorist subplots, and hints of machinations within the Cross government that only confuses the overall message of the series. I would say, after having seen the first four episodes of this six-episode season, that the best parts of it – the acting by the always excellent Paterson Joseph as Sephy's father and a high-ranking Cross government official, and the set and costume designs, are not enough to save this series.
Noughts + Crosses premieres on Peacock on September 4, 2020 and is produced by Mammoth Screen, executive produced by Participant and Roc Nation and is distributed internationally by ITV Studios.
---
The Creative Content: 2.5/5
Directed By: Julian Holmes | Koby Adom
Original Release Date: 4 September 2020
Streaming Service: Peacock
Episode Run Time: 60 min.
No. Eps.: 6
Studios & Distributors: Mammoth Screen | Participant | Roc Nation