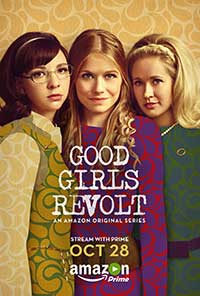 It is 1969, the US is deeply entrenched in the Vietnam War, the civil rights movement has ramped up, and there is a growing feminist campaign. Inspired by real events, Good Girls Revolt follows the careers of three young "researchers" at News of the Week magazine (AKA Newsweek), trying to gain ground in the male-dominated journalism business. Free-spirited Patti Robinson (Genevieve Angelson); introverted Cindy Reston (Erin Darke), and socialite Jane Hollander (Anna Camp) ply their trade in the "pit" rather than in the "story" room, the exclusive territory of male reporters. All three women have romantic relationships in various stages of flux: pot-smoking Patti is getting it on with roving reporter Doug Rhodes (Hunter Parrish), inhibited Cindy is in a loveless marriage with law student Lenny (Andy Kelso), and perfectly coiffed Jane works quite closely with Sam Rosenberg (Daniel Eric Gold) but dates promising business school student Chad Huntington (Daniel DiTomasso).
Editor bossman Evan Phinnaeus "Finn" Woodhouse (Chris Diamantopoulos) hands out spicy assignments to the reporter/researcher teams: an Altamont rock concert riot that killed three people, an interview with retiring Federal Reserve Chairman Martin (John Burke), and the FBI inflation of crime statistics that segues into an interview with Black Panther leader Keith (Reggie Watkins). The national editor William "Wick" McFadden (Jim Belushi) is under pressure to get the Altamont "cover" out ahead of Rolling Stone  but is troubled that this story will supplant his personal hot-button topic, the Vietnam War. The soon-to-be-famous Nora Ephron (Grace Gummer) briefly graces the NOTW offices but breaks the "girls do not do rewrites" rule and abruptly quits.
The three female protagonists try to move on with personal and professional lives in the episodes that follow. Patti and Doug call it quits but continue to work together and although they rekindle their romance, Patti confesses her desire to be a real reporter and not just his "researcher." Cindy has her sexual epiphany with photographer Ned (Michael Oberhalzer) as her marriage to Lenny hits the rocks. Jane is not a "career girl" and, after two years of dating, is frustrated by her failure to get engaged  so she can leave the publishing rat race.
Workaholic, tightly wound Finn is married to the gorgeous Talia (Odelya Halevi) but his nonstop schedule has seriously strained their relationship. Bea Burkhart (Meagan Fay) owns News of the Week and, worried that her magazine is not keeping pace with the competition, gives Finn six months for a turn around. When Wick changes a cover story during Finn and Talia's rare romantic London getaway, the senior editor gets canned in one truly ferocious scene. Finn hires long-term friend Gregory (Michael Graziadei) to be the second in command, a controversial move as the new editor is an archetypal male chauvinist pig.
With encouragement from pregnant ACLU lawyer Eleanor Holmes Norton (Joy Bryant), Patti and Cindy begin recruiting NOTW female employees to file a formal complaint for equal opportunity that could get them all fired. As the show proceeds, we watch the role of women in the business world evolve at a very deliberate pace. Viewers will also be treated to nearly nonstop smoking (the Surgeon General's warning was still several years away), frequent rolls in the hay by the cast,  interesting love triangles, and the "liberation" of an entire generation of men and women.
This ten-episode series definitely struck a real chord with me, capturing the zeitgeist of an era that I remember as if it were yesterday. Good Girls Revolt demonstrates what the "glass ceiling" looked like to the young career "girls" of the times, convincingly portrayed by the appealing trio of Angelson, Darke, and Camp. Complete with period music, wardrobes, and hairstyles, lots of pot, and a sea of Teletype and manual typewriters (!), GGR takes its viewers back to the "make love not war" era, the same time period occupied by the smash television series Mad Men. Younger viewers  unfamiliar with the struggles of the 1960s might find the dramatic treatment of emerging feminism somewhat heavy-handed and shrill but the team of writers and directors are pretty faithful to conveying the way it was. Although Season 1 was generally well received, the series was not renewed. Hopefully, another network might pick up this show for a Season 2, as it is that good.
Good Girls Revolt: Season One (TheaterByte TV Series Review)
28 Oct. 2016
Original Release Date
Amazon Prime Video
Network/Streaming Service
Amazon Studios | Sony Pictures Television | TriStar Television
Studio/Distributor
TV-MA (Sexual Situations, Adult Language, Nudity)
Rating Certificate
Summary
A well-crafted recreation of the emerging women's movement that changed the workplace forever.
What people say... Login to rate
Be the first to leave a review.
Show more