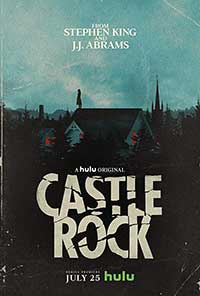 Stephen King 's books and films have scared audiences for more than four decades. Now, this noted author provides inspiration and characters to writers Sam Shaw and Dustin Thomason for this ten-episode Hulu Original series Castle Rock.
Set in King's home state of Maine, this fictional town harbors lots of deep, dark secrets. Main character Henry Deaver (Andre Holland), a Houston-based death row attorney, receives a call to represent a mysterious client in Castle Rock.  When Henry was eleven years old (Caleel Harris), he was found by Castle Rock Sheriff Alan Pangborn (Jeffrey Pierce) after missing for eleven days. Henry's adoptive father Preacher Matthew Deaver (Adam Rothenberg) died a few days after being pushed off a cliff by Henry before he disappeared. Twenty-seven years later, Henry has returned to the titular town and to his mother Ruth (Sissy Spacek) who is battling dementia and living with the now-retired Pangborn (Scott Glenn). Henry's childhood friend Molly Strand (Melanie Lynskey) is a Castle Rock realtor and an "empath" able to detect other people's emotions, a "gift" that she tries to blunt with drugs.
Dale Lacy (Terry O'Quinn), former warden of Shawshank Penitentiary, had just committed suicide and his replacement, Warden Porter (Ann Cusack) sends guards to a long-vacant cellblock where they find a strange young man (Bill Skarsgård)in a basement cage. Known only as "The Kid," it was a call made on his behalf that summoned Henry back to his hometown.
The stage is set for a twisting tale that shifts back and forth in time in a town that has seen more than its share of tragedies: fatal train accidents, factory explosions, fires, and mass murders. As he continues to struggle with his past, more of Henry's memories get dredged up and he is beleaguered with bouts of extreme tinnitus. Some of the answers to Henry's personal riddles seem to be hidden in the Castle Rock woods where he encounters the "filter," a device conceived by his late father to "hear" the voice of God and where there may be a portal to another universe.
After Attorney Deaver gets The Kid released from prison, more strange events ensue. The former Lacy house is found to contain a gallery of portraits painted by the late warden over more than a quarter of a century during which The Kid's appearance never changed. Perhaps, The Kid is a supernatural being from a parallel universe or perhaps he is the "devil" incarnate. Season One will end without an answer to this important question.
The various episodes contain allusions to many of Stephen King's previous characters, locales, and events that might provide clues about what is happening or about to happen. On the plus side are the show's well-developed characters, particularly Henry, Ruth, Pangborn, Molly, and The Kid delivered by a very strong cast. On the minus side, is a often nonlinear storyline that will frequently confuse its viewers.  Show creators Sam Shaw and Dustin Thomason offer up explanations of each episode in brief interviews but this device only underscores the show has obvious difficulties in making sense in its own right.  Several loose ends are tied up in the finale, and yet we are left with the impression that more terror lies in store for this creepy little town and its tense townsfolk. Mostly for hardcore Kingophiles who groove on film and television adaptations like Needful Things and Nightmares & Dreamscapes. As a longtime fan of author King, I am willing to give this series another chance, which will come in an already announced Season Two next year.
Castle Rock: Season One is now streaming in its entirety on Hulu
Sam Shaw | Dustin Thomason
Show Creator
25 Jul. 2018
Original Release Date
Hulu
Network/Streaming Service
Bad Robot Productions | Old Curiosity Shop | Darkblood Productions | Warner Brothers | Hulu Originals
Studio/Distributor
TV-MA (language, violence)
Rating Certificate
Summary
A suspenseful but sometimes frustrating series inspired by noted author Stephen King that features time shifts, alternate universes, and nonlinear storylines that often confuse rather than clarify.
What people say... Login to rate
Be the first to leave a review.
Show more