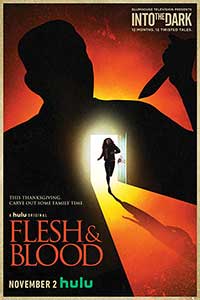 The second installment in this Hulu Original Studios/Blumhouse Productions television film series, Flesh & Blood, is timed to coincide with another holiday season, this time the beloved family gathering that is Thanksgiving. Henry Tooms (Dermot Mulroney) and his agoraphobic daughter Kimberly (Diana Silvers) prepare for Turkey Day as the young woman begins her regular session with her therapist Dr. Helen Saunders (Tembi Locke). We find out that Kim's flight attendant mother was murdered by an unknown assailant after last year's Thanksgiving holiday, a time of the year that also coincides with her seventeenth birthday.
Henry is involved in numerous "home improvement" projects (we never find out what he does to earn a living) and gets unsolicited advice from Dr. Saunders that Kim is not making adequate progress for a return to society. During a television news show, Kim sees a photo of a missing girl who is wearing a necklace that is identical to the one that Henry gave her for her birthday. After she sneaks into his bed room, she finds a vial of Propofol and a photo album containing some very unsettling images. When Henry goes off to work, Kim explores the attic and finds a blue lunch box filled with costume jewelry, including a bloodstained ring, and confronts her father with these findings. Henry becomes uncharacteristically belligerent, and a terrified Kim locks herself in her bedroom and dials 911.
When Officers Foster (Lavetta Cannon) and Banks (Heidi Sulzman) arrive, both Kim and Henry tell them it was just a misunderstanding and the policewomen leave. Tension in the Tooms household mounts as Kim begins to suspect that her father is a serial killer and is the unidentified man responsible for her mother's death. However, flashbacks surrounding her mother's murder make one wonder if Dad is really a maniac or just overly protective of his anxiety-ridden daughter.
Much in literally and figuratively the same "vein" as the Hulu Original's Halloween entry The Body last month, this Thanksgiving episode of Into The Dark, Flesh & Blood,  has no shortage of graphic violence and blood spatter minus the dark humor that perked up its predecessor. With definite echoes of Stephen King's The Shining, Flesh & Blood is a Gothic tale of a dysfunctional family whose dreadful secret is only gradually uncovered as Louis Ackerman's first feature-length script ratchets up the suspense until its truly apocalyptic finale. Essentially a two-person film, newcomer Diana Silvers cedes nothing to veteran actor Dermot Mulroney in her struggle to free herself from the "cocoon" of her own home and regain a normal life. This young actress will share the billing with another veteran, Jessica Chastain, in the yet to be released Eve and gets a definite "to be watched" place on my rising star list. Mulroney who is also starring in Amazon Prime's Homecoming presents the perfect contrast as an enigmatic character who assumes the codependent role that defines his father-daughter relationship. The jury may still be out on this latest Hulu Original venture but fans of classic horror flicks will find much to savor in Flesh & Blood, in spite of the absence of turkey, stuffing, and other holiday condiments.
Into the Dark: Flesh & Blood is streaming now on Hulu
Divide/Conquer | Blumhouse Television | Hulu Original
Studios & Distributors
TV-MA (Language, Violence)
Rating Certificate
Summary
The second installment of Hulu Original's anthology film TV series Into the Dark, Flesh & Blood, is long on gore and, as expected, short on dialogue as this two-person drama is right out of the horror film playbook and with rather predictable results.
What people say... Login to rate
Be the first to leave a review.
Show more