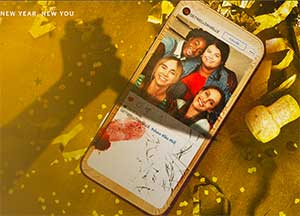 Hard on the heels of the Christmas-themed Pooka!, Hulu Original Studios/Blumhouse Productions has wasted no time in bringing viewers the next Into The Dark installment, New Year, New You. This film has no shortage of foreshadowing, opening with a young woman's badly bruised body floating face-up in a swimming pool. The corpse's identity and proximate cause of death are hinted at later in this grim tale of high school bullying.
Wildly successful television image guru Danielle Williams (Carly Chaikin) broadcasts a 2019 self-improvement message to impressionable adolescents like Carly (Mia Clyburn) whose baby-sitter Alexis (Suki Waterhouse) is one of Danielle's old friends. Alexis once considered becoming an actress, but a disfiguring facial scar has kept her from pursuing her dream. Although, her backstory emerges literally in fragments, there is a reference to an "accident" in the distant past that shows Alexis going headfirst through a glass door.
Before Alexis's family home is sold, it will serve one last time for a reunion between former high school "besties" the outed lesbian Kayla (Kirby Howell-Baptiste), pudgy Chloe (Melissa Bergland), and scarred Alexis. Danielle has also been invited, and much to their surprise, their long-lost BFF shows up. The four young women engage in a "round table" share of what they have accomplished this past year, after which each is to offer up her personal New Year's resolution that Danielle will record on her cell phone. The group session momentarily hits a snag when Alexis balks at having Danielle's phone pointed at her face but the pair eventually "make up" in the basement during one of several brief power outages that punctuate the evening.
The women continue to guzzle champagne and share some "true" confessions, as old wounds AKA "sins of the past," get gradually reopened. What started out as a high-spirited holiday celebration morphs into a grisly cat-and-mouse game with some pretty gruesome consequences.
Sophia Takai and Adam Gaines have teamed up to give us a dark, no make that very dark, take on films like Mean Girls, but without the starry cast or acerbic, often witty dialogue that made such movies so enjoyable. On the more positive side, New Year, New You has limited its quota of the expected blood and gore and does a decent job of generating dramatic tension right up to a refreshingly ironic conclusion.
Veteran cinematographer Lyn Moncrief turns in the best job so far in this monthly horror anthology, focusing judiciously on the young women's camera-friendly faces and then using Hitchcockian vertiginous views of the house's interiors to heighten the suspense. New Year, New You savagely skewers the omnipresent self-help/self-awareness personalities whose seemingly endless infomercials have cluttered the airways and dulled viewers' sensibilities for years. For those who were about to give up on Into the Dark, stay tuned for Down that will air on February 1, 2019. This Valentine's Day chapter might just give a whole new meaning to "affairs of the heart."
Hulu Original Into The Dark: New Year, New You is now streaming in its entirety on the Hulu Network
---
Divide/Conquer | Blumhouse Television | Hulu Original
Studios & Distributors
Sophia Takai | Adam Gaines
Writer
Summary
Into the Dark kicks off 2019 with a New Year's Eve party that goes due South when the hostess sees an opportunity to right years-old wrongs.
What people say... Login to rate
Be the first to leave a review.
Show more