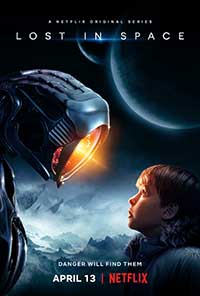 The 1960s was a golden age for sci-fi shows and the much-loved series Lost in Space finally returns to the small screen fifty years after the last episode aired. This futuristic take on The Swiss Family Robinson story has the timeline of this ten-episode Netflix Original series appropriately updated fifty years to 2046. Introduced by an expansive John Williams-like score by veteran film composer Christopher Lennertz, viewers are put on notice that this will be a much more serious affair than that suggested by its predecessor's lighthearted original theme music.
Commander John Robinson (Toby Stephens), his aerospace engineer wife Maureen (Molly Parker), his stepdaughter Judy (Taylor Russell) and his biologic children, Penny (Mina Sundwall), and Will (Maxwell Jenkins) are leaving a dying Earth for a new life on Alpha Centauri.  The Robinson's marriage has hit the skids and after reaching their final destination they intend to go their separate ways. A deadly robot attack has forced their departure from the Resolute mother ship as their Jupiter 2 veers off course and crash-lands on a  strange new world with an atmosphere identical to Earth. The Robinsons immediately confront a host of problems: Maureen injures her leg during the hard landing; Judy gets trapped in an ice floe; and Will ends up lost in a forest. The same robot (voiced by Brian Steele) that attacked Resolute rescues both children and becomes Will's protector and new "best friend."
One of the numerous flashbacks on Lost in Space finds the cunning sociopath June Harris (Parker Posey) extracting the identity chip from her physicist sister Jessica (Selma Blair) to obtain a coveted passage on the Resolute. During the robot attack, she nabs the jacket and back pack of a badly injured Dr. Smith, actually played by the original Will, Bill Mumy. June becomes "Dr. Smith" and escapes on Jupiter 17, piloted by engineer Don West (Ignacio Serricchio), that crash-lands on the same planet.
This new series adds numerous Resolute survivors like scientist Angela Goddard (Sibongile Miambo), biologist Hiroki Watanabe (Cary Hiroyuki-Takawa), his wife Naoko (Yukari Komatsu), their daughter Aiko (Kiki Sukezane) and entrepreneur Victor Dhar (Raza Jeffrey) and his son Vijay (Aja Friese).  Meanwhile Maureen has made a troubling discovery: a black hole near the "sun" is changing its orbit and will eventually extinguish all life on this planet. Young love blossoms as snarky Penny gets involved with naïve Vijay while "doc" Judy develops a strange attraction to "bad boy" West.  More threats await the Robinsons: Penny is nearly killed by a large lizard while John and Maureen narrowly avoid being buried in a tar pit. A suspicious Maureen finally uncovers Dr. Smith's true identity and confines her to the Jupiter's quarters but the duplicitous June Harris has many more tricks up her sleeve.
Don guides Victor and his team to his wrecked spacecraft and they transfer its fuel to a tanker. Returning through a dangerous field of seismic geysers, the tanker tips over, spilling most of its contents. John and Don must prepare to fly a stripped-down Jupiter craft to the Resolute before the mother ship leaves its orbit, stranding the Robinsons and the other survivors on the doomed planet.
Writers Matt Sazama and Burk Sharpless (Power Rangers, The Last Witch Hunter), rather than simply redoing the Irwin Allen classic, chose to take deliberate aim at a new millennium audience.  As a result, this 2018 reboot is much darker and lacks much of the quirky humor that made the '60s original so likable. The adult characters (and robots) are more complex than their predecessors while the adorable youngsters remain the show's brightest lights. Thankfully, violence and carnage has been kept to a minimum and there is a surprising amount of intelligible dialogue. The high-resolution CGI of the new Lost in Space provides visuals that far surpass the rather hokey "special effects" of the older version. Season One's last episode ends in a cliffhanger for the Robinson Family,and a Season Two is rumored to be in the works. Nostalgic viewers who long to vicariously relive their youth through the vehicle of this show will probably be disappointed. As one who was already too old to appreciate the original version when it first aired, I thought that this new take on LIS was entertaining, often quite thrilling, and a pleasant surprise. Highly recommended.
Lost in Space: Season One is streaming now in its entirety on Netflix
Irwin Allen | Matt Sazama | Burk Sharpless
Show Creator
13 Apr. 2018
Original Release Date
Netflix
Network/Streaming Service
Legendary Television | Synthesis Entertainment | Applebox
Studio/Distributor
Summary
When their small spaceship crash lands on an alien planet light years from a dying Earth and cutoff from their larger base ship of colonizing humans, the Robinson family must fight to survive the dangers that await them. Netflix reboots an iconic 1960s sci-fi television series that is much darker, has far better special effects and a definite millennial vibe.
What people say... Login to rate
Be the first to leave a review.
Show more