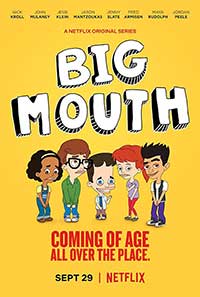 The funny part about "Bobby Bottle Service" aka Nick Kroll and his new Netflix Original Series Big Mouth is that I had no intention of watching it until my editor-in-chief texted me that the show was quite hilarious and that I would love it. 24-hours later and I am still chuckling like a moron at certain parts. It was fantastic!
Big Mouth is story of a bunch of adolescents on the verge of puberty and what that may or may not entail. Our main protagonists are Andrew (John Mulaney) and his best friend Nick (Nick Kroll). A scary Hormone Monster (that's its name), also voiced by Nick Kroll, takes aim at Andrew's physiology and begins to taunt him into releasing his primordial urges. Nick isn't quite there yet. Big Mouth is extremely crass, vulgar, and salacious. Those are its positive qualities. The bad news is that the show only runs for 10-episodes, but I am hoping it gets renewed for a second season.
Each episode is typically has a self-contained story arc and focuses on the the middle schoolers going through natural changes. The boys that go through puberty have the Kroll's hormone monster breathing down their necks and the girls have their own version dubbed the "Hormone Monstress" (Maya Rudolph). She is as crass as her male counterpart and has zingers of her own.
The voice-over work is top-notch and astounding that Kroll does 12 voices in total — some are primary, secondary, and one-off characters. In addition to adolescents going through changes, the show focuses on their school, family, and social lives. That's the other half of the component, because hilarity and misadventures ensue.
The biggest laughs I had was that of the Hormone Monster trying to corrupt the youngsters. It was almost like watching the dirtiest Venture Bros. episodes that bleep out certain explicit languages — in addition to a splash of Family Guy scathing humor. The animation is cute — some of the characters look weird and tend to self-deprecate like Nick's mouth being referenced to "cat-fish lips. The show got its name due to Kroll's big mouth — this according to him.
This first season of the series features tons of guest stars lending their voice talents: Jon Hamm, Kristen Wiig, Kristen Bell, Kat Dennings, Jordan Peele, Richard Kind, Mae Whitman, Mark Duplass, Richard Kind, and many more. Some are more recognizable than others, but I was shocked at who voiced who and who voiced what. The series does not hold back in depicting talking penises, vaginas, pubic hair, scallops, and various other things that are not supposed to talk.
Please be advised that even though the show depicts scenes of teenagers going through natural life-cycles — the show is aimed at an adult audience. There is sex, nudity, profanity throughout that is inappropriate for children. Don't let the cutesy (or creepy) character designs fool you. As the rating already describes: constant references to sex and sexual humor involving teenagers. Occasional comic cartoon nudity, including breasts, penises, and vaginas.
In a weird and twisted way, the series can sort of be considered an educational show with an edge. No, I am not saying that this show should be broadcast in health class, but the fact that it  depicts real-world scenarios that teens go through cannot be denied. Yeah, it may be a salacious show, but there are many instances that ring true. All in all, Nick Kroll's Big Mouth gets my highest possible recommendation. Each show runs about 30-minutes or less and breezes right through. It really is over before you know it. Guess what? You can watch it again and again! I do hope it gets renewed for a second season. "Byeeeeeee!"
Netflix Original Series Big Mouth is currently streaming in its entirety globally on Netflix.
Nick Kroll | Jennifer Flackett | Mark Levin | Andrew Goldberg
Show Creator
29 Sept. 2017
Original Release Date
Netflix
Network/Streaming Service
Titmouse | Netflix
Studio/Distributor
TV-MA (Constant references to sex and sexual humor involving teenagers. Occasional comic cartoon nudity, including breasts, penises, and vaginas.)
Rating Certificate
Summary
Adolescents hit puberty and deal with the big changes their bodies are going through in this frank, and very adult-targeted animated comedy series from Netflix. Big Mouth is one of the best and funniest animated series of the year. If I were to create a Top-10 TV series list featuring animation, or otherwise, Big Mouth would be on it. What are you waiting for? Netflix and chill!
What people say... Login to rate
Be the first to leave a review.
Show more