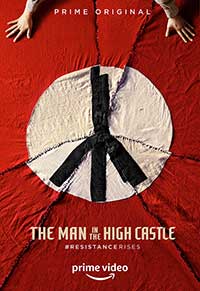 After a two-year hiatus, here is the third installment of The Man in the High Castle, the highly acclaimed series that presents a 1962 dystopian America that was defeated by Germany and Japan in World War II. The country is now divided into the Greater National Reich (GNR) and the Japanese Pacific States, with a Neutral Zone between them. World War III was narrowly averted as American Oberstgrüppenfuhrer John Smith (Rufus Sewell) convinced new Fuhrer Heinrich Himmler (Kenneth Tigar) not to attack Japan. Hawthorne Abendsen (Stephen Root) was revealed as "the man in the high castle," overseeing a warehouse filled with films showing very different outcomes for the past and future that he torched at the end of Season Two.  Viewers were also introduced to the concept that these films provide proof of alternate universes and some people may inhabit more than one of them.
Season Three adds new characters including black marketeer Wyatt Price (Jason O'Mara), gossip columnist Thelma Harris (Laura Mennell), American Reich Bureau of Investigation Director J. Edgar Hoover (William Forsythe), and American Reichmarshall George Lincoln Rockwell (David Furr).
Joe Blake (Luke Kleintank) has just executed his father Reichminister Martin Heusmann (Sebastian Roché) in prison and, after considerable "reprogramming," is released as a Nazi "trade attache" to the GNR.  Japanese Trade Minister Nobusuke Tagomi (Cary-Hiroyuki Tagawa), Chief Inspector Takeshi Kido (Joel de la Fuente and Admiral Inokuchi (Eijiro Ozaki) witness a successful test of a Japanese atomic bomb, giving their government confidence to stand up to the Reich.
Juliana Crain (Alexa Davalos) briefly reunites with her half-sister Trudy (Conor Leslie) who had died in the "other world" as they watch an Abendsen film depicting American victories during WW II.  Meanwhile, the Smith family attends a memorial service for their late son, Thomas (Quinn Lord), who was euthanized for having muscular dystrophy. Helen Smith (Chelah Horsdal) has been hitting the bottle and, despite grief counseling from psychiatrist Daniel Ryan (Jeffrey Nordling), she is openly distrustful of the American Reich. Rockwell has been charged to put down the growing resistance movement but runs afoul of Himmler after Hoover  suddenly discredits him. Afterwards, Rockwell ends up in Cuba where he is offed by a hit man hired by the new Reichmarshall Smith. As a tribute to Himmler, his Nazis have begun destroying iconic American landmarks like the Statue of Liberty that will initiate "Jahr Null" or Year Zero.
Smith next visits a Nazi laboratory where he sees a comatose Fatima Hassan (Dianne Greenwood), reportedly a "traveler" from another world.  Juliana gets into the "other world" game after connecting an Abendsen film in which Mine Number 9 in the Poconos is where a quantum transfer device is being developed by the Nazis for travel to alternate universes. Juliana meets Joe for a romantic tryst in his hotel room where she finds classified documents about the "Nebenwelt" or "Next World." When she discovers Joe's plans to kill Tagomi and "High Castle," Juliana slits his throat, steals the papers, and joins Wyatt on a journey to the Poconos. As Season Three hurtles toward an uncertain conclusion, Juliana, Wyatt, and their co-conspirators must somehow prevent the production of an unearthly weapon that will give the Reich the power to conquer the world.
Season Three  of The Man in the High Castle delves even deeper into its main characters, particularly John and Helen Smith, Juliana Crain, and Nobusuke Tagomi, as creator Frank Spotnitz adds inventive new material to Philip K. Dick's original novel whose narrative ended with Season One. The high level of acting and direction that characterized the first two seasons is not only sustained but also improved upon by a well-coordinated team of ten scriptwriters and eight directors. In spite of its dramatic complexities and some deliberate ambiguities, the plot is propelled forward, often quite rapidly, and, with its many twists, is kept remarkably on course.  A number of dangling storylines remain at the end of the final episode and, hopefully,  these will be taken up by an already announced Season Four next year. Highly recommended.
The Man in the High Castle: Season Three is now streaming in its entirety on Amazon Prime Video
Frank Spotnitz
Show Creator
5 Oct. 2018
Original Release Date
Amazon Prime
Network/Streaming Service
Big Light Productions | Electric Shepherd Productions | Headline Pictures | Scott Free Productions | Reunion Pictures | Picrow | Amazon Studios
Studio/Distributor
TV-MA (Adult Content, Adult Language, Graphic Violence)
Rating Certificate
Summary
A very strong third installment in this sci-fi franchise that is again blessed with a superb combination of acting, direction, and script.
What people say... Login to rate
Be the first to leave a review.
Show more