Autumn brings the turning of the leaves as well as the transition to new seasons of our favorite shows, and for fans, collectors or anyone wanting to catch up on what's come before, I heartily recommend Blu-ray as your go-to format. With my recent transition to a cable box that does not allow commercial-skip, plus many hours spent on Hulu and its unavoidable interruptions, I've come to appreciate TV-on-Blu sets more than ever, not only for its exceptional picture/sound quality and binge-able totality but for the seamless experience. And hey: No buffering!
Fraggle Rock The Complete Series (Sony)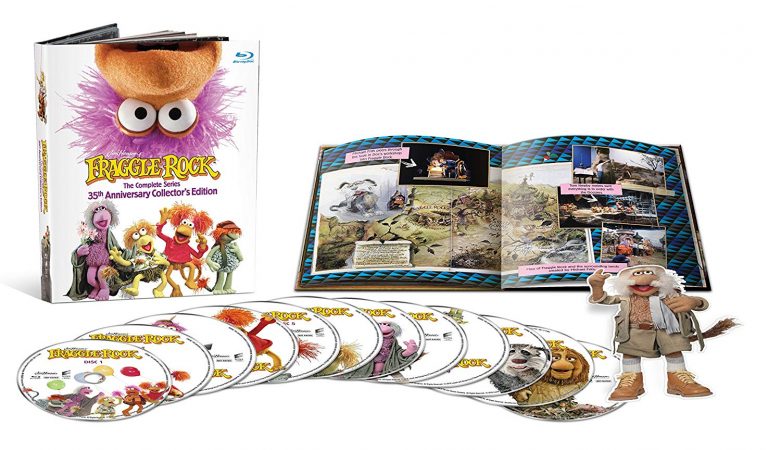 An international production of sorts, including British, Canadian and American interests, the enduring Fraggle Rock revisited the offbeat, inoffensive comedy style that creator Jim Henson had become known for, giving families another show that they could enjoy together. The three Muppet species of this fantasy environ (the carefree, cave-dwelling Fraggles, the industrious Doozers and the stodgy, mysterious Gorgs) all live together in a sort of harmony, but they routinely communicate poorly with one another, leading to serial drama, and perhaps a lesson for us all? A hole in the wall also leads to "The Silly Creatures of Outer Space," which is how Fraggles refer to us human-folk.
Despite some character names born of clever moviemaking puns (i.e. "Travelling Matt," pithily reproduced for this set), production values were not especially high for this 4:3 weekly kids TV series, albeit for HBO. The improvement offered by this high-definition remaster certainly shows however, especially in the refreshed appearance of the colorful, furry critters, with respectable DTS-HD Master Audio stereo as well.
All previous DVD bonus features seem to have been ported, in addition to a new featurette, a 1993 Today show segment and a sing-along mode available across all five seasons/96 episodes. Also included in this 35th Anniversary package is the entire 13-episode run of the 1987 follow-up animated series, which picked up mere months after the live-action Fraggle ended. All of the above is beautifully housed within the pages of a hardbound scrapbook.
[amazon_link asins='B07F7W7WWG,B07F7R8R47′ template='ProductCarousel' store='theaterbyte-20′ marketplace='US' link_id='e16650f8-cbdd-11e8-aca8-6d2f4dab5a6a']
Gravity Falls The Complete Series (Shout! Factory)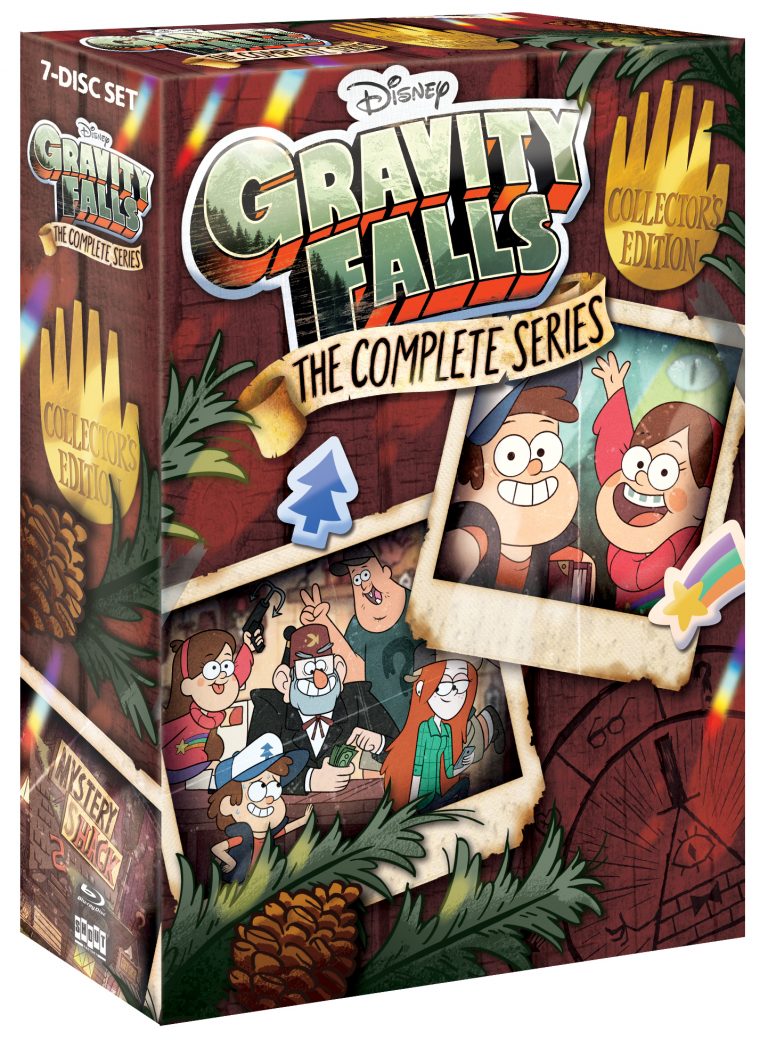 A welcome and quite successful collaboration between Disney and Shout! Factory, this handsomely boxed collection contains all 40 widescreen/high-def episodes of Alex Hirsch's smart, funny Disney Channel/Disney XD original, two seasons curiously spanning an Olympian 2012 to 2016. Twins Dipper and Mabel Pines are spending the summer with their "Grunkle" (great uncle) Stan in the mysterious town of the title, and a series of adventures ensue after Dipper finds a cryptic journal. The writing is consistently on-point, Brad Breeck's music is irresistible, and the voice cast (star Kristen Schaal is three for three in my book, with this, Bob's Burgers and The Last Man on Earth) is absolutely up to the challenge.
Every episode has is its own commentary with Hirsch, cast and/or crew, plus there's an outstanding seven-part behind-the-scenes documentary and over an hour of deleted scenes. More than a few Easter eggs are hidden across this seven-disc set, plus a nice little physical bonus that I won't spoil here.
[amazon_link asins='B07C2Q94LD,B07BXZPHSQ' template='ProductCarousel' store='theaterbyte-20′ marketplace='US' link_id='69ab19b9-cbda-11e8-a49f-c1feccae3c60′]
Documentary Now! Seasons 1 & 2 (Mill Creek Entertainment)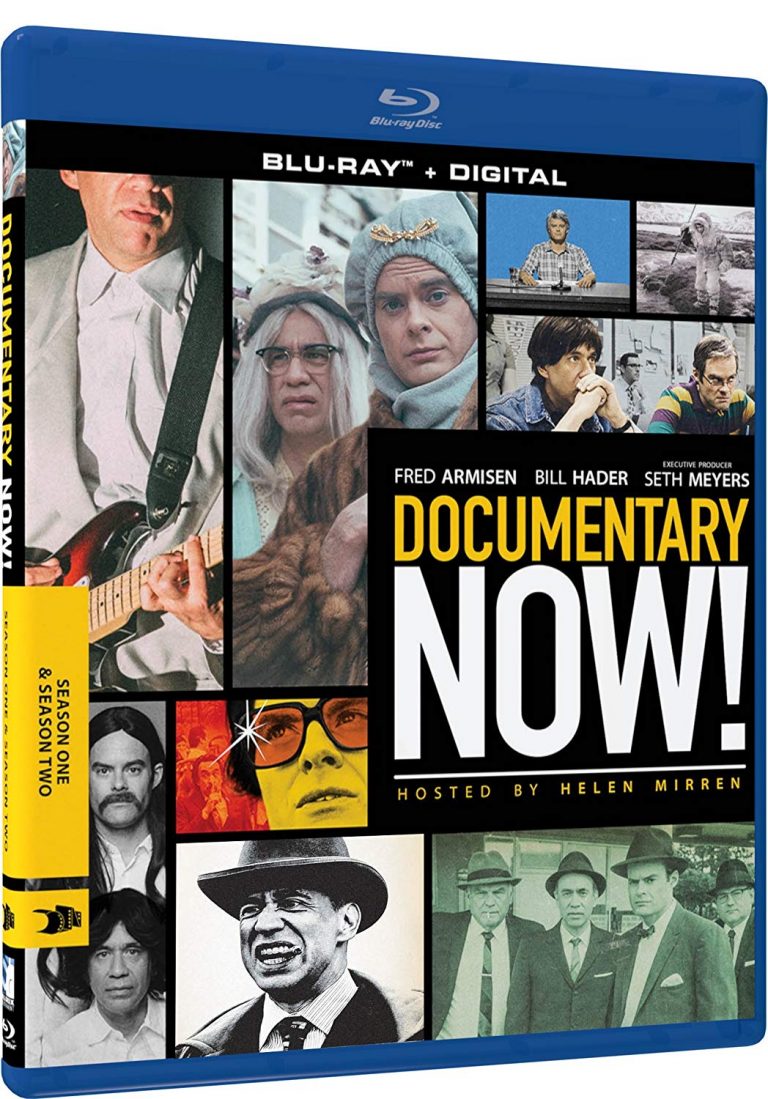 Someone wiser than I pointed out that (paraphrasing liberally here) a medium has reached a tipping point when it has become the subject of parody. And unlike, say, the standalone works of Christopher Guest, Documentary Now! is a weekly (give or take) series, coming at viewers hard and fast in-season. Fronted by co-creators Fred Armisen (SNL, Portlandia) and one of my favorite hyphenates, Bill Hader (SNL… and just about everything), the show has a vibe reminiscent of Saturday Night at its best, although the installments are more full realized than any mere skit, each of the season finales even demanding to be a two-parter. To remove all remaining doubt that this is indeed something special: these faux docs are hosted by Oscar winner Helen Mirren. (I know, right?!?)
They're primarily lampooning well-known, existing documentaries, so the collection here contains a bit of everything really, with an emphasis on music. A who's-who of guest stars appears either as themselves (experts on the subject at hand) or as amusingly fictitious characters. This is the first Blu-ray I've come across with a digital copy that is exclusive to the Watch Mill Creek platform, streamable via a web browser and "coming soon" to select Smart TV devices
[amazon_link asins='B07CZHRQXP,B07CZ7HHY8′ template='ProductCarousel' store='theaterbyte-20′ marketplace='US' link_id='a23fd021-cbda-11e8-9e5b-232d471f550c']
Television's Lost Classics Volume One (VCI Entertainment)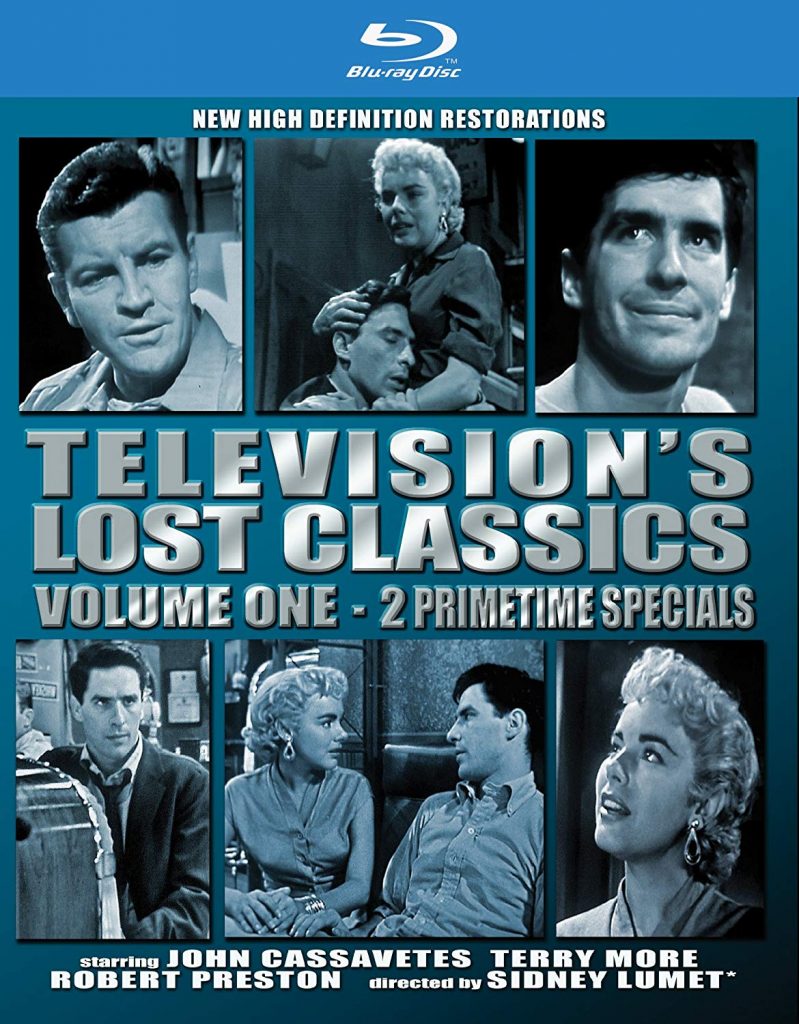 All the young hepcats in my office (I think that's how they like to be referred to) have less and less interest in Hollywood stars of yore… and they have dwindling interest in physical media too, but that's another story. It irks me that they won't give talents like John Cassavettes and Robert Preston their props, but this disc certainly does, with a pair of primetime network one-hour dramas from the '50s. Included are the "No Right to Kill" installment of the anthology series Climax! starring Cassavetes and "Crime in the Streets" from The Elgin Hour, where he's joined by Preston and directed by none other than a young Sidney Lumet. Although dutifully restored, the crude production values of the period are on full display, along with some decidedly different dramatic styles. Vintage commercials and bloopers from '60s-era programs round out this disc.
[amazon_link asins='B07D3KSBR9,B07D3KZSH3′ template='ProductCarousel' store='theaterbyte-20′ marketplace='US' link_id='d55fbb7c-cbda-11e8-8ef0-7b86d5d0f9bf']
Masters of Sex The Complete Series (Mill Creek Entertainment)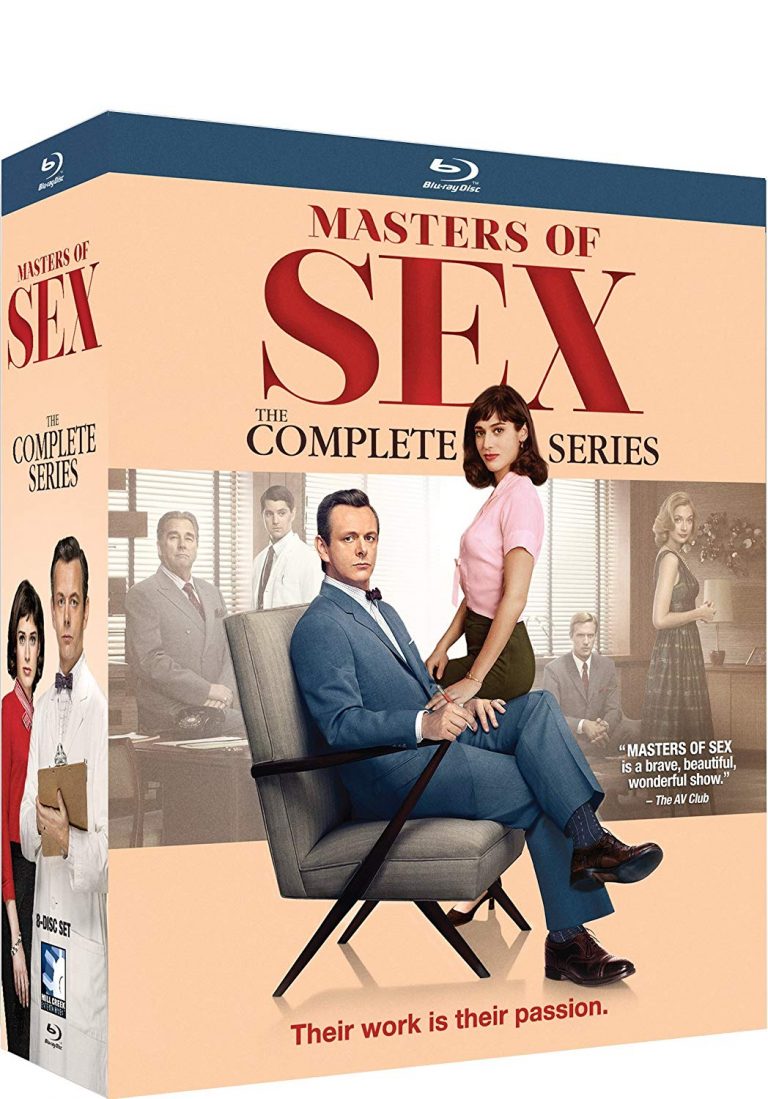 Part historical drama, part soap opera, part after-hours entertainment, the grownups-only Masters of Sex lasted 46 episodes, all presented together on Blu-ray in a single set for the first time, courtesy of Mill Creek. (Seasons One and Two were originally released by Sony, Three and Four are new here to Blu.)  The series spans the critical period from 1956 to 1969 in the personal and professional lives of Dr. William Masters (Michael Sheen) and Virginia Johnson (Lizzy Caplan), pioneers in the field of human sexuality who literally wrote the book on much of what we understand today. As we would expect, there's opposition, controversy, secrets, infidelity and a tremendous amount of nookie–recreational as well as educational–on the way to their ultimate triumph… which we never actually get to see, since Showtime decided not to renew for a fifth go-around.
The deep, marvelous cast (and behind-the-scenes talent) yield, for example, an especially poignant subplot featuring Oscar-winner Allison Janney in Season One, proof that this is as much an artistically embellished ensemble as it is a biography of the infamous M&J. Extras are modest but enjoyable: audio commentary on the pilot, actor interviews, some historical context and an ample menagerie of deleted scenes.
[amazon_link asins='B07CZF368P,B07CZ5BTBW' template='ProductCarousel' store='theaterbyte-20′ marketplace='US' link_id='01d20ef3-cbdb-11e8-9cec-e3f9dda938a4′]
DC Comics on the Small Screen:
Supergirl The Complete Third Season
DC's Legends of Tomorrow The Complete Third Season
Arrow The Complete Sixth Season
The Flash The Complete Fourth Season
Gotham The Complete Fourth Season (all Warner)
Lucifer The Complete Third Season (Warner Archive)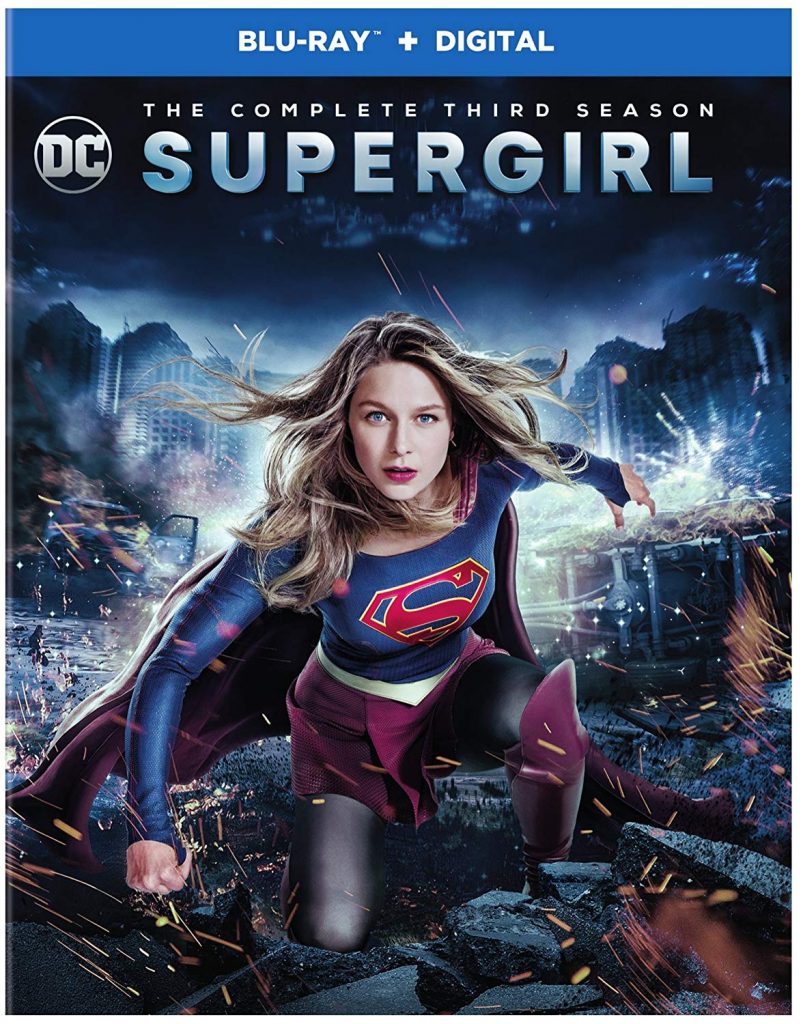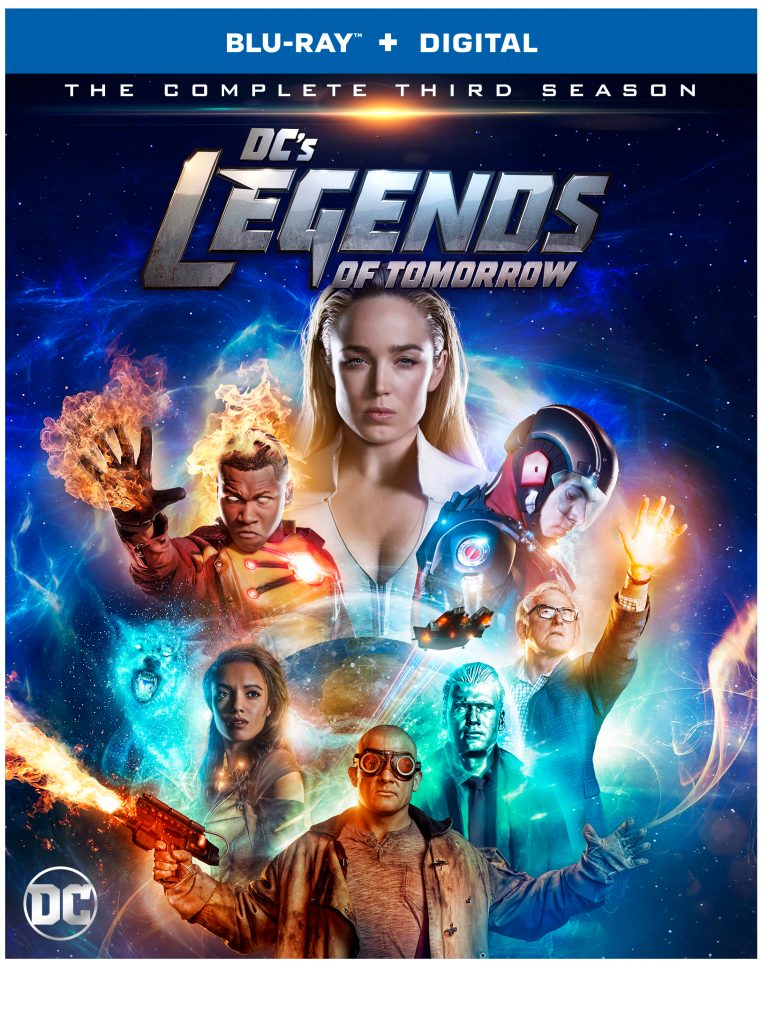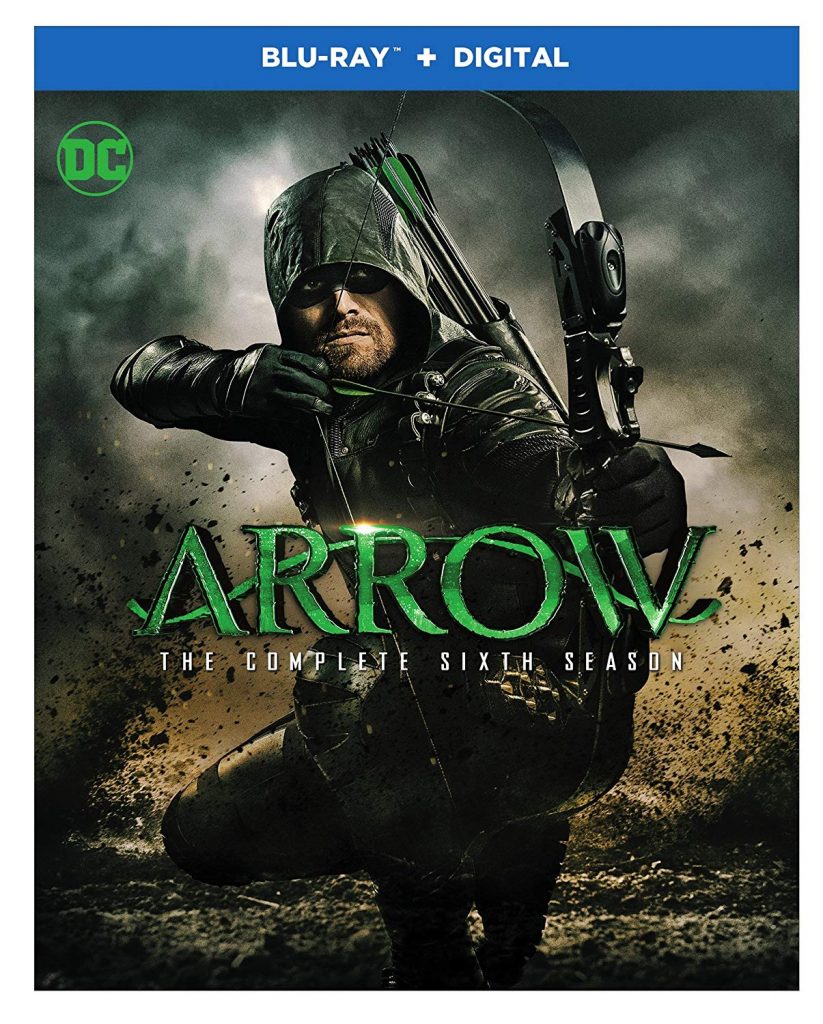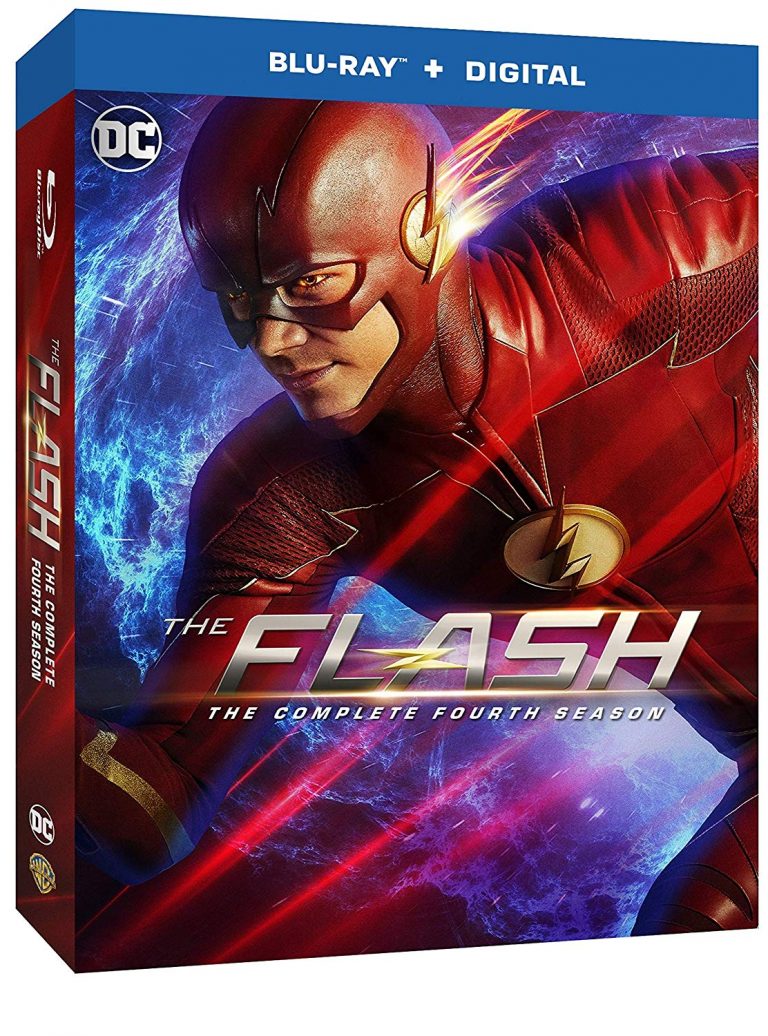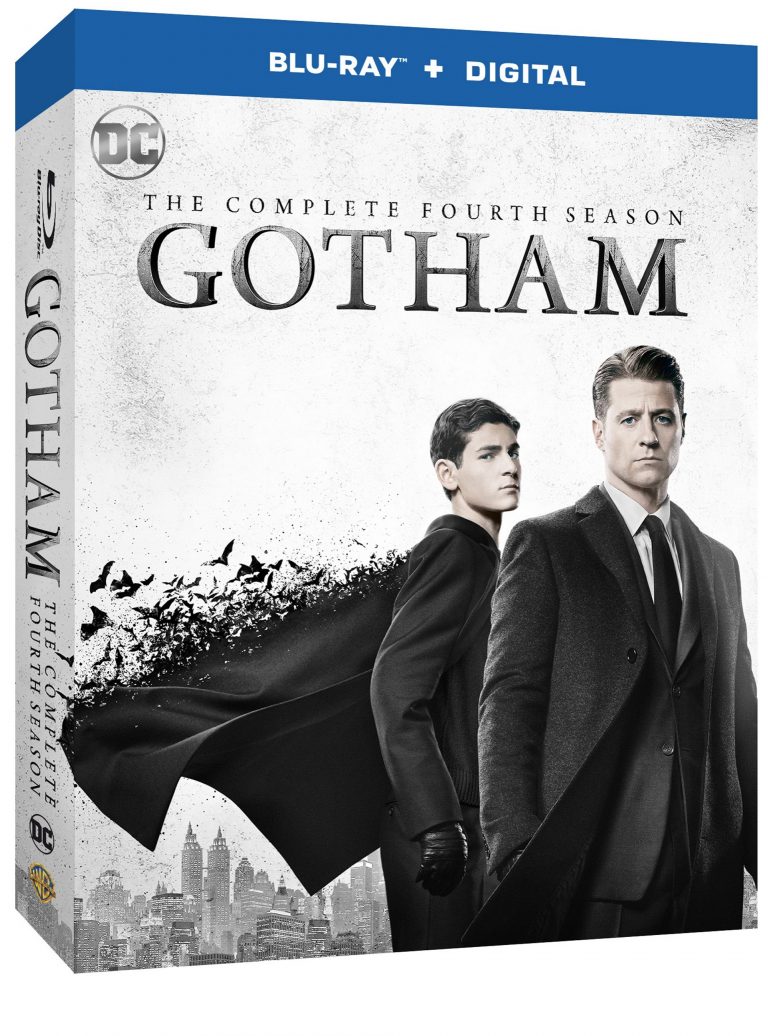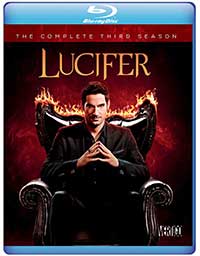 Am I the only one who's not encouraged by the trailers for Shazam! and Aquaman? While the Worlds of DC/DCEU navigate their cinematic path, TV's "Arrowverse" continues to bring viewers four interconnected shows, all renewed on The CW. Overseen by the prolific producer/writer Greg Berlanti, this universe is named for the oldest of this batch, Arrow, which grew to include The Flash and the others with the team spirit so prevalent in the comics. Consequences can be grave, in that TV sort of way, and digital special effects have reached a point where Warner can tell some fairly thrilling stories, even on a budget, and Blu-ray is the best way to enjoy it all.
Stakes are high for Oliver Queen on Arrow (26 episodes) as Oliver contends with old allies and new enemies, juggling fatherhood, mayorhood and that green hood he wears when he fights crime with a bow and pointy sticks. The Flash (26 episodes) introduced us to the Elongated Man last season, while daughter Nora jumps back to the past (our present), BttF2-style. "Team Flash" (each of these heroes seems to benefit from a substantial support group, in on their secret identities), meanwhile, does their weekly bit to keep Central City safe.
Superman's cousin Supergirl (26 episodes) deals with as much personal drama as world-saving, although more of the latter last year, leading to a major showdown to protect the Earth itself, with a little help from the Legion of Superheroes and Martian Manhunter.
The disparate heroes (and not-so-heroes) of Legends of Tomorrow (21 episodes) include the likes of Steel, Firestorm, Vixen, Heatwave, Atom and Kid Flash. Having defeated the Legion of Doom, the timeriding Legends are eager to take off on more adventures, but first they must fix all of the anachronistic damage they've done in their year-hopping travels.
Major kudos to Warner for including on every set in this bunch all four of the episodes that comprise the "Crisis on Earth X" crossover event, a convenient (and affordable!) way to experience each season in toto. The only downside is a bit of commonality among the extras: a shared featurette about said crossover, and somewhat redundant coverage of the various shows' presence at San Diego Comic-Con 2017. There are at least of couple of featurettes unique to each however, all but Arrow pack deleted scenes and a gag reel, and all four supply a full-season digital copy.
Meanwhile, over in Gotham City, good cop Jim Gordon (Ben McKenzie) protects the mean streets without a fancy costume, instead just a badge, a gun and his guts, as he waits for young Bruce Wayne (David Mazouz) to grow into a certain Dark Knight. These 22 episodes aired over on Fox (which has announced that next season will be its last), in their own independent universe, and so they have leave to strike a bleaker, almost Frank Miller-esque tone of noir. The coterie of familiar criminals has long been a draw to Gotham, and the disturbingly memorable transformation of Jeremiah Valeska (Shameless' Cameron Monaghan) into arch-villain The Joker is a nice payoff. Although, like Smallville before it, this show sure does take its sweet time. Digital copy included, plus deleted scenes, and featurettes on characters and Comic Con.
Neil Gaiman's take on the super-powered Lucifer Morningstar found its dramatic footing–if not its audience–in its third year, thanks to the unrepentantly dark humor that plays to the strengths of dashing, endearing star Tom Ellis. The show was cancelled by Fox, but picked up for its fourth season by Netflix. The Devil has left Hell to run a nightclub, and fight crime alongside the LAPD, while dealing with a new rival, some unique family issues and the villainous mastermind Sinnerman. The Blu-ray is available on the boutique Warner Archive label, lacking digital copy but including a charming one-on-one between "Tom & Tom" (Ellis and Welling, the latter formerly from Krypton), two featurettes, bloopers and unaired scenes.
[amazon_link asins='B077697MTC,B077698BCD,B0776K4VGT,B0776JGNYJ,B0776K475Y,B0776K45PL,B077698BCC,B0776JGNYH,B07FPK5WS6,B0775Z8DHG' template='ProductCarousel' store='theaterbyte-20′ marketplace='US' link_id='b5685526-cbdb-11e8-9ebb-25e9ba86521d']
And…
World's Finest: The Collection – Issue #4: Superman (CultureFly)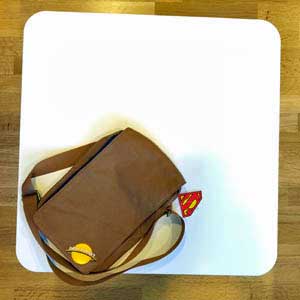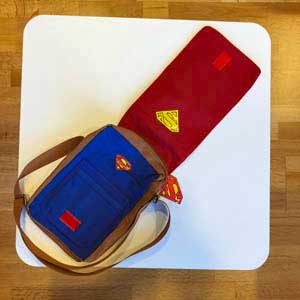 Recent rumors have taken flight that a certain guy in blue tights will be returning to the small screen for this season's Arrowverse crossover. If true, then the timing is right for the latest "issue" of CultureFly's World's Finest: The Collection quarterly subscription box of fun and useful items curated around a central theme. This time, it's the Man of Steel. With this release, World's Finest has now released boxes dedicated to each of DC's "Big Three" (Supes, Bats and Wonder Woman), in addition to a Justice League box we covered previously.
This is undoubtedly one of their best hauls yet, all exclusive. It's actually very much about alter-ego Clark Kent as well, with a Daily Planet t-shirt, planter/pencil holder, notebook, and a lanyard for our press pass. A cozy red blanket with big yellow "S" logo is handy for binge-watches on the sofa but also perfect for budding cosplayers (who didn't tie on a cape-blanket as a kid?), plus there's a new-style collectible figure and big, heavy enamel pin of pet pooch Krypto. But the mind-blowingly clever hero item is a mild-mannered messenger bag that transforms with a flip of the flap into a downright super accessory.