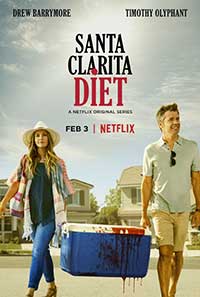 Sheila (Drew Barrymore) and Joel Hammond (Timothy Olyphant), a married couple living in a cookie-cutter suburban community, team up as real-estate agents for nasty boss Carl Coby (Andy Richter). Any similarities to blissful Ozzie and Harriet domesticity are quickly dispelled as Joel occasionally smokes dope and Sheila is emotionally repressed. The Hammond's angst-ridden 16 year-old daughter, Abby (Liv Hewson) is the object of desire for neighbor Eric Bemis (Skyler Gisondo) who lives with his stepfather, hard-ass deputy sheriff Dan Palmer (Ricardo Chavira) and oversexed mom Lisa (Mary Elizabeth Ellis). Their other next-door neighbors are sensitive Santa Monica cop Rick (Richard T. Jones) and his "tiger mom" wife Alondra (Joy Osmanski).
During a showing of a must-close house to another couple, Sheila begins nonstop projectile vomiting. Shortly thereafter, Joel finds her unconscious and pulseless on the kitchen floor. Sheila "revives" and acquires a brand-new personality that steers her to an impulsive purchase of a Range Rover, a wild bump-and-grind night out with the "girls," a substantially enhanced libido, and boundless energy. When Sheila develops a craving for human flesh, rival real-estate agent Gary West (Nathan Fillion) becomes her first "entrée" or, more precisely, her first entrails.
The obvious problem becomes one of providing Sheila with "meals," since a visit to the local morgue fails to yield a palatable corpse. The Hammonds come up with the ultimate solution: they will search out and kill "undesirable" people who won't be missed, and store their remains in a freezer. Joel and Sheila first consider drug-dealer Cole (Matt O'Leary) but settle for foul-mouthed Dick (Alton Clemente) whose Porsche coupe they have just rear-ended on a deserted cul-de-sac.
As the series proceeds, the Hammonds try to adjust to their new "normal," let Abby and Eric in on Sheila's "secret" cravings.  Joel begins to search for something to rid his wife of her disgusting diet, a search that leads him to paranormal shops and the pursuit of the mysterious Anton (Derek Waters). Deputy Dan finds Gary's finger in the Hammond's backyard and blackmails Joel into knocking off some bad guys that he could not legally put away. But this turns out to be Dan's undoing as Sheila could use another meal and Joel needs to get out of from under the policeman's thumb. Before Season One's end credits roll, we meet some really off beat folks like Principal Novak's (Thomas Lennon) Serbian grandmother, Mrs. Bakavic (Grace Zabriskie), and Cora Wolf (Portia de Rossi), a doctor who might be able to cure Sheila's gastronomic craving for her fellow man.
Santa Clarita Diet is a quirky 10-episode Netflix series that makes a concerted effort to blend a domestic sit-com with the ongoing trials and tribulations of the undead.  There is definite "Beetlejuice" humor here as the principals are compelled to contend with a campy script and trite dialogue. The reach out to a "Walking Dead" audience is obvious and Barrymore's ingenuous and often blood-spattered persona and Olyphant's daffy delivery will  grow on some viewers although it does take a few episodes. For me, the major find in this often-vacuous romp through the world of flesh eaters is relative newcomer Liv Hewson's spot-on portrayal of a conflicted teenager who manages to cope with her family's unimaginable situation and who displays maturity well beyond her years. Santa Clarita Diet will not be on everyone's bill of fare but will surely provoke some guilty pleasure chuckles from those who are not turned off by the recurring device of blood and gore. Netflix Originals goes out on the proverbial "limb" (pun intended) for this one and perhaps there will be enough interest for a second season.
Santa Clarita Diet: Season One is available in its entirety for streaming now on Netflix.
Victor Fresco
Show Creator
3 Feb. 2017
Original Release Date
Netflix
Network/Streaming Service
Flower Films | Netflix
Studio/Distributor
TV-MA (LSV)
Rating Certificate
Summary
A quirky horror-comedy series that will entertain some viewers and disgust others.
What people say... Login to rate
Be the first to leave a review.
Show more