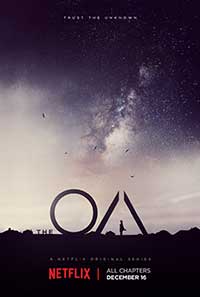 A series that opens up with a young blonde woman jumping off a bridge sounds like a one-way ticket to nowhere but when Prairie Johnson (Brit Marling), missing for the past seven years, is admitted to the hospital, her adoptive parents Nancy (Alice Krige) and Abel (Scott Wilson) come to take her home. Miraculously, at some point during her disappearance, Prairie's blindness has been cured.
Gradually trying to readjust to "normal" life, Prairie now refers to herself as "The OA" although the meaning of the initials is unclear. Perhaps they refers to its homonym "away" or, as suggested in her backstory, perhaps these were her original initials. Entering an unfinished home in her subdivision, Prairie encounters high school bully Steve Winchell (Patrick Gibson) and after he gets her home computer hooked up to the Internet, she goes to the school, pretending to be Steve's stepmother, and intercedes to prevent his expulsion. Prairie's deception is outed when the real Mrs. Winchell (Amelia Campbell) and her husband (Shuler Hensley) run into Steve's teacher Betty Broderick-Allen (Phyllis Smith).
Prairie posts an online video to recruit five people to join her at the unfinished house: Betty, Steve, Jesse (Brendan Meyer), Alphonso Sosa (Brandon Perea), and "Buck" Vu (Ian Alexander). Prairie reveals her backstory during a number of evening sessions in the dimly lit attic of the empty house.  She was born with normal eyesight to the Russian oligarch Roman Azarov (Nikolai Nikolaeff). After she becomes sole survivor of a school bus accident, Prairie loses her eyesight. Azarov smuggles his daughter to safety in America where she becomes Nina (Zoe Todorovsky). Nina attends a school for the blind and lives with her Aunt Zoya (Svetlana Efremova) but when the support money runs out, she is "sold" to the Johnsons who rename her Prairie. Prairie starts behaving bizarrely and the Johnsons take her to a psychiatrist, Dr. Mark Shea (J.C. MacKenzie) who prescribes antipsychotic medications that she takes for 13 years but do not eliminate her recurring "premonitions."
Prairie believes that her father is still alive and runs off to meet him in New York but, instead, she meets another man "who would change my life," the abusive Dr. Hap Hunter (Jason Isaacs). Dr. Hunter studies survivors of near-death experiences or NDEs and harbors an underground collection of young people that he has kidnapped and imprisoned in Plexiglas cells. Prairie meets Homer, Scott Brown (Will Brill), and Rachel (Sharon van Etten). While trying to escape, Prairie receives a nearly fatal blow to the head from Dr. Hunter, but recovers her vision as she is returned to the compound. The good doctor takes a trip to Cuba where he meets and abducts guitarist Renata (Paz Vega). The NDE experiments continue over the next few years as the captives develop a secret language of ritualized "moves" that they carve on their bodies as part of a plan to escape to another dimension.
As the series progresses, there is deliberate blurring of the boundaries between what might be real and what is imaginary in Prairie's life story as told to her new circle of acquaintances, and ultimately, we get the "big reveal," or do we? Writers Marling and Batmanglij, in their third collaboration, have created a script that tantalizes viewers with a lot of what-ifs and might-have-beens. Fundamental queries are posed throughout the eight episodes of this tense fantasy series. Is there an afterlife and, if so, what would it be like? Are we humans capable of performing actual miracles? Is inter-dimensional travel possible? Even if we were able to receive the answers to these and other cosmic questions—would we really accept them? Under Batmanglij's sensitive direction, this is a deeply moving story centering on a clearly troubled young woman who is given a stellar portrayal by Brit Marling and coming-of-age high school students credibly delivered by Gibson, Meyer, Perea, and Alexander. There have already been comparisons to the hit Netflix series, Stranger Things but The OA is cut from a very different spiritual cloth and will stay with its audience long after the final episode is over. There is talk of a Season 2 and I hope that this will actually happen. Highly recommended.
All episodes of The OA are currently available for streaming on Netflix.
The OA: Season One (TheaterByte TV Series Review)
Brit Marling | Zal Batmanglij
Show Creator
16 Dec. 2016
Original Release Date
Netflix
Network/Streaming Service
Plan B Entertainment | Anonymous Content
Studio/Distributor
TV-MA (Adult Content, Adult Language, Graphic Violence)
Rating Certificate
Summary
A moving, well-scripted and well-acted fantasy series about a troubled young woman who attempts to exorcise her past by recalling it to a group of new acquaintances.
What people say... Login to rate
Be the first to leave a review.
Show more