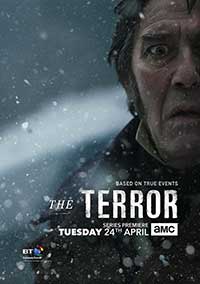 So much for spoiler alerts, as this statement introduces the AMC series, The Terror: "In 1845, two Royal Navy ships left England to finally discover a navigable passage through the Arctic. They were last seen by European whalers in Baffin Bay awaiting good conditions to enter the Arctic labyrinth. Both ships then vanished."  David Kajganich has adapted Dan Simmons's fictional account of the doomed Northwest Passage expedition led by Sir John Franklin and his two ships, the HMS Erebus and HMS Terror.  Those who might consider viewing this doomed voyage should be prepared for some pretty gruesome goings-on that include decapitation, evisceration, and other forms of bodily mutilation.
Franklin (Ciaran Hinds) is on the Erebus and sees this venture as his last chance to achieve the glory that has eluded him during previous failed explorations. He meets his counterpart on the Terror, Captain Francis Crozier (Jared Harris). Crozier is Franklin's social inferior having been rejected by the older man's niece and is an alcoholic. However, Captain Crozier is an Arctic Circle veteran and confides to his lieutenant James FitzJames (Tobias Menzies) that he took on this assignment at the behest of Franklin's wife, Lady Jane (Greta Scacchi). When Captain Franklin decides to pursue the riskier course around King William Island, both ships become ice-bound for the long Arctic winter. The "Tuunbaq," a demonic spirit in the form of a huge polar bear, attacks an advance party and becomes the crew's nemesis. A sailor accidentally kill a fur-clad Eskimo shaman (Apayata Kotjerk) and his daughter Silna or "Lady Silence" (Nive Nielsen) is temporarily taken on board. The young woman is mute as her tongue has been cut out to protect her from the Tuunbaq and she becomes the symbol of doom for the remainder of the expedition.
Franklin is killed by the Tuunbaq during a scouting foray, placing Crozier in charge of both ships. When he abstains from alcohol and begins to suffer the "D.T.s," Crozier informs FitzJames and other ranking officers that he will temporarily need to relinquish his command. Numerous crew members become sick and die, as the source of their illness turns out to be lead poisoning from the tins that contained the ship's food. The low morale on board deteriorates further when Crozier decides to abandon the ships and set out on foot, dragging large life boats loaded with supplies, in hopes of reaching the Canadian outpost of Great Slave Lake, several hundred miles away. Caulker's Mate Cornelius Hickey (Adam Nagaitas) incites a mutiny and the Terror camp is divided in two as the mutineers begin to feed on their dead comrades to avoid starvation. The remaining crew's ill-fated trek culminates in an epic confrontation between the archetypal forces of good and evil as questions remain about what distinguishes humans from other natural beings in the supreme struggle to survive.
Historical dramas sink or swim on the basis of their storyline and dialogue. The Terror scores major points in both areas, as Kagjanich's script is a faithful adaptation of Simmons' engrossing novel. In spite of the very large cast, character development of the principals is superb with some background stories filled in during each episode. For example, we find that Hickey has assumed a false identity, has no prior maritime experience, and is homosexual. The directorial pace is quite deliberate but remember that the ships are ice-bound, and the men later embark on a long grueling journey through a harsh wintry climate.  Extra features focus on the extensive use of CGI to create the overpowering Arctic landscape that doomed this expedition and that becomes an equal protagonist to those fated to die in it. The Terror is not an easy watch but one that will gradually draw its viewers in and keep a death grip on them until the end of the final chilling episode.  Highly recommended.
The Terror has completed its initial broadcast on AMC and is currently streaming  in its entirety on AMC On Demand and available for purchase via digital providers.
VUDU:
David Kajganich
Show Creator
25 March 2018 (USA)
Original Release Date
AMC
Network/Streaming Service
EMJAG Productions | Entertainment 360 | Scott Free Productions | American Movie Classics
Studio/Distributor
Summary
The Terror is a dark historical thriller that follows the final months of a doomed expedition to find the Northwest Passage. The hardships endured by the crews of the Terror and the Erebus are often unspeakable and there is no shortage of violence, blood and gore as the men are stalked by a huge demonic creature.
What people say... Login to rate
Be the first to leave a review.
Show more