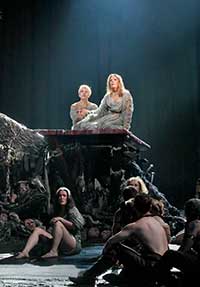 For Metropolitan Opera fans still in mourning for the so-called "Golden Age," reports of its demise may be "greatly exaggerated" if the company's new production of Vincenzo Bellini's Norma is any sign of things to come during the 2017-18 season. Director Sir David McVicar has now mounted seven productions at the Met and  two seasons ago created a stunning Donizetti Tudor Trilogy for soprano Sondra Radvanovsky. Norma has been labeled the "Mount Everest" of the soprano repertory and Ms. Radvanovsky again assumes this daunting role of the Druid priestess. She is joined in this production by mezzosoprano Joyce Di Donato as the novice Adalgisa, and Maltese tenor Joseph Calleja as the Roman consul Pollione. Met opera regular Carlo Rizzi leads from the pit with stage design and costumes by Robert Jones and Moritz Junge, respectively.
Norma is essentially a love triangle involving Norma, Adalgisa, and Pollione. High priest Oroveso (Matthew Rose), implores his daughter Norma to help free the Druids from the Roman occupation. Norma has secretly borne the Roman Consul two sons but Pollione's wandering eye alights on the younger Adalgisa whom he intends to take back with him to Rome. After the two women discover Pollione's duplicity, Norma considers killing her children but instead relents and summons the Druids to fight the Romans. A human sacrifice is required before the battle can begin and Pollione, now a captive of the Druids, is the designated victim. Norma cannot bring herself to kill her former lover. She confesses her trespasses to her fellow Druids and gives her children to Oroveso for safekeeping before joining Pollione in the deadly flames.
Musically, this is a resounding triumph for the principals of the Metropolitan Opera. Radvanovsky has thoroughly inhabited this complex heroine as her vocal pyrotechnics complement her basic portrayal of a woman caught between her forbidden love and duty to her country. Joyce Di Donato was making a role debut but one would never know it from her complete grasp of an equally conflicted character. Joseph Calleja tackles the dramatically thankless role of the cad that "gets religion" at the proverbial eleventh hour and his honeyed tenor pours out gobs of glorious sound at every turn.  Matthew Rose's sonorous bass provides a very noble Oroveso who cares deeply for his suffering people and his errant daughter. Maestro Rizzi who directed the Met's previous production of Norma (also with Radvanovsky) understands how to pace an opera that is largely static and chooses tempi that avoid dragging down the drama when the singers stand and deliver their gorgeous arias, duets, and trios.
Those familiar with Sir David's dramaturgy will know that this Scot favors stages that are often quite dark.  Granted much of the opera takes place at night, the nearly continual absence of light makes it hard at times to see much of the forest and sacred grove sets. Jones's sets work to support this somber environment. Norma's dimly lit hut, located below the holy oak, has wicker woven walls but there is at least sufficient illumination to provide a fuller color palette. Wardrobe designer Junge gives Radvanovsky and Di Donato some pretty dowdy costumes; at least Calleja gets a decent-looking Roman uniform. The Druids are a motley crew, clad in a mix of pelts, armor, war paint, while sporting some pretty wild hairdos and blood smears.
Any visual reservations aside, this new Norma scores where it counts most on both emotional and musical bases. Vocal purists may quibble with Radvanovsky's occasional sacrifice of legato for emotional substance but her approach is much more three-dimensional than other assumptions of this role that I have witnessed. Compared to what I saw in the previous John Copley directed Met Opera Norma production, this new one represents a vast improvement in both singing and staging. Lovers of the bel canto genre will be richly rewarded and, getting past McVicar's black hole staging approach, may well concur that a new "Golden Age" of the Metropolitan Opera has been ushered in.
Norma will continue its run with this cast until October 11, 2017 when some very capable replacements don the robes and uniforms through December 16, 2017.
The Metropolitan Opera  2017-18 production of Norma has its final performance with the original cast October 11, 2017.
Sondra Radvanovsky | Joyce Di Donato | Joseph Calleja
Artist
Summary
A vocally stellar production of the pinnacle of bel canto opera with a principal cast that could not have been bettered but with dark staging that obscures some of the dramatic proceedings.
What people say... Login to rate
Be the first to leave a review.
Show more