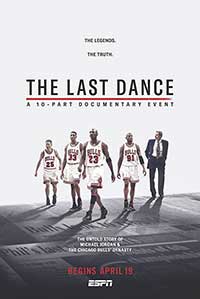 This ESPN docuseries chronicles the Chicago Bulls' 1997-98 NBA championship season, or, as it would subsequently be called, The Last Dance. When COVID-19 shut down live sporting events, the network wisely decided to air this show two months ahead of schedule. The millions of sheltered-in-place sports aficionados get ten episodes of telling insights into one of the most remarkable team accomplishments in professional basketball history.  While die-hard NBA fans will already know the eventual outcome of the series, series creator Jason Hehir still manages to heighten the dramatic tension of each playoff game and championship series until the final curtain has dropped.  Viewers with young fans at home will be relieved to know that the ESPN network version has been "edited for mature language," i.e., all of the plentiful profanity is bleeped out.
A historic turning point for this frustrated Chicago NBA franchise occurs after another loss to their nemesis, the Detroit Pistons, in the 1990 Eastern Conference finals: Phil Jackson replaces head coach Doug Collins before the 1990-91 season begins.  The blend of Jackson's zen-influenced coaching philosophy with assistant coach Tex Winter's vaunted "triangle offense" shifts Michael Jordan's role from just being the league's perennial scoring champion to becoming the consummate team player.
As viewers meet numerous members of the squads that had brought five NBA championships to Chicago in the seven previous seasons, they get to see the contrasting personalities of the Bulls' "Big Three"—intense Michael Jordan, soft-spoken Scottie Pippen, and outrageous Dennis Rodman. Before "the last dance" began, it was speculated (correctly, as it turns out) that this would be the last time that those three all-stars would all be playing together for the Bulls.  Team General Manager Jerry Krause removed any doubt about Phil Jackson's future by giving him a final one-year contract.  With storm clouds gathering over the team, camera crews were given considerable access to the players and coaches and filmed some unguarded moments which otherwise would never have aired on network television.
[envira-album id="123244″]
While there is the expected focus on "Air Jordan" and his iconic Nike basketball shoes, there are reminiscences by many of his former teammates including Rodman, Pippen, and guard Steve Kerr as well as some by his hall-of-fame opponents like Isiah Thomas, Earvin "Magic" Johnson, Larry Bird, Reggie Williams, and the late Kobe Bryant. We also get some remarkably deep and often emotion-charged personal stories, as underscored by how the tragic shooting death of Michael Jordan's father led to his "retirement" before the 1993-94 NBA season to play minor league baseball. It is also quite rare to get an insider's view of a professional sports team's front office, as GM Krause wheels and deals his way to assembling what arguably might have been the best team to ever play in the NBA.
Yes, there will be plenty of eye-popping Michael Jordan dunks, but director Jason Hehir and his film editors ensure that The Last Dance will not simply be an MJ highlights reel. As the episodes march inexorably forward to the 1998 NBA finals, the creative team has artfully blended older footage from past regular season and playoff games with newly filmed sessions with players, coaches, sports announcers and writers, as well as others involved in various aspects of this sport. There are many back-and-forth time-shifts as the Hehir-conducted interviews occasionally segue into compelling backstories of the players and their coaches. While there is an inevitable overlap between some episodes, there is relatively little of the repetition that could have made this a monotonous watch.
As a former Chicagoan and ardent Bulls fan, what totally impressed me was the extra effort taken to fill in some of this story's less familiar details–those that I had either forgotten or those that I had never actually known. In the final assessment, this series is about much more than one season of professional basketball–it is about what is really important in life on and off the court and simply one of the best sports documentaries that I have ever seen. Highest recommendation.
The Last Dance is streaming on ESPN and Netflix

[youtube https://www.youtube.com/watch?v=Peh9Yqf1GXc&w=784&h=441]
---
The Creative Content: 5/5
Show Creator: Jason Hehir
Original Release Date: 19 April 2020
Network/Streaming Service: ESPN | Netflix
Ep. Run Time: 60 Mins.
No. Eps.: 10
Studios & Distributors: ESPN Films | NBA Entertainment | Mandalay Sports Media | Netflix | ESPN
Rating Certificate: TV-14