– (scroll to the bottom if using mobile OS)

The Performance
[Rating:3.5/5]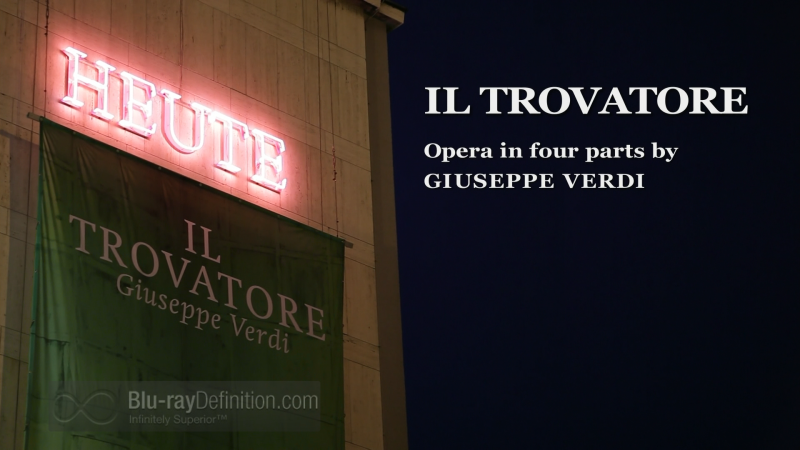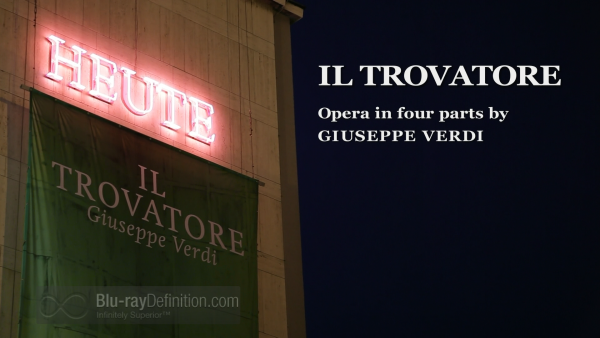 Giuseppe's Verdi' bicentennial birthday party in 2013 brought out a raft of his operas around the world including this Berlin Staatsoper Unter den Linden production of Il Trovatore one of the Maestro's most popular, packed with great arias and choral numbers. This performance gets the star treatment for its leads (Anna Netrebko and Placido Domingo both in role debuts) and its conductor, opera veteran Daniel Barenboim. Stage director Philipp Stolzl has eschewed traditional sets in favor of a bare cube that is redecorated with projections as needed.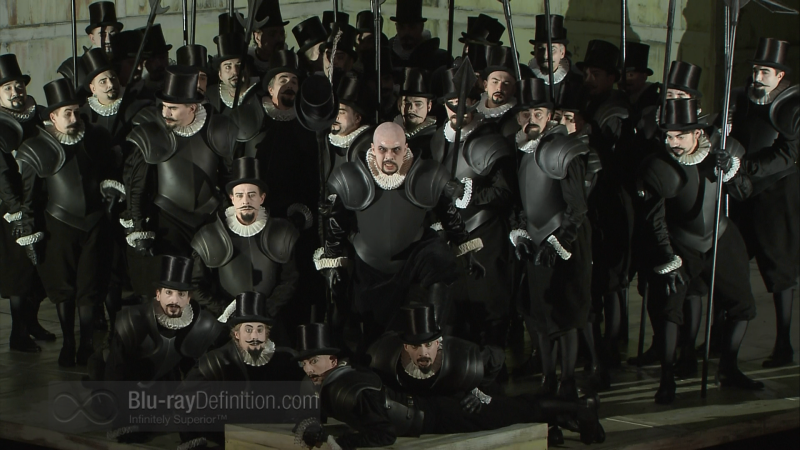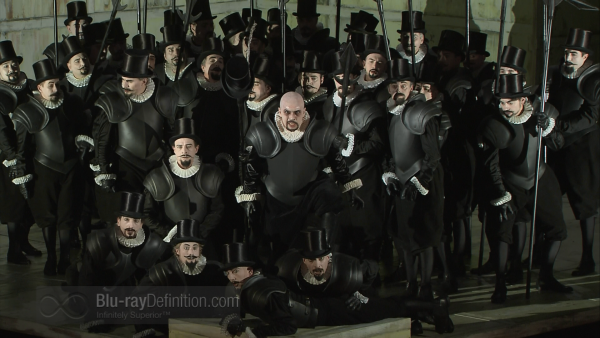 Il Trovatore is another of Verdi's love triangles and opens with Ferrando, a Captain in Manrico's army (Adrian Sampetrean) telling a story that took place before the curtain went up. A Gypsy, Azucena (Marina Prudenskaya), the mother of the title character, the troubadour Manrico (Gaston Rivero) kidnapped and incinerated a Di Luna child to avenge the Di Lunas' burning of her own mother at the stake.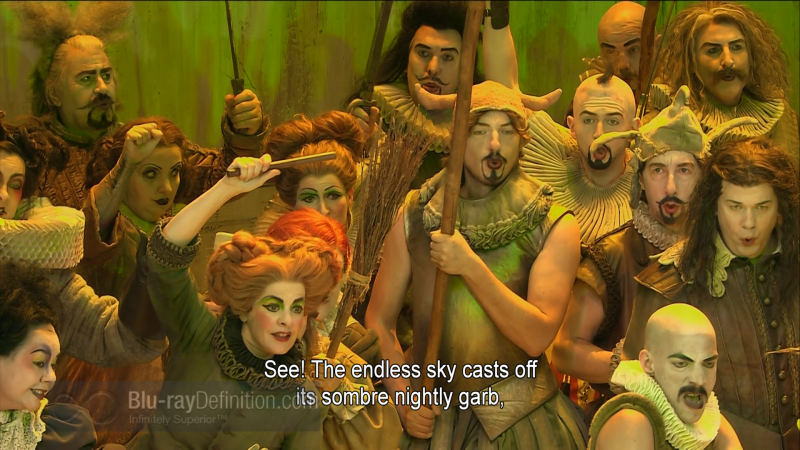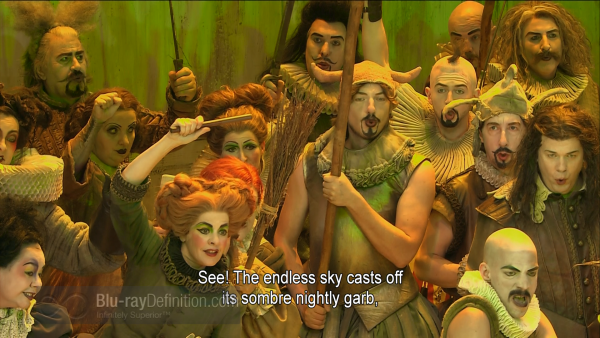 We meet Leonora (Anna Netrebko), a noblewoman in love with Manrico but also the object of the Count De Luna's (Placido Domingo) affections. Leonora happens upon the Count and mistakes him for her lover who arrives and, on the spot, clashes with the Count (in this production, Manrico is wounded in an onstage duel).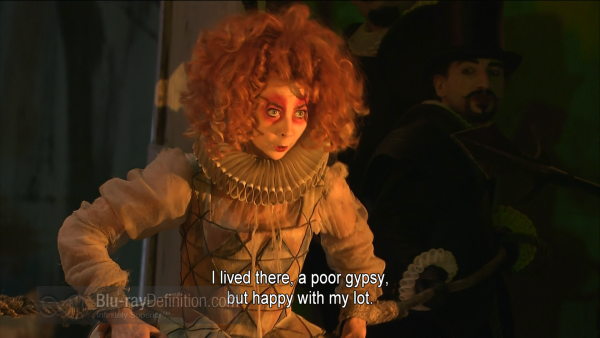 At the Gypsy camp, Azucena tells her son the opera's backstory only to realize in a delirious moment that she mistakenly killed her own child. A shocked Manrico is reassured by his mother that he really is her son. Word arrives that Leonora, believing Manrico to have died in the duel will enter the convent. As Leonora nears the convent's gate, Count Di Luna hides in wait but Manrico appears and takes her away.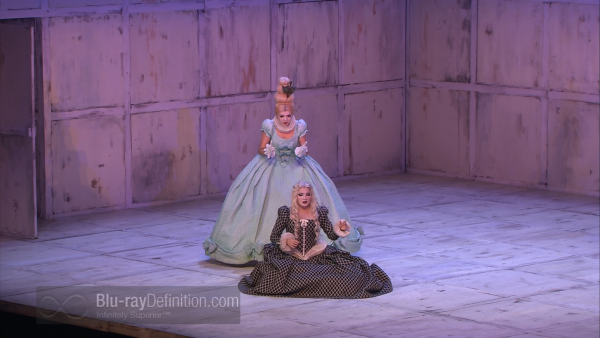 Azucena has wandered into the Count's encampment, is captured and will be burned at the stake. Manrico and Leonora, about to be married, are interrupted by one of his men who informs him of his mother's capture. Manrico rushes off to save her.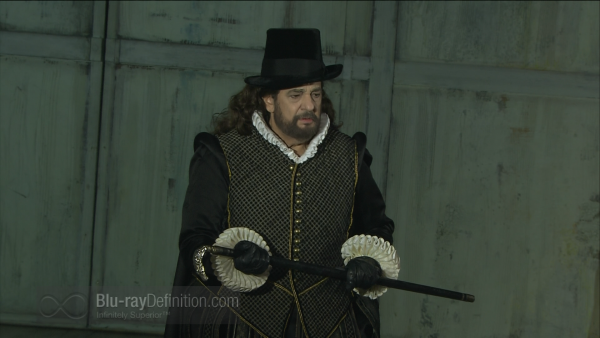 Manrico is captured by the Count and sentenced to death. Leonora bargains with Di Luna to save her lover's life. She will give herself to the Count but she will die by her own hand (in this production she stabs herself instead of drinking poison).  As Manrico and Azucena await their fate, Leonora, fatally wounded, suddenly appears. She explains what she has done and then dies.  The Count enters, and finding a dead Leonora, stabs Manrico to death. Azucena informs him that her revenge is now truly complete, as the Count has killed his own brother.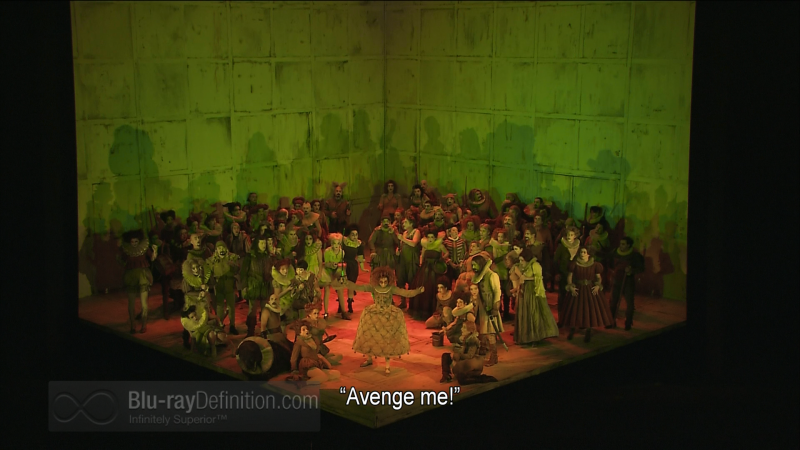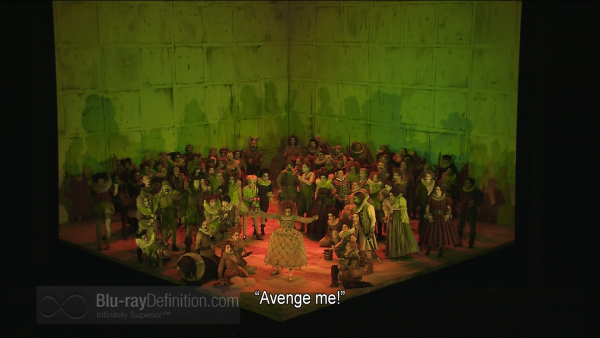 This production is a complete rethinking of an operatic warhorse from sparse staging to costumes that are Velazquez-era designs. The harlequin makeup and fright wig that adorn Azucena may be a bit much but add to her obviously manic character. Maestro Barenboim makes some unusual tempo choices, such as the extremely slow pace for Leonora's opening aria ("tacea la notte placida") that soprano Netrebko negotiates as only she can. The ageless Domingo, now a baritone, exploits the relatively high tessitura of the Count's music with aplomb. The two finds of this production are Uruguayan spinto tenor Gaston Rivero who tosses off the high C of "di quella pira" with incredible ease, and Russian mezzo-soprano Marina Prudenskaya, whose voice is much younger and brighter than this role usually receives.
Video Quality
[Rating:4/5]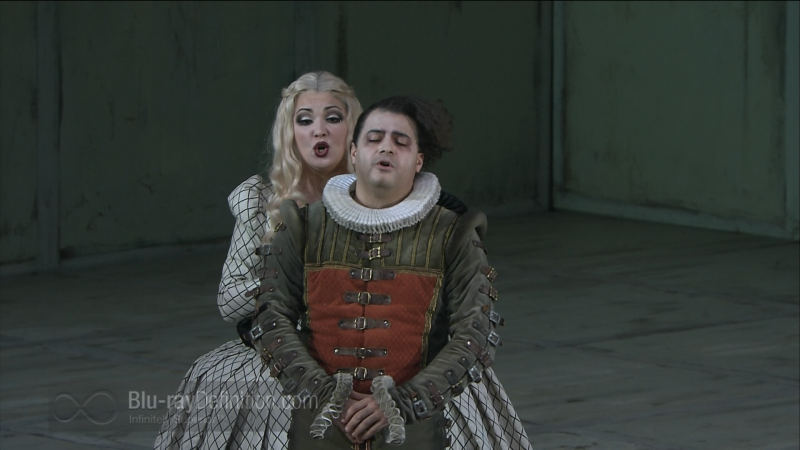 Video director Tiziano Mancini is one of the best in the business. His camera crew makes the stage look much less bare than it really is. Detail and colors are superb. One might quibble about the costumes, some of the stage business, and the lack of props but Stolzl's concepts mostly work and put a fresh face on this venerable opera.
Audio Quality
[Rating:4/5]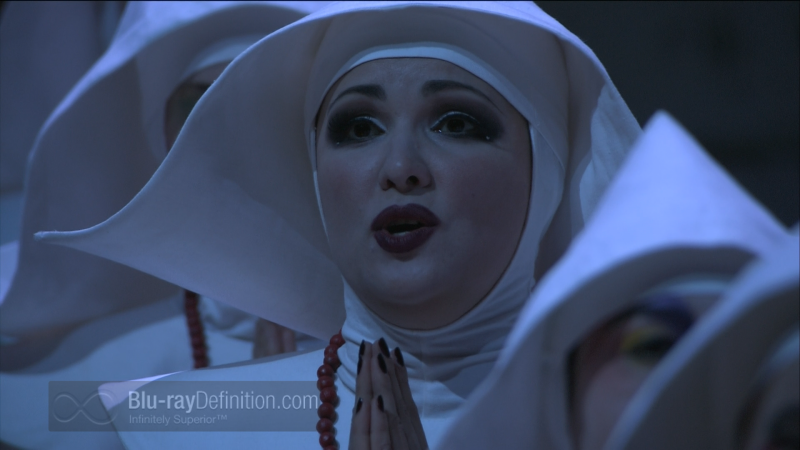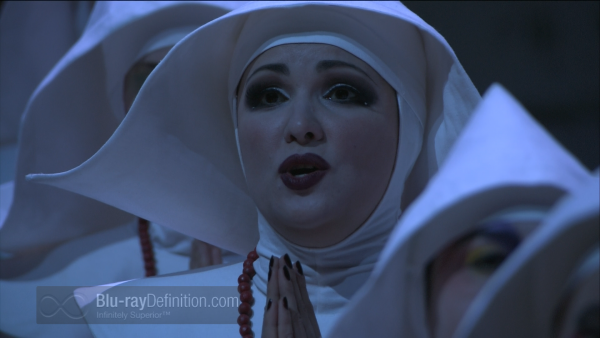 Except for the times that conductor Barenboim turns up the orchestra's volume knob a bit too high, there is nice balance between pit and stage. Ambience in the surround version is limited, making the stereo option almost its equal.
Supplemental Materials
[Rating:1/5]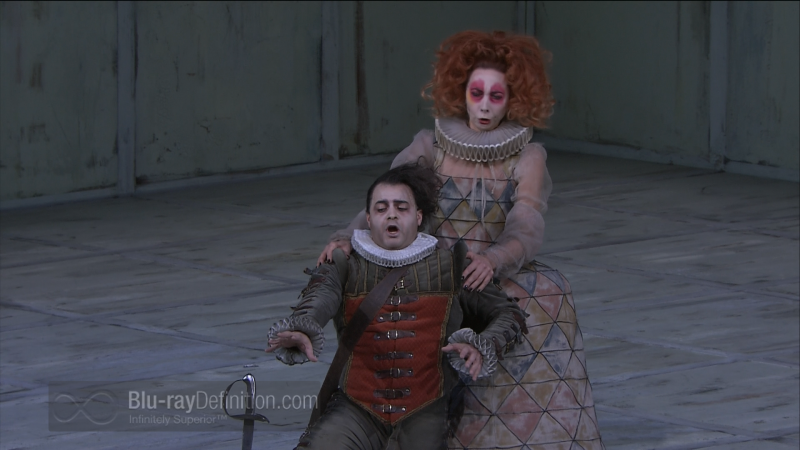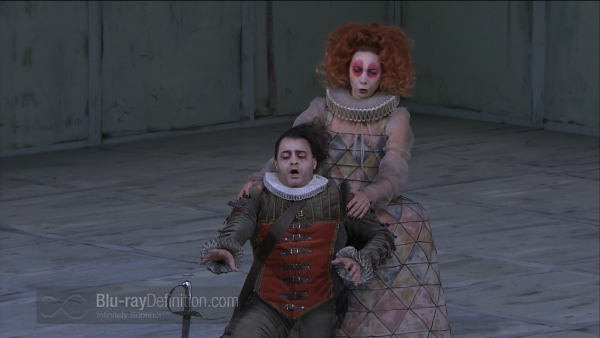 We do not get anything beyond a slim program booklet with cast and production credits, track listing (mixed in with a running synopsis) and a background essay on this production by Peter Krause.
The Definitive Word
Overall:
[Rating:3.5/5]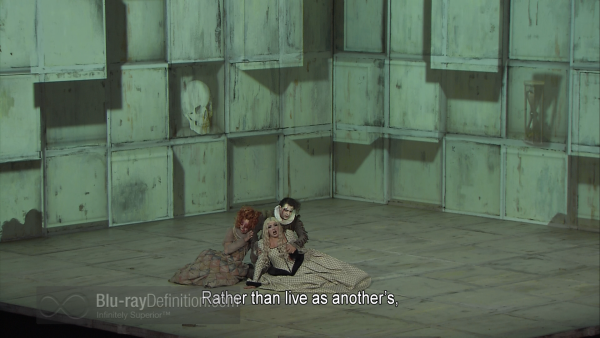 I keep waiting for the ideal Blu-ray version of this opera. The Metropolitan Opera performance (and one that I saw in person) has a starry cast and pride of place in my library particularly for its powerhouse performance by soprano Sondra Radvanosky and David McVicar's clever rotating sets. This new release gives viewers a decent alternative that has been completely reinvented and is worth getting for the fabulous performances by Netrebko and Domingo alone.
Additional Screen Captures
[amazon-product region="uk" tracking_id="bluraydefinit-21″]B00KZ73UQ4[/amazon-product]
[amazon-product region="ca" tracking_id="bluraydefinit-20″]B00KZ73UQ4[/amazon-product]
[amazon-product]B00KZ73UQ4[/amazon-product]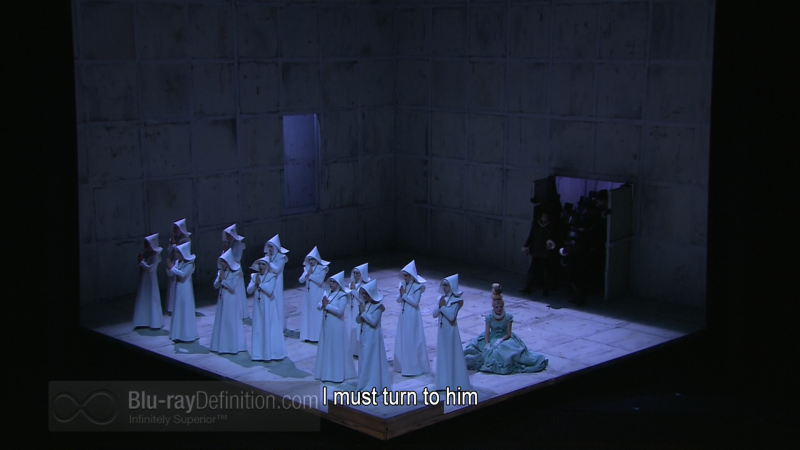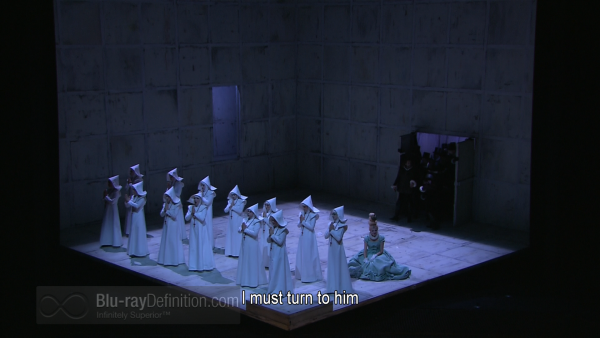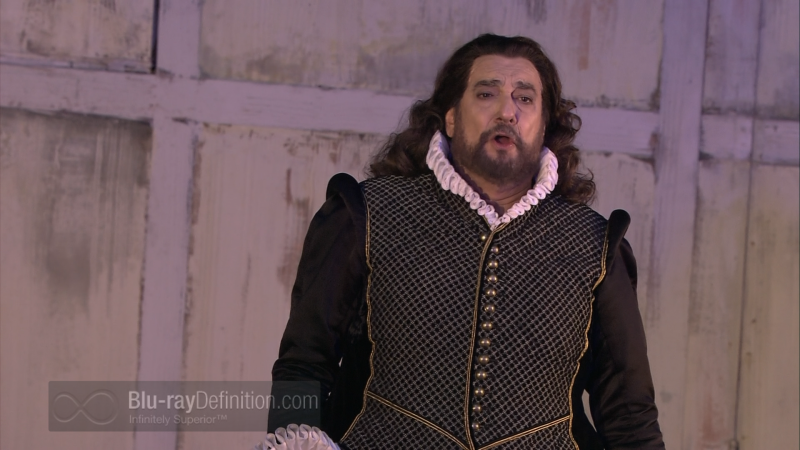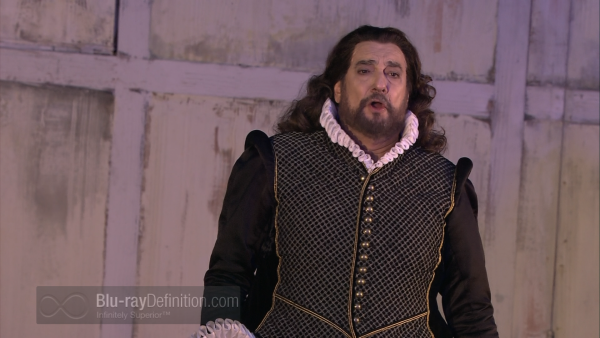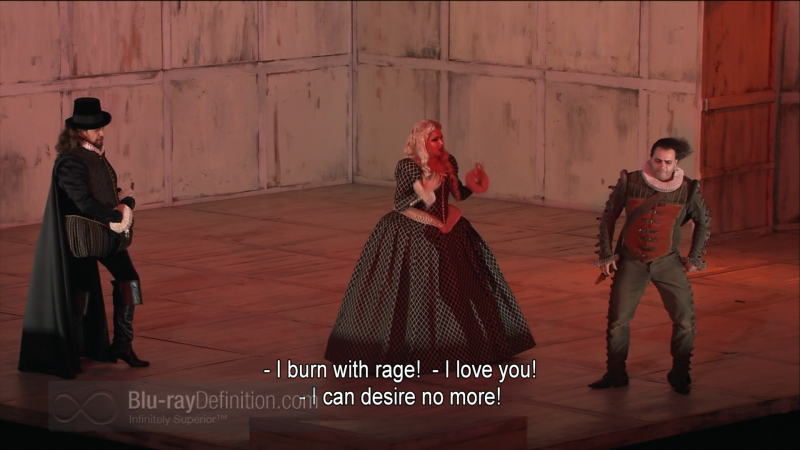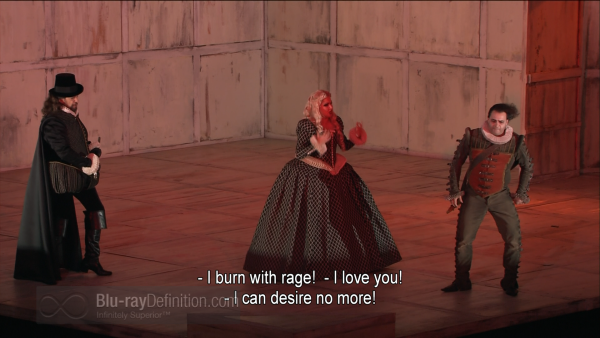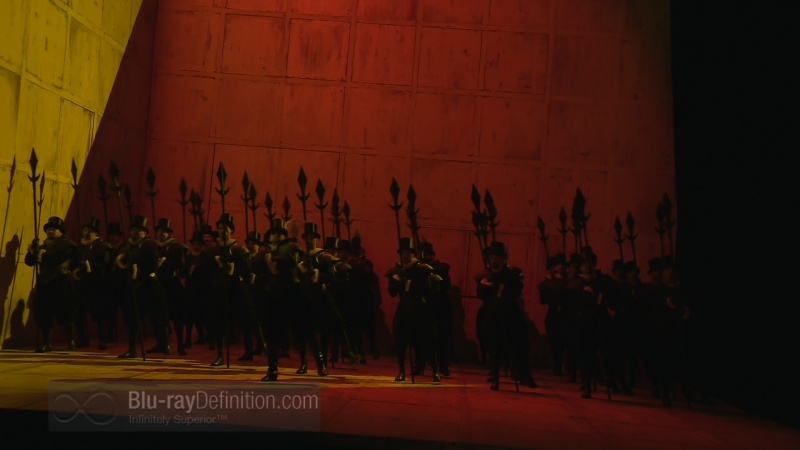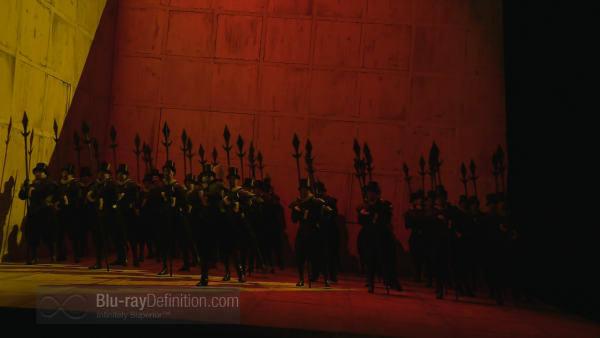 [amazon-product region="uk" tracking_id="bluraydefinit-21″]B00KZ73UQ4[/amazon-product]
[amazon-product region="ca" tracking_id="bluraydefinit-20″]B00KZ73UQ4[/amazon-product]
[amazon-product]B00KZ73UQ4[/amazon-product]