The Film
[Rating:4/5]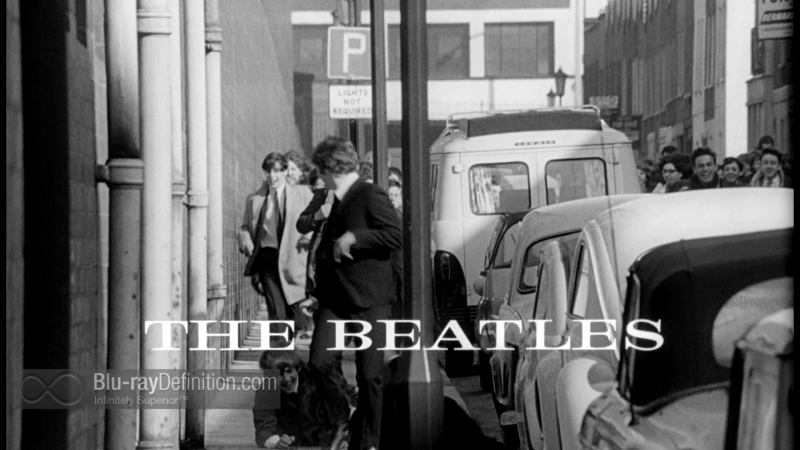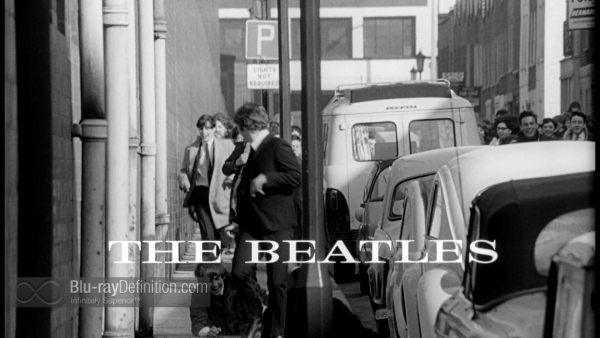 A day in the life of The Beatles, that's the basic premise of this fun, comedic romp written by Alun Owen and directed by Richard Lester (How I Won the War; The Bed Sitting Room). Planned before Beatlemania was in full swing and released just as The Beatles had become a bona fide worldwide phenomenon, this quick-paced surrealist comedy that took cues from Lester's earlier film, The Running, Jumping and Standing Still Film, is often credited, deservedly so, for inventing the music video genre.
The "Can't Buy Me Love" sequence was innovative in the way it was edited in time to the music with many quick cuts, and the use of multiple cameras during the band's performances to focus in on them closely playing their instruments is a technique still in use today.
But that is not the extent of A Hard Day's Night. As with a large portion of Richard Lester's work, the film, thanks in big part to the brilliantly satiric screenplay from Alun Owen, poked fun at the stodgy upper class of British society as The Beatles wrought havoc on London whilst making their way to a gig at an unspecified television variety show. Full of cheeky quips and classic one-liners, A Hard Day's Night is not only the birth of MTV, but one of the pre-natal forms of Monty Python, this coming three years before Lester's more obvious Python precursor, The Bed Sitting Room.
All these many years later, it would be difficult to not see the film as a document of the era as well. A record of a more innocent time, before the free love, psychedelic Beatles would come to the fore and the 1960s would derail into an era of turmoil, perhaps foretold in the pent up emotions of the screaming girls at those Beatles shows so skillfully reproduced in A Hard Day's Night.
Video Quality
[Rating:4.5/5]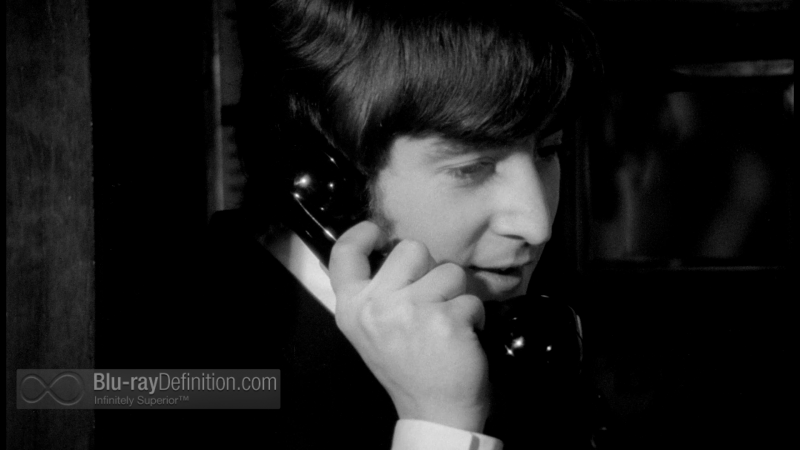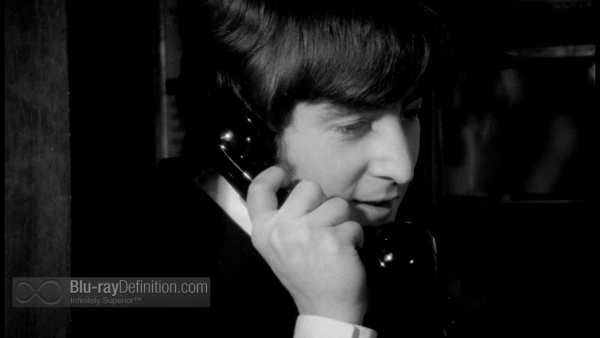 We get a new 4K digital restoration of A Hard Day's Night approved by director Richard Lester offered up in an AVC/MPEG-4 1080p encodement on Blu-ray that looks splendid on this Blu-ray edition from Second Sight films. This is miles above the 1080i transfer offered by Alliance in Canada in 2009, with deeper blacks, much stronger contrast, a cleaner image overall and more texture. There may be some slight black crush, but not enough to detract from the finer detail extension and depth of field.
Audio Quality
[Rating:5/5]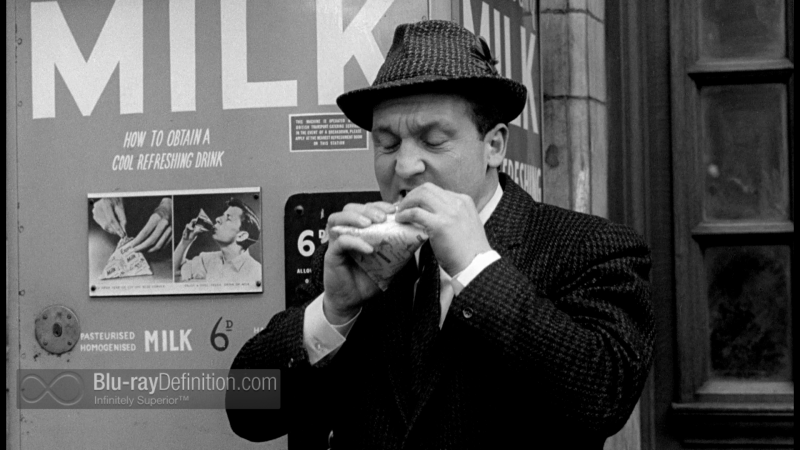 With this new 50th Anniversary restoration, we also get two new remixes, an English DTS-HD Master Audio 5.1 (48kHz/16-bit) track and an English LPCM 2.0 (48kHz/16-bit) stereo track, both supervised by sound producer Giles Martin and engineer Sam Okell at Abbey Road Studios. In addition, the original monaural soundtrack is included in LPCM 1.0 (48kHz/16-bit). Both new remixes sound incredible, with a natural sense of dynamics, great clarity and musicality for the musical performances, and that signature 60s stereophonic sound. The monaural track and stereo track sound quite similar during the sequences of dialogue, while the 5.1 mix has an obviously cleaner and more defined center channel.
Supplemental Materials
[Rating:3.5/5]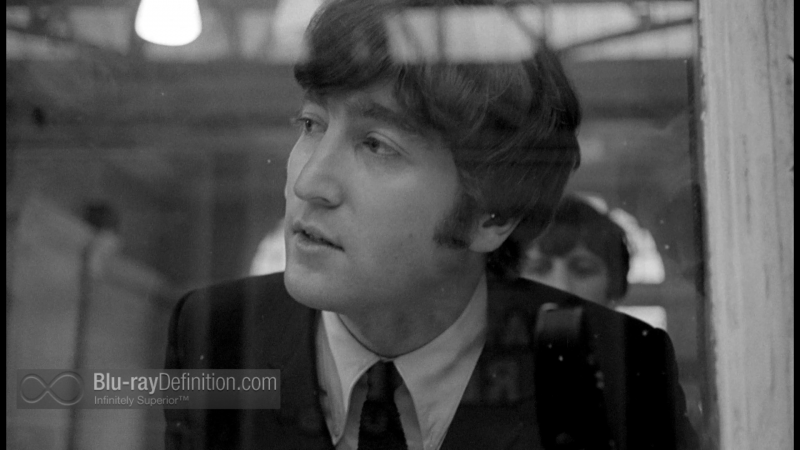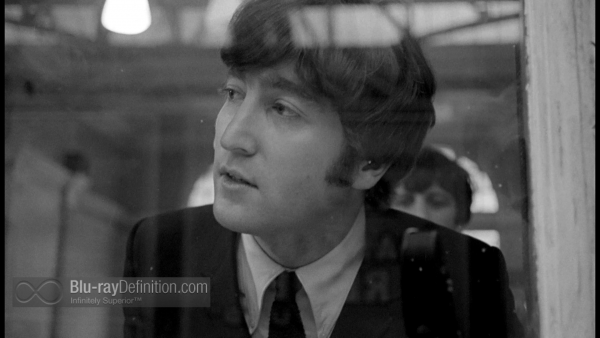 In Their Own Voices (1080p/24; 00:18:03)– A new piece combining 1964 interviews with The Beatles with behind-the-scenes footage and photos
You Can't Do That!: The Making of 'A Hard Day's Night' (1080p/24; 01:02:12) – A documentary by producer Walter Shenson including an outtake performance by The Beatles
Things They Said Today (1080p/24; 00:36:25) – A documentary about the featuring director Richard Lester, music producer George Martin, screenwriter Alun Owen, and cinematographer Gilbert Taylor
Picturewise (1080p/24; 00:27:16) – A new piece about Richard Lester's early work featuring a new audio interview with the director.
Anatomy of a Style (1080p/24; 00:17:08) – A new piece on Richard Lester's methods.
The Beatles: The Road to 'A Hard Day's Night' – A new interview with author Mark Lewisohn
Audio Commentary with Cast and Crew
New 50th Anniversary Trailer (1.78:1; 1080p/24; DTS-HD Master Audio 5.1; 00:01:38)
The Definitive Word
Overall:
[Rating:4/5]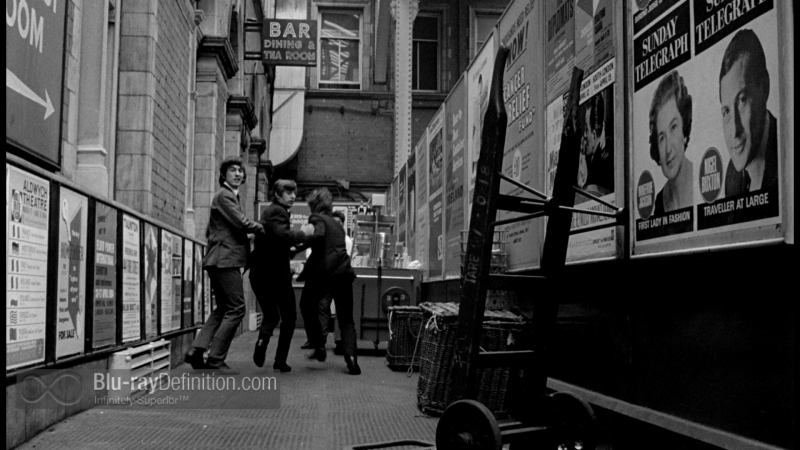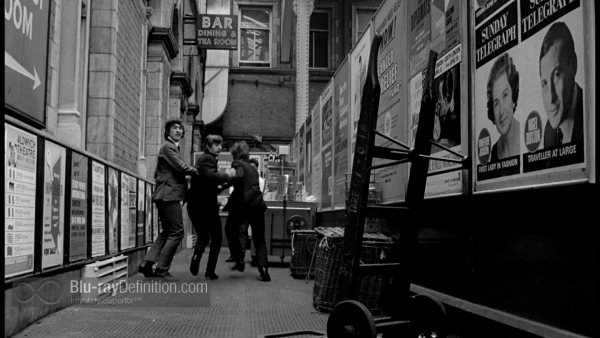 Watching and listening to The Beatles right at the early days of Beatlemania is an interesting exercise in rock and roll history for sure. A Hard Day's Night set the bar for music videos and British comedy. The classic film gets a beautiful 4K restoration worthy of its place in rock history for its 50th Anniversary. This is one well worth owning if you lived through the era or simply if you love The Beatles.
Additional Screen Captures