Periodic Audio Earphones
With the proliferation of portable music devices, I have acquired considerable experience with digital players and the essential earphones that provide tunes on the go. Each time I think that I have pretty much heard everything out there, a new model or in this case a new company comes along to change what I thought I knew about earphone technology or in this case, "in ear monitors " (IEMs).  Periodic Audio is a relatively new manufacturer of high-quality IEMs and offers three models that differ in the metals used in their dynamic driver diaphragms: magnesium (alloyed with aluminum), titanium, and beryllium. This in-ear trio made their debut at CanJam NYC during February 2017.
Each model comes with a variety of tip sizes that include single-flange silicone, dual-flange silicone, and memory foam. The 10 mm drivers are housed in low-resonance polycarbonate and the 1.6-meter copper Litz cable is shielded by a jacket of polyethylene terephthalate and terminated in a 3.5 mm plug made of gold-plated brass.  The caps on the back of each earphone designate the model: black (Magnesium), silver (Titanium), and gold (Beryllium). All accessories are housed in a smart "gold" pill box that has room for the 'phones and a standard phone jack adapter as well as a dual plug adapter for those pesky audio inputs on some domestic and international aircraft. As part of Periodic Audio's fun packaging, each earphone carton is labeled with periodic table abbreviations (Mg, Ti, Be), atomic numbers and weights, and includes a print out of specifications and frequency response curves.
I would like to insert some design features that are worth noting. First is the counter balance or metal part on the end of each earphone that sets the center of gravity to avoid pressure on the tragus or anti-tragus and increases listener comfort. Second is the dual porting on both sides of the transducer that extend bandwidth and reduce diaphragm motion over a 2-octive range. The result is lower distortion at all listening volumes. Finally, the transducer magnets are unusually large for the size of the earphones. This enables the IEMs to adapt to a wider range of loads to source components.
As you ascend the rungs of the Periodic Audio ladder,there is a progressive alteration in the sonic properties of the earphones since the stiffness and mass of the different diaphragm materials play an essential role in the clarity of sound reproduction and reduction in distortion.
A Tale of Three Earphones
The choice of dynamic drivers is a particularly good one since it avoids the bass response issues of balanced armatures. Principal listening to each Periodic Audio earphone model was done with an Astell & Kern AK240 digital player and, at the conclusion, an iPod Classic. I used the following playlist with each earphone/player combination:
The Eagles: "Hotel California" (44.1kHz/16-bit FLAC file)
Eiji Oue/Minnesota Orchestra: Rachmaninoff: Symphonic Dances (88.2kHz/24-bit FLAC file)
Esperanza Spalding/Gretchen Parlato: "Inutil Paisajem" (96kHz/24-bit FLAC file)
Radkha Toneff/Steve Dobrogosz: "The Moon is a Harsh Mistress" (44.1kHz/24-bit FLAC file)
Ella Fitzgerald/Louis Armstrong: "Why Can't We be Friends" (96kHz/24-bit FLAC file)
Jeremy Monteiro: "A Song for You" (DSD64 file)
Loggins and Messina: "Vahevala" (44.1kHz/16-bit FLAC file)
Michael Jackson: "Thriller" (DSD64 file)
Original Flying Pickets: "When You're Young and in Love (44.1kHz/16-bit FLAC file)
The Spice Girls: "Saturday Night" (320kbps mp3 file)
Diana Krall: "Peel Me a Grape" (96kHz/24-bit FLAC file)
Paul Simon: "Diamonds on the Soles of Her Shoes" (96kHz/24-bit FLAC file)
Doug MacLeod: "Ridge Runner" (176.4kHz/24-bit WAV file)
An important property of earphones is their ability to deal with listener fit, comfort, and fatigue. Comparing and contrasting the earpiece options, my ears preferred the single flange silicones for comfort and their ability to form the necessary seal for best sound and isolation.
Beginning with the entry model Magnesium ($99), I was favorably impressed with the relative neutrality of these 'phones although the supplied frequency response curve showed a slight mid-bass peak and another more pronounced midrange/treble peak. The audible results were added clarity to most of the musical selections and decent if not overwhelming bass. Overall, the Mg enabled me to easily detect differences between lower resolution files ("Saturday Night") and top-flight higher resolution files ("Thriller" and "A Song for You"). The Mg earphones were non-fatiguing and normal levels of room noise did not intrude on my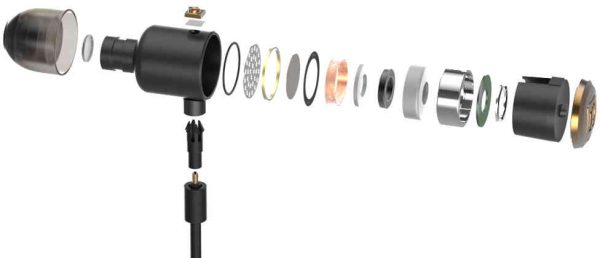 enjoyment of the music samples.
The Titanium ($199) was an entirely different story. As the product literature aptly discloses, these 'phones are "very aggressive, with enhanced bass and treble response…. Not our most objectively accurate IEM, it is a lot of fun to listen to." The frequency response curve has definitely more pronounced mid-bass and high frequency peaks and seemed to love my reference cuts of "Thriller" and "Hotel California" but was less happy with more laid-back selections like "Peel Me a Grape," "A Song for You," and "Inutil Paisajem." The Ti tended to undo some of the mellowness of these late-in-the-evening cuts and added a less than appealing edginess.
The Beryllium ($299) was clearly the pick of the litter during my listening sessions. It reproduced music clearly with nice attention to detail and with good balance throughout the audio spectrum. The Be was extremely easy on my ears and I could readily see myself wearing these 'phones during a transcontinental flight lasting four hours or more. Because the Beryllium was the most expensive IEM in the Periodic Audio product line, I did some sound comparisons with my reference earphones, the Astell & Kern AKT8iE Mk II. While the AK in-ear monitors conveyed a greater sense of space, a smoother top end and fuller bass, the Be IEM was never embarrassed and, considering that they cost less than one-third the price of the AKT8iE MK II, they become a real bargain in high-end earphones.
Decisions, Decisions, Decisions
How much you decide to spend on earphones or, in current parlance, in-ear monitors, depends on how much portable listening that you do and on the kind of device that holds your music files. My iPod Classic is replete with low-res mp3 files and, in sequence, I tried it out with all three earphones. If this is your go-to portable player, the Mg earphones are easily your best choice for the money as they crush the cheap plastic iPod earbuds supplied with the iPod. Once you get into the higher echelons of digital players, you will opt for the top of the line Be as your ears will appreciate its ability to extract detail while maintaining great musical balance. The Ti  earphones are for party animals that like to listen loud and are not turned off by obvious sonic colorations.
The Final Assessment
Periodic Audio has come up with a line up of reasonably priced in-ear monitors that will find good matches for a wide range of musical tastes and digital players. If this were not enough, the company offers an industry-leading 5-year warranty against manufacturing defects. [Note: Overall rating is a composite of all three earphones. Individually, Magnesium (4.0), Titanium (3.5), Beryllium (4.5)]
Specifications:
Magnesium
Frequency Response
Impedance
Sensitivity
Power Handling
THD
Weight
Titanium
Frequency Response
Impedance
Sensitivity
Power Handling
THD
Weight
Beryllium
Frequency Response
Impedance
Sensitivity
Power Handling
THD

Less that 0.5% THD at 1mW

Weight
Pros
Excellent build quality
Comfortable for long listening sessions
Sound quality improves with increasing price
Good value for performance
Cons
Ti earphones are too aggressive for my tastes
Summary
Periodic Audio debuts a trio of new high-performing earphones that offer a range of listening options at price points that are very wallet-friendly.
What people say... Login to rate
Be the first to leave a review.
Show more