Rotel and I apparently have a thing going on as, over the past few years, I have spent quality time with several of their audio/video components. The RSP-1582 Surround Sound Processor is Rotel's new king-of-the-hill A/V entry. As this review will demonstrate, the RSP-1582 should satisfy home theater enthusiasts' needs and will not require a second mortgage to purchase.
Features, features, and more features
When you look at any Rotel component, you will immediately recognize its distinctive silver or black façade. The RSP-1582's uncluttered front panel has a central and highly legible 7" TFT display. On the left are a power/standby button, an IR "eye," a group of function/guidance buttons, an input selector, a menu button, and a back button. Below the display is an additional HDMI input and a USB port for an iPod. To the right are a large, luxurious-feeling volume control and buttons that enable the display and muting and show the assigned surround-channel mode. The rear panel has two HDMI outputs (one of which can support an audio return channel), seven HDMI inputs, six digital inputs (three optical and three coaxial), a USB input for direct connection to a Mac or PC, an RS-232 input, an Ethernet receptacle, three 12-volt trigger outputs, a remote input, and two additional IR outputs with a Rotel link connection for controlling other compatible devices. Seven analog inputs include those designated for a turntable, tuner and CD player as well as four assignable inputs. Multi-channel analog inputs that some consider sonically superior to HDMI are available for the few DVD and Blu-ray players that still offer this option. At the bottom of the rear panel is a single pair of XLR inputs and a complete complement of RCA and XLR outputs for 7.1 systems (including two powered subwoofers). A power switch and a power cord receptacle complete the layout. RSP-1582 has a future-proof design with its modular construction; firmware can be updated via either Ethernet or USB (my review sample updated flawlessly).
First and foremost, Rotel A/V components are designed as audio devices. The RSP 1582 has six Wolfson 24-bit/192kHz DACs, four assigned independently to Front Left, Front Right, Center and Subwoofer channels with shared stereo DAC's for the rear channels. A Texas Instruments Aureus DSP high-performance decoder is utilized with 10-channel Parametric Equalization (PEQ). A Texas Instruments ADC converts analog signals for playback in surround sound modes. To optimize stereo playback of analog sources, an analog bypass defeats all of the digital circuits. LPCM sources up to 192kHz/24-bit can be managed as well as most currently available Dolby® modes and all DTS digital surround and high-resolution audio modes. There is no current support for Dolby® Atmos, DTS:X, and Auro 3D. An aptX Bluetooth receiver can deliver CD-quality sound from compatible linked sources. The RSP 1582 has a phono stage but as it will only accept moving magnet cartridges, making it not accessible to my assortment of moving coil cartridges.
The RSP-1582 can pass through all resolutions from 480i to UHD (4K) and 3D images from any of its eight HDMI 4K inputs to either of its two HDMI 4K video outputs. The heart of the video performance is handled by a Silicon Image 2K/4K HDMI transceiver that supports Color Space and Deep Color.
The Rotel RR-CX100 Remote Control unit can operate other Rotel sources like a CD player or tuner. Its neat layout duplicates the front panel controls of the RSP-1582 and can adjust, temporarily, the volume level of center, surround, and sub channels. There is a central control pad for use with an On-Screen Display, the preferred way of navigating the set up of this unit. Individual video and audio inputs can also be selected. Blue backlighting and a "flashlight" function allowing a dark room to be illuminated with a press-hold of the light button  for safe and easy navigation around a darkened home theater completes the remote's features.
Setup
As the RSP-1582 is a sophisticated component, a complete read of the owner's manual is essential. Starting with a Main Menu Setup Screen, you will next be guided to fifteen other screens that address the following functions:
Input Setup:
Multi-Input Setup
Speaker Configuration:
Speaker Distances
Speaker Levels
Advanced Speaker Setup Parameters
Subwoofer Setup
Video Setup
Dolby Pro Logic IIX Setup
DTS Neo 6 Set up
Equalizer Configuration
Network Configuration
System Setup
Having previously set up several SSPs, I was well prepared to spend the approximately two hours needed to complete all of these tasks for each selected audio and video input. Fortunately, most of the audio/video setup involves one-time adjustments unless source components or speakers are changed. Those considering the purchase of the RSP 1582 but who lack experience in the set up of an SSP should establish a close working relationship with their A/V retailer. I skipped the PEQ set up as it would require additional equipment and expertise that many prospective users frequently lack. Such parametric equalizers also have inherent difficulties in addressing narrow-band peaks or dips across the audible (and measurable) frequency spectrum.
The RSP-1582 took command of a bevy of Pass Labs amplifiers (two XA-100.8s, one X-260.8, and one X-150.5) that drove an all-Martin Logan 5.1 system (two CLXs in front, a Stage X in the center, two EFXs in the rear, and a pair of Balanced Force 212 subs). A Panasonic Viera TC-P65V10 1080p 2-D plasma television provided the images.
Sights and sounds
I viewed a number of my reference Blu-ray Discs including The Fifth Element, Avatar, and the remastered versions of Lawrence of Arabia and Indiana Jones: Raiders of the Lost Ark. I could not detect any visual anomalies; the colors and details appeared identical to those passed through my reference surround sound processor, the Theta Digital Casablanca IV. While I was not able to evaluate the RSP 1582's ability to pass 4K signals, its Silicon Image HDMI transceiver should be able to transfer such signals without problems.
The RSP-1582's sound performance was tested with numerous audio formats via an Oppo BDP-105 universal disc player. Among the titles auditioned were Blu-ray Pure Audio Discs (Inscape: Sprung Rhythms), SACDs (Mark Levinson: Red Rose Music), WAV-formatted DVD-Rs (Malcolm Arnold Overtures 176.4kHz/24-bit), high-resolution downloads (Honey Boy Edwards's Shake 'Em On Down, 176.4kHz/24-bit), Red Book CDs (Patricia Barber's Modern Cool), and miscellaneous MP3s. What I received was honest, uncolored, and true-to-source renditions of these familiar titles when using the analog bypass setting. Switching to the RSP-1582's built-in DACs with the Oppo BDP-105 performing as a transport only, I could not consistently detect differences from what I heard through the analog inputs. High-resolution files (up to 192kHz/24-bit) were ported from my MacBook Air through the USB input, and sounded simply magnificent. MP3s from my iPod Classic, in spite of the obvious limitations of this format, were never less than listenable. The Bluetooth connection to my iPhone was stable and provided acceptable sound reproduction of near-CD quality files.
A 21st Century Do-it-All
Audiophiles place a sizeable premium on great sound and videophiles on great pictures. The Rotel RSP-1582 will more than satisfy both species of home theater enthusiasts. This SSP is not only one of the most versatile units of its kind but one that delivers uncompromising A/V performance.
The Final Assessment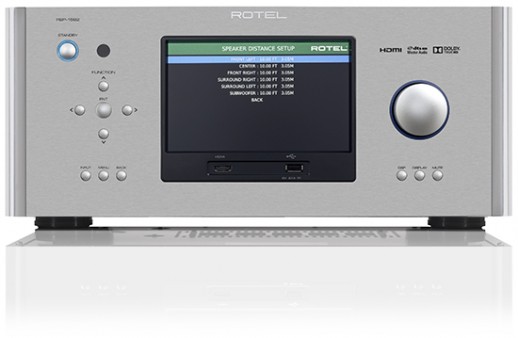 The world of high-end SSPs is becoming very crowded. In this regard, the Rotel RSP 1582 becomes not only an excellent choice on both audio and video bases. The lack of Dolby Atmos, Auro 3-D, and DTS:X capability or the need for more sophisticated room EQ may influence some potential buyers' decisions. For most of us, what the Rotel RSP 1582 currently offers will be more than enough for the foreseeable future.
Specifications
Audio
Total Harmonic Distortion                             <0.005%
Intermodulation Distortion (60Hz:7kH, 4:1) <0.005%
Frequency Response
Analog Bypass                                   10Hz-100kHz + 1.5 dB
Digital Input                                     10Hz- 20kHz +0.3 dB
Input Sensitivity/Impedance
Phono Input (MM)                            3.5mV/47 k Ohms
Line Level Input (RCA)                     250 mV/100k Ohms
Line Level Input (XLR)                      500 mV/100k Ohms
S/N Ratio (IHF "A" weighted)
Analog Bypass                                     >112 dB
Line Level Inputs                                >112 dB
Preamp Output Level
Line Level                                            1.0V
Balanced Level                                    2.0V
Channel Separation (@10k Hz)                  >75 dB
Digital Audio                                                  LPCM up to 192kHz, 24-bit
Dolby® Digital, Dolby®Digital EX,
Dolby®TrueHD, Dolby®Digital Plus
DTS Digital Surround™, DTS Digital Surround 96/24™
DTS Digital Surround ES™, DTS Digital Surround ES 96/24™
DTS-HD High Resolution Audio™, DTS-HD Master Audio™
Video
Input Resolutions                                      480i/576i, 480p/576p, 720p, 1080i, 1080p, 1080p24Hz
3D, 4K, UHD
Output Resolution                                     480i/576i, 480p/576p, 720p, 1080i, 1080p, 1080p24Hz
3D, 4K, UHD
Color Space Support                                   sRGB, YCbCr 4:2:2, YCbCr 4:4:4
Deep Color Support                                       24-bit, 30-bit, 36-bit
HDMI Inputs/Outputs                                Version 1.4, support up to 4K resolution  and Audio Return Channel
General
Power Consumption                                  45 watts (<0.5 watts, standby)
Power Requirements                                 120 volts, 60 Hz (USA version)
230 volts, 50 Hz (EC version)
Weight                                                           12 kg (26.46 lbs)
Dimensions (W x H x D)                            431 x 188 x 416.8 mm
17 x 7.4 x 16.4 in
Rotel RSP-1582 Surround Sound Processor (TheaterByte Gear Review)
Pros
• Very versatile • Abundant analog and digital inputs and outputs • Compatible with Rotel link sources • Excellent internal DACs • Great USB audio performance • Flawless Bluetooth audio operation • iPod-compatible • Upgradable via Ethernet or USB • Very legible screen
Cons
• Complex set up routine • Not currently configured for Dolby Atmos, DTS:X or Auro-3D • Internal DACs will not handle DSD files • Parametric EQ limited to 10 bands
Summary
The Rotel RSP-1582 surround sound processor provides very flexible set up options, outstanding audio performance and seamless pass-through of 2K video signals. All audio formats except for native DSD files can be handled by its superb internal DACs. The modular design allows for future upgrading. While currently not configured for Dolby Atmos, DTS:X or Auro-3D, the RSP-1582 offers more than enough features to satisfy most home theater enthusiasts.
What people say... Login to rate
Be the first to leave a review.
Show more