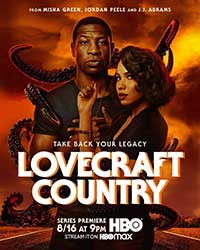 H.P. Lovecraft, a legendary writer of horror and supernatural pulp fiction works, grew up in Providence, Rhode Island.  During his relatively short life, Lovecraft acknowledged that many of his tales were drawn from his vivid imagination and recurring nightmares. Lovecraft Country refers to the location of the fictional Massachusetts town of Arkham (renamed Ardham) in this series.
On a bus taking him back home to Chicago, Atticus Freeman (Jonathan Majors) dreams about a Korean War battle, replete with War of the Worlds aliens, flying saucers and a huge tentacled creature that spits out baseball legend Jackie Robinson (Robert Hamilton).  With his Army tour completed, Atticus makes a surprise visit to his uncle and aunt—George (Courtney B. Vance) and Hippolyta (Aunjanue Ellis) Freeman.  George owns an automotive repair shop, reads voraciously, and periodically hits the road to review "Negro-friendly" restaurants.
Atticus's father, the alcoholic widower Montrose (Michael K. Williams), is missing but left a letter indicating that he is "investigating" his late wife's ancestry in Ardham.  Uncle George and Atticus's childhood friend, pretty photographer Letitia "Leti" Lewis (Jurnee Smollett) join him on a road trip to find Montrose–one that will prove quite hazardous. They barely escape a group of armed rednecks, racist policemen and huge bloodsuckers before arriving at Titus Braithwaite's massive "lodge" in Ardham. Once there, Atticus finds out that his mother was related to a woman who bore Titus's child, making the young man a direct Braithwaite descendant.
[envira-album id="124766″]
Samuel Braithwaite (Tony Goldwyn), great-great-grandson of Titus, leads the Order of the Ancient Dawn. He inducts Atticus into the Order and then attempts a ceremony to transport him to the original Garden of Eden.  Montrose suddenly appears but when he tries to escape with his son, Leti, and George, the latter is fatally wounded. Braithwaite's rites go awry and all in the lodge, except for Atticus, Leti, Montrose, and the dying George are killed in a maelstrom of death and destruction.
Having returned Chicago, Leti has received an inheritance which she thinks is from her late mother but actually came from Samuel's daughter Christina (Abbey Lee). She buys the Horatio Winthrop House, a deserted mansion on Chicago's all-white North Side. Leti intends to turn it into an affordable boarding house for Blacks but it is haunted by the ghosts of Blacks who died years earlier during human experiments. An exorcism removes the spirts and the three White men who were terrorizing Leti. The quest that will ignite the subsequent episodes begins when Christina tells Atticus that the late Horatio Winthrop stole some valuable pages from the Book of Names. If and when they are recovered, vast powers will be bestowed on their finder.
Fans of horror stories will be drawn in by an engrossing ten hours of fantastic tales of monsters, incredible human situations, and a struggle by our main characters to survive, set against the backdrop of a segregated and hostile 1950s America. As depicted in Misha Green's adaptation of Matt Ruff's novel that incorporates elements of Lovecraft's fiction, viewers should be prepared for a wide range of settings, special effects galore, plenty of blood and gore, and plot twists occurring at the literal speed of light.  While some might find the trope of racism a bit heavy-handed, welcome to today's America. The HBO network took a gamble that will generously reward its viewers with programming unlike much of the mind-numbing pabulum that passes for streaming entertainment.  Highest recommendation.
Lovecraft Country may be viewed in weekly installments on the HBO and HBO Max

[youtube https://www.youtube.com/watch?v=dvamPJp17Ds&w=961&h=541]
---
The Creative Content: 4.5/5
Show Creator: Misha Green
Original Release Date: 16 August 2020
Network: HBO
Ep. Run Time: 60 Mins.
No. Eps.: 10
Studios & Distributors: Bad Robot | Monkeypaw Productions | Warner Brothers Television | HBO
Rating Certificate: TV-MA