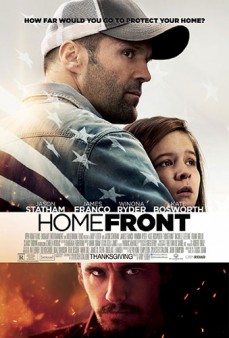 – –

Homefront was written by Sylvester Stallone. I wasn't too sure if that was a good thing or a bad thing prior to watching the movie. But after seeing it, I realize that it was a bad thing.
Homefront opens up with a spectacular scene in which police officers raid a strip club that is also used as a drug smuggling den. As the police attempt to raid the premises, people scatter all about, a fire starts, which turns into a huge inferno, causing the building (and all of the drug evidence) to explode and burn, while most of the drug gangsters escape from the police.  Undercover policeman Phil Broker (Jason Statham) chases a couple of the men…one of them being the son of the drug lord. Broker accidentally kills the son, and the drug lord, who is caught and handcuffed, promises to take revenge.
10 years later, Broker is retired and is living in New Orleans with his 10 year old daughter Maddy (Izabela Vidovic). Recently widowed (it is not explained how his wife died), Broker raises his daughter in a huge house by the lake on the outskirts of town. How could he afford a house that big? It is not explained.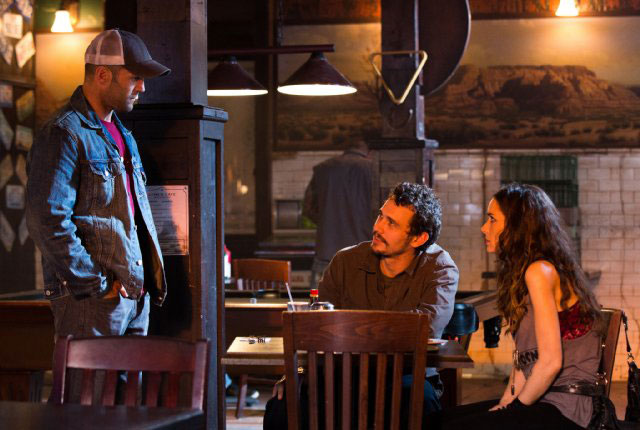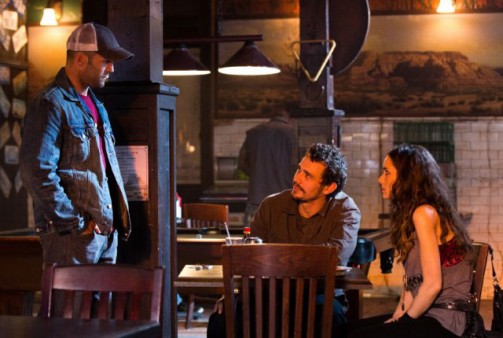 Maddy attends the local elementary school where she beats up the school bully. She's a tough girl, probably taught by her father. Broker appears to be attracted to Maddy's principal, Cassie (Kate Bosworth), who is very beautiful and a good role model for his daughter. There are sparks between them, however their relationship is not explored as Cassie disappears halfway through the movie. The bully's parents come to school to pick up their son after the fight, as does Broker, who gets into blows with the father and embarrasses him in front of his family by practically beating him up. Little does Broker know that this man is connected to a drug cartel.
New Orleans is not as sleepy of a town as Broker thought it would be.  It turns out that the town is the headquarters of the drug gang Broker and his police team ambushed 10 years ago. The drug gang began to realize that Broker is that police officer, and this then kicks off a slow revenge of attacks against him by the gang members (led by James Franco). Franco's character, Gator, has sole control of the drugs, they are made in his huge garage, in a big house that sits alongside a river. Gator doesn't look that mean, but he is. At one point in Homefront Gator breaks into Broker's home, steals his daughter's stuffed animal and kills her pet cat. And Broker knows that he, or someone affiliated with the gang, has been in his house, and knows he needs to be ready for anything to happen at anytime. And when the gang breaks into his house intent on killing him and his daughter, Broker is a one man killing machine, simultaneously taking on several members of the gang, and of course killing all of them. And Winona Ryder is not put to very good use as Gator's girlfriend.
Statham is not much of an actor (all he does in this film is grunt. I suppose Stallone, in writing the film, pictured himself playing the lead – a muscular, fit, former cop. However, with Stallone in his mid-60's, he was too old to play the lead, so perhaps the studio wouldn't have made this film with him starring in it so they put a much younger actor to play the lead. Anyway, Statham is no better than Stallone would've been. I don't remember any dialogue where Stathan says a complete sentence. In the end, as expected, it is Statham against Gator (Franco), a showdown on a bridge that also involves Maddy. I won't tell you what happens next because by this point you would've stopped caring, that is if you haven't left the theatre before the ending. Stallone basked in Oscar glory for his first Rocky film, he won't be basking in anything for Homefront.
Homefront is now in movie theatres across the nation.
Our Movie Rating:
[Rating:1.5/5]