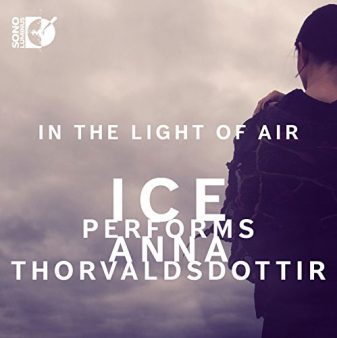 –
The Album
[Rating:4/5]
One of the perks that a music reviewer occasionally gets is the exposure to new music, especially when it comes in the form of a world premiere recording.  In the Light of Air—ICE performs Anna Thorvaldsdottir is just one of those happy occasions that introduced me to a classical music group and composer with whom I had not been previously acquainted.  Anna Thorvaldsdottir, recently named as New York Philharmonic Kravis Emerging composer, is a native of Iceland. According to her biographical sketch her compositions are "works with large sonic structures that tend to reveal the presence of a vast variety of sustained sound materials, reflecting her sense of imaginative listening to landscapes and nature. Her music portrays a flowing world of sounds with an enigmatic lyrical atmosphere".  In the Light of Air is a musical tetralogy with the following movements
Luminance: 7:49
Serenity: 9:48
Existence: 3:37
Remembrance: 15:56


This final movement is partly based on a song written by Thorvaldsdottir's husband, Hrain who is also a musician.  The program is completed by Transitions (10:41), commissioned by cellist Michael Nicholas who is a member of the International Contemporary Ensemble or ICE for whom In the Light of Air was written. The remaining members of ICE are Kyle Armbrust (viola), Nuiko Wadden (harp), Cory Smythe (piano) and Nathan Davis (percussionist). All of these musicians have had very accomplished careers prior to the formation of their group in 2001. Of note, ICE has premiered than 500 new works since its inception.
While clearly a 21st century work (written during 2013/2014), In the Light of Air has a timelessness that infuses its extended sonorities and suggests, as described by the composer herself, a very large landscape such as would be found in her homeland. In the final movement, we hear the sounds of metallic ornaments, in Icelandic called klakabond or bind of ice, that were created specially for this piece. Coupled with a drone in the low strings, and a solo piano upfront, there is an otherworldliness that will take listeners out of themselves and send them off to a faraway place of their own imagination.  Transitions is the final piece on this short program and has as its theme, man and machine. From the liner notes: "Man indicates expression and emotion and machine indicates technical accuracy, a somewhat stricter approach to the music." Cellist Nicolaus puts on a bravura display as this work shifts periodically from man to machine and back again.
Audio Quality
[Rating:4.5/5]
Recorded early this year in the Sono Luminus studios, the original master was in 352.8kHz DXD and 9.1 surround sound format. I am not set up to listen in 9.1 Auro 3-D (96kHz/24-bit) (one of the three versions on this disc), but I can imagine that the height speakers would give a truly immersive experience, benefiting the scope of this music significantly. Both the 5.1 DTS-HD Master Audio and 2.0 LPCM versions are outstanding. The former is preferable for providing the space (breadth and depth) that this program truly merits. The sound engineers allow us to hear quite deeply into the "soul" of the various instruments on display here, creating an unusual degree of intimacy with the players.
Supplemental Materials
[Rating:4/5]
Sono Luminus releases are particularly generous and usually accompany their Pure Audio Blu-ray Discs with a standard red book version that is quite good in its own right. Computer listeners have the option of downloading via mShuttle, FLAC, WAV, and mp3 versions. The program booklet is rife with performance photos, background essays on the music, the composer, and the performers.
The Definitive Word
Overall:
[Rating:4/5]
Contemporary classical music comes in many guises, reflecting the numerous traditions and styles that have preceded it. Thorvaldsdottir borrows judiciously from the past and infuses the works on this program with her own unique voice.  Listeners coming to In the Light of Air with open minds will be richly rewarded as I certainly was.