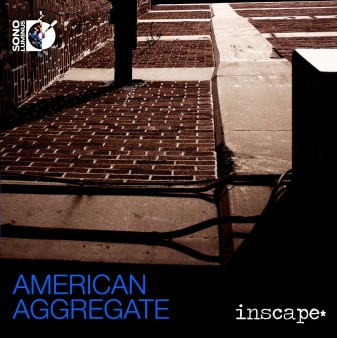 – –

The Album
[Rating:4.5/5]
Following their initial Sono Luminus release, Sprung Rhythm, the chamber group Inscape now follows up with American Aggregate that contains a new collection of 21st century American music. In this instance, the title refers to a collection of "several (typically disparate) elements. As with most SL releases, we get a Pure Audio Blu-ray™ Surround Sound disc and Red Book CD. The seven American composers represented on this disc contribute the original works on the following playlist:
Oblivion (Nathan Lincoln DeCusatis) is a 19-minute three-movement suite Ex Machina, Into Thin Air, and The Reckoning, that evoke specific sonic shapes, a straight line, a circle, and the merging of both.
Wide Open Spaces (Armando Bayolo) is brief evocative piece that is intended to reflect the natural wonder of the National Parks and concludes with a "march to the scaffold" that warns of impending environmental disaster.
Black Bend (Dan Visconti) was inspired by the collapse of a railroad bridge and evokes the moans of the victims and concludes with the sound picture of a runaway train about to go off the rails.
Wordless Creatures (Julia Adophe) depicts the scurrying movement of small creatures represented by a clarinet, piano, and, eventually the trumpet, that furnish short disconnected motifs.
The Extraordinary Gryssandra Wycke (Joseph Hallman) recounts the elements of witchcraft including the spells of levitation, reanimation, and death.  A haunting 15-minute collage of strings and winds that becomes truly extra-worldly.
What I Decided to Keep (Stephen Gorbos) is a lengthier piece than most on this program, running about 15 minutes. In the backstory on its composition, Gorbos reflects the influence of Bela Bartok's 5th String Quartet that uses that composer's technique rather than direct musical quotations.
The Bear and the Dove (Gregory Spears) was originally composed as a sextet for a staging of Prokofiev's ballet Trapeze. It appears here as a nonet with the clarinet providing some animal cries over strings. There is a reference to Gershwin and a concluding quote from Mahler's 8th Symphony.
Listeners familiar with Inscape through live performances or their debut recording will understand how this ensemble of up to thirteen musicians (in this program) and led by music director Richard Scerbo uses a contemporary musical idiom to communicate our 21st century zeitgeist.
Audio Quality
[Rating:4.5/5]
Pure Audio Blu-ray™ separates the audio from video data and definitely results in improved sound during A/B comparisons. I essayed both of the highest resolution formats (192kHz/24-bit) in DTS-HD MA 5.1 and LPCM 2.0 versions and came away mightily impressed with the results. Of course, the former provides increased ambience of the studio sonics.
Supplemental Materials
[Rating:4/5]
The Sono Luminus program notes are consistently excellent and this booklet is no exception. It is always interesting to read about the composers and the descriptions of their works in their own words. A standard definition CD is included that will not disappoint those without Blu-ray players. Computer listeners will enjoy this program in very decent MP3 and FLAC formats .
The Definitive Word
Overall:
[Rating:4.5/5]
Inscape continues to be one of the most creative and interesting chamber ensembles currently performing. The virtue of this program is that enables us to hear works that will certainly be unfamiliar and yet are musically rewarding. Fortunately, each piece receives the audio "red carpet" treatment from the Sono Luminus recording team. A very worthy successor, indeed, to Inscape's Sprung Rhythm.
[amazon-product region="uk" tracking_id="bluraydefinit-21″]B00LWWAWLC[/amazon-product]
[amazon-product region="ca" tracking_id="bluraydefinit-20″]B00LWWAWLC[/amazon-product]
[amazon-product]B00LWWAWLC[/amazon-product]