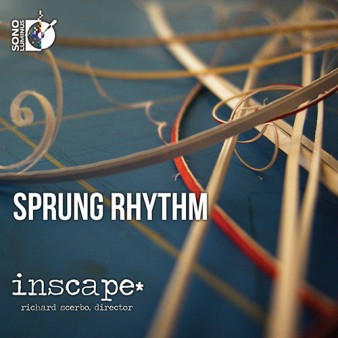 – –

The Album
[Rating:4.5/5]
Washington, D.C.-based chamber orchestra Inscape (definition: the essential, distinctive, and revelatory quality of a thing) performs a program of contemporary American music in this 2-disc set, Sprung Rhythm, containing both a Pure Audio Blu-ray™ Surround Sound disc and Red Book CD. As for the title of this program, sprung rhythm refers to a poetry rhythm containing feet with stress on the first syllable. Applied to music, we get compositions that adhere in part or in entirety to this stylistic approach. All of the original works on this program were commissioned by Inscape are listed below:
1. A Collection of Sand by Nathan Lincoln DeCusatis contains three contrasting movements An Ocean of Words, Herd Mentality, and Melodic Abyss, all scored for strings, woodwinds and percussion, and taking its inspiration of the composer's favorite Italian writer Italo Calvino.
2. Three Poems of Jessica Hornik (East Hill Road, Pleasant Bay, and Postscript: The Harebell) is Joseph Hallmann's setting for soprano, oboe, clarinet, violin, viola, and harp, dealing with different aspects of love.
3. Justin Boyer's Con Slancio ("with impetus") consists of three movements for the unusual coupling of bass clarinet and string quartet. It follows the struggle of the odd man out, the clarinet, trying to fit into a group.
4.Lincoln-DeCuastis again contributes a three-movement work, titled Chopin Syndrome, referring to a psychosomatic condition following exposure to large amounts of this composer's works. The themes of these movements for flute, clarinet, violin, cello, and piano are loosely based on Chopin's piano pieces, not so much in melody but in spirit.
5. Joseph Hallmann's six-movement Imagined Landscapes: Six Lovecraftian Elsewheres attempts to create a deliberately creepy set of aural ambiances to suggest that unusual themes and settings by that well-known writer of fantasy and horror.
6. Justin Boyer's Auguries, again using an unusual combination of bassoon and string trio, refers to the ancient Roman practice of using the flight of birds to predict the future. This three-movement work tells the story of the Attus Navius, a swineherder, who seeks divine intervention to find his lost pig; in return, he will offer up his best grapes.
Inscape is entering its tenth year of performing works that both stimulate and provoke the audience. Its artistic director, Richard Scerbo is not only a performing artist but also a well-known music educator and career developer for young musicians.  The program that he has compiled gives us committed performances and presents three young composers whose works, as represented in this collection, are often sensual, occasionally otherworldly but unfailingly beautiful to hear.
Audio Quality
[Rating:4.5/5]
The advantage of Pure Audio Blu-ray™ is that the video data, normally accompanying the soundtrack, can be taken out of the signal path with a resulting improvement in sound. This is heard to best advantage in the DTS-HD Master Audio 5.1 version (192kHz/24-bit resolution) and I am certain would also be the case in the 7.1 channel (96kHz/24-bit) had my system been capable of its playback. The 2.0 LPCM(192 kHz/24-bit) soundtrack was also quite impressive, if not as immersive as its surround counterpart. The Sono Luminus studio engineers have once again given us a recording that is extremely lifelike and well balanced.
Supplemental Materials
[Rating:4/5]
A bonus CD and excellent program notes about the group, the composers, and their compositions gives great value for the relatively inexpensive sticker price of this set.
The Definitive Word
Overall:
[Rating:4.5/5]
This Pure Audio Blu-ray™ disc has been nominated for a Grammy in the category of Best Surround Sound album. It does not take much listening — actually the first few tracks would suffice — to realize that you are listening to something that is very special both in sound recording and, as importantly, in musical value. Highly recommended.

[amazon-product]B00D4AZXJG[/amazon-product]