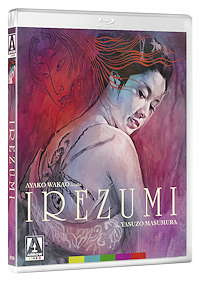 In Irezumi Otsuya (Wakao Ayako) (The Blue Sky Maiden, Red Angel), the daughter of a rich merchant, runs away to elope with the lower class Shinsuke (Hasegawa Akio), her father's impoverished apprentice. Their flight from Otsuya's parents end up with the couple putting their trust in the wrong people and Otusya being kidnapped into prostitution while an attempt is made on Shinsuke's life. The master tattoo artist Seikichi (Irezumi is the Japanese word for tattoo) who eyed Otsuya's beauty and porcelain-colored skin is given the opportunity by the geisha house owner she is sold to, to mark her with his 'masterpiece.'  Seikichi drugs the tied up Otsuya and over the course of a night tattoos her back with a large 'golden-orb spinning' spider.
Almost immediately, Seikichi regrets his work as he believes the spider has come alive and the way director Masumura Yasuzô and cinematographer Miyagawa Kazuo shoot the imagery, the pulsating of Wakao Ayako's muscles and skin appear to make the spider pulsate and move with life. Otsuya immediately embarks on a course of bloody revenge against the people who wronged her even her fiancé Shinsuke is ensnared in her orbit of violence.
Miyagawa's cinematography in the anamorphic "Daieiscope" color imagery on the Eastman 35mm film which had just come to market at the time is gorgeous. The high contrast, which was difficult to achieve at the time, is nearly noirish in the starkness achieved between the vivid reds and whites of Wakao's skin, or the sometimes-inky black backgrounds. Add to this the use of deep focus throughout and we are placed in a vast world, almost supernatural and otherworldly, that could only be achieved on a studio set where this was filmed in its entirety.
The film's plot may sometimes seem a little over-the-top and soft on character development, but as a film with a strong female lead where most of the men are quite useless and one that revels in sexuality, classism, and violence, done with a stunning visual flare, this is fantastic material. It likely laid the groundwork for classics like Lady Snowblood.
The Video
What you are looking at with this Arrow Video release is a beautiful 2.35:1 AVC 1080p presentation from a new 4K scan that is vibrant and excellently presents the colorful Eastmancolor source. The contrast between the vivid reds and bright whites is quite beautiful and stark. The transfer also has excellent detail extension that presents the deep focus of Miyagawa Kazuo's cinematography flawlessly. There are also inky blacks and nuanced shadows. This is as close to perfect as I have seen on a catalogue Blu-ray.
The Audio
The monaural Japanese audio mix is presented in DTS-HD Master Audio 1.0. It's clean, intelligible, and has a full midrange.
The Supplements
Arrow loads this one with multiple bonus features that delve into the structure, history, and cinematography of the film. The video essay, by Daisuke Miyao is a brilliant way to help view the film with a deeper understanding of the visual style and symbolism. The audio commentary from David Desser takes an even deeper dive into Masumura Yasuzô's work and makes sitting through the film a second time through. The always interesting and well-informed Tony Rayns also chimes in with a new introduction. Further, we get the collectible reversible sleeve and booklet with essay.
FIRST PRESSING ONLY: Illustrated collectors' booklet featuring new writing by Thomas Lamarre and Daisuke Miyao
Reversible sleeve featuring original and newly commissioned artwork by Tony Stella
Brand new audio commentary by Japanese cinema scholar David Desser
Newly filmed introduction by Japanese cinema expert Tony Rayns (1080p; 00:09:50)
Out of the Darkness (1080p; 00:13:04) – A new video essay on the cinematographer Kazuo Miyagawa's work on Irezumi by Daisuke Miyao.
Original Theatrical Trailer (1080p)
Image Gallery (1080p)
The Final Assessment
A visually stunning revenge thriller that revels in sexuality, violence, and hints of the supernatural. This 4K restoration from Arrow Video is a beautiful presentation on Blu-ray and highly recommended.
---
If you found this article useful please consider clicking the button below and donating to help keep TheaterByte funded, which will allow us to continue posting great content.
---
Irezumi (Special Edition) is out on Blu-ray June 22, 2021 from Arrow Video
Purchase Irezumi (Special Edition) on Amazon.com
---
Studios & Distributors: Daiei | Daiei Studios | Arrow Video
Director: Masumura Yasuzô
Written By: Shindô Kaneto | Tanizaki Jun'ichirô (novel)
Run Time: 83 Mins.
Street Date: 22 June 2021
Aspect Ratio: 2.35:1
Video Format: AVC 1080p
Primary Audio: English DTS-HD MA 1.0
Subtitles: English