–
The Film
[Rating:3/5]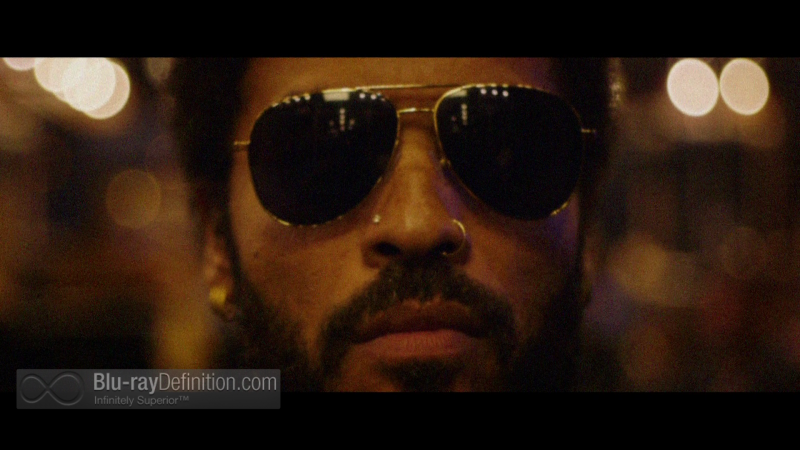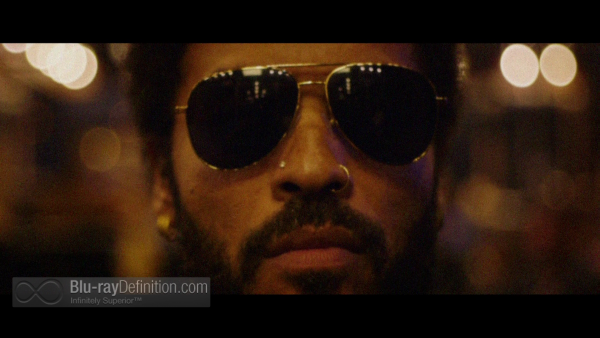 In full disclosure, I've been a Lenny Kravitz fan from the very beginning when he released his debut album, Let Love Rule. I bought it on CD in a record store (remember those?) where it had been wrongly placed in the reggae section. I also had the opportunity to see Lenny Kravitz performing live to a half-empty theater at New York City's Beacon Theater on his Mama Said tour and had the treat of a lifetime when Iggy Pop and Sean Ono joined him onstage to end the show with a rousing performance of "What the F*ck are We Saying?". Mr. Kravitz has come a very long way since then, performing to sold out crowds in very large arenas, as this documentary concert film, Just Let Go, can attest to.

Recorded over the course of three months in the autumn of 2014 during the European leg of Kravitz's world tour for his latest album Strut, what the film also proves is that his ego has perhaps ballooned as much as his career, or maybe his ego was always that big, it was just never on display as much as it is in this film.
I'm all for concert films, and this does provide some great live moments of key Kravitz material including an extended rendition of "Let Love Rule" that becomes a freestyle jazz fusion jam session, a particularly soulful and raw take on one of his earliest smash hits, Mama Said's "It Ain't Over 'Till It's Over" and his funky cover of The Guess Who track, "American Woman. " The film goes awry with all of its constant cut-ins of interview segments and behind-the-scenes footage of Kravitz and his backing band doing nothing more than singing the praises of Lenny Kravitz and his music. We get it, Lenny is a great guy; he has great music; he's a perfectionist but you love working for him; and he's sexy too (his backup singers swoon over remembering how they first saw him bare chested and sweaty in black leather pants). Alright, you're a rock star. Can we get back to the music now please?
If this unnecessary ego stroking were excised, there would have more room in this film for excellent Kravitz tracks like "Believe," "Rosemary," "Mr. Cab Driver," "Rock and Roll is Dead," "Stand By My Woman," or "If You Can't Say No."
The tracklist:
Fly Away
Dirty White Boots
American Woman
Dancin' 'Til Dawn
Strut
It Ain't Over 'Til It's Over
New York City
The Chamber
Sister
Dig In
Let Love Rule
Are You Gonna Go My Way

Video Quality
[Rating:3.5/5]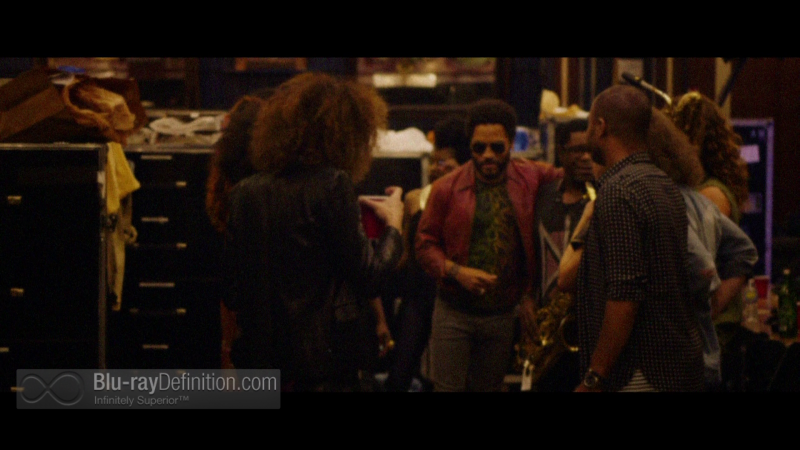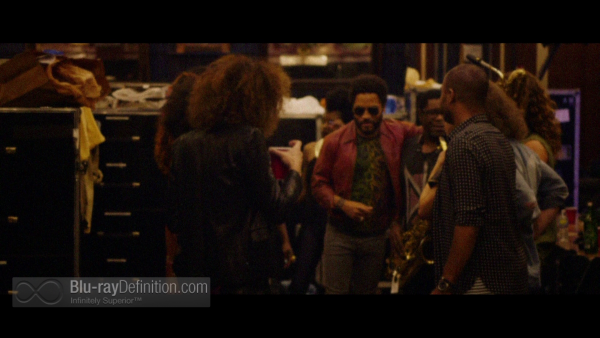 Just Let Go is a purposely gritty and grainy concert documentary film, so it doesn't look pristine, but it has a really "rock 'n' roll" look and feel in this AVC/MPEG-4 1080p encodement on Blu-ray from Eagle Rock. Colors look good and there's enough detail to allow enjoyment of the interviews and rollicking musical performances.

Audio Quality
[Rating:4.5/5]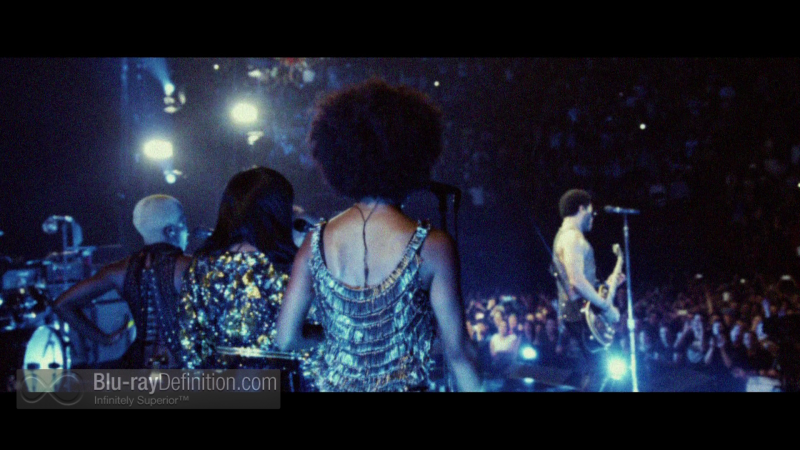 The audio mixes, by Bob Clearmountain, are provided in DTS-HD Master Audio 5.1 (48kHz/16-bit) and LPCM 2.0 stereo (48kHz/16-bit). Both mixes sound fantastic, being mixed from an audience perspective with the surround channels being filled with a rich abundance of performance space atmospherics and just the right blend of crowd noise at appropriate moments. The balance is good with excellent clarity in the vocals, musical and punchy midrange and light, airy highs. The stereo mix has the edge when it comes to a more well defined low end and better sounding drums because of less reverb being mixed on the drums and overall mix.

Supplemental Materials
[Rating:3.5/5]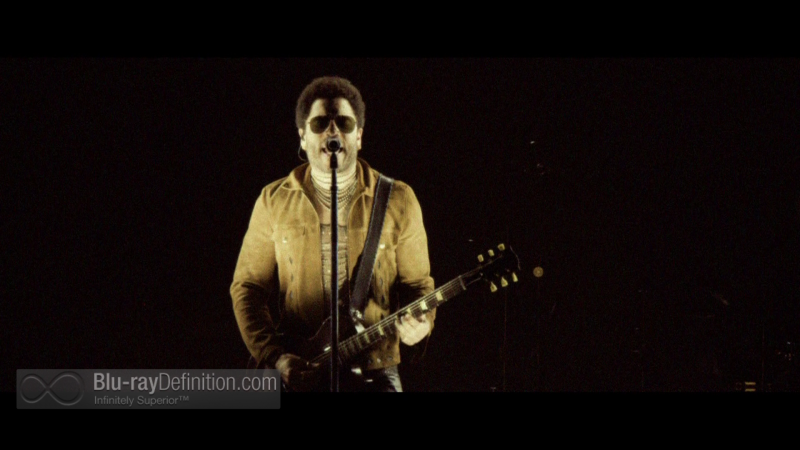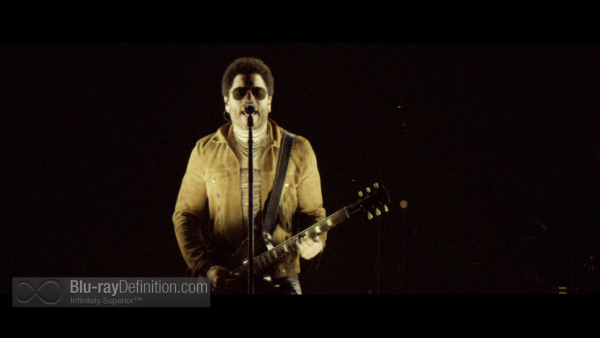 This release comes with six full, unedited bonus versions of "Sister," "Always on the Run," "Sex," "I Belong to You," "New York City," and "Let Love Rule."

The Definitive Word
Overall:
[Rating:3.5/5]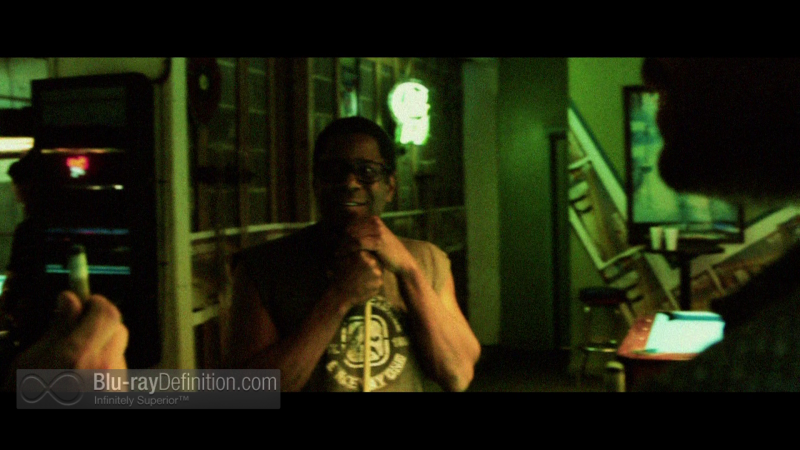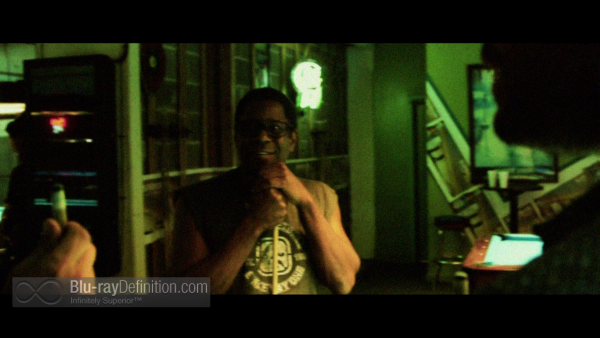 Including the bonus tracks, there are some excellent live performances mixed into what is a flawed documentary concert film that is hampered by a very egocentric look at the world of Lenny Kravitz on the road. Fans will still appreciate the view of the rock star, especially those who have never had the opportunity to see Lenny Kravitz perform live.

Additional Screen Captures