Estimated reading time: 5 minutes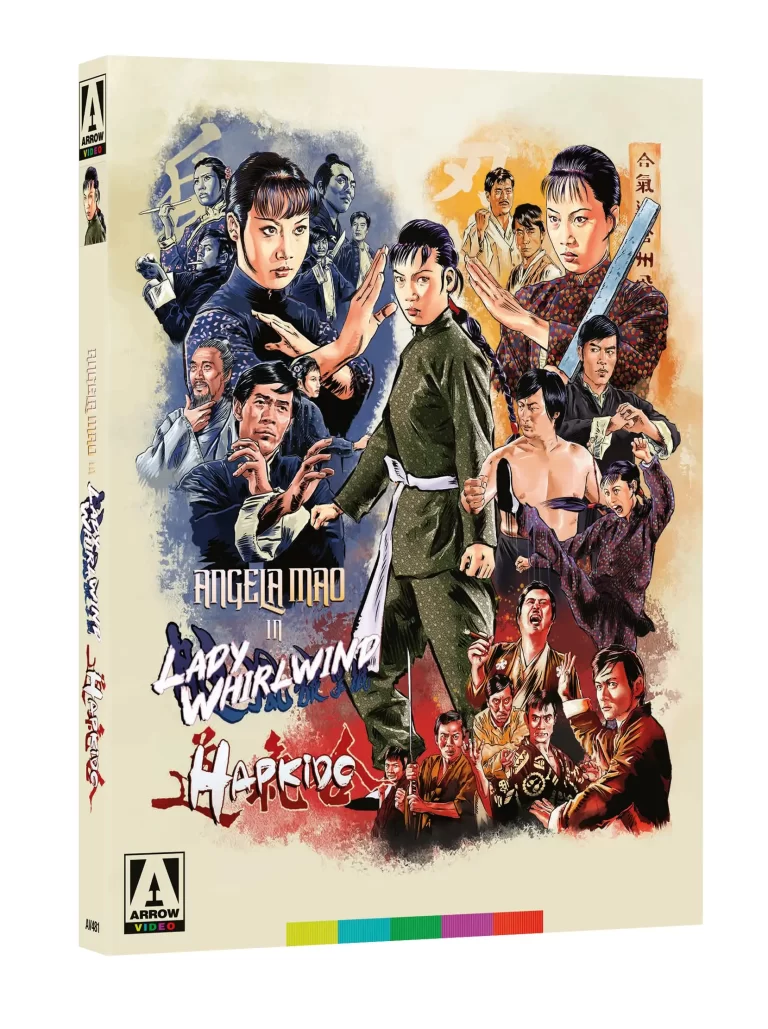 Angela Mao was the first big martial arts star in Hong Kong cinema, paving the way for the likes of Michelle Yeoh. In her short but influential career in the industry, the two films featured in this collection, Lady Whirlwind and Hapkido are two of the prime examples of her power as an actress and a performer.
From the film studio Golden Harvest, both films took the groundwork laid by Shaw Brothers and expanded upon them. Lady Whirlwind finds the young Mao playing a woman looking to avenge the death of her sister but ending up allied to the man she wants revenge on against another common enemy. Hapkido finds Mao alongside Sammo Hung as disciples of the titular Korean martial arts discipline and having to battle a Japanese enemy back home once again in China.
Both films take the Japanese as their central enemy, which plays into many of the post-World War II socio-political issues that continue to this day in the East Asian world. They also make effective use of Mao's dance skills as a trained performer in Beijing Opera. Long before the 1990s resurgence in Western cinema of the female action hero, Mao was getting her action bone fides and laying the groundwork for many other Taiwanese, Hong Kong, and Mainland female stars who would breakout into even wider international success.
The Video
Both films in this collection come with new 2K restorations by Fortune Star. They appear in 2.35:1 AVC 1080p encodements on Blu-ray. These transfers are not perfect but given what these films used to look like, the improvement is staggering. The good includes a very organic, filmic granularity, mostly excellent texture and detail, and vibrant colors and brightness. On the "needs improvement" end, and truthfully it is probably unavoidable, are some scenes that look a little too soft, at times too smooth, and some shadows that are a bit too two-dimensional.
The Audio
Both Lady Whirlwind and Hapkido come with their original Mandarin mono mix in LPCM as well as the original English mono dub in LPCM. Hapkido also includes the DVD English dub in Dolby Digital 5.1. The sound is good enough, with good wallop to the sound effects, but as with a lot of these films, the score and very loud effects tend to sound scratchy.
The Supplements
Arrow includes a lot of bonus features and collectibles with this release, including multiple audio commentaries. The commentaries with Frank Djeng are awesome as always. The guy knows almost everything about Hong Kong cinema.
Special Edition Contents:
Brand new 2K restorations by Fortune Star
Newly translated English subtitles for both films
Reversible sleeve featuring original and newly commissioned artwork by Ilan Sheady
FIRST PRESSING ONLY: Illustrated collectors' booklet featuring new writing on the films by critic James Oliver
DISC ONE – LADY WHIRLWIND:
Commentary by Frank Djeng & Robert "Bobby" Samuels
Commentary by Frank Djeng & Michael Worth
Commentary by Samm Deighan
Lady Whirlwind Speaks (1080p; 00:13:19) — The first part of a newly filmed interview with Angela Mao produced by Frank Djeng in 2022.
Kung Fu Cooking with Thomas King (1080p; 00:31:49) — A newly filmed conversation between Frank Djeng and Mao's son Thomas King, produced in 2022.
Alternate English credits (1080p; 00:01:34)
Trailer Gallery:

HK Theatrical Trailer (1080p)
US Theatrical Trailer (1080p)
US Radio Spot (1080p)

Image gallery (1080p)
DISC TWO – HAPKIDO:
Three options of English dub: vintage "kung fu" and "hapkido" dubs in lossless mono, plus 2006 DVD dub in 5.1 surround
Commentary by Frank Djeng & Robert "Bobby" Samuels
Commentary by Frank Djeng & Michael Worth
Lady Kung Fu Speaks (1080p; 00:18:01) — The second part of a newly filmed interview with Angela Mao, produced by Frank Djeng in 2022.
Archive interviews with Angela Mao, Carter Wong and Sammo Hung & Yuen Biao
Original vintage featurette showing Ji Han-jae teaching the lead actors hapkido, newly restored in 2K by Fortune Star (1080p; 00:06:40)
Alternate opening credits:

Textless Opening (1080p; 00:01:32)
Hapkido (English) (1080p; 00:01:44)
Lady Kung Fu (1080p; 00:01:44)

Trailer Gallery (1080p):

HK Theatrical Trailer (Mandarin)
HK Theatrical Trailer (English)
US Theatrical Trailer
US TV spot

Image gallery (1080p)
The Final Assessment
These two classic martial arts films featuring the beautiful, talented, and highly skilled Angela Mao are necessary for fans of martial arts cinema. They are looking better than ever in this collection from Arrow Video courtesy of restorations from Fortune Star. Highly recommended.
---
Lady Whirlwind & Hapkido (2-Disc Special Edition) is out on Blu-ray January 17, 2023, from Arrow Video
---
Rating Certificate: R
Studios & Distributors: Golden Harvest Company | Arrow Video
Director: Huang Feng
Written By: Hua Yi-Chung (Lady Whirlwind) | Ho Yan (Hapkido)
Run Time: 186 Mins.
Street Date: 17 January 2023
Aspect Ratio: 2.35:1
Video Format: AVC 1080p
Primary Audio: Mandarin LPCM Mono
Secondary Audio: English LPCM Mono | English DD 5.1 (Hapkido)