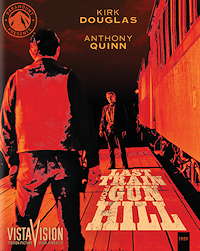 A classic 1959 western from John Sturges who is also known for such genre classics as The Magnificent Seven (1960), Gunfight at the O.K. Corral (1957), and Bad Day at Black Rock (1955), Last Train from Gun Hill pits heavyweight actors Kirk Douglas as Marshal Matt Morgan and Anthony Quinn as powerful rancher Craig Belden against each other in violent story of revenge and justice.
As Last Train gets underway, Morgan's Native American wife Catherine (Ziva Rodann unfortunately in 'red face') is attacked, raped, and killed by two men, one of them happens to be Rick Belden (Earl Holliman), son of Morgan's (Douglas) good friend and powerful rancher Craig Belden (Quinn). The trail leads back to Rick only because Marshal's young son who was with his wife at the time managed to escape with the two attacker's two horses and one horse was saddled with a monogramed saddle belonging to the elder Belden.
Swearing to avenge the injustice perpetrated on his family and his wife, the Marshal takes Rick into custody in order to face trial, but he must await the 9:00pm train from Gun Hill to get him out of town, which won't be easy with all of Belden's men gunning for him. He finds himself cornered in a room at the local hotel with the time for the train's arrival slowly approaching.
Last Train from Gun Hill is a nail-biting western that has all the classic elements, gorgeous vistas of the western scenery, blurred lines between the good and bad, women of duplicitous loyalties, and of course, shootouts. Kirk Douglas is brilliant in the role of the wronged Marshal walking the edge of the law and Anthony Quinn is the nearly perfect foe.
Last Train from Gun Hill (1959)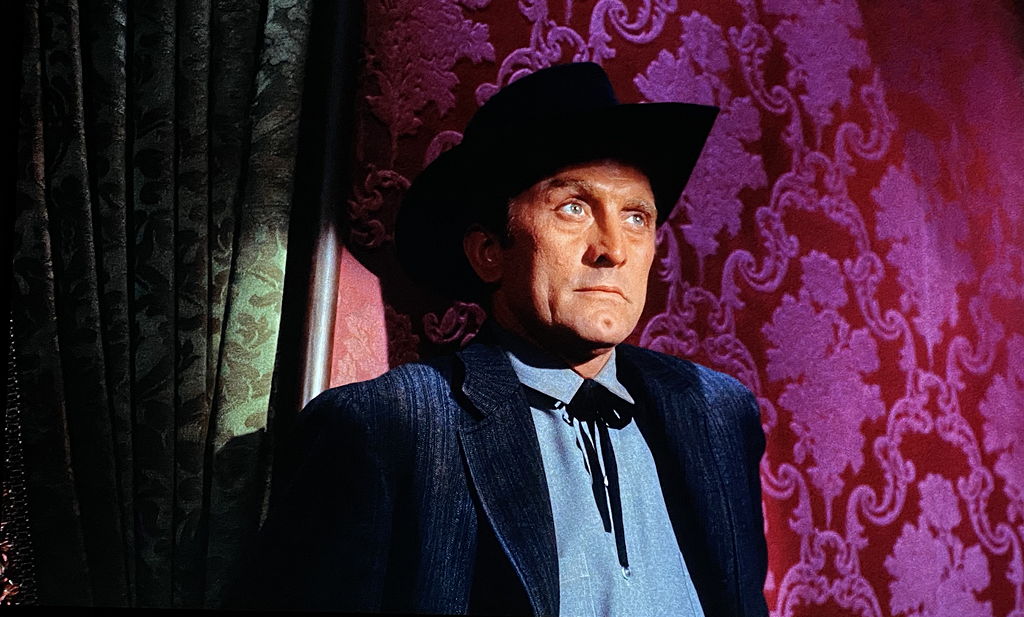 The Video
Last Train from Gun Hill has been remastered from a 6K scan of the original VistaVision camera negative and brought to Blu-ray in a 1.78:1 AVC 1080p encodement that has this film looking more beautiful than ever. I recall seeing this film on TV as a kid and it never looked this good. The Technicolor color looks vivid and absolutely 'pops' while contrast depth and shadow nuance are about as good as it gets. Grain structure is beautifully retained and remains relatively consistent throughout the presentation. Only the odd frame here or there looks a bit soft or out of focus, likely due to effects dupes or using different sources to restore the film.  This is one that should be released on 4K with HDR and hopefully will eventually makes its way onto the format, but until then, rest assured this Blu-ray is A+ reference material.
The Audio
The original monaural mix is presented in lossless Dolby TrueHD 2.0, and it comes through clear and with enough dynamics and midrange kick to give the dialogue and sound effects impact.
The Supplements
These Paramount Presents releases aren't loaded with extras, but we know what to expect. The packaging is cool and Leonard Maltin's short video essays (I wish they were longer) do pack a lot of detail into a few minutes. Also included here are original trailers for some more of classic westerns and a classic Anthony Quinn film.
Digital Code
Collectible packaging featuring foldout image of film's original theatrical poster and an interior spread with images of key movie moments
Filmmaker Focus – Leonard Maltin on Last Train from Gun Hill (1080p; 00:07:22)
Original Theatrical Trailers:

Last Train from Gun Hill
Gunfight at the O.K. Corral
The Furies
The Black Orchid
The Final Assessment
A great western gets a superb restoration from the Paramount Presents line. Highly recommended.
Last Train from Gun Hill is out on Blu-ray June 15, 2021 from Paramount Presents
---
Studios & Distributors: Bryna Productions | Hal Wallis Productions | Paramount Home Entertainment
Director: John Sturges
Written By: Les Crutchfield (story "Showdown") | James Poe (screenplay)
Run Time: 95 Mins.
Street Date: 15 June 2021
Aspect Ratio: 1.78:1
Video Format: AVC 1080p
Primary Audio: English Dolby TrueHD 2.0 Mono
Secondary Audio: German Dolby TrueHD 2.0 Mono | French DD Mono
Subtitles: English | English SDH | German | French