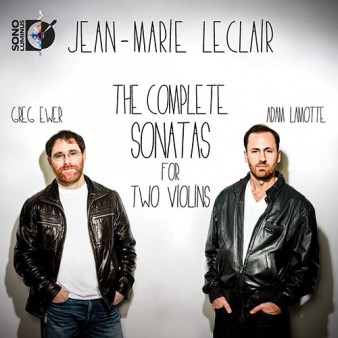 – –
The Album
[Rating:4.5/5]
French composer Jean-Marie LeClair's  musical family included three brothers who were also musicians and composers. An accomplished violinist himself, the majority of LeClair's extant compositions featured works for one or more violins, including the Six Sonatas for Two Violins (Op.3 and Op. 12) on this  Blu-ray Audio Disc.  These works, in either three or four movements occasionally depart from the traditional fast-slow-fast formula. The first sonata of each volume contain three allegro movements while the other ten have varying combinations of slow and fast movements. In the range of melodies (mostly in major keys), harmonies and variations, we get a nice sampling of the Baroque influences that informed LeClair's own musical voice, yielding an occasional touch of Vivaldi or Bach, two of his more famous contemporaries.
Sono Luminus has recorded two superb violin soloists who complement each other perfectly in timbre, pace, and style. Greg Ewer has performed regularly with the Oregon Symphony, Portland Baroque, Third Angle New Music Ensemble, and the popular group Pink Martini. He is a faculty member at Reed and Lewis & Clark Colleges. He plays a 1738 Guadagnini violin. Adam LaMotte has appeared as soloist, concertmaster, and conductor of numerous orchestras throughout the country, including the Northwest Sinfonietta in Seattle, String Orchestra of the Rockies, Astoria Festival Orchestra, Portland Baroque Orchestra, and the Maggini String Orchestra in Houston. He is the founder of The Orchestra, a conductorless ensemble which creates "tapestry" programs, combining drastically different pieces into a single concert experience. LaMotte plays a 1730 Calcagni violin.
These LeClair sonatas like much of the Baroque catalog rely heavily on dance rhythms to move their music along, and place a premium on the ability of the players to convey pieces that are remote in style from the present era. Fortunately, Messrs. Ewer and LaMotte understand this musical idiom and give us an authentic-sounding recital of works that will be new to most listeners as they were, mostly, to me.
Audio Quality
[Rating:4.5/5]
The Sono Luminus audio team has produced a natural sounding account of these ancient instruments with perfect balance between the performers. Violins in live recordings are very warm instruments and this is beautifully portrayed in the 2.0 and 5.0 DTS-HD Master Audio versions that I played. The absence of the 0.1 channel is not important as violins do not possess a true bass line.
Supplemental Materials
[Rating:4/5]
Sono Luminus provides two standard CDs of this program and very detailed liner notes by the artist.  Matthias Maute contributes a background piece on LeClair and there are brief biographies of both violinists. There is also an mShuttle option for playing this program on a computer.
The Definitive Word
Overall:
[Rating:4.5/5]
The classical literature is not replete with works in this format for two violins and, unlike many sonatas, there is true collaboration between the players as pars inter pares or coequals.  This recital makes for a simply marvelous disc and with enough variety that one could easily take them in on a single listening session with being bored. Remembering that sixteen years separated Opus 3 from Opus 12, it was interesting to hear how LeClair's musical inspiration evolved with the latter collection having a distinctly more Bach-like character than the earlier one.  Superb sonics, terrific instrumental collaboration, gorgeous music, and highly recommended.
[amazon-product region="uk" tracking_id="bluraydefinit-21″]B00INVOO46[/amazon-product]
[amazon-product region="ca" tracking_id="bluraydefinit-20″]B00INVOO46[/amazon-product]
[amazon-product]B00INVOO46[/amazon-product]