LG Electronics is a company with a lineage steeped in home based products. Established in 1958 under the Goldstar name LG has continued to evolve with the technological world and has a product base that has found a place in many homes (mine included).
I bought my first Blu-ray Disc player, a Panasonic, in 2006. In addition to using several of their players I have owned/used players from Sony, Samsung, and now Oppo. When I was offered the opportunity to review LG's BD590 Network/Media Library Blu-ray player my interest piqued. LG has been on the leading edge of innovation having previously introduced network capable players with wireless movie/music streaming capabilities in addition to high quality playback of high definition Blu-ray media. Never content with resting on their laurels, the BD590 adds a 250 gigabyte hard drive which allows the player to serve as a media library capable of storing various types of media including high def movies downloaded from Vudu and music from your personal collection. Here are more of its features:
Integrated 802.11n Wi-Fi connectivity
USB 2.0 media host
Netcast Entertainment access: Netflix®, Vudu™, YouTube™, Roxio® CinemaNow, Pandora, Picasa™, AccuWeather, mlb.tv, Napster
Blu-ray/DVD playback
Access to Gracenote online database
DLNA digital media player certification
I unpacked the unit and appreciated its low profile, light weight and slim design. Its glossy flip down front panel gives the unit an air of elegance, however overall build quality is just average. Behind the panel is the disc tray, and basic control functions (play, pause, fast forward, rewind, stop), display screen, IR remote sensor and a USB input. The power toggle and disc tray eject buttons are on left/right corners on top of the unit's beveled front edge.
Around back there are video outputs in HDMI 1.3, component, and composite flavors, a LAN port, a two channel RCA analog audio output (noticeably absent is a 5.1/7.1 channel analog output), fan exhaust, and removable two prong AC power.


System setup:
I connected the BD590 to the following components in my system:
Anthem AVM50v Audio/Video processor
JVC DLA-RS20u 1080 front projector
Better Cables Silver Serpent HDMI cabling
Linksys Wireless/Wired LAN network router
I powered the unit up and noted that it boots up quickly. The initial power up takes you to a basic setup screen which allows configuration of the resolution, aspect ratio, language/audio and options for wireless/wired network connection. Delving deeper into the setup menu there are options for HDMI color space and audio output, manually setting resolution (480 through 1080p in 24/60hz refresh rates), and DRC (dynamic range control).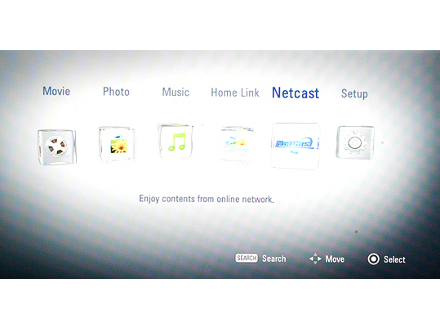 The main menu is comprised of an active interface that consists of floating "ice" cube icons labeled Movie, Photo, Music, Home Link, Netcast, and Setup. Navigation is simple although I have read complaints from users who preferred the more straightforward menu layout utilized on previous models. I liked the design and had no problem with it. The only confusing item might be the labeling of the Home Link menu which sets up and accesses the unit's music/video/photo streaming feature from a DNLA (Digital Living Network Alliance) server. LG supplies MediaHome 4 Essentials software for those with PC's that may not support DNLA. I have a Windows 7 based PC and the LG had no trouble seeing/streaming the music/video/photo files over my network.
The movie, photo, music menu options allow playback of media stored on the LG's hard drive, or from physical media such as a DVD/Blu-ray disc or a USB drive. The Netcast menu brings up a submenu containing LG's media streaming suites; NetFlix, Vudu, Cinemanow, MLB.TV, YouTube, Pandora, Napster, Picasa, and Accuweather.com. Using the Netcast features requires the use of a PC to access their websites for registration of the player. Once that is done there are options available depending on the level of access required/desired. I found setup of the BD590 to be fairly intuitive and once I was satisfied it was time to see what it could do.
Performance:
The supplied remote control is well laid out and fit comfortably in my average sized hand. It isn't backlit although the basic control function keys look like they should glow in the dark but I couldn't see them when the lights were out. I never had any trouble with the player responding to commands from the remote even off axis. The remote control is typical of a player in this price range and worked fine. I never use stock remotes and after using this one long enough to evaluate it I switched control over to my Philips TSU9400 touch panel using the LG's pre-programmed codes included in the Philips database.
I started with standard definition DVD tests in order to see how well the LG's video processing handles deinterlacing and scaling from 480i to 1080p. Using the HQV Benchmark 2.0, the LG passed 3:2 the film resolution cadence tests but had issues with mixed cadence material which included noticeable jaggies on the scrolling text video scaling test. I saw no sign of chroma upsampling error or pixels being cropped from the image which is good. In real world viewing I didn't see any deleterious effects that degraded the image quality to an unacceptable level on my large screen. The LG won't output a 480i signal over HDMI for a pure direct signal for external deinterlacing/scaling for those with outboard video processors or high end displays. It would be a nice option but I don't see it as a serious setback.
High definition test patterns didn't uncover any serious shortcomings and the unit did quite well with the variety of program material I ran through it. Its high definition audio/video quality on Blu-ray discs such as Beauty and the Beast, Green Zone, Knowing, Iron Man 2, Up, Percy Jackson and the Olympians, The lightning Thief, and Baseball: The Tenth Inning was excellent. The BD590 internally decodes lossless Dolby TrueHD and DTS-HD (Master Audio/High Resolution) audio soundtracks found on Blu-ray Discs and sends them via HDMI as LPCM. Sound quality was excellent and on par with what I have heard from the internally decoded output of my reference Oppo BDP-83 player and the Playstation 3.
I generally experienced fast loading times, and predominantly trouble free playback of blu-ray discs, even Java intensive titles. I ran into an issue that seemed to be specifically related to Disney/Pixar titles when the LG is set to 1080p/24 output. While watching segments from Up, Monsters Inc. and Toy Story I found that the LG would jump forward at specific points that were repeatable. This wasn't a problem when the player was set to 1080p/60 output. This issue wasn't corrected by the latest software update BD.8.31.317c which I downloaded and installed via the internet on October 12, 2010. From what I have read this problem has persisted since the player's introduction. I am puzzled as to why LG has yet to address it.
Most discerning audiophiles probably wouldn't be interested in the LG for two channel music. I did run several CD's through it and found its stereo sound quality to be acceptable but not for critical listening. The unit conveniently allows music to be ripped from CD's or a networked PC and stored on its 250 gigabyte hard drive. The LG offers encoding options at 128, 192, 320 and lossless bitrates (nice). It seamlessly connects to the Gracenote online database and provides metadata info for archiving which is definitely a plus. Utilizing the lossless encoding option I ripped some music to the hard drive and found the process to be smooth and the listening outcome quite good.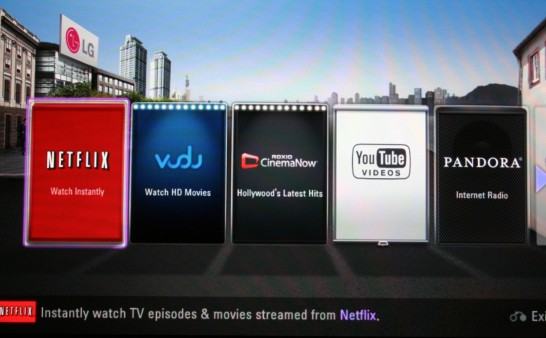 The BD590's internet connectivity suite is found under the Netcast menu option. Web access via a PC is required in order to register the BD590. Depending on the service there can be free access as well as various options for paid membership. The LG can connect via a wired or wireless connection. Setup in either case to my home network was silky smooth as the LG located my home network and connected with no problem. I didn't subscribe to any of the paid services offered but did utilize the complimentary $6 credit offer by the Vudu online movie service which has a great selection of flicks for rent/sale. Prices range from $2.99/$4.99 for standard definition rentals while high definition rentals in HD/HDX options cost $4.99/$5.99. Standard definition purchases begin at $4.99 and vary in price with the highest being around $19.99. I saw several titles offered from sale in high definition. The least expensive HDX title was $19.99 while the majority seemed to cost $24.99.
I watched Killers from Lionsgate and was pleased with the quality of the high definition HDX video and Dolby Digital Plus 5.1 sound. Having recently reviewed Killers on Blu-ray I had it on hand for comparison and the results were surprisingly close. The HDX video was less film-like and had a noticeably edgier quality, but resolution/definition was similar. The lossy Dolby Digital Plus sound sounded quite good although lacking in reproduction of the highest dynamic peaks and smooth timbre of the 7.1 DTS-HD Master Audio sound on the Blu-ray.
I tried out You Tube and the Pandora internet radio service and both worked as advertised. I have to admit that we fell in love with Pandora. My wife and I liked the idea of being able to set up our personal listening preferences and having Pandora find music geared to them. This included not only our favorite artists but others that are similar, some of whom we hadn't heard before.
Ergonomics:
The LG BD590 is a sturdily built lightweight design that falls somewhere in between the heftier build of my reference Oppo player and the flimsy feel of some of the cheaper players available from other manufacturers. It's a handsome looking player with above average fit and finish although I am not crazy about the full length flip down front panel. The lack of a rear panel USB port is noteworthy as steady use of one would require the panel to remain open. With no way to dim its bright florescent display this could be problematic. When running the player's cooling fan is loud enough that I can hear it from my seated position 16 feet away. The omission of multi-channel analog outputs on a player with the feature set of the BD590 is a shortcoming that leaves many potential consumers looking elsewhere. The remote control is standard fare but works very well in tandem with the player. Setup, ease of use and implementation of its many features make for a user friendly experience.
The Good:
Good high definition video quality
Above average load times with Java intensive Blu-ray titles
Extended suite of internet streaming services
Ease of use/setup
Thoughtful implementation of HDD/Media library
The Bad:
Non dimmable fluorescent display
Noisy fan
No rear panel USB port
Odd behavior with Pixar/Disney Blu-ray discs
The Definitive Word:
The LG BD590 is a thoughtfully designed player that offers a wealth of home entertainment options that include internet streaming services, a 250 gigabyte HDD for use as a media library, and solid overall playback of Blu-ray and DVD media. Its lack of 3D support and multi-channel analog outputs are worth noting, but if neither is an issue for you the LG BD590 is a Blu-ray player with plenty to offer.
The Scorecard:
The Design:
[Rating:4/5]
Performance:
[Rating:4/5]
Value:
[Rating:4/5]
Overall:
[Rating:4/5]
BD590 specifications (for a comprehensive listing visit www.lg.com):
MSRP: $350
802.11n Wi-Fi Connectivity
NetCast™ Entertainment Access
Internet Services: Netflix®, Vudu™, YouTube™, Roxio® CinemaNow, Pandora®, Picasa™, AccuWeather®
Full HD 1080p resolution – up to 24/60hz
Upscale Standard DVDs to 1080p/60 output
USB 2.0 connectivity
Disc Playback Capability – Blu-ray™ Disc, BD-R/RE, DVD, DVD±R/RW, Audio CD, CD-R/RW
Video Content Format – DivX®/DivX HD, MPEG4 AVC, HP@L4.1, MPEG2, HP@ML, SMPTE VC1, AP@L3, MPEG2, HP@ML, AVCHD, MKV
Home Link Playable Content Format – DivX®/DivX HD, MPEG2 TS/PS, MPEG1 SS, XVID, MKV, AVI, WMA, MP3, AC3, AAC, JPEG, PNG
Hard disk drive (storage capacity 250GB)
SimpLink™ connectivity
Unit Dimensions (W x H x D) – 16.9" x 2.0" x 11.0"
Unit Weight – 7.0 lbs.
Limited Waranty – 1 Year Parts/90 Days Labor
Where to Buy:
[amazon-product align="center"]B0036WT1V8[/amazon-product]


BestBuy.com:

Reference Review System:
JVC DLA-RS20 1080p High Definition Front Projector (Calibrated by Jeff Meier)
Stewart Filmscreen – Studiotek 130 G3 100" 16×9 Screen
Anthem AVM50v THX Ultra 2 Preamp/Video Processor
Sherbourn Technologies – 7/200 Seven Channel Amplifier
B&K Reference 200.7 Series Two Seven Channel Amplifier
Oppo BDP-83 Universal disc/Blu-ray Player (HDMI Audio/Video)
Sony Playstation 3 Blu-ray disc Player (HDMI Audio/Video)
Philips TSU9400 Pro Series Touch Panel Remote Control
Canton "Ergo" Series speakers
Axiom Audio QS8 Quadpolar speakers
SV Sound PB-13 Ultra (Rosenut finish)
APC AV S15BLK Power Conditioner/Surge Protector w/battery backup
Wireworld, VizionWare, Better Cables, Audioquest, Best Deal Cables – Audio/Video/Speaker Cabling