Aspect Ratio: 1.78:1
Video Codec: AVC/MPEG-4
Audio Codec: English Dolby TrueHD 5.1, English Dolby 2.0
Subtitles: English SDH

Region: ABC (All Regions)
Discs: 2
Studio: Contender Home Entertainment
List Price: £24.99
Click thumbnails for high-resolution 1920x1080p screen captures
The Series
What is it about UK series that makes US television programmers salivate? For years producers in the United States have been mining the creative fields of UK television to find shows that could be reworked for US audiences. From All in the Family and Three's Company to American Idol, The Office, and a short-lived US version of Coupling, UK shows have long been making revamped appearances on the other side of the pond in stripped down and, what many might consider, inferior productions. The BBC's 2006 series Life on Mars is yet another example of such a case. The unique storyline involving one DCI Sam Tyler (John Simm) who is involved in a car accident in 2006 only to awake 33-years in the past, in 1973, would also find itself eventually reworked for US audiences in a much inferior version. Taking its name from the song on David Bowie's 1971 album Hunky Dory?, Life on Mars was a groundbreaking series that revived the police drama for both British and North American television.
When Tyler awakes in 1973, he is not only confronted with the alien world of the early-1970's, but he (and, in turn, the viewers) are uncertain whether he has gone mad, he has time traveled, or if he is actually in a coma back in 2006 and is dreaming the whole thing up. Tyler's new world is populated by a host of characters that instantly alert him to the different social mores of the times. His commanding officer, DCI Gene Hunt (Philip Glenister), is a gruff, sexist, hard drinking, homophobe whose ethics are suspect; WPC Annie Cartwright (Liz White) works in women's services — and suffers sexist remarks typical of the era. Annie becomes Sam's closest confidant and potential love interest.
An interesting aspect of Life on Mars is the question of whether Sam is making these details all up in his mind as he lay in a coma. It is easy to imagine that many of the primary characters can be seen as parts of Sam Tyler's psyche. Gene Hunt (a rather on the nose name, if ever there was one) can surely be seen as Sam's more primal side. Annie can be taken as his softer, feminine side. They are the two that he becomes the closest to throughout the series, even though they are the farthest apart in character.
But Life on Mars is certainly not all about pycho-babble. It is indeed  thrilling cop show at its core, and the producers must be commended for their thorough effort at maintaining its authenticity. There is one scene where Sam accidentally breaks the door handle off a car door that was originally intended to be a child safety lock, but as producers later found out there were no such locks at the time the scene was changed; that's how authentic the series is. And as Sam struggles to work in the 1973 system of crime solving with his 2006 skills, but without 21st century technology, it truly is like he is living on Mars. Life on Mars, the original BBC series, should be viewed by everyone who wants to see what can be done to revive the overdone crime drama.
Video Quality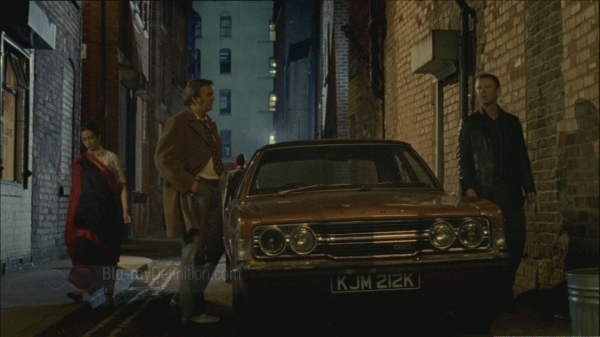 Life on Mars comes to Blu-ray in an AVC/MPEG-4 encoding at 1080p/24 of its original 1.78:1 broadcast aspect ratio that averages ~17Mbps.  The show was originally shot on Kodak Super 16, 16mm film, so it is definitely not what most people might consider reference material. However, the gritty look helps capture the mood of the recession era early-70's. The source is not the biggest issue with this transfer, however. The transfer itself could have extracted as much as possible from this relatively young 16mm source had it stayed out of the way by not adding any ill effects, but it didn't. There are some definite instances of edge enhancement noticeable and motion jaggies crop up in places as well. On the plus side, there are strong black levels with no black crush and flesh tones display no red push, though they sometimes look a bit pale.
Audio Quality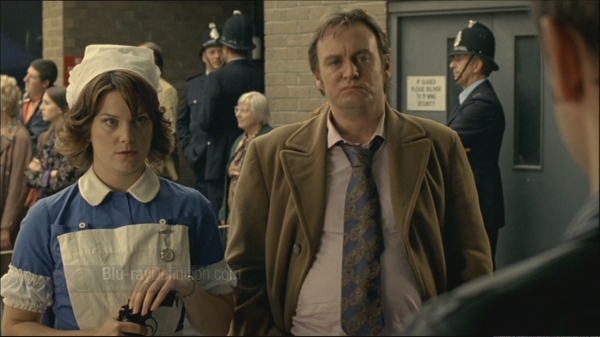 The English Dolby TrueHD 5.1 mix is front-heavy and resides mainly across the front three channels, with the surrounds used for ambience and atmospheric effects. There are occasionally some subtle directional sound effects panned into the rear channels, but the soundstage really comes alive when the series' 1970's rock and roll soundtrack starts to blast and the surround channels kick for a wide, expansive sound. Low frequency extension is slight, so the subwoofer doesn't get much of a workout, but there's enough to give punches, car engines, and the occasional gunfire some heft. Dialogue is clear, with no noticeable clipping, but is limited to the center channel.
There is also an English Dolby 2.o mix available.
Supplemental Materials
Kudos  should go out to Kudos (no pun intended) and Contender Home Entertainment for providing audio commentaries with the cast and crew for every episode as well as a host of featurettes and outtakes for this release. The supplements available on this release are:
Take a Look at the Lawman
Audio Commentaries
Get Sykes
The Music of Life on Mars
Out-Takes Reel
The Definitive Word
Overall: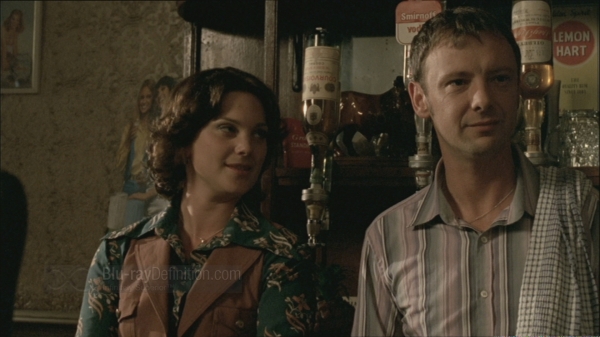 Because of its production, Life on Mars: The Complete Series One on Blu-ray cannot and will not be reference material, but this release is still going to be the best version available of this unique and enjoyable series. It is vastly superior to the US adaptation, so if you enjoy that, you need to see this.
Purchase Life on Mars: The Complete Series One Blu-ray at Amazon UK
Shop with Us for More Blu-ray Titles at Amazon UK