– –

The Series
[Rating:2.5/5]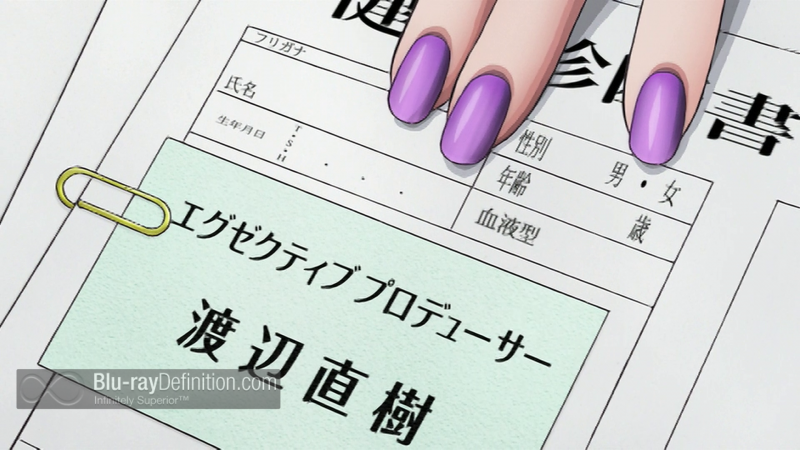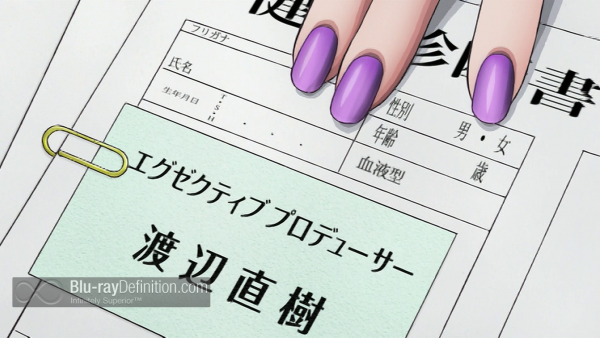 To Love Ru is based on a series written by Hasemi Saki and illustrated by Yabuki Kentaro. A quite typical high school based shōnen series in many ways, To Love Ru revolves around the story of Yuuki Rito who has problems confessing his love to his dream girl Sairenji Haruna. One day after school as he tries to confess his love, an object literally falls out of the sky and nearly kills him. Later that evening as he is taking a bath pondering the days events, a beautiful, pink-haired girl with a tail appears in the bath with him. Her name is Lala and she is from the planet Deviluke. She arrived in that UFO that crashed and nearly killed Yuuki. Lala transported out of her spaceship and ended up in his bath. Yuuki, unaware of what he is doing, grabs her breasts before he catches himself and realizes what he is doing. This has major ramifications for the future. Lala is on the run from home; her father wants her back on Deviluke to marry one of her many suitors, but she doesn't want to. Yuuki gets drawn into a battle against Commander Zastin to help Lala escape from her father's grasp. The next day, when Yuuki once again builds up the courage to tell Haruna that he loves her, Lala appears just as he manages to blurt out the words. Believing the words were directed toward her and in combination with him grabbing her breasts the night before, the two are now engaged!
Yuuki has a lot to live up to and Lala's father demands that he become the greatest man in the universe to be worthy of Lala. Not to mention all the jealous jilted suitors that mean to knock him out of the picture, including Ren, who spent his whole life trying to become manly enough to get Lala to acknowledge him. The only problem is, Ren is from a species that, whenever they sneeze, they change genders. And poor Yuuki, he's still in love with Haruna, but he can't seem to get out if this engagement to the hyperactive Lala, although the more she's around, the more he seems to like her too. What's a high school guy to do?
To Love Ru begins like so many other series in this genre, with a girl falling out of the sky right into the life of an unsuspecting high school boy. It maintains a relatively even keel throughout its first half, not straying too far from what we'd expect. Slowly building up a slight, if not harem, then at the very least a circle of girls around Yuuki who all have a fondness for him. Lala is the typically flighty and cute main protagonist with lots of quirks, not the least of which is her tail and her penchant for creating inventions that never work properly. By the second half of the series, however, it seems the writers run out of steam with this premise and go off in weird directions. For one, they decide that Lala's identity as an alien is no longer a secret. Not only do her classmates know, but, apparently, the whole world knows, and they all just shrug it off. Secondly, they give us a bunch of one-off episodes, like an entire episode where Yuuki's friend Saruyama daydreams of being a Lord in Edo Castle surrounded by a harem ("Saruyama's Tales of the Inner Chambers").
What makes this most frustrating is that these episodes all build up as the series heads to the finale that ties up the story of Yuuki, Lala, her father's challenge to Yuuki, and the love triangle between Yuuki, Lala, and Haruna. The one-off episodes are unnecessary diversions that are inserted as mere filler. That's not even taking into account the terribly unsatisfactory finale.
Video Quality
[Rating:2.5/5]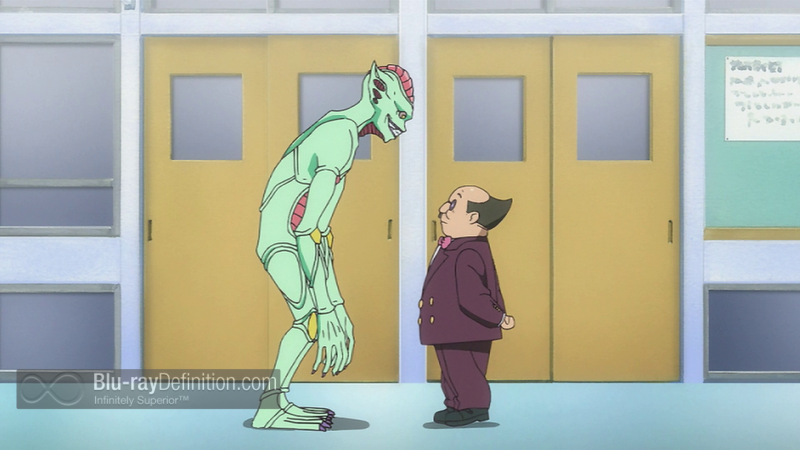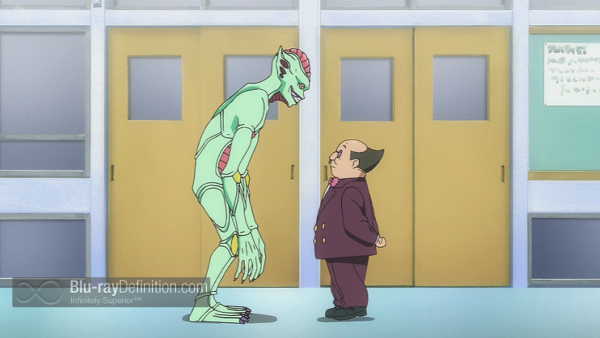 Sentai Filmworks makes no mention of the original source of the series anywhere on the packaging, but it is instantly noticeable that To Love Ru is take from a standard definition source. Furthermore, 26 episodes clocking in at 650 minutes have been squeezed onto two discs in an AVC/MPEG-4 1080p encodement. The end result is that we get an image with lots of visible stairstepping around the line art and motion artifacts, softness and banding. When the image is still and there's a close-up on some character, however, it's almost passable as true HD.
Audio Quality
[Rating:3.5/5]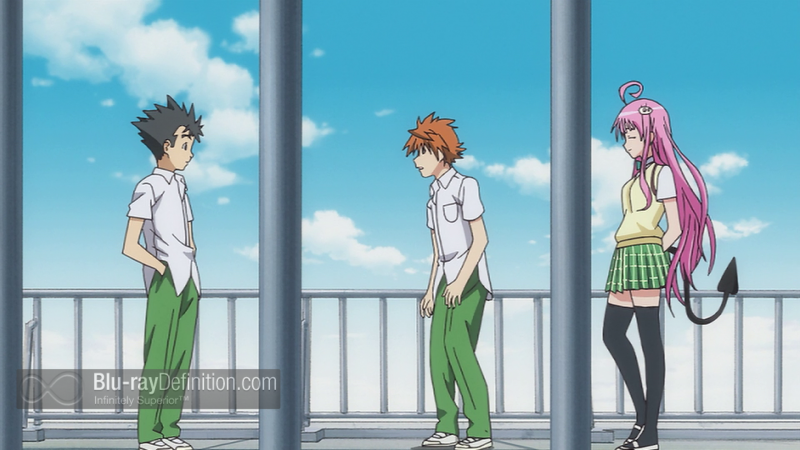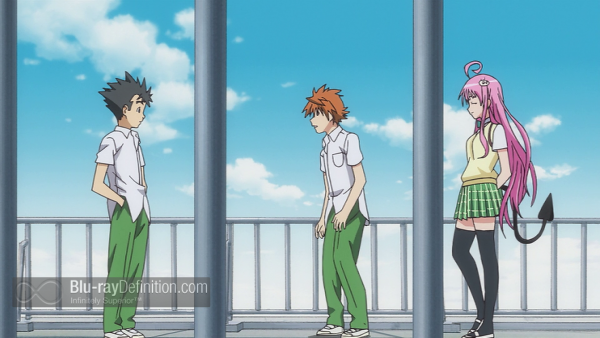 Only the original Japanese soundtrack is supplied in DTS-HD Master Audio 2.0 stereo (48kHz/24-bit). The voice cast is very lively and whimsical, though they can become just a little grating at times. Dynamics and the stereo imaging are reasonable, but not exceptional
Supplemental Materials
[Rating:0.5/5]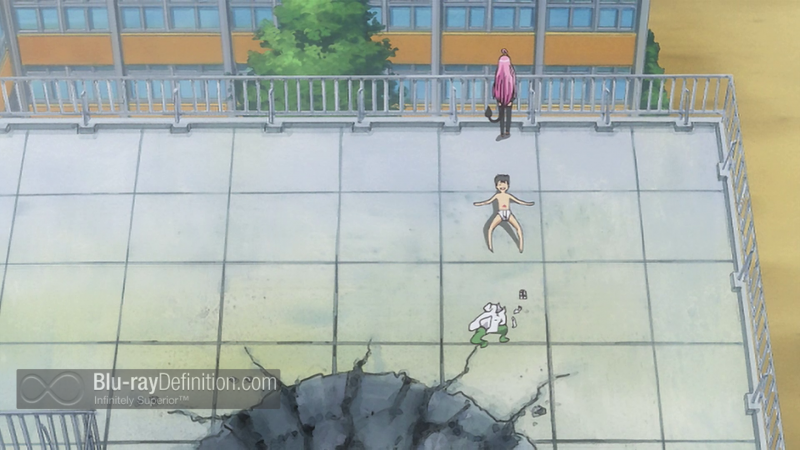 Nothing here at all outside of the usual.
Clean Opening Animation
Clean Closing Animation
Sentai Filmworks Blu-ray Trailers
Disc Credits
The Definitive Word
Overall:
[Rating:2.5/5]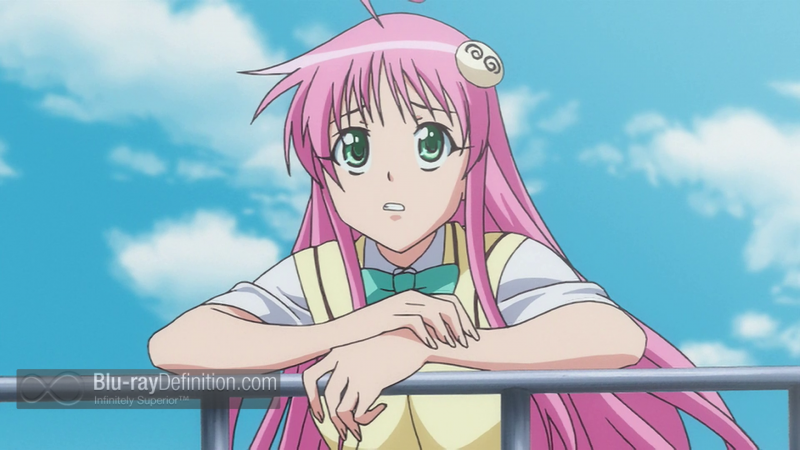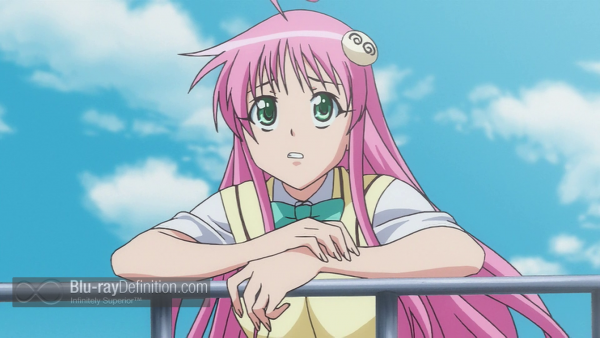 To Love Ru is a cute, but uneven series that traverses familiar terrain. It's animation is not served well by what looks like an up-scaled transfer to Blu-ray squeezed onto only two discs either.
Additional Screen Captures
[amazon-product]B00GY3S7AC[/amazon-product]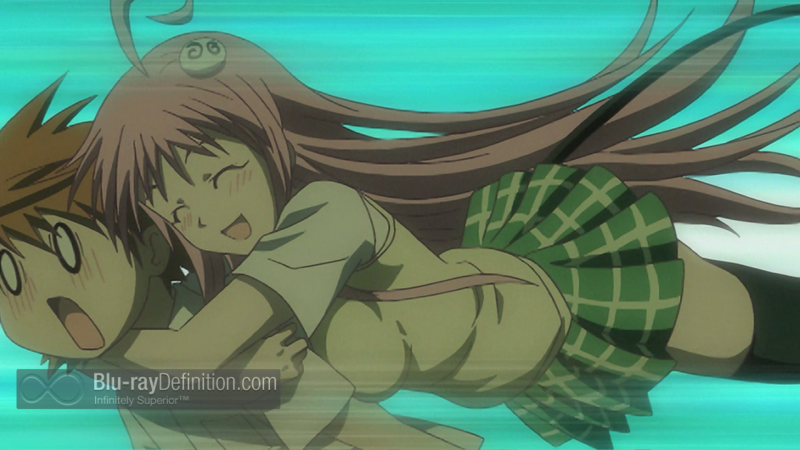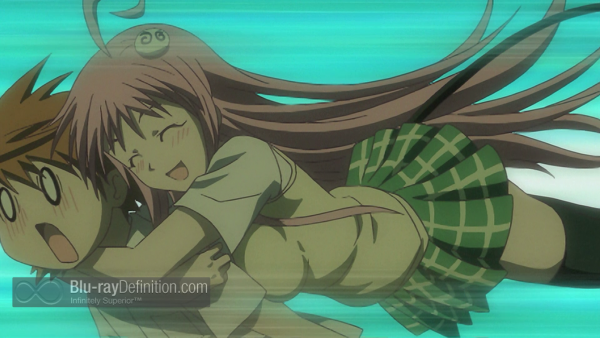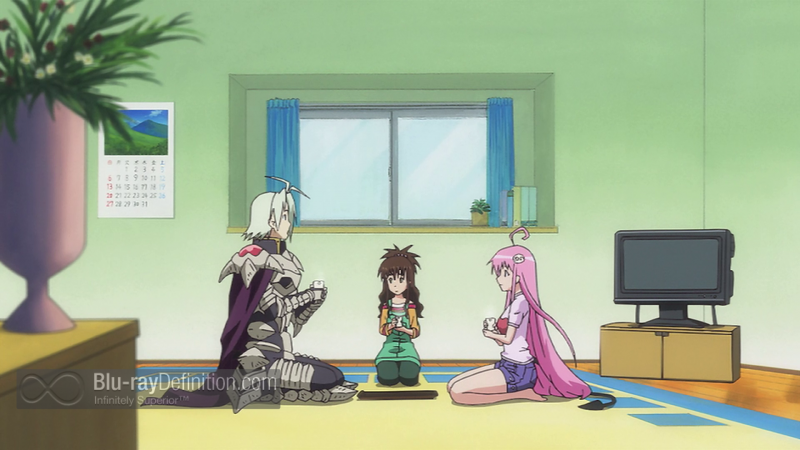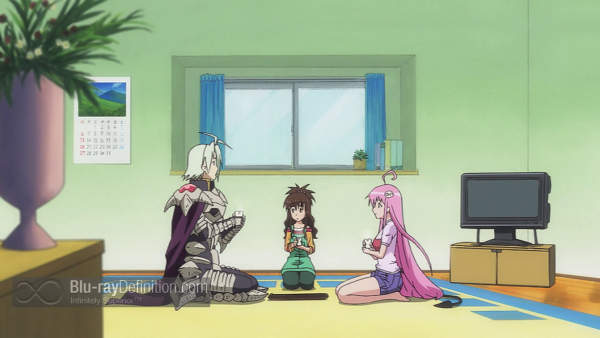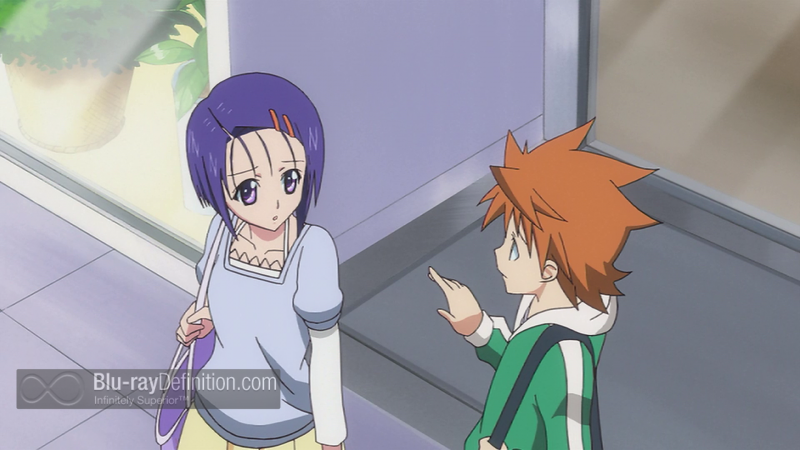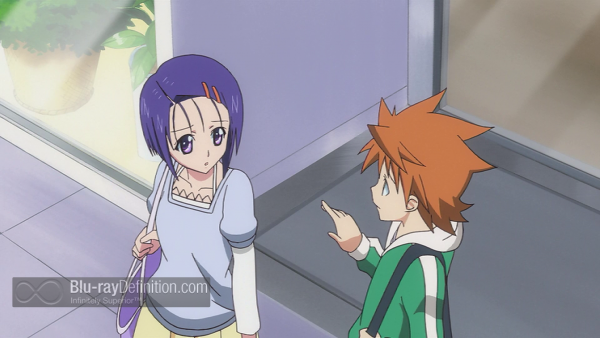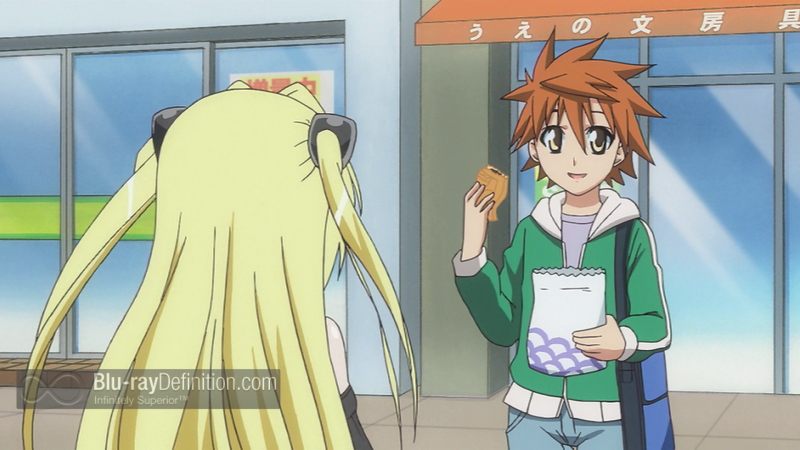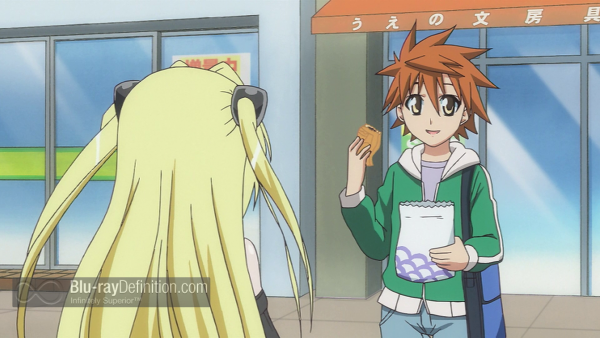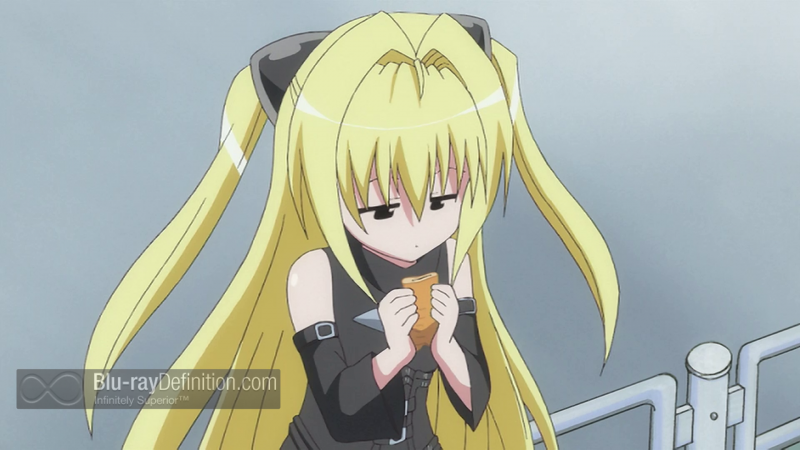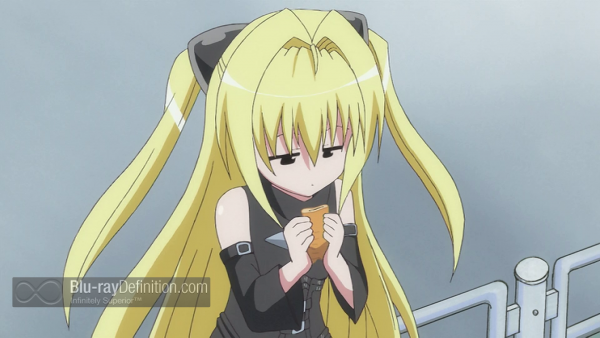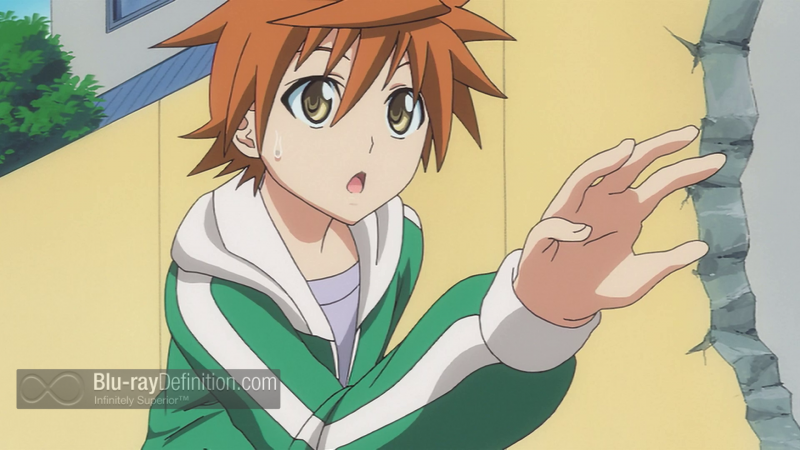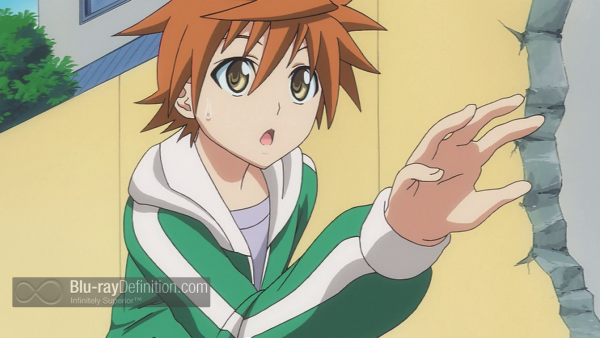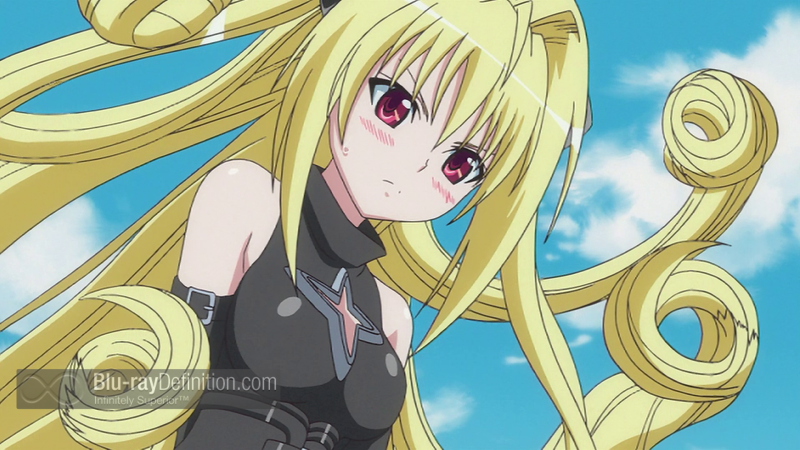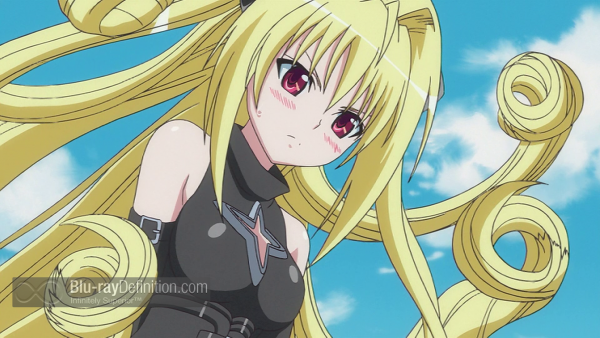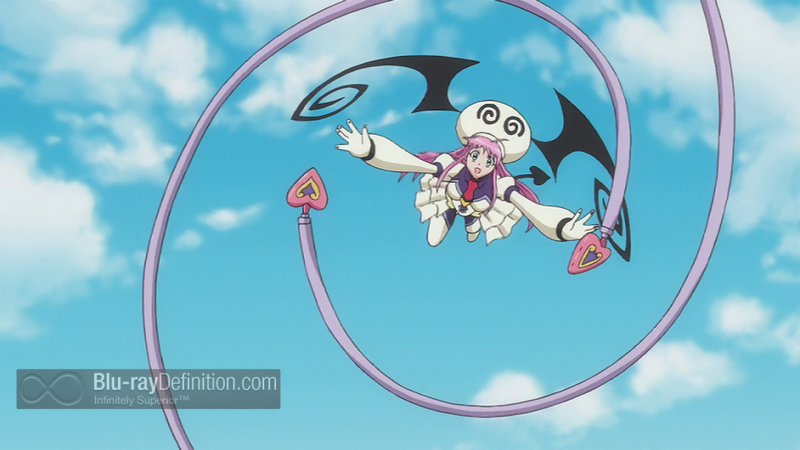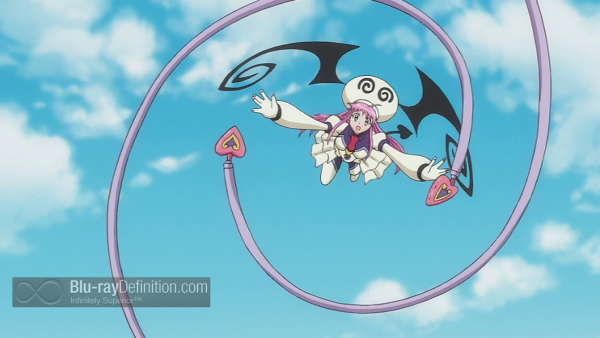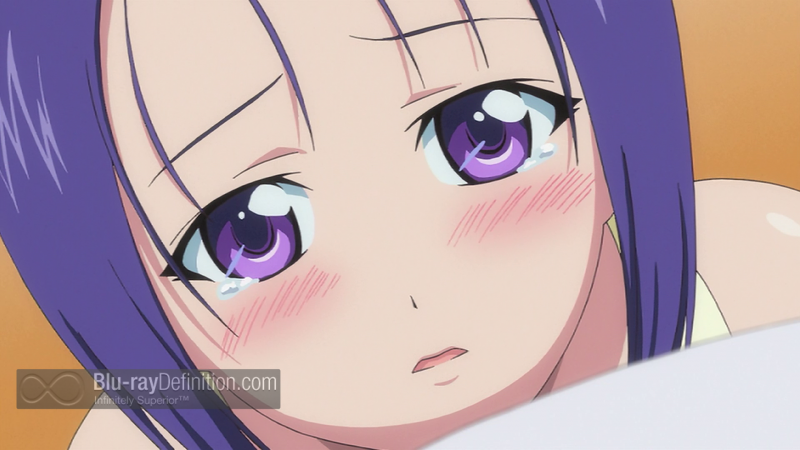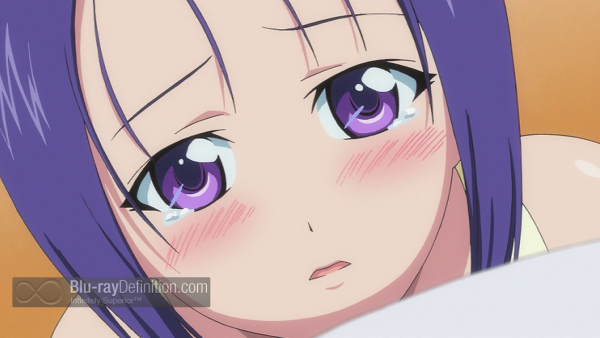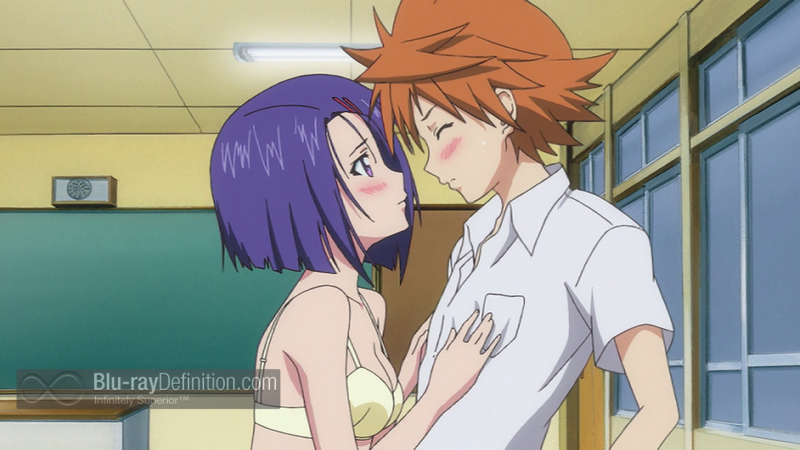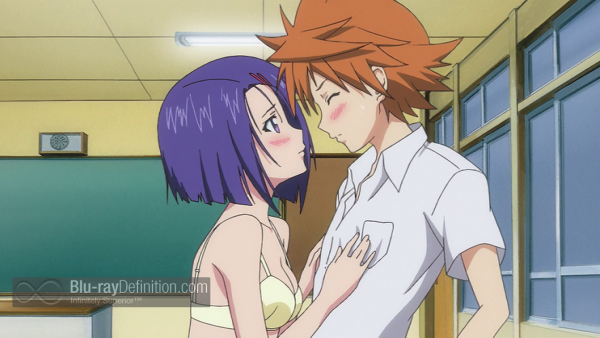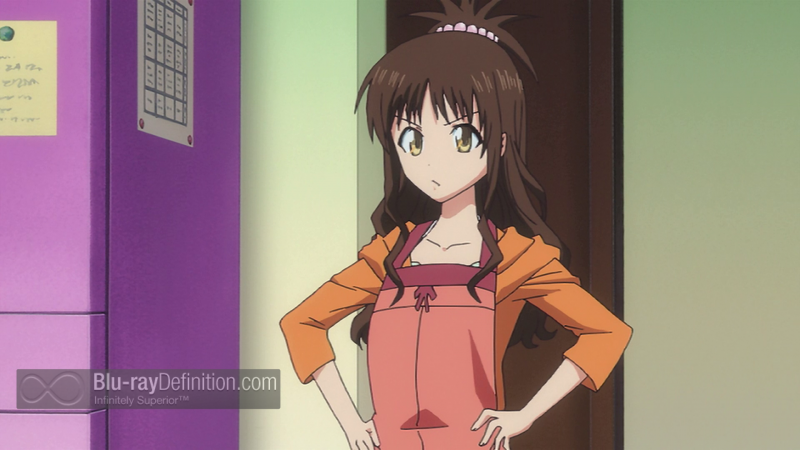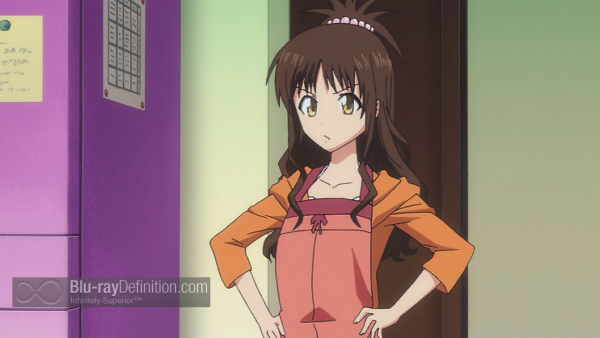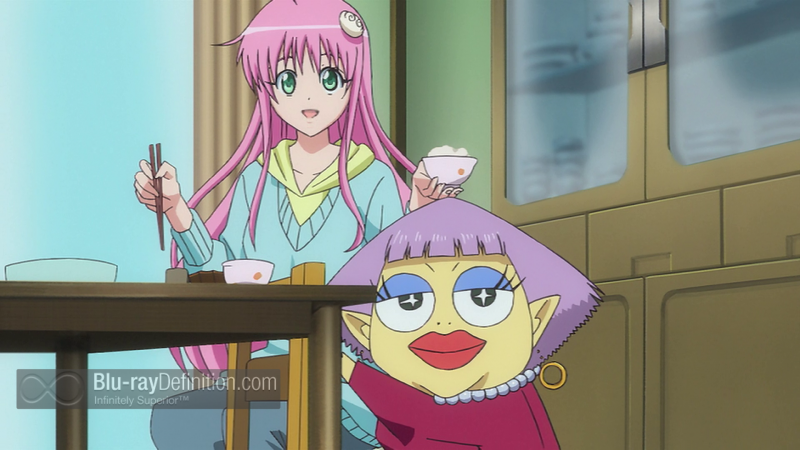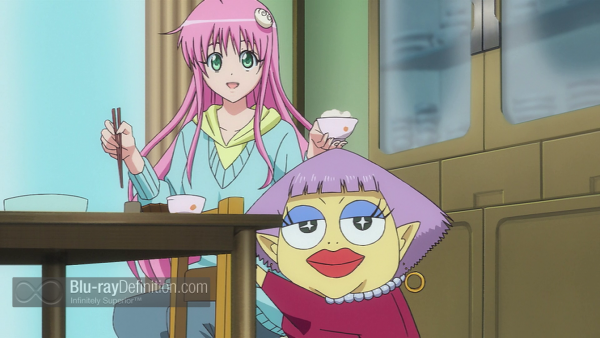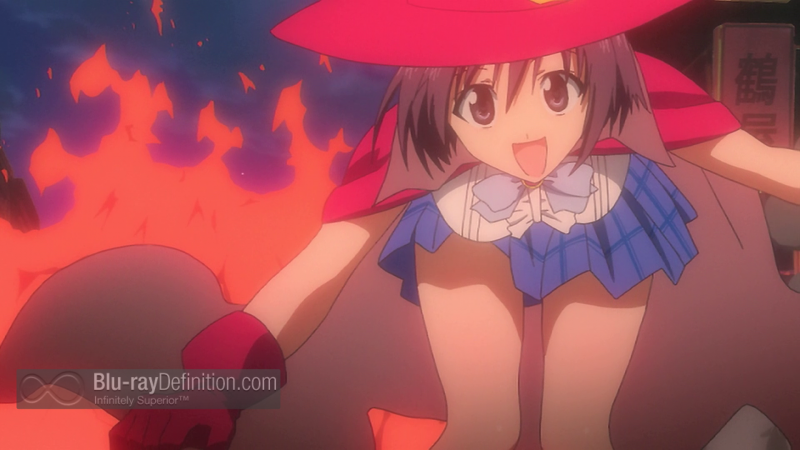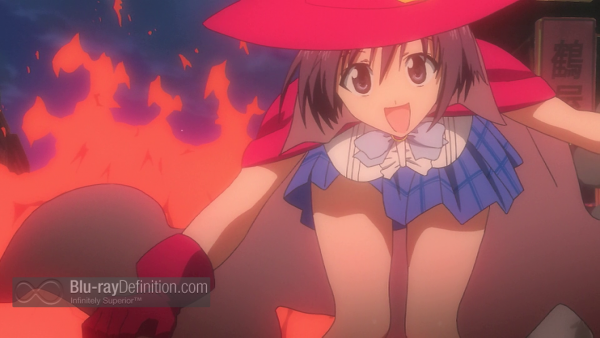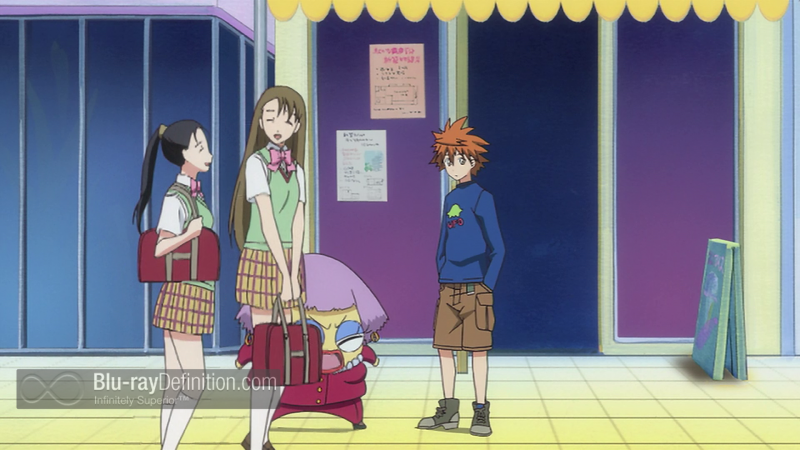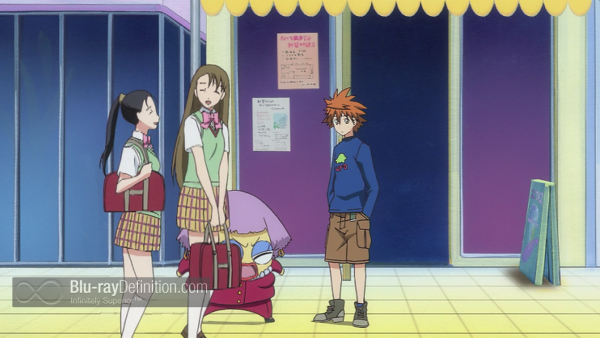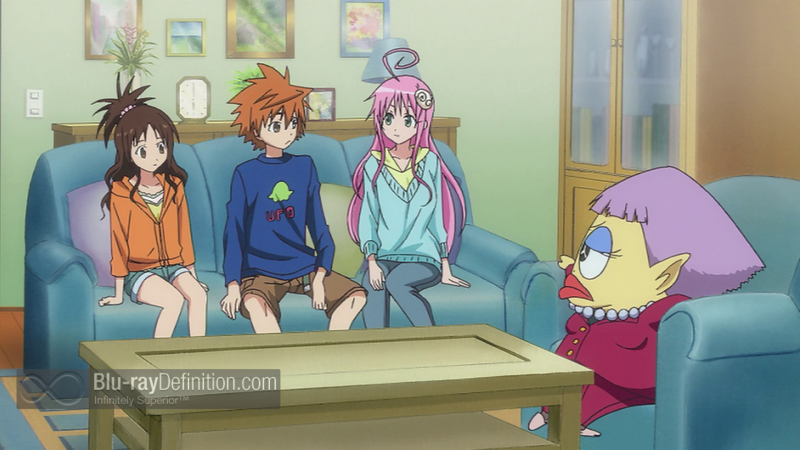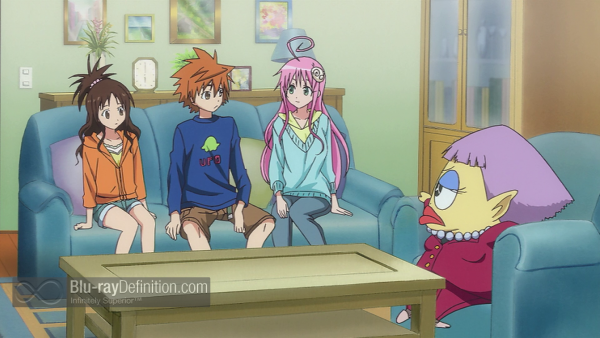 [amazon-product]B00GY3S7AC[/amazon-product]