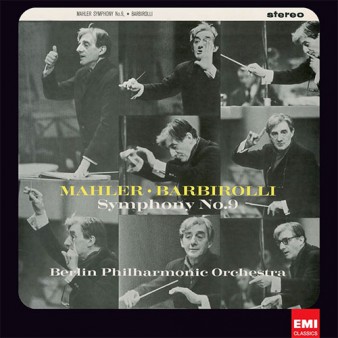 – –
The Album
[Rating:4.5/5]
As Gustav Mahler's last completed symphonic work, the Ninth Symphony joins a portentous group of "final" ninths by his predecessors, Beethoven, Schubert, and Dvorak. In hearing the opening movement's near cry for help theme, one gets the impression that the composer had intimations of his own mortality, even quoting a theme from Beethoven's Piano Sonata No. 26, aptly named "Les Adieux." History bears out that two years after the symphony's completion, Mahler was dead at the age of 50. Unlike the case in some of his previous symphonies, the Ninth reverts to the traditional four-movement structure, applying the devices of Sonata (first movement), Landler or folk dance (second movement), Rondo-Burleske (third movement) and Adagio (fourth movement). It is, in the almost mournful finale, that listeners will sense the inevitability of his own mortality that was clearly on the composer's mind.
The circumstances of this 1964 recording are something quite special. Sir John Barbirolli, a guest conductor a year earlier with the Berlin Philharmonic, led the orchestra in a concert of this symphony. As was the case in those days, we had a conductor who had a contract with EMI records directing an ensemble that was exclusively signed to Deutsche Grammophon. Crossing contractual lines was at the behest of the BPO who were smitten with Barbirolli's approach to this work. Not known as a great Mahlerian, Sir John simply gets all of the shifting tides and emotions of this expansive work exactly right. Avoiding the hysteria of Leonard Bernstein or the restraint of Otto Klemperer, we get a performance that provides the right balance with spot-on tempos and dynamics.
Audio Quality
[Rating:4/5]
EMI Records, not typically an audiophile label (although there were exceptions like the Andre Previn/LSO recording of Carl Orff's Carmina Burana) gives us a natural sounding recording with felicitous details and a broad soundstage. The bass lines are potent and clean while the BPO strings are warm and wonderful. The sound perspective is mid-orchestra and the overall package on this 96kHz/24-bit recording compared quite favorably with my 50-year old EMI LP set.
Supplemental Materials
[Rating:1.5/5]
There is a reproduction of the cover art, track listings and great liner notes by Michael Kennedy.
The Definitive Word
Overall:
Mahler's final completed symphony is an unequaled opportunity to get the last word from a troubled genius who was, in so many respects, ahead of his time. The Mahler musical idiom encompassed a variety of styles and took its roots from folk music of the times, and added a new wrinkle with Mahler's unusual harmonics and chordal progressions. The term "progressive tonality" has been linked to this composer's works as it described the working out of traditional harmonic progressions in a manner that presaged the new Viennese School of the 20th century. Whether post-romantic or pre-modernist, this final Mahler symphony brings heart-on-sleeve emotions to the forefront and is perfectly captured by Barbirolli and his Berlin forces. Receiving EMI's "Recording of the Century" designation, I can only echo this accolade. While there are numerous versions of the Mahler Ninth Symphony, if I had to pick one to take to the proverbial "Desert Island," it would be this one.