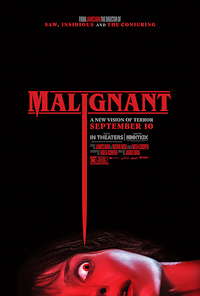 In Malignant, Madison Mitchell (Annabelle Wallis) is  pregnant and in an abusive relationship. After being viciously beaten by her husband she is rendered unconscious. While unconscious, her husband is brutally murdered in the very home she was assaulted in. She is taken to the hospital and miscarries.
After being released from the hospital Madison tries to move on with her life gaining much needed support from her sister, Sydney (Maddie Hasson). The police, however, still have a job to do and have to investigate the murder of Madison's husband. It is while recovering that Madison starts to have dreams about a strange figure breaking into her house and killing her husband.
As the investigation heats up it is discovered that Madison had an imaginary friend named Gabriel when she was a child. It was so disruptive that she was briefly hospitalized at a mental hospital. Now, in Madison's fragile state of mind, she deduces that Gabriel is back to claim her soul.
I don't even know where to start with Malignant. As I type this review out I am already chuckling to myself, because it is one of the more bonkers batsh*t films I have seen in 2021! Sure, the first part of the film is all set-up, and it's very pretty, but when we get to the final 45-minute stretch – all bets are off!
James Wan (Saw, Aquaman) has crafted a sleek giallo film that incorporates many elements of that subgenre, along with body horror, Brian de Palma, and some H.P. Lovecraft sprinkled in for taste. Malignant has cult film status written all over it. In fact, this reminds me of when Sam Raimi went back to his roots after becoming a blockbuster director, with Drag Me to Hell. I hated Drag Me to Hell but enjoyed the hell out of Malignant.
I can already see and hear folks going wild (those that have seen it) on just the final part of the film. I think a healthy dose of word of mouth will benefit the film either to sustain its box office a bit, or to just get more HBO Max subscribers. I was not able to see this in theaters but the HBO Max presentation was in 4K Dolby Vision. It did lack a Dolby Atmos soundtrack, but looking at the specs on IMDb, it does not have an immersive soundtrack to begin with. In any event, if you decide to stay home and watch the HBO Max feed, crank it up!
Malignant is one of the more surprising horror films of 2021. It pulls no punches and that final act/reveal is so audacious and fearless. It wears its giallo influences proudly on its sleeve. Whether folks ultimately like it or not, in the end, this will become a much talked about horror classic for years to come. Malignant is highly recommended!
Malignant is in theaters September 10 (USA) and streaming on HBO Max through Oct. 10.
---
Rating Certificate: R (for strong horror violence and gruesome images, and for language)
Studios & Distributors: Atomic Monster | Boom Entertainment | Boom! Studios | New Line Cinema | Starlight Culture Entertainment | Warner Bros. | HBO Max
Country: USA
Language: English
Run Time: 111 Mins.
Aspect Ratio: 2.39:1
Director: James Wan
Written By: Ingrid Bisu (story by) | James Wan (story by) | Akela Cooper (screenplay by)
Release Date: 10 September 2021 (USA)