– –
The Film
[Rating:2/5]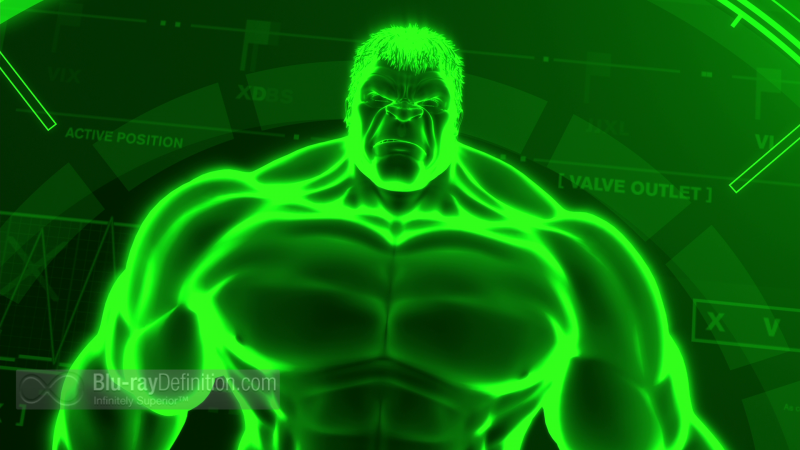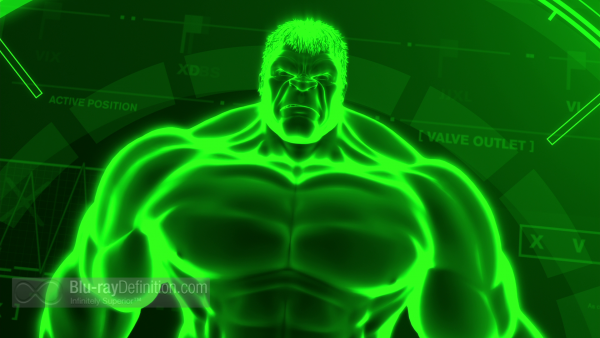 In this CG animated feature from Marvel, Iron Man and Hulk are teamed up to do battle against an energy absorbing entity named Zzzax that seems unstoppable. The hero-duo must find a way to put their differences aside and meld the brute force of Hulk with the technological genius of Tony Stark to stop Zzzax before he destroys the planet, but it's not an easy task.
I'm not sure if this matchup could ever have been that great. Hulk, in my opinion, has never been a compelling superhero. The raging green gamma ray-infused behemoth is one click away from being a bad guy, really. He has anger management issues, and all he does is "smash". Why he's stuck around so long is beyond me. When I was a kid watching the live action TV series, I always found the Bruce Banner sequences far more interesting. When Hulk comes out to play, it goes downhill in a hurry. Iron Man is different. He's a defective hero. He has no real superpowers, but he's a genius who managed to keep himself alive with an elaborate life support system that also happened to be a super suit. The pairing of the two feels incongruous, with one hero far outstripping the other in terms of charisma and likeability.
This superhero matchup provides a lot of action for fans who are into that sort of thing, but there's not much of a story here at all and, really, the outcome is never in doubt. The bickering between Hulk and Iron Man feels forced and trivial at best. One of the biggest issues with Iron Man and Hulk: Heroes United is the poorly done CGI work, which looks rather shoddy and low budget, showing little detail in the backgrounds and often little in the character designs.We've seen some bad Hulks on the big screen in CGI, but this Hulk and the rest of the effects make those Hulks look awesome in comparison.
Video Quality
[Rating:4/5]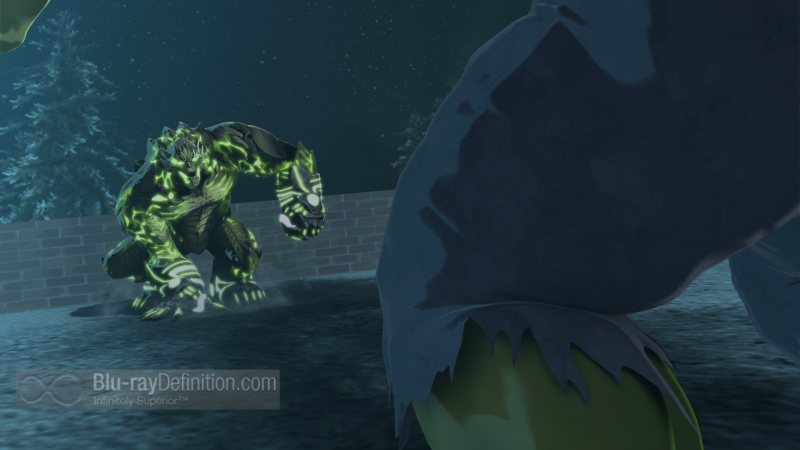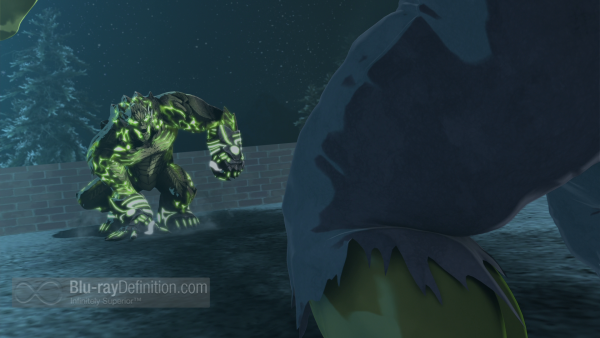 The CG animation looks a bit low quality this AVC/MPEG-4 1080p encodement, but apart from that there's not much to complain about here. The image is rather clean and contrast is good, while the colors shimmer nicely off the screen.
Audio Quality
[Rating:4/5]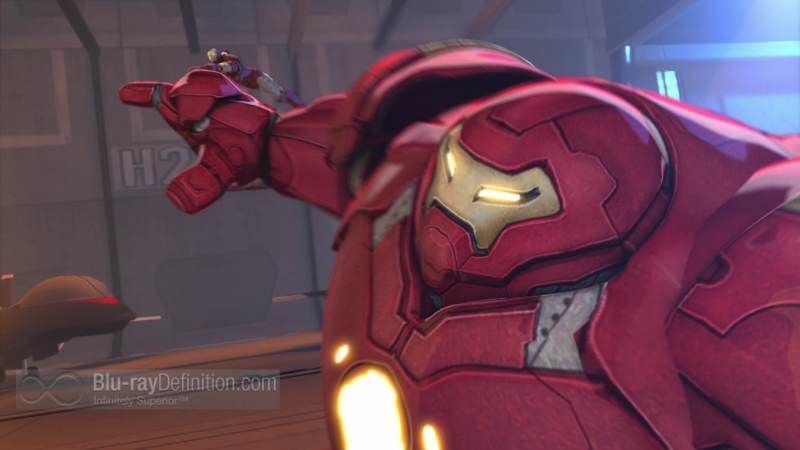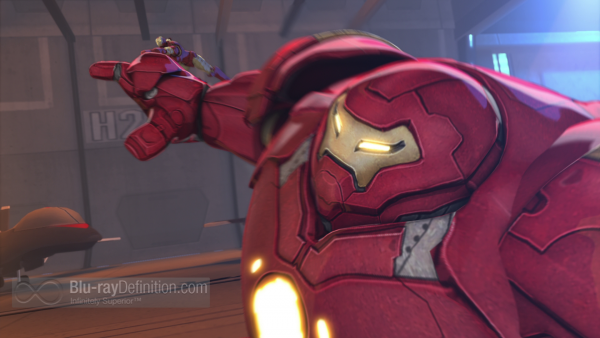 The lossless English DTS-HD Master Audio 5.1 (48kHz/24-bit) give big low frequency extension that can really rattle the floorboards during the relentless fighting sequences. Surround effects are good with a fine balance between the fronts, but lows seem to overwhelm the sound mix.
Supplemental Materials
[Rating:2.5/5]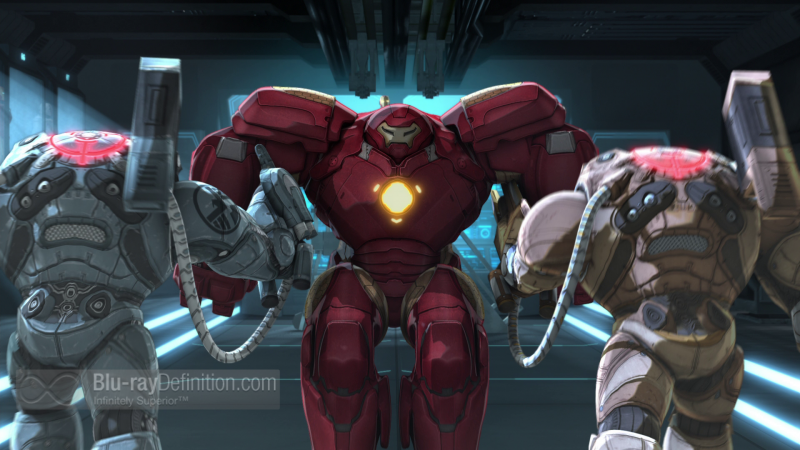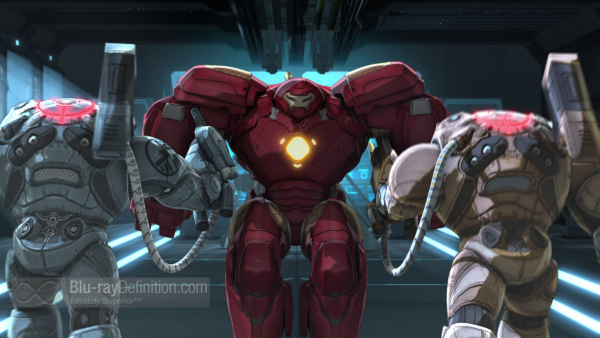 Mostly the on-disc extras consist of Marvel Mash-Ups, so if you're in the mood for some bad comedy set to Marvel animation, then this is for you. There's also the opportunity to get some free swag (shipping and handling charges apply).
The supplements:
DVD
iTunes Digital Copy
Free Iron Man MiniMate Figurine and Digital Comic (plus $2.99 S/H while supplies last)
Marvel Inter-Missions – Hit pause and see some Marvel Mash-Ups
Marvel Team-Up with Ryan Penagos and Joe Q (1.78:1; 1080p/24; 00:11:37)
Marvel Mash-Ups:

SHIELD (1.33:1; SD; 00:02:02)
Betty Ross (1.33:1; SD; 00:02:02)
Lil' Hulk (1.33:1; SD; 00:02:02)
The Definitive Word
Overall:
[Rating:3/5]
Iron Man and Hulk: Superheroes United is a disappointing production, both visually and thematically. The story goes nowhere and it does it with poorly designed imagery. The matchup of the two heroes doesn't work on any level in the script either.
Additional Screen Captures
[amazon-product]B00EV1YZDM[/amazon-product]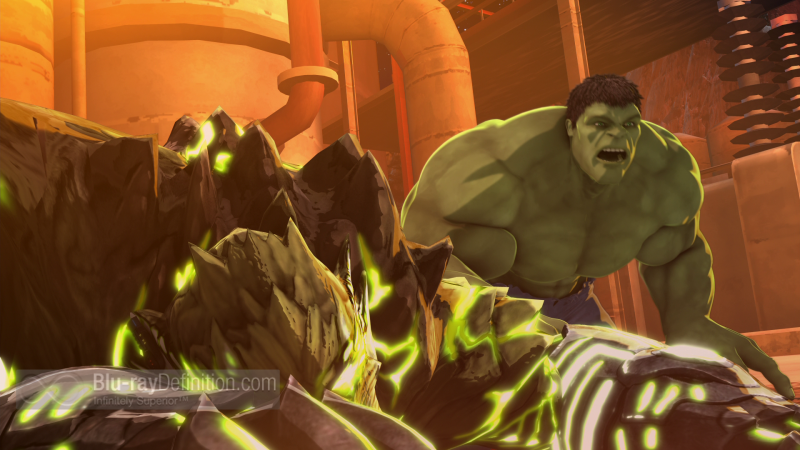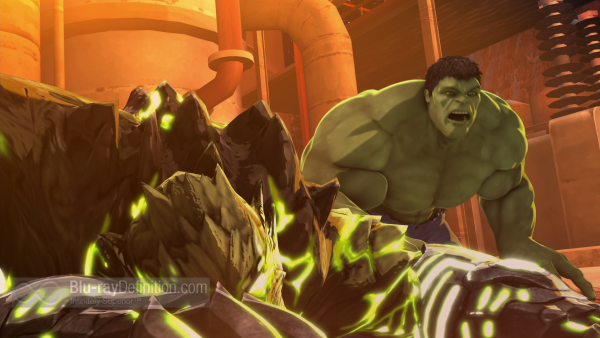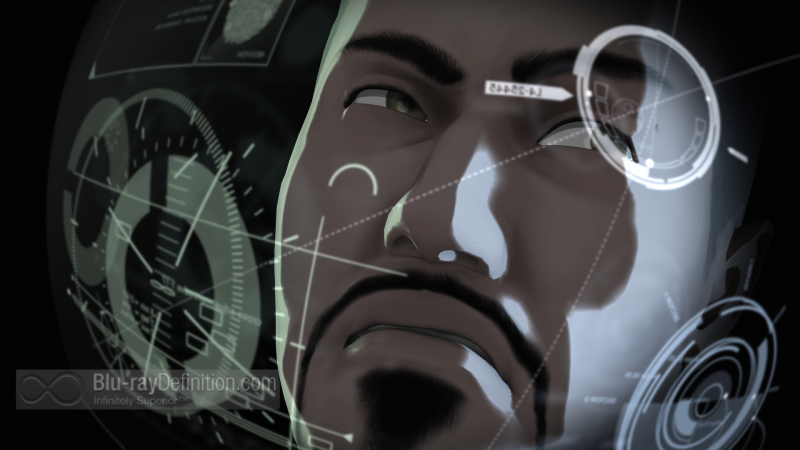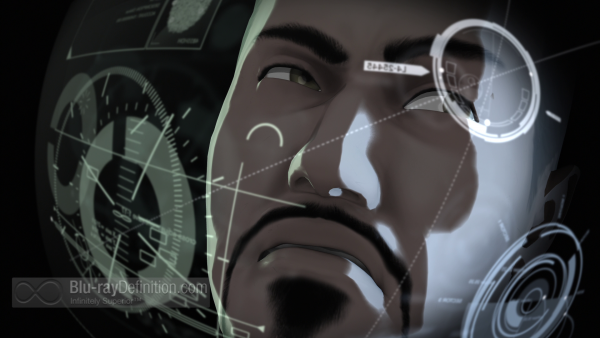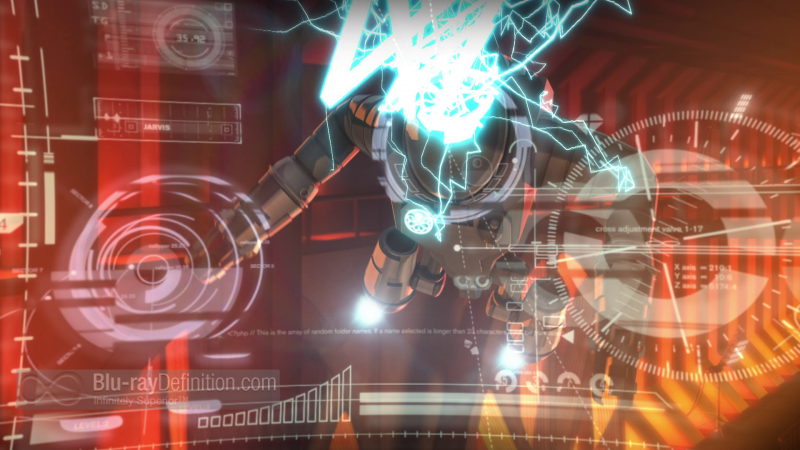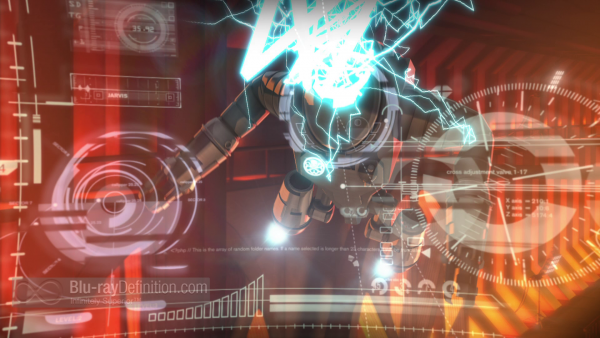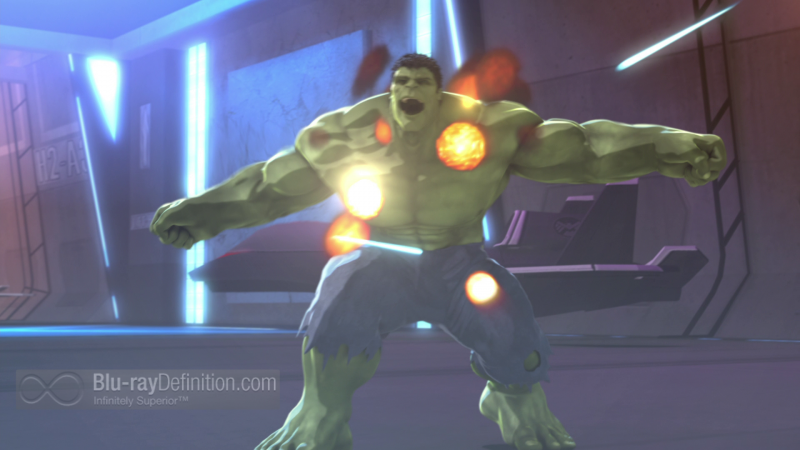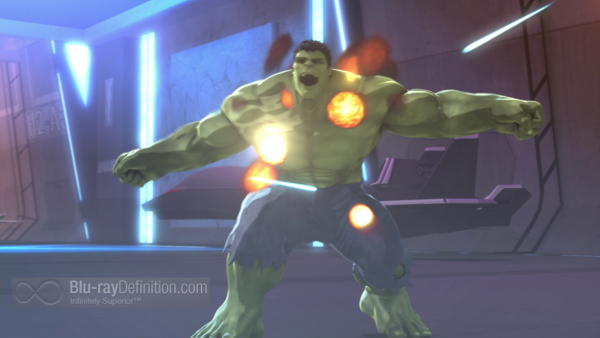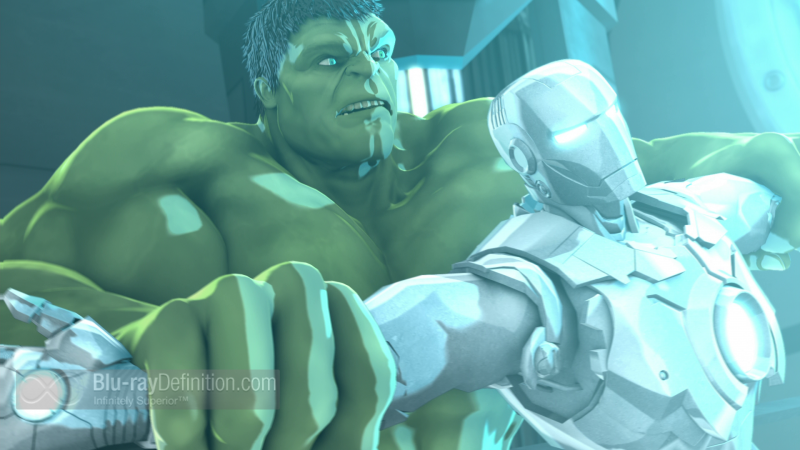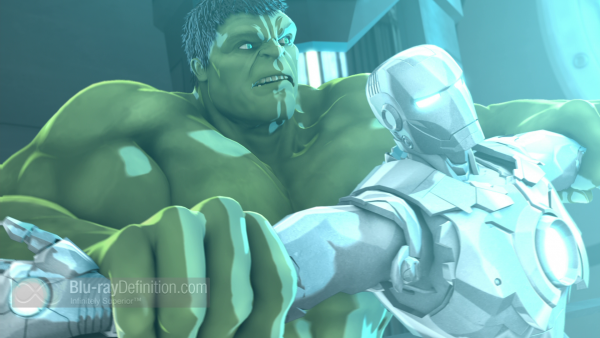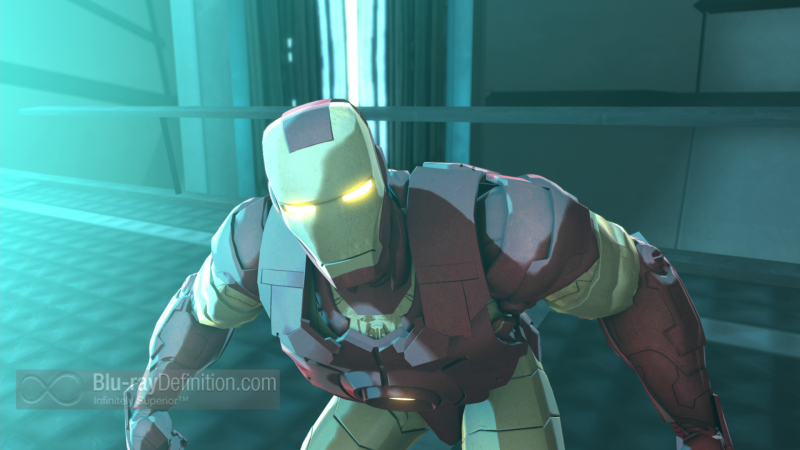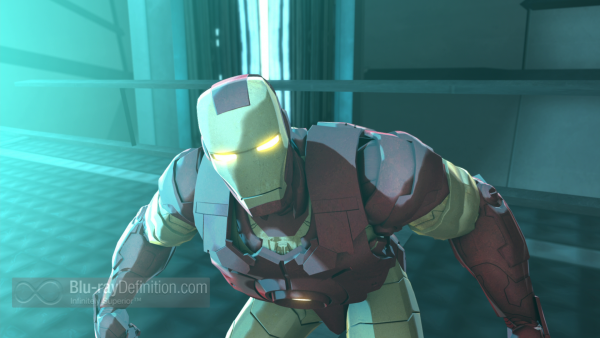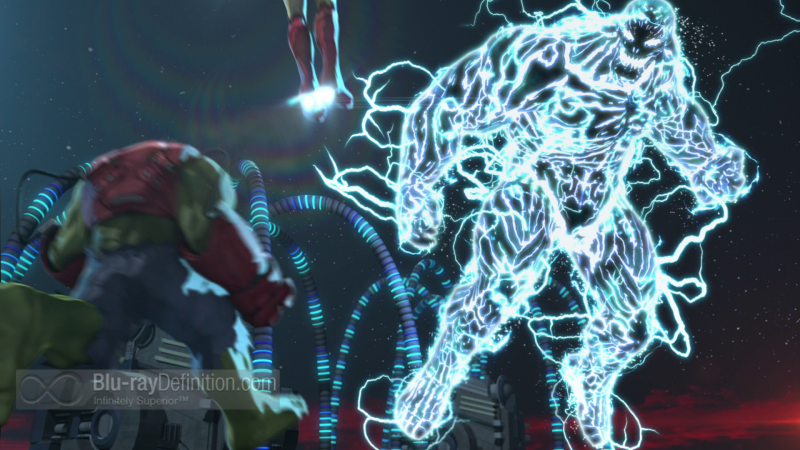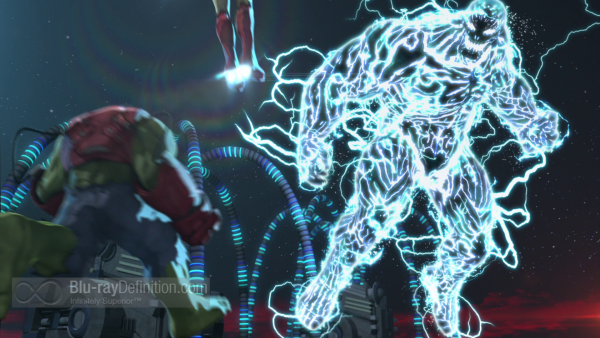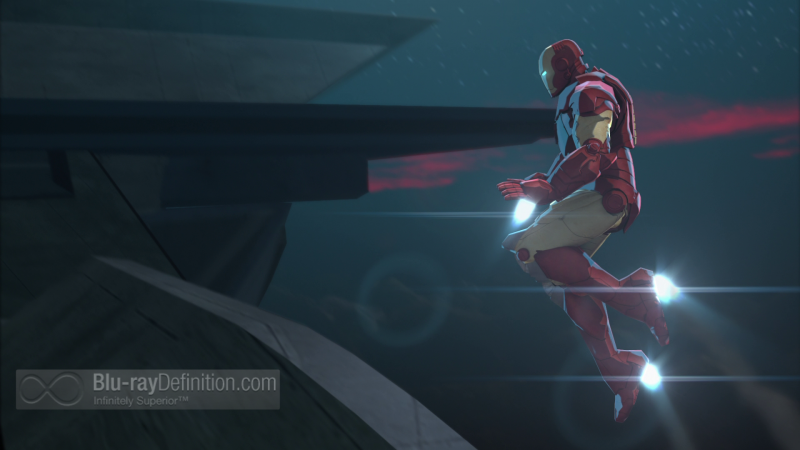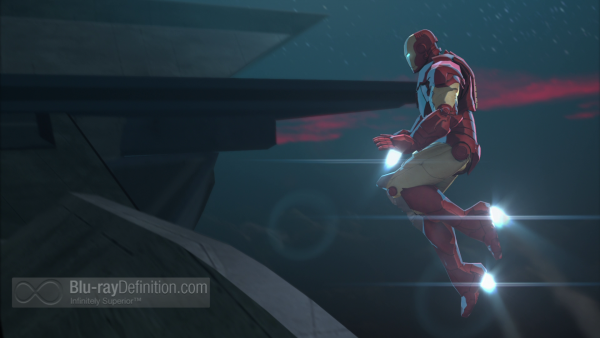 [amazon-product]B00EV1YZDM[/amazon-product]