–
The Film
[Rating:3.5/5]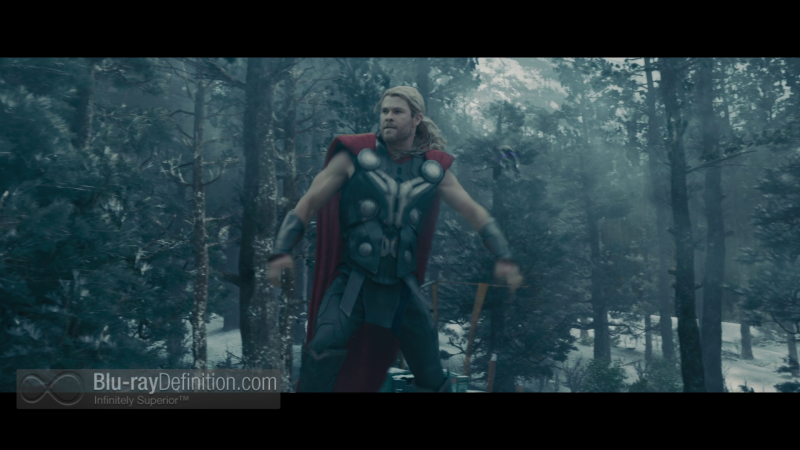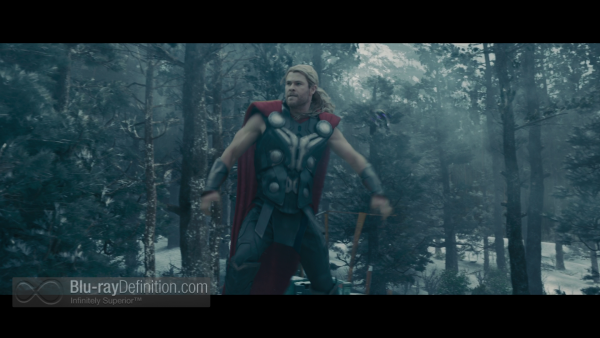 Marvel's Avengers: Age of Ultron is the second blockbuster that brings together all the big superheroes in the Marvel cinematic universe on the big screen. Joss Whedon also returns to direct the action-filled spectacle and although this second time around is a little less successful than the first time out, it is still a wild ride filled with big action sequences, good humor, and edge of the seat thrills.

The Avengers are picking up the slack for a defunct S.H.I.E.L.D., and in his haste to invent something that will help the superheroes fight whatever threat, alien or otherwise, may face the planet, Billionaire inventor, playboy, and Iron Man, Tony Stark (Robert Downey Jr.) unwittingly invents an out of control artificial intelligence named Ultron (voiced by James Spader) that wants to purify the planet of humans. It's up to Iron Man, Captain America (Chris Evans), Thor (Chris Hemsworth), the Hulk (Mark Ruffalo), Black Widow (Scarlett Johansson), and Hawkeye (Jeremy Renner) with the help of Nick Fury (Samuel L. Jackson) must reunite to help save mankind from the threat of Ultron and, ultimately, the power of one of the Infinity Stones.
Age of Ultron is two hours of non-stop action and witty repartee that starts right from the opening scenes. And while this is fun in its own way, the thrill of having all of these superheroes together all at once doesn't quite have the same appeal as it did in the first Avengers film. Perhaps the novelty has worn off a little bit, so now Age of Ultron must stand on its own. The film does still succeed in being quite entertaining as a visual effects spectacle with a running sense of humour. And Joss Whedon and crew bring the heroes to life once again, but the story is not quite as tight as it was the first time around. The villain this time, a cybernetic AI, just doesn't seem as menacing, though there is plenty of opportunity for epic big screen battles. The plot becomes just a bit hazy, however, in the details concerning Ultron's attempt to become a living being and the outcome of that involving the so-called "Mind Stone" one of the Infinity Stones. It's probably best not to dissect these comic book themed films too much though, and one thing Marvel's Cinematic Universe does do well is avoid some of the angst-ridden seriousness of other superhero films and forgo taking itself too seriously.

Video Quality
[Rating:5/5]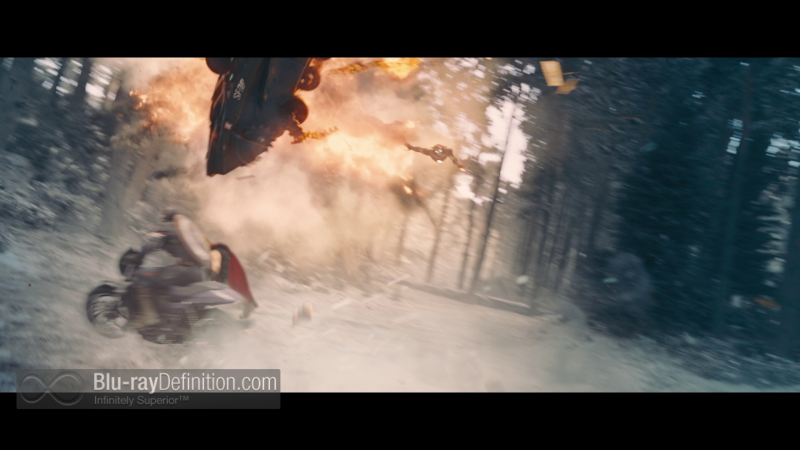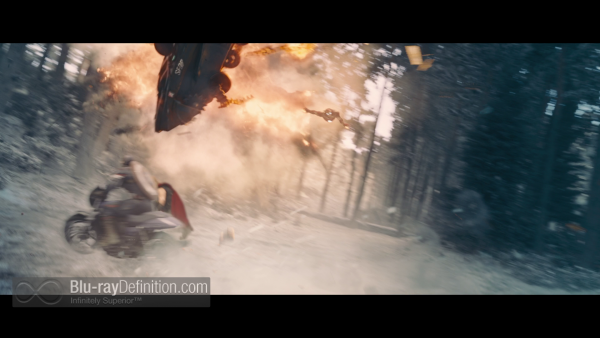 Avengers: Age of Ultron was shot digitally in everything from 4K all the way up to 6K on a variety of cameras including the Arri Alexa XT Plus, Canon EOS C500, and Red Epic Dragon. The AVC/MPEG-4 1080p encodement to Blu-ray from Disney is reference quality all around. The image is clean, and even in the relentless number if fast paced action sequences there are no motion artifacts or macroblocking. Color is a little desaturated overall, but there are splashes of vivid highlights in the primaries that standout nicely. This is a reference release through and through.
Audio Quality
[Rating:3.5/5]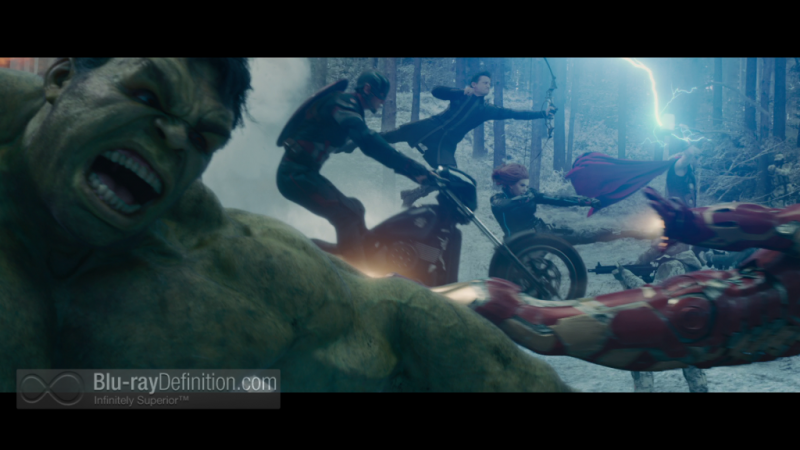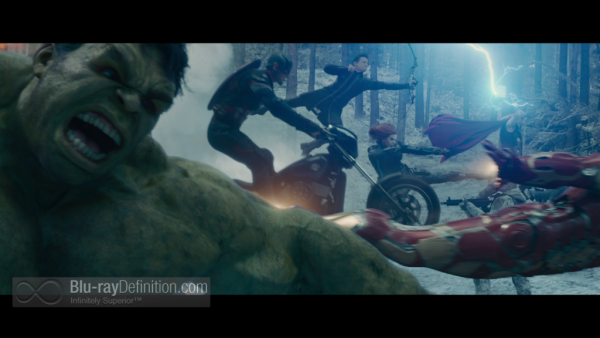 Age of Ultron arrives on Blu-ray with an English DTS-HD Master Audio 7.1 (48kHz/24-bit) soundtrack from Disney. I have to say, I was not impressed with this. It seems like it had the life compressed out of it, and it wasn't that it was so extremely loud that there was no headroom left, it was that it was so low and so little dynamic range that, it just wasn't working. This phenomenon usually only happens to me with anime releases from FUNimation, but apparently they are not the only ones. It's not that the mix was poor, the mix sounded like it would be enjoyable, if a little too emphasized on the low end. There were a lot of solid sounds mixed through the surrounds and dialogue was clean and didn't seem to get lost in the effects, but I had to keep reaching to turn it up, and everything was battling for the same space.

Supplemental Materials
[Rating:3.5/5]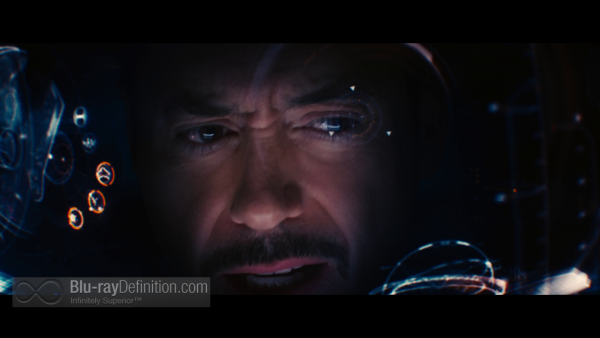 Featurettes:

From the Inside Out – Making of Avengers: Age of Ultron (1.78:1; 1080p/24; 00:20:54)
The Infinite Six (1080p/24; 00:07:28)
Global Adventure (1.78:1; 1080p/24; 00:03:01)
Deleted & Extended Scenes w/ optional commentary by Joss Whedon (1080p/24; 00:12:04):

The Man in the Church
Bruce and Natasha Talk
The Norn Cave

Gag Reel (2.40:1; 1080p/24; 00:03:37)
Audio Commentary with Director Joss Whedon

The Definitive Word
Overall:
[Rating:3.5/5]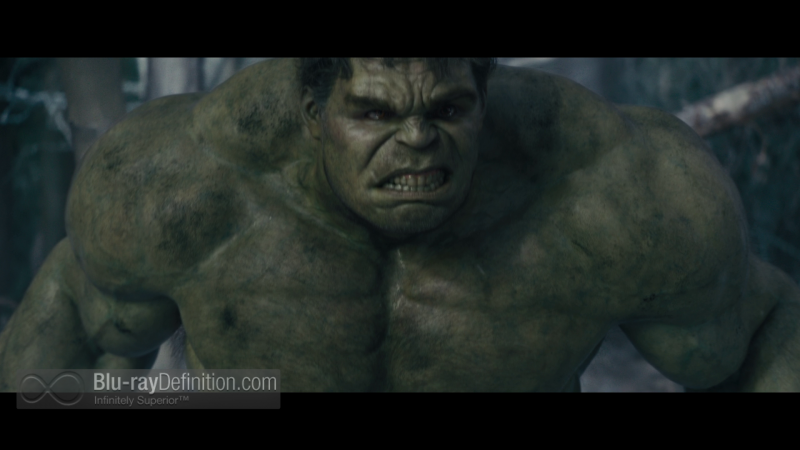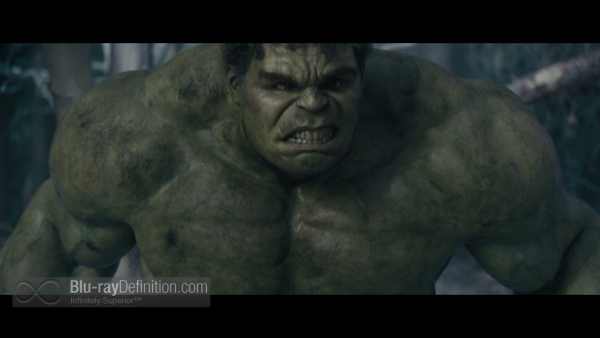 Grab a hold of your seats, Avengers: Age of Ultron wants to take you an an amusement park ride and not let you off for two hours. It may not be as great as the first film, but it's still a satisfying, epic superhero action movie.
Additional Screen Captures