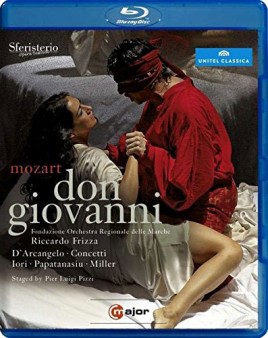 – –

The Performance
[Rating:3/5]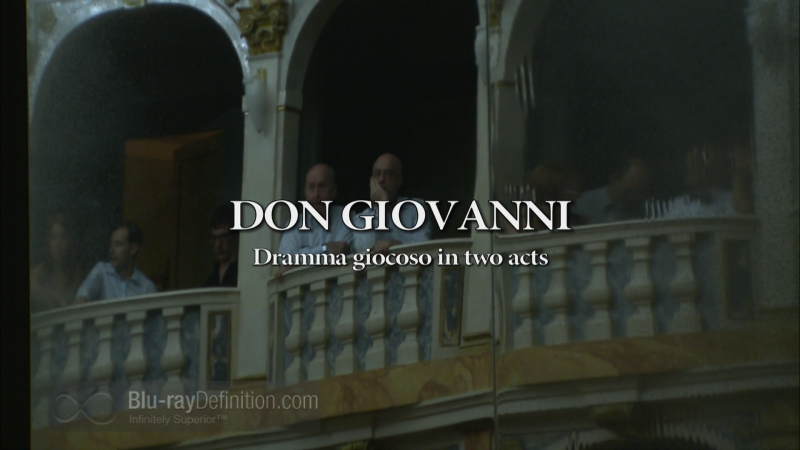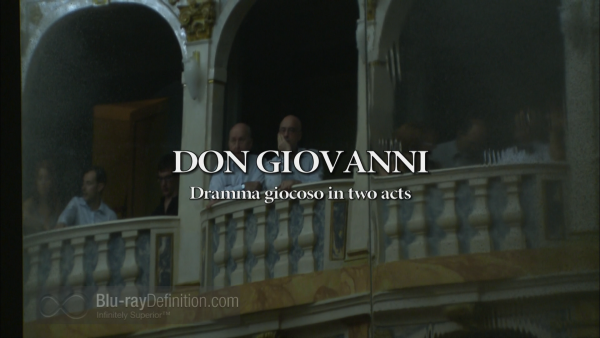 Just a month after a fine Covent Garden Don Giovanni Blu-ray came my way I received a new one from the Sferisterio Opera Festival in Macerata, Italy. This Pier Luigi Pizzi production was recorded in 2009 and places heavy emphasis the libertine sides of its title character and his sidekick.
As Act I begins, Don Giovanni (Ildebrando D'Archangelo) and Donna Anna (Myrto Papatanasiu) are having a romp in bed. When the Commendator (Enrico Iori) interrupts the pair he is done in by the Don's sword. Giovanni and his valet Leporello (Andrea Concetti) beat a hasty retreat.  Anna finds her father dead and her fiancé, Don Ottavio (Marlin Miller) arrives on the scene to comfort her.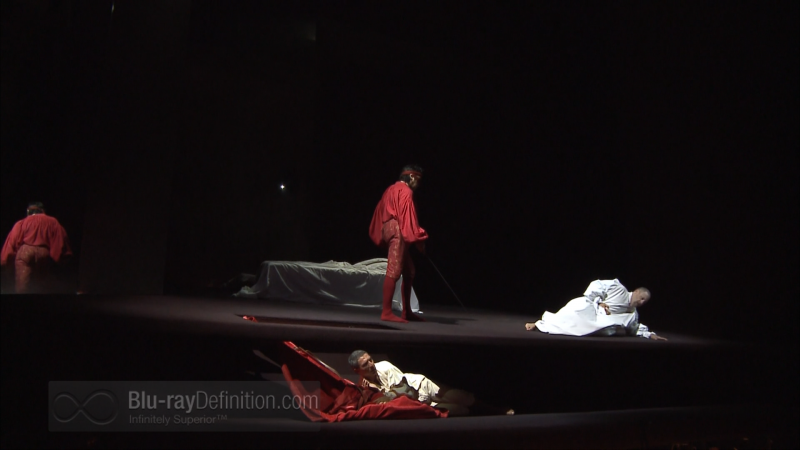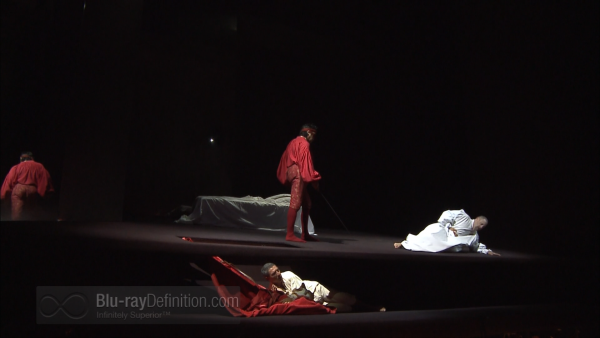 Donna Elvira (Carmela Remigio) one of the Don's many exes comes on the scene only to be successfully put off the Don himself. Leporello then gives her the snarky rundown on Giovanni's many other lovers.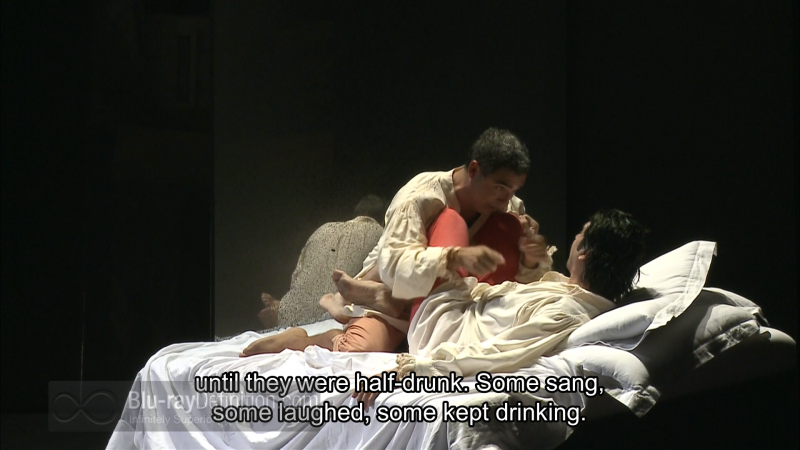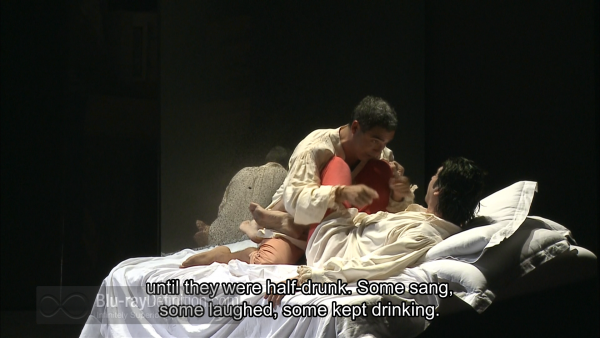 Don Giovanni crashes a party in progress with a bunch of lusty peasants preparing for the marriage of Zerlina (Manuela Bisceglie) and Masetto (William Corro). The Don dismisses the bridegroom-to-be and makes a move on his intended. Later, the generous Don Giovanni invites the entire group to his house for a masked ball but is nearly undone when two of the masked guests turn out to be Don Ottavio and Donna Anna who point the finger of guilt at him.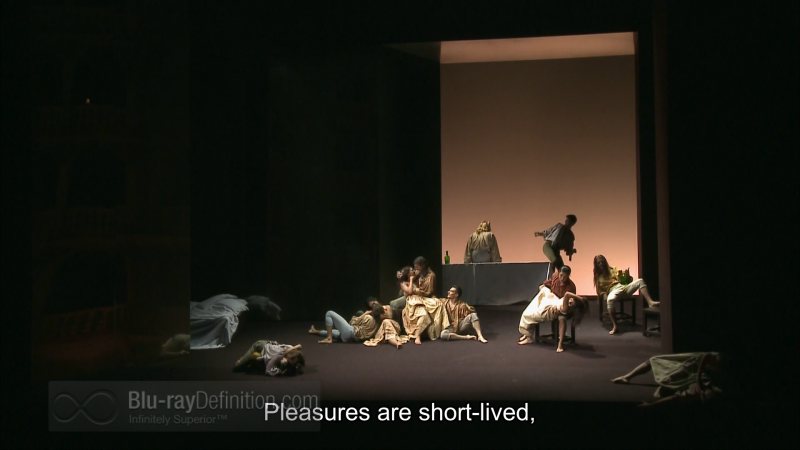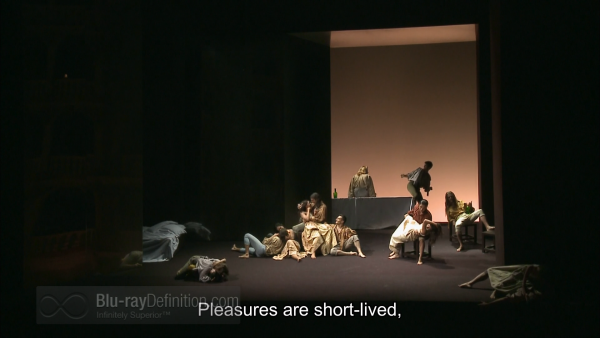 Act II finds the Don now making overtures to Elvira's maid, while Leporello distracts the Donna. To further his own cause, Giovanni changes wardrobes with Leporello but things look bad for the loyal valet as Masetto arrives to exact revenge on his boss.  Just in time, Don Giovanni returns and pummels the hapless bumpkin.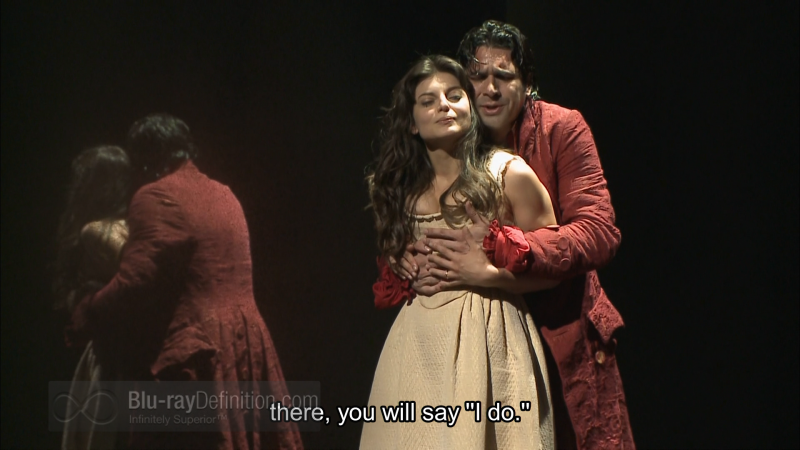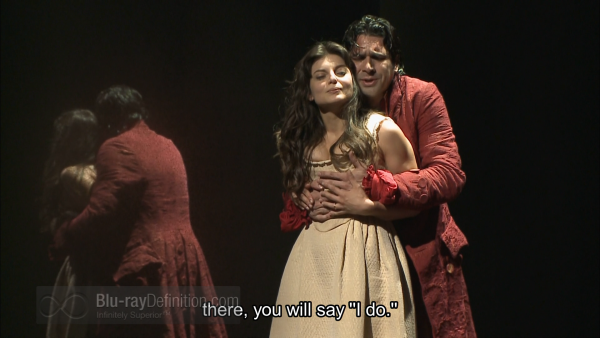 At the Don's house, preparations for dinner are underway. Don Giovanni encounters the statue of the late Commendatore and invites his spirit to dinner. The Commendatore appears and urges the Don to repent his sins. The lecherous nobleman declines this offer and is dragged down to the underworld as the remaining characters deliver a moral on the consequences of bad behavior.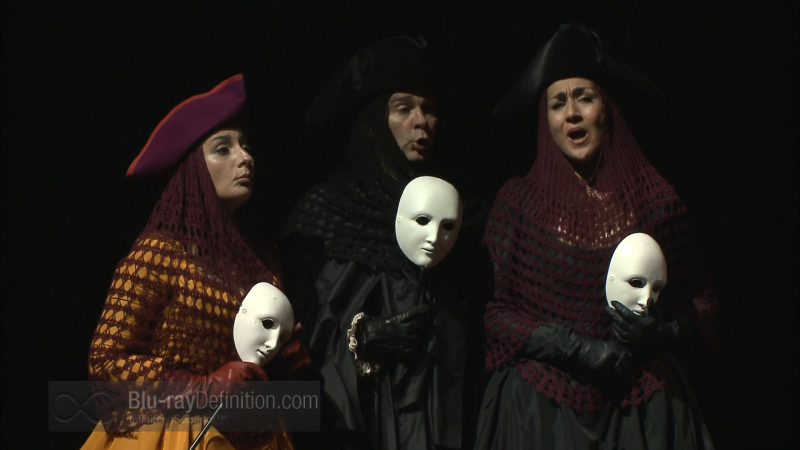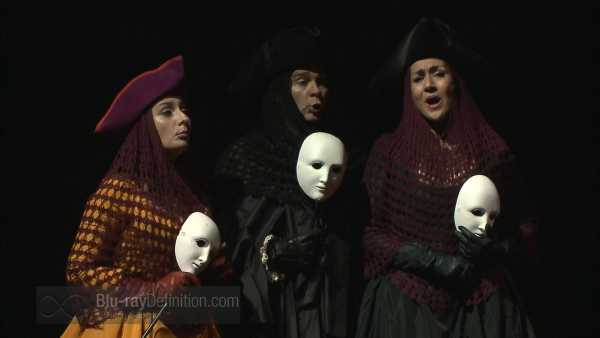 With a mostly bare stage, flanked with mirrors and an occasional trap door, often bathed in darkness, there is not much to tempt viewers visually. While D'Archangelo (and Concetti) have adequate physiques for their nearly interchangeable roles and handle their vocal demands reasonably well, things do not fare as well for the three female principals who are frequently shrill (Papatanasiu), off-pitch (Remigio) or just over parted (Bisceglie).  The smaller roles of Don Ottavio and Commendatore receive undistinguished performances, with the former sounding more like a comprimario than a lead singer and the latter, adequate but unauthoritative. Roberto Frizza lingers over the score more than is typical and turns in a performance that is competent rather than inspired.  Even more offputting is the amount of cast groping and rolling around at nearly every opportunity.  Thist adds little to the drama and quickly becomes superfluous as does the apparent homoerotic 'bromance" between Giovanni and Leporello.
Video Quality
[Rating:4/5]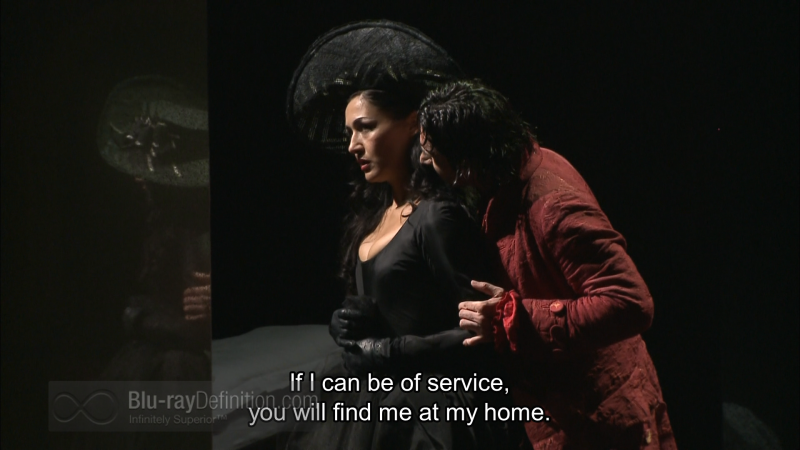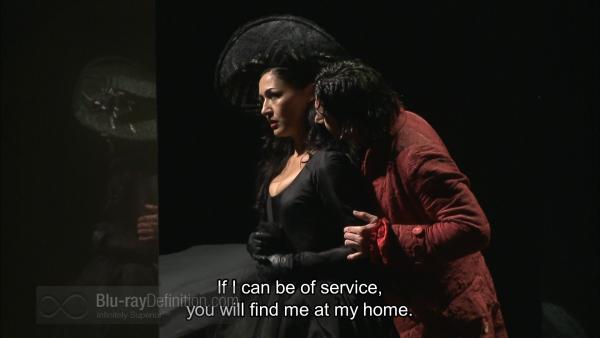 My reservations about the staging aside, the lighting is sufficient to allow detail and color to be adequately presented.
Audio Quality
[Rating:4/5]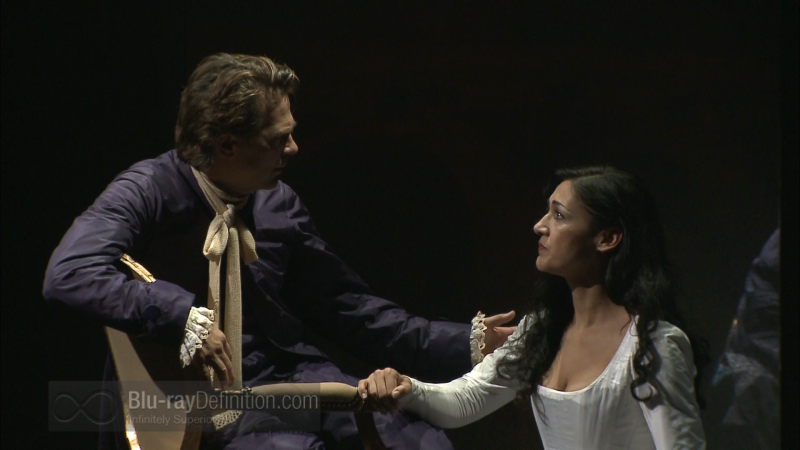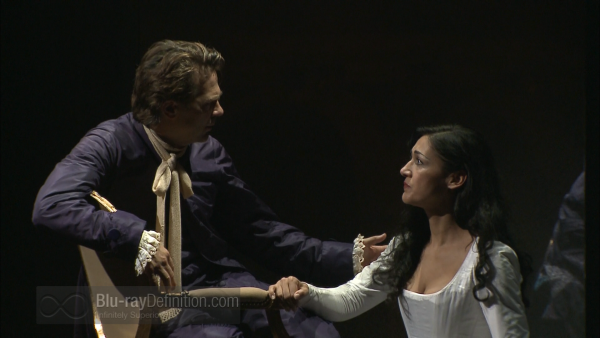 Balance between voices and period sized orchestra is quite good but there some onstage echo intrudes (props would have helped here).
Supplemental Materials
[Rating:0.5/5]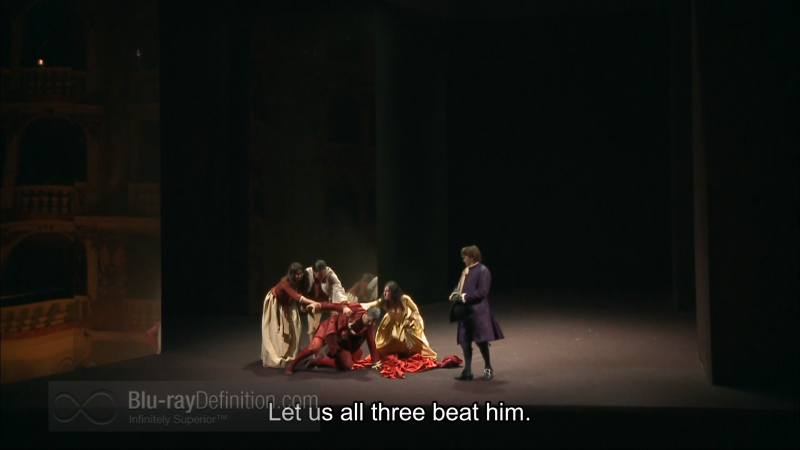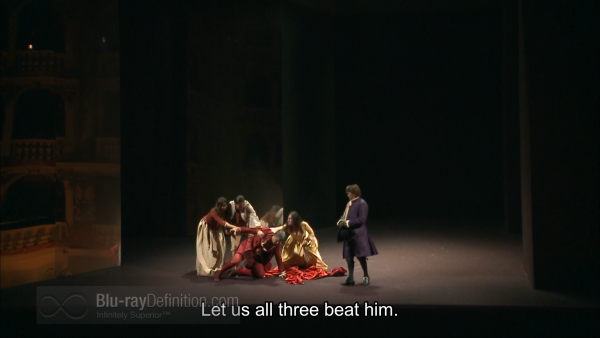 We are limited to a program booklet with production and performance credits, track listings, and Richard Eckstein's essay on this production that attempts to justify the sexual innuendos and non-innuendos to which viewers are continuously exposed.
The Definitive Word
Overall:
[Rating:3/5]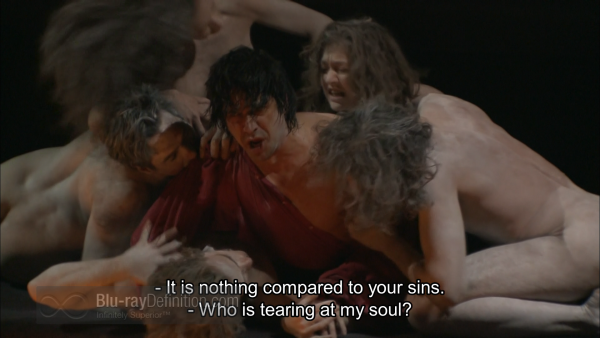 Don Giovanni is one of the pillars of the operatic repertory and, since its premiere in 1787, it has been subjected to countless reinventions. The risk in applying a reconceptualization to a classic work is that it will distract viewers from the essential nature of the original opera. This is mostly what we get here.  More is the pity since D'Archangelo's Don is very well sung and acted at least in line with the unsympathetic lecherous bent that the director has given his character. With a number of better DG's already out there (like the two Covent Garden versions), this is one Blu-ray that can be readily bypassed.
Additional Screen Captures
[amazon-product region="uk" tracking_id="bluraydefinit-21″]B00M0D295E[/amazon-product]
[amazon-product region="ca" tracking_id="bluraydefinit-20″]B00M0D295E[/amazon-product]
[amazon-product]B00M0D295E[/amazon-product]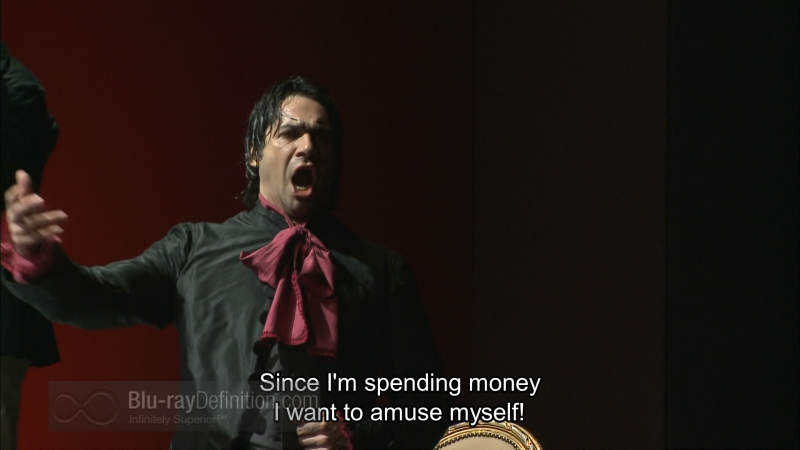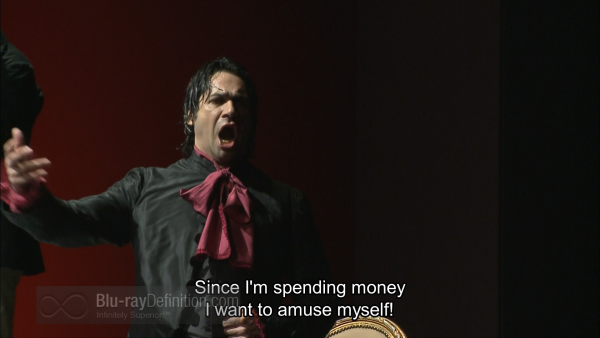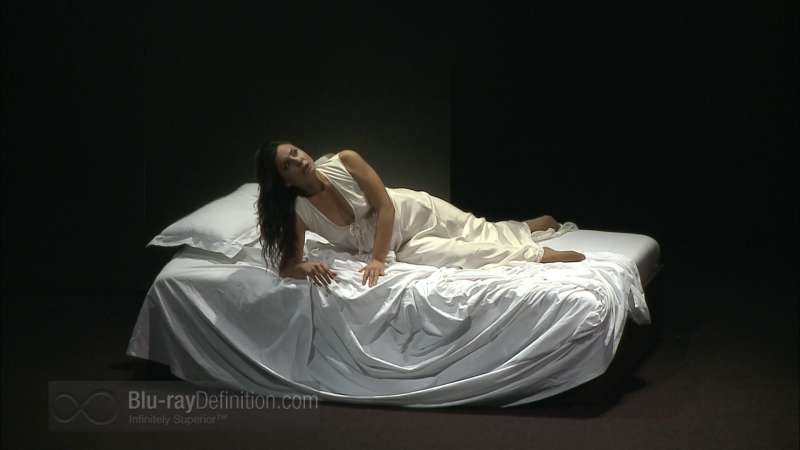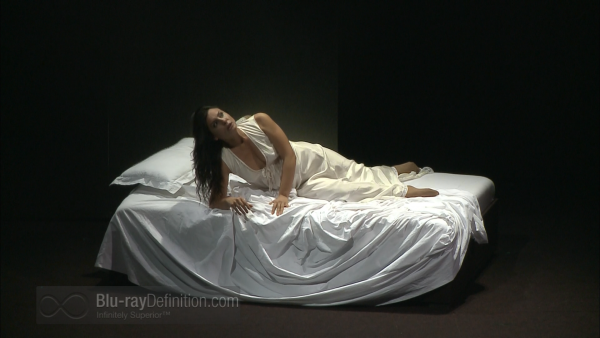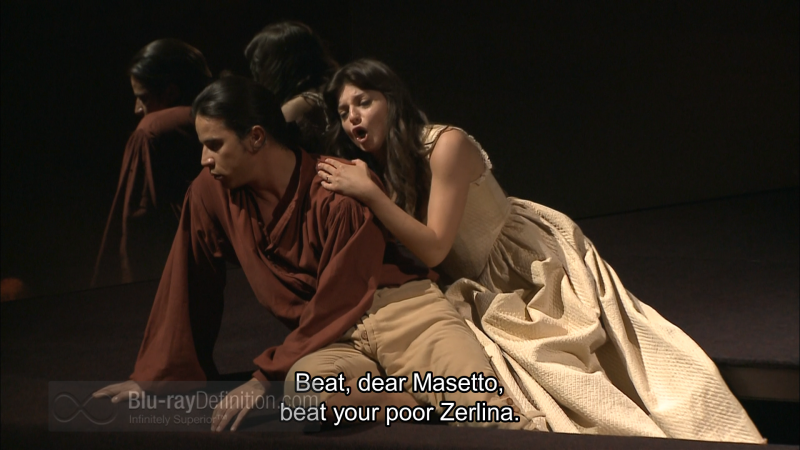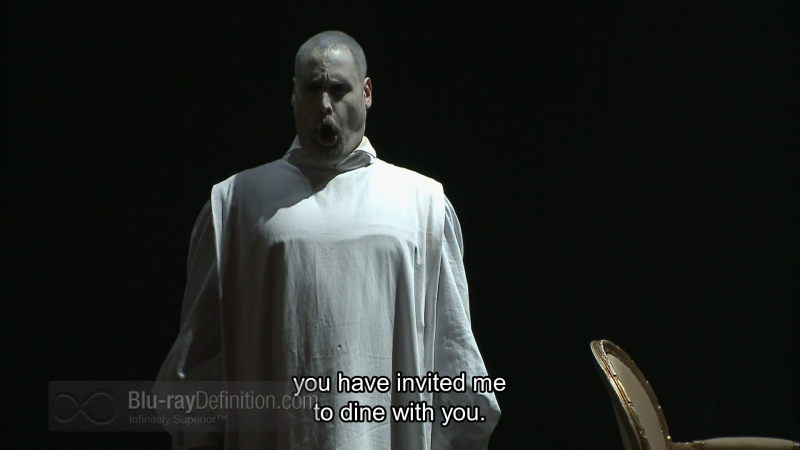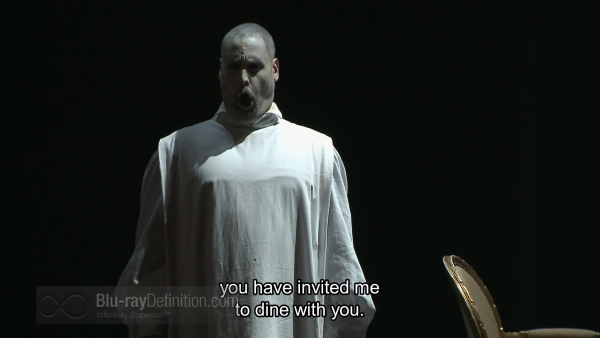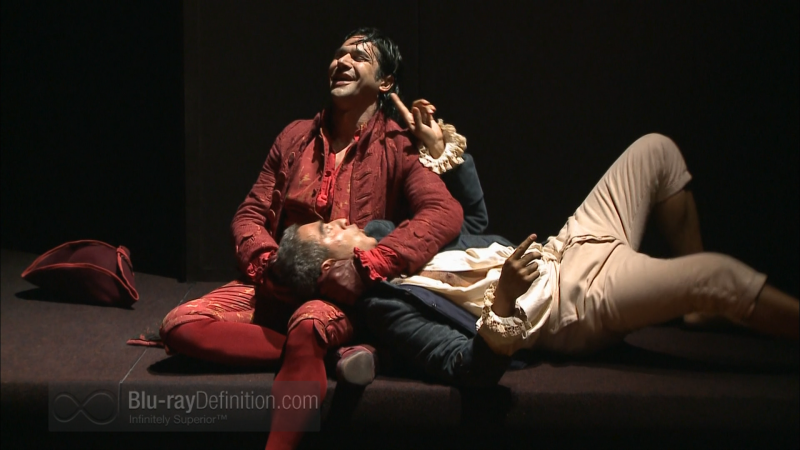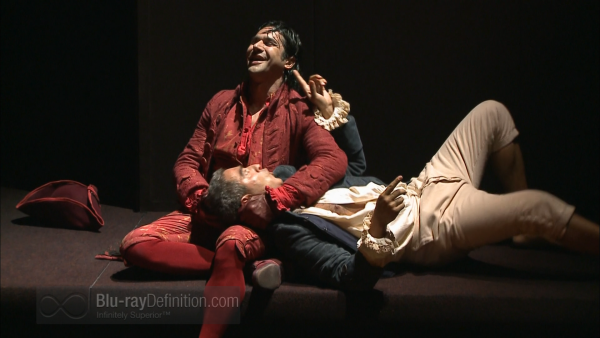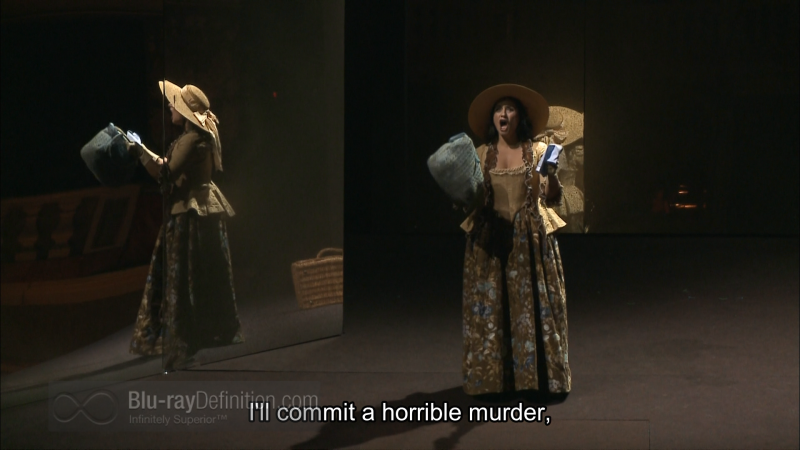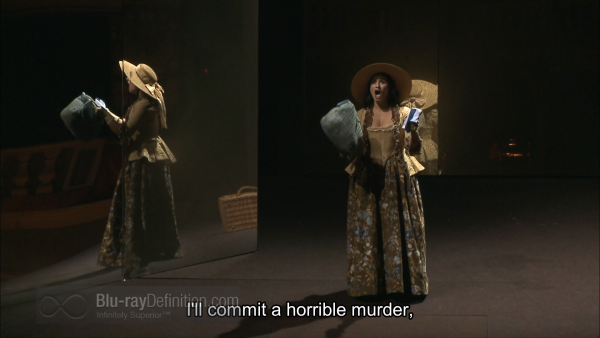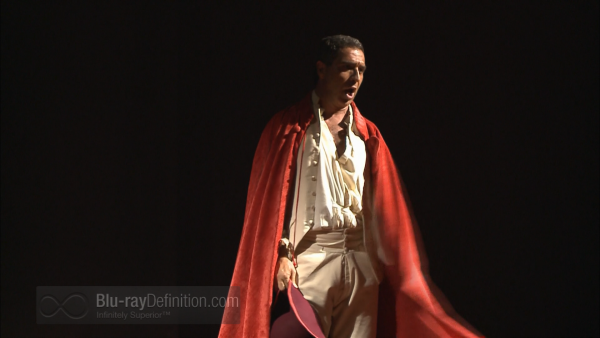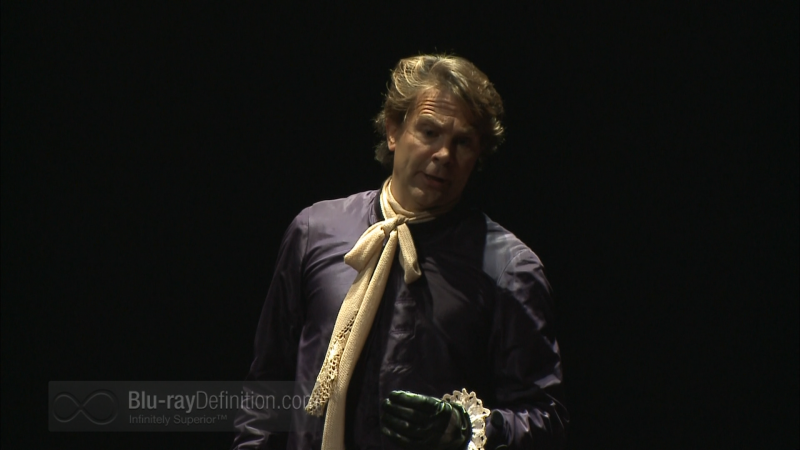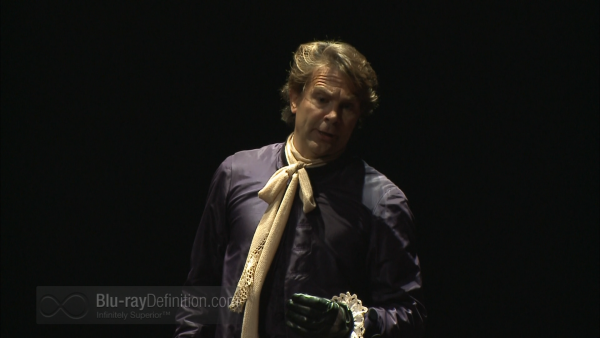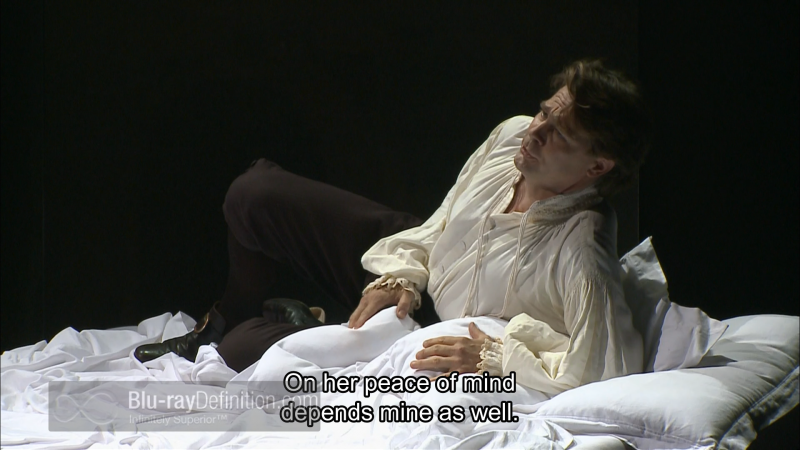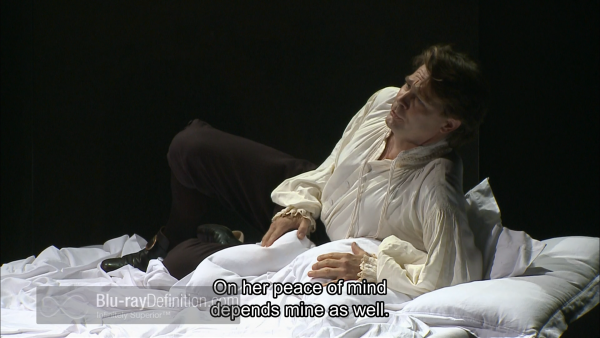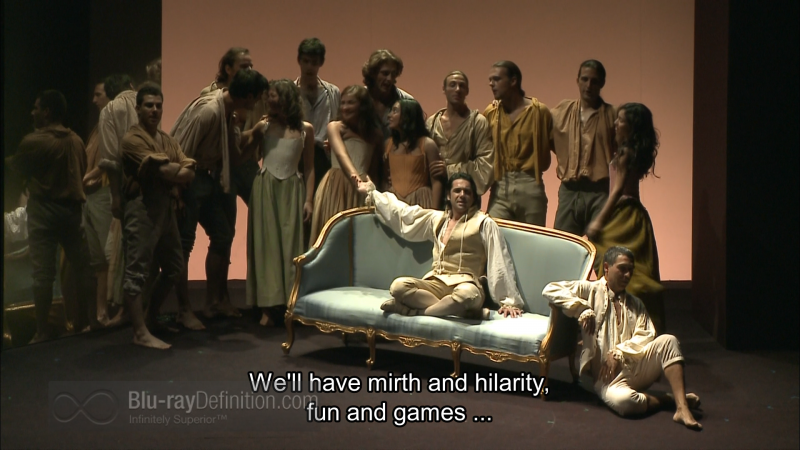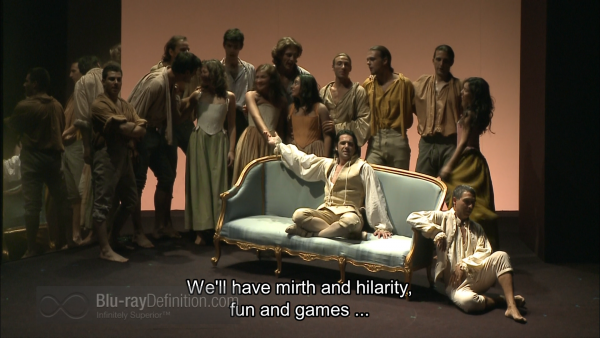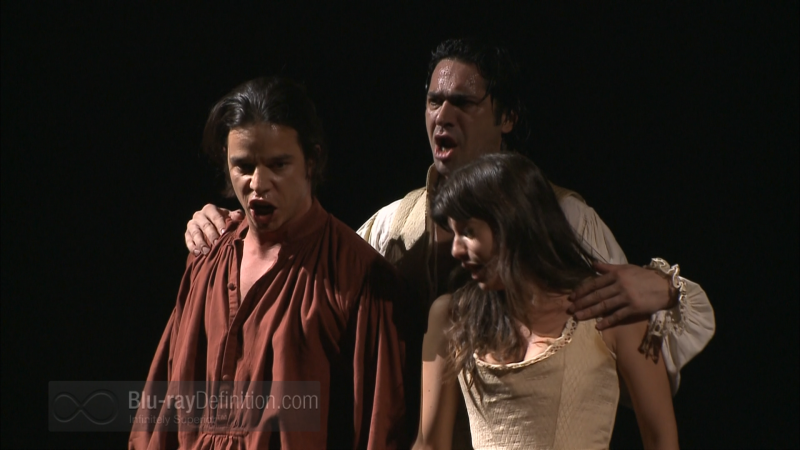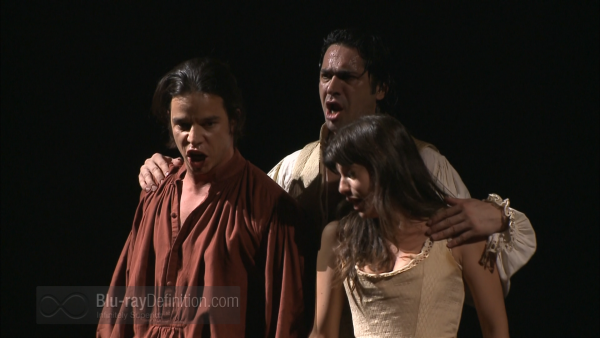 [amazon-product region="uk" tracking_id="bluraydefinit-21″]B00M0D295E[/amazon-product]
[amazon-product region="ca" tracking_id="bluraydefinit-20″]B00M0D295E[/amazon-product]
[amazon-product]B00M0D295E[/amazon-product]