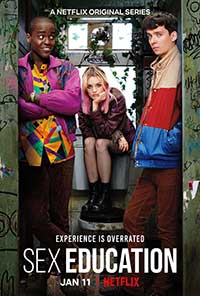 Otis Milburn (Asa Butterfield) is an adolescent obsessed with sex which he has yet to experience.  His divorced mother Jean (Gillian Anderson) is a self-absorbed sex therapist but rather than helping Otis cope with his sexual frustration, she makes daily intrusions into his private life (when she is not enjoying one-night stands with random guys). Otis's best friend Eric Effiong (Ncuti Gatwa) is a gay teen who gets harassed daily by class bully Adam Groff (Connor Swindells), son of the Headteacher (Alistair Petrie) at Moordale the archetypal British secondary school that they all attend.
Otis has long had the hots for sexy Maeve Wiley (Emma Mackey), widely reputed to be a "cock biter," who is really an intelligent seventeen-year-old living by herself in a trailer park. Maeve's BFF is the popular Aimee Gibbs (Aimee Lou Wood) who has just dumped Adam for his inability to get "it up" to the task. Maeve is getting it on with "Head Boy" and star swimmer Jackson Marchetti (Kedar Williams-Stirling) who has his own deep-seated personal issues. Moordale's student body is laden with "characters" like popular gay boy Anwar (Chanell Kular), his coterie of bitchy Ruby (Mimi Keene) and anxious Olivia (Simone Ashley), and the horny virgin Lily Iglehart (Tanya Reynolds) who fantasizes about having wild sex with alien beings.
Constantly strapped for cash, Maeve comes up with the bright idea to make Otis the unofficial school "sex therapist": she will handle the business side, he will dole out "cures" in the abandoned lavatory building. When word gets around that Otis has given great advice to classmates with relationship problems, his counseling business surges before, during, and after school hours.
Sex Education is creator Laurie Nunn's television series debut.  It is a slyly concocted blend of humor (awkward adolescent sex, viral vaginal photo bombs), and more serious issues (parent-child boundaries, abortion, homosexuality, bullying). The show features a group of talented young actors that clearly outshine their rather humdrum adult counterparts who provide a dismal glimpse of what life beyond the sixth form might look like. Midway through its eight episodes, the tone distinctly changes. Instead of starting each episode with a raunchy sex scene, a much darker vibe prevails coinciding with the return of Maeve's ne'er-do-well brother Sean (Edward Bluemel) who supplies Moordale's oversexed students with experience-enhancing pharmaceuticals.
[envira-album id="115977″]
Asa Butterfield (Ender's Game) delivers a brilliant realization of a frustrated adolescent who is yet to achieve an orgasm. Additional kudos go to Ncuti Gatwa whose character's emergence as a flaming gay teenager at the school dance is like watching a butterfly freed from its chrysalis. Emma Mackey, in her first major role, does a splendid turn as the show's most complex character: a sexy beast on the outside but on the inside, a sensitive, self-reliant young woman who truly cares for other people.
Sharing some common ground with earlier Netflix teenage-angst series like The End of the F**king World and Everything Sucks, Sex Education delves deeper into the inner workings of young people in a constant state of flux about sex, gender identity, and uncertain futures. Some couples' stories are left hanging in the balance—Otis and Ola (Patricia Allison), Maeve and Jackson, Eric and Adam (!), and Jean and Ola's father, the "handy" plumber Jakob (Mikael Persbrandt). Hopefully we will get a second season to sort out these various relationships  with more screen time for James Purefoy as Jean Milburn's ex-husband, the randy sex therapist Remi.
Sex Education Season One is streaming now in its entirely on Netflix
[embedyt] httpss://www.youtube.com/watch?v=o308rJlWKUc[/embedyt]
---
4 / 5 TheaterByte Rating

{{ reviewsOverall }} / 5 User Rating (0 votes)

Laurie NunnShow Creator

11 Jan. 2019Original Release Date

NetflixNetwork/Streaming Service

45 Mins.Ep. Run Time

8No. Eps.

Eleven Film | Netflix StudiosStudio/Distributor

Summary

A coming-of-age adolescent series in which sex or the lack thereof become the driving force for three young people at a starchy British secondary school. While Gillian Anderson is the big name in this cast, it is her young co-stars that really deserve top billing.

What people say...

Login to rate

Order by:

Be the first to leave a review.

Show more